It's the last few weeks left now.  We have one last free weekend that I've set aside.  Where can we go at the 11th hour on a "budget" budget?
Peach Air is one of Japan's discount airlines.  It's like Southwest Airlines in the US.  I found flights for under $100 each way for each of us to fly to Okinawa.  Not too bad?  I booked our tickets for a Friday to Monday trip.  As I scoured the internet for a place to stay, I stumbled upon a newly built place that had not even had its grand opening yet.  It was advertising special, pre-opening rates and it came with the disclaimer that the landscaping and lobby were still under construction.  But the photos of the rooms, the pool and the views looked amazing.  It was right on the seaside and it advertised SUP and surfing as its main attractions.  And it was located in the middle of Okinawa.  I booked it.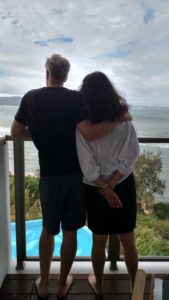 We arrived at the airport in Naha, Okinawa's main town, on Friday, July 20.  We rented a car and drove one hour northeast to get to Uruma City.  The rain was a heavy downpour.  We arrived at our hotel, "HIDEOUT Okinawa," in the afternoon.  It was indeed still under construction.  The hotel was planning to have its big, grand opening party, hosted by RVCA, the next weekend and I really couldn't see how they were going to finish on time.  But despite the dust, HIDEOUT turned out to be a really great place.  The staff couldn't have been friendlier or more helpful. They realized we had to step around piles of stuff, cords strewn all over, construction materials, big plants being moved.  I'm not sure if they got it all done before their big party, but it seemed like a race against time.  However, our room was finished and beautiful, and it had a big balcony that overlooked the pool directly below and the ocean beyond.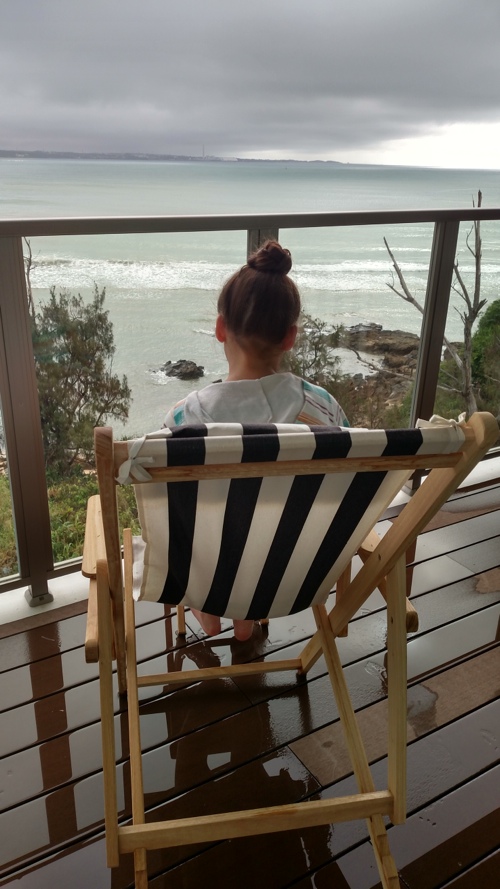 On Saturday, July 21, we drove back south to Naha.  Yesterday we learned that a typhoon was on its way.  It's now officially here.  The wind was crazy fierce and the rain came down in sideways sheets.  The car rental agency told us to be careful and that any storm damage would not be covered so we should think twice about driving in a typhoon.  Luckily, the main street in Naha, called Kokusai Dori, has a lot of shops to run into and a lot of awnings to stand under.  So we did a lot of that.  I took everyone to eat Okinawa soba (wheat noodles in broth) at the place I'd found when I came before.  It has an option for seafood broth and toppings, instead of the normal pork-only.  Oishikatta!  (It was delicious!)  
I managed to sneak in a few pottery shops with John while the kids shopped for clothes and souvenirs.  Avalon came with me to a few and found that she could paint her own pottery Shisa lion for a few thousand yen (2,000 yen = about $20).  Avalon has discovered her artistic side these last few months in Japan.
On Sunday, July 22, Halyard wanted to go to a town called Chatan (Ch-ah-tawn) that his friend told him he should visit.  It's a bit of a touristy area with a boardwalk kind of atmosphere and lots of shops and a ferris wheel.  Avalon wanted to try stand up paddle boarding (SUP) in the ocean in front of the hotel.  We split up.  John and boys went to Chatan and Avalon and I went to SUP.  The ocean was still churning from the typhoon.  We rented SUP boards, paddles and water shoes from our hotel.  A young man from the hotel said he would come out with us and be our guide and lifeguard.  We all carried our boards down a hill to the beach.  We told him we SUP back home so we didn't need a lesson. 
We pushed out into the water and off we went.  First of all, the water was choppy and rough.  Did I mention a typhoon was still swirling on the surface?  I think I spent 30 minutes paddling around on my knees before I decided to try standing up.  Avalon stayed on her knees the whole time.  I bet her knees were getting stiff.  Our guide took us to a little sheltered beach cove with a cave.  It was cool.  We sat around and looked out at the ocean, examined seashells and listened to him tell some stories in broken English.  He told us he went to Huntington Beach to surf once.  After we got back on our boards I felt more confident about standing up.  But it was still tough.  When we got back to the shore the man asked Avalon if she wanted to try a smaller board.  We thought he meant something like boogie boarding and Avalon said yes.  But what he really meant was surfing.  So Avalon got a 30-minute private surfing lesson in the typhoon churning sea.  She didn't stand up on the board but I hope it was fun.  This is how it looked in a calmer setting, before the typhoon hit.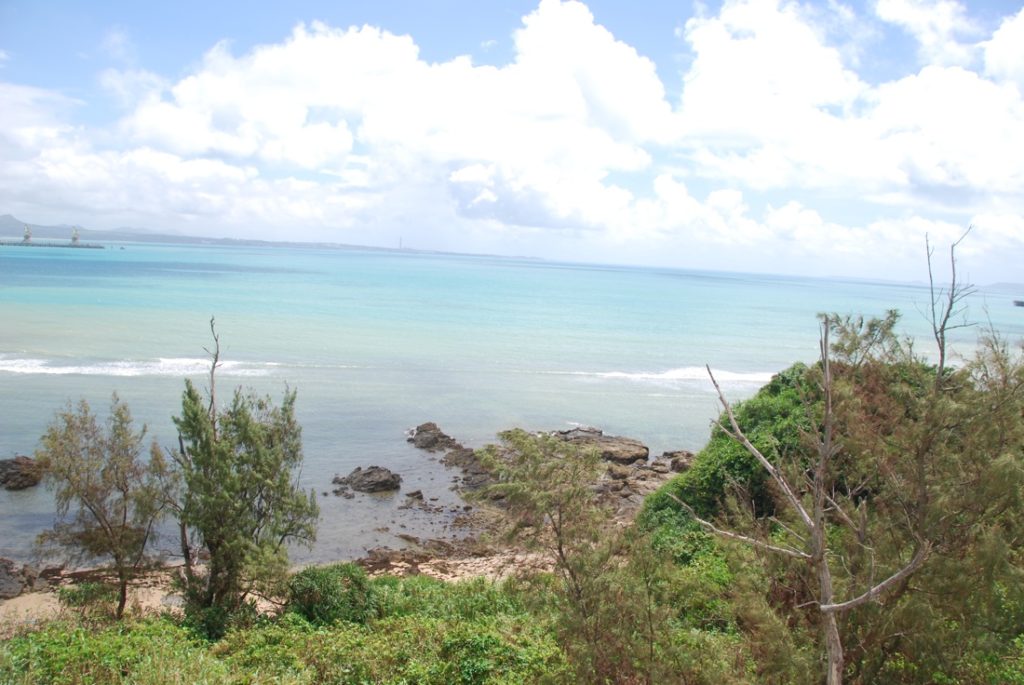 While Avalon was out having her surfing lesson, I decided to go back and try to SUP again.  It was sketchy.  The water was kind of tossing me around and I realized the current had kicked up and was pulling me away from the hotel's beach and back to the cove area.  So I started to paddle back, but the current was pulling me back and I started to feel a panic rising up.  I was paddling furiously but going nowhere.  And I was on my knees, too.  I looked over for Avalon and our guide.  They were too far away to hear me if I started shouting about needing a rescue.  I started to wonder if Avalon was getting exhausted like me.  That just added to my worries.  I told myself to calm down, get a grip and start paddling with a purpose and not some frantic, crazy paddle to nowhere.  I knew if I started making some headway forward that I would be alright.  So I paddled with purpose and slowly started moving toward the hotel.  Eventually I gained momentum and even stood up on the board again.  When I finally made it back I felt so relieved and proud for pulling myself together. 
Later, after meeting back with John and the boys we decided to drive to Okinawa's popular Churaumi (Choo-raw-ooo-me) Aquarium.  It's about an hour north of Uruma on a northwest corner of the island.  Halyard decided one activity a day was enough for him so he stayed behind and lounged around at the hotel.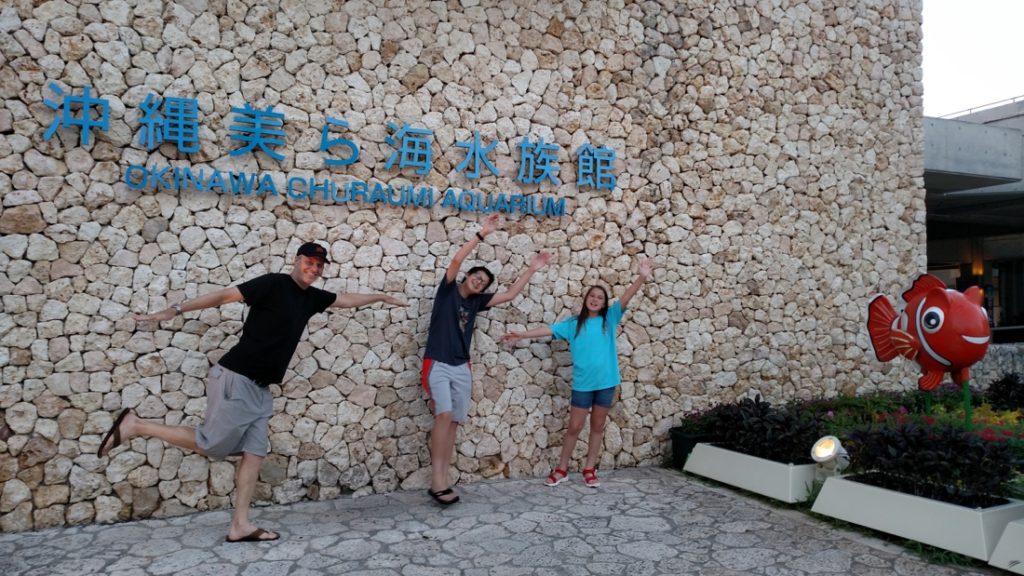 Churaumi Aquarium is very famous in Japan.  It must be, in order to attract a crowd despite its remote location very far away from the main city and airport of Naha.  I wasn't sure if we should make the trip there but the whale sharks called out to Kaiyo and he didn't want to miss the chance to see his all time favorite sea creature.  The main tank is huge!  The glass is massive and thick to accommodate these beautiful, enormous, 8.6 meter long whales.  There are two of them and they are totally cute.  The internet says this tank stores 7,500 tons of water and is the biggest aquarium tank in the world.  I don't doubt it.  It was worth the drive.  Plus we saw a lot of really interesting and crazy sea animals that I've never seen before and they were fascinating.  The deep-sea creatures were freaky!  I honestly felt like I couldn't tear my eyes away from a few of them.  They reminded me of things out of the movies, like Beetlejuice or The Twilight Zone. 
This one is a really creepy, completely clear parasite thing with a lot of legs and a strange shaped body and you can see it's inner structure right through.  It's like a giant beetle with too many legs and a deformed body.  There are a few in this tank and they're crawling over these clear jellyfish in there with them.  Seriously weird!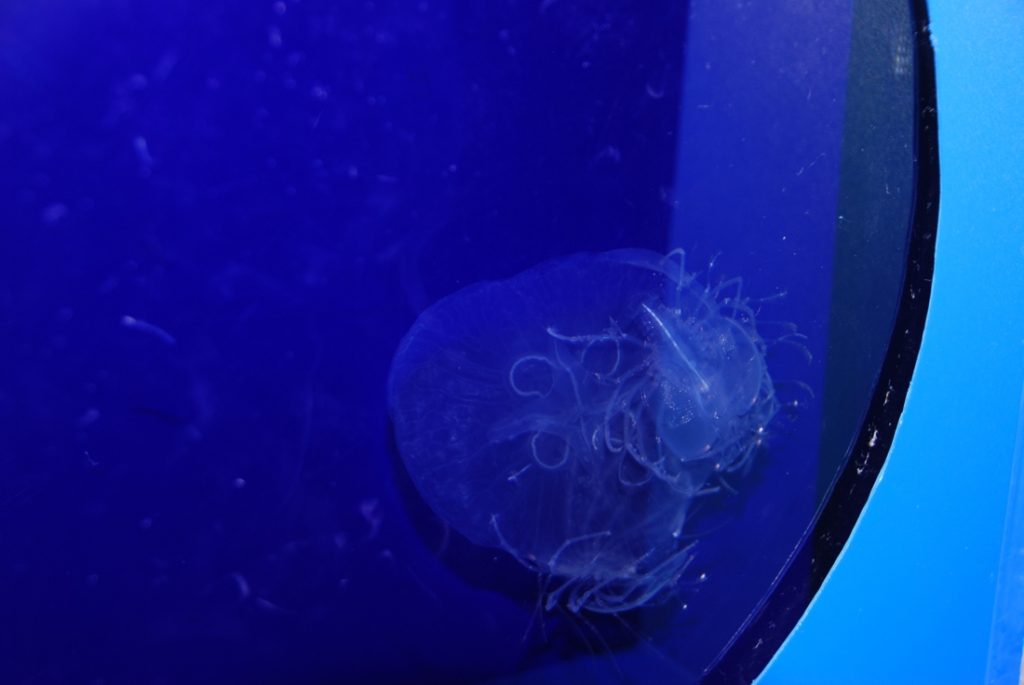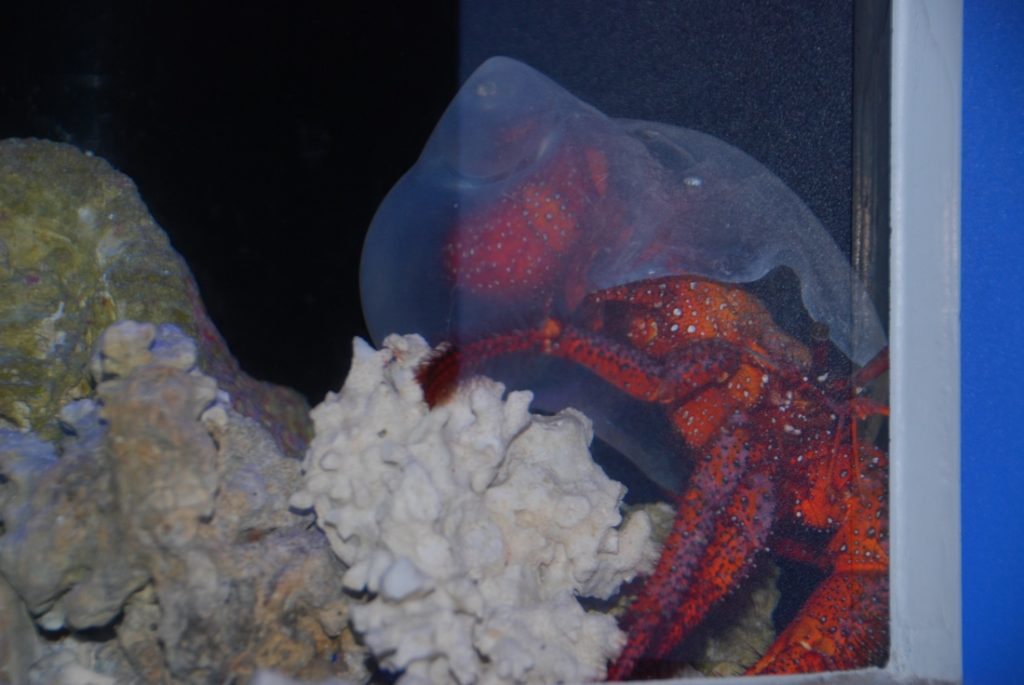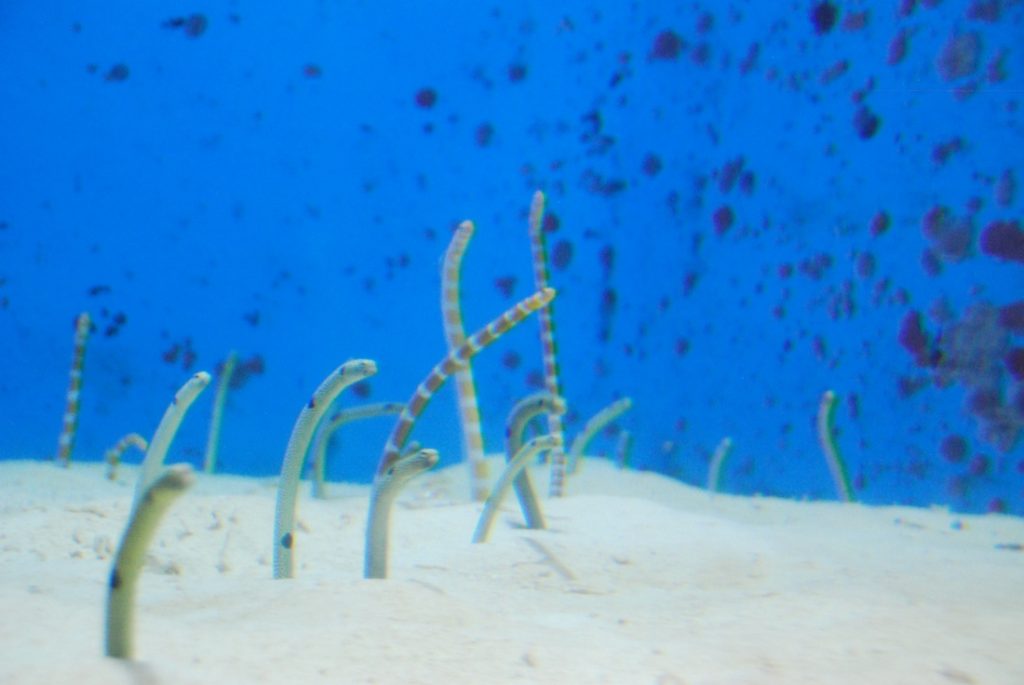 Unfortunately we got there pretty late in the day so we were not able to see the dolphins, manatees or turtles which have their own areas separate from the main tank building.  But we did get to see a gorgeous sunset.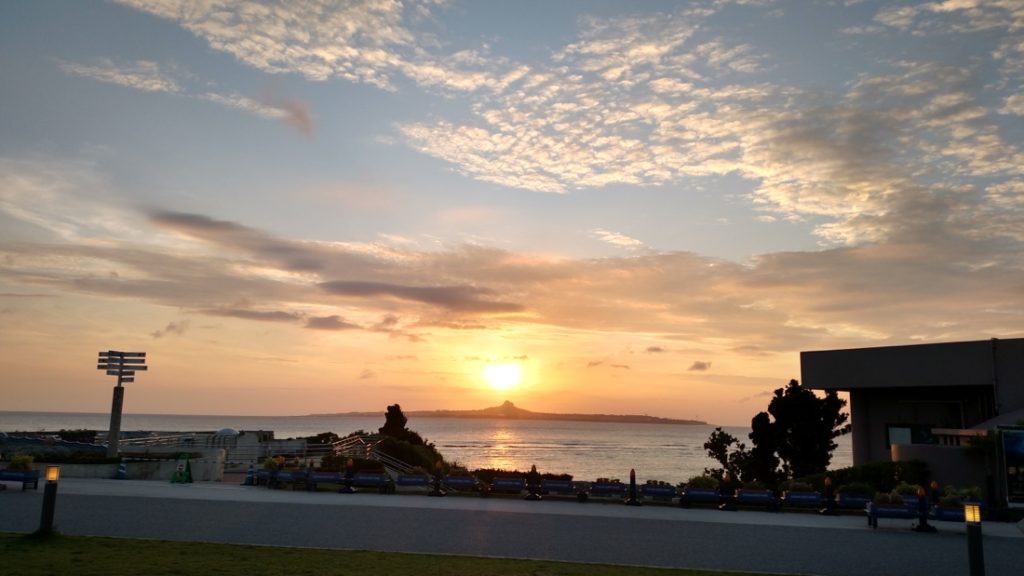 We ate some awesome food in Okinawa.  As expected, being a small island, the sushi was first rate.  A bit pricey here, or maybe we got caught in a tourist place, but superbly fresh and generous.  On our second night we found a local izakaya (a local bar serving small plates like tapas).  The extensive menus were entirely in Japanese.  John and I could read some of it, but we mainly relied on Halyard for translation.  He's really good at Japanese now!  But he tends to order the wacky stuff so we have to be careful when Halyard is in charge of the menu.  At one point a dish of dark red, raw, mystery meat arrived and he told Kaiyo and Avalon to try it but he wouldn't say what it was.  Red flag on that.  Kaiyo tried it and Avalon refused.  It was raw horse meat.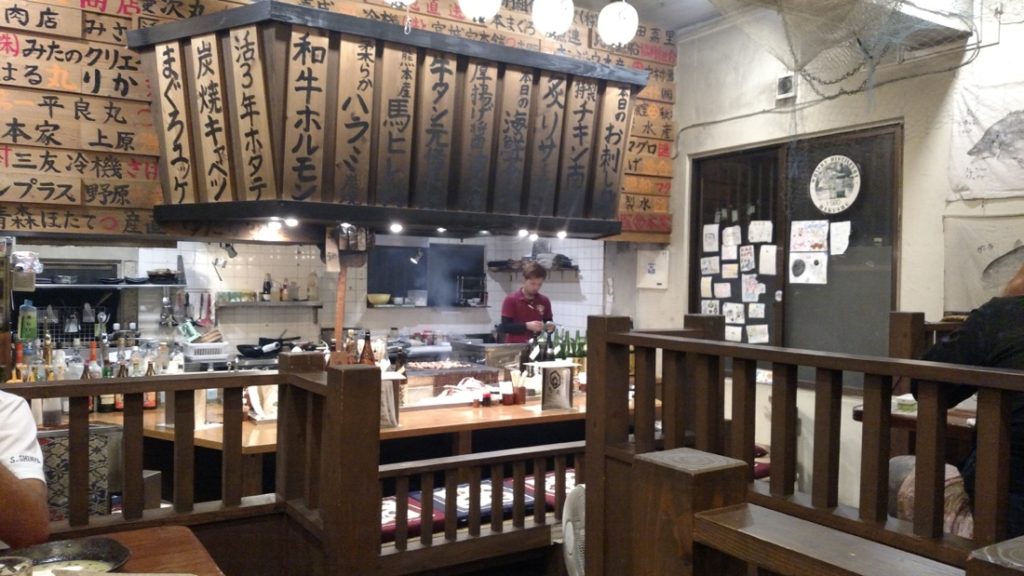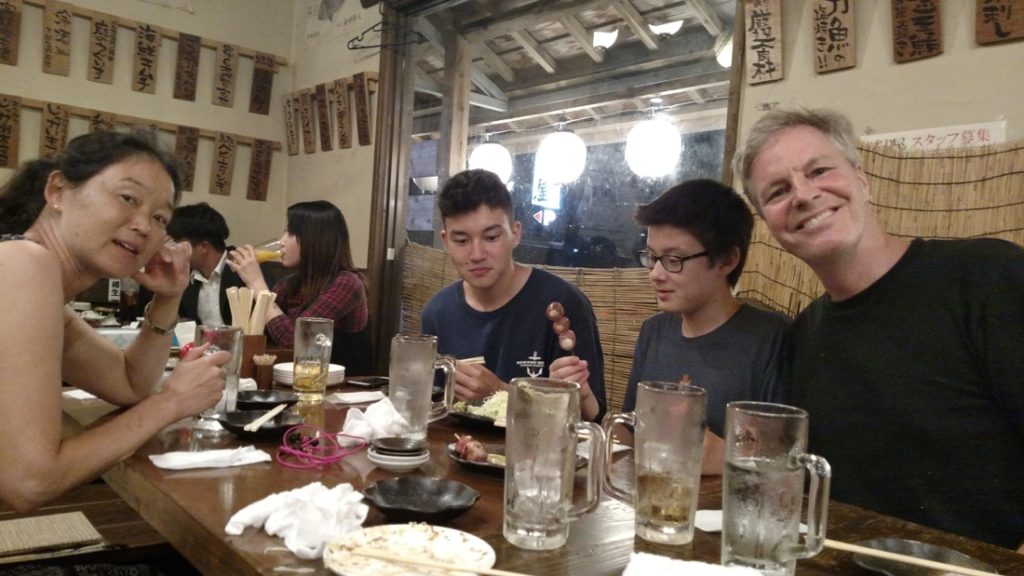 It was a whirlwind trip.  On Monday morning we said good bye to the awesome staff at HIDEOUT and headed to Naha for our flight back to Osaka.