Merii Kurisumasu!  Merry Christmas from Japan!  Akemashite Omedetou!  Happy New Year!  The 2016 holiday season is upon us.  Here are a few snapshots of our holiday in the East.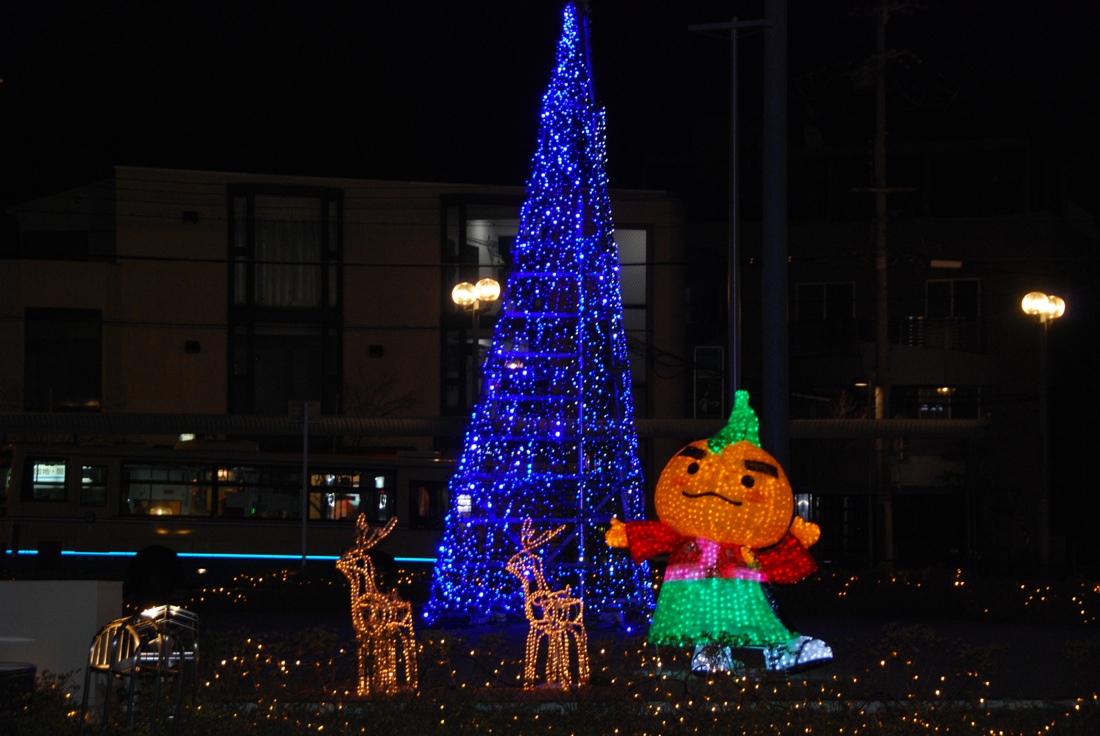 Merry Christmas from Minoh!  This is Yuzuru, our Minoh City mascot, all lit up for the holiday.  This display is right outside of the Minoh Train Station.  He looks pretty cute.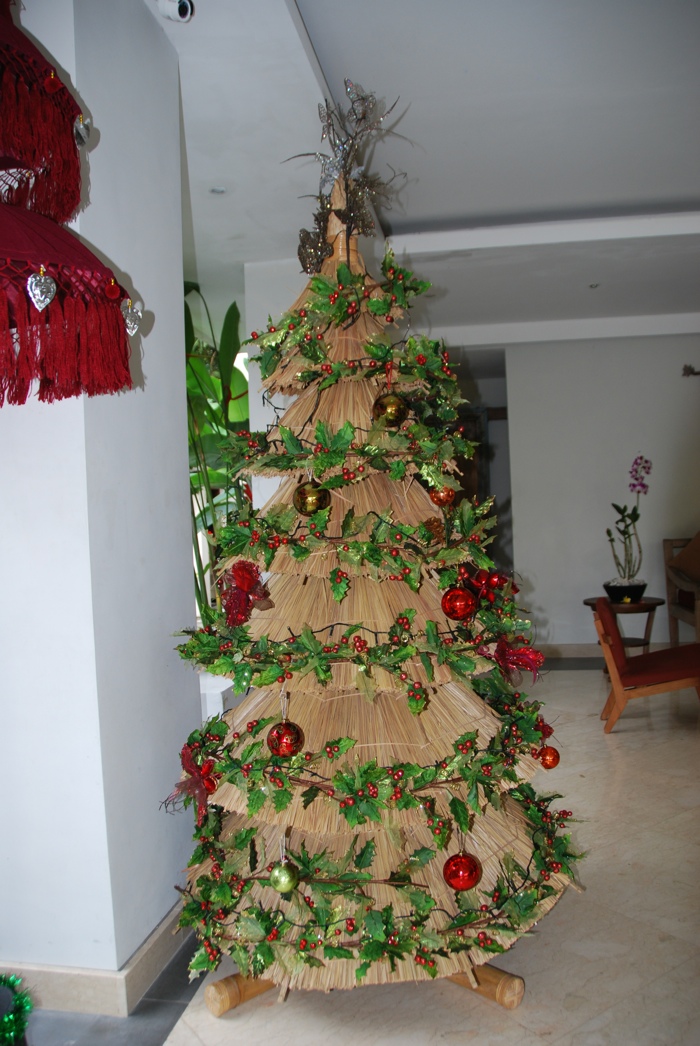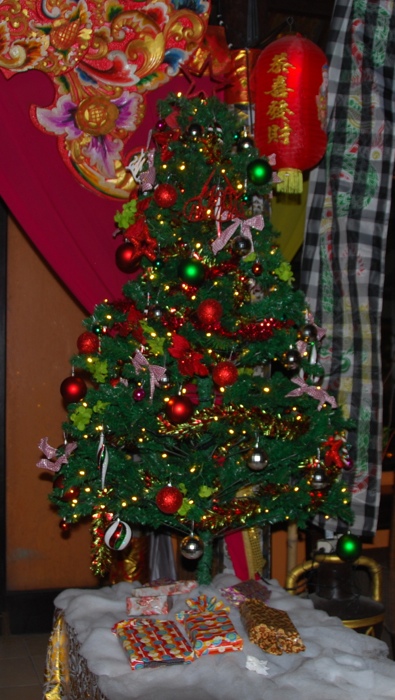 Merry Christmas from Bali!  The tree at left is on display in the reception area of a fancy hotel somewhere in the north part of Bali near Ubud.  We were taken here for lunch after our bike tour across the interior.  The tree at right is on display at a restaurant called Matahari in Jimbaran Beach.  The restaurant sits on the beach and the tables are set up on the sand.  A lot of reviews say Jimbaran is the best place to have fresh seafood in Bali.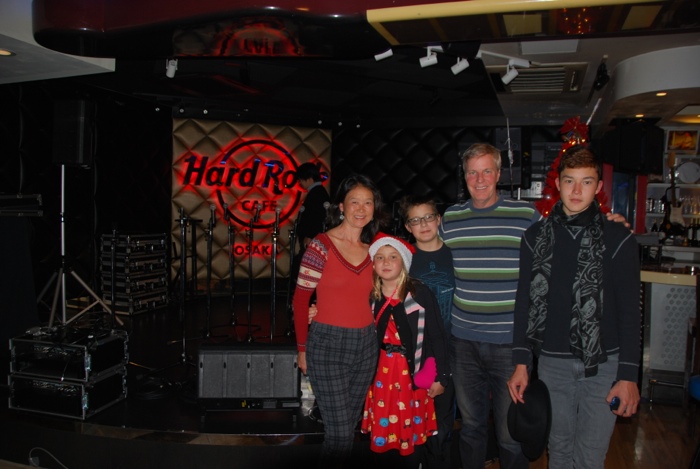 Merry Christmas from Osaka!  It's December 25 and we're partying at the HRC.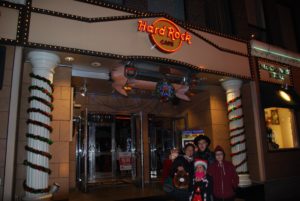 After we got back from Bali on the day of Christmas Eve (11am on Dec. 24) we had a little last minute shopping and wrapping to do.  Plus we had to go get the cats from the pet hotel.  It was a busy day.  I went to Aeon to buy prepared food and didn't bother to make a proper grocery run.  On Christmas Day we again had no food for dinner!  So we went downtown to look at the Christmas lights and stumbled on downtown Osaka's Hard Rock Cafe (above).  Everyone wanted to go inside and listen to American music, eat American appetizers, and drink milkshakes so that's what we did for Christmas dinner this year.  They had live singers belting out Christmas tunes and Disney tunes.  Very entertaining.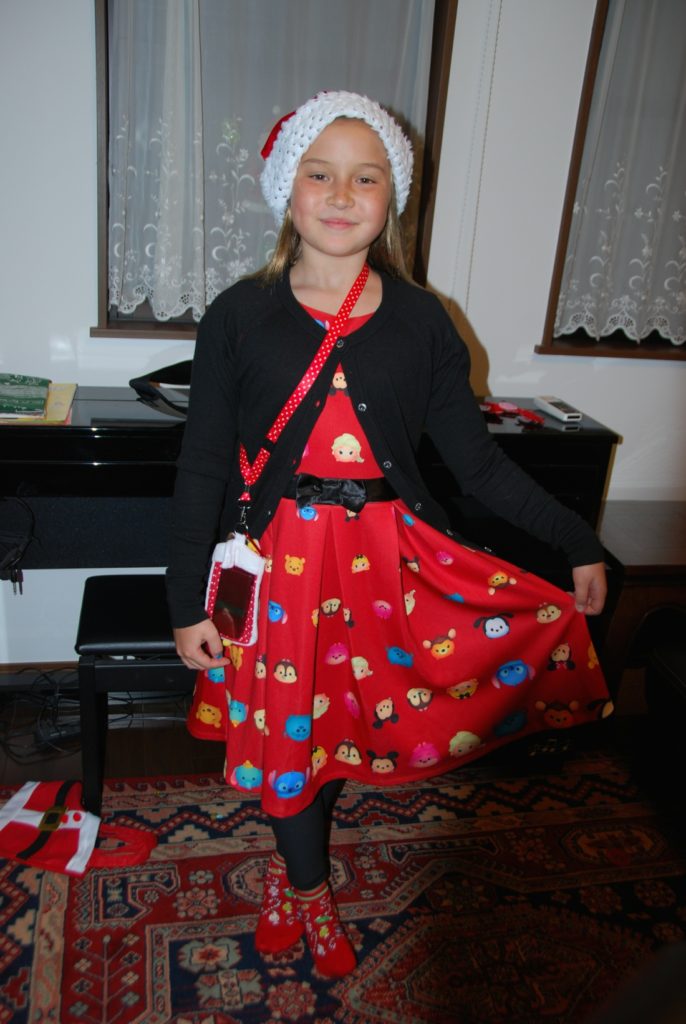 Merry Christmas from Avalon!  She loves her new Christmas outfit.  Thank you BFF Kate for sending such a special gift!
Fast forward from Christmas to New Year's Eve.  I did some research and concluded that New Year's Eve day is a very good day to go to Universal Studios Japan.  It appears that many Japanese people stay in and spend quiet time with their families and maybe some even gear up for a temple visit at midnight or a shrine visit first thing in the morning.  But USJ might not be at the top of a list of things to do on New Year's.
So we woke up as early as possible (7am on a school vacation day) and got out of the house by 8:15am.  It takes about an hour to get to USJ from our house, because we need to travel by bicycle, foot and train to get there.  We had a great day.  The lines were relatively short, especially when we first arrived, and we took advantage of the smaller crowd to ride the rides that usually have the longest lines.  We are still hunting for a good place to eat lunch there though.  So far we've struck out on finding decent food with decent prices.  Does such a thing exist at amusement parks?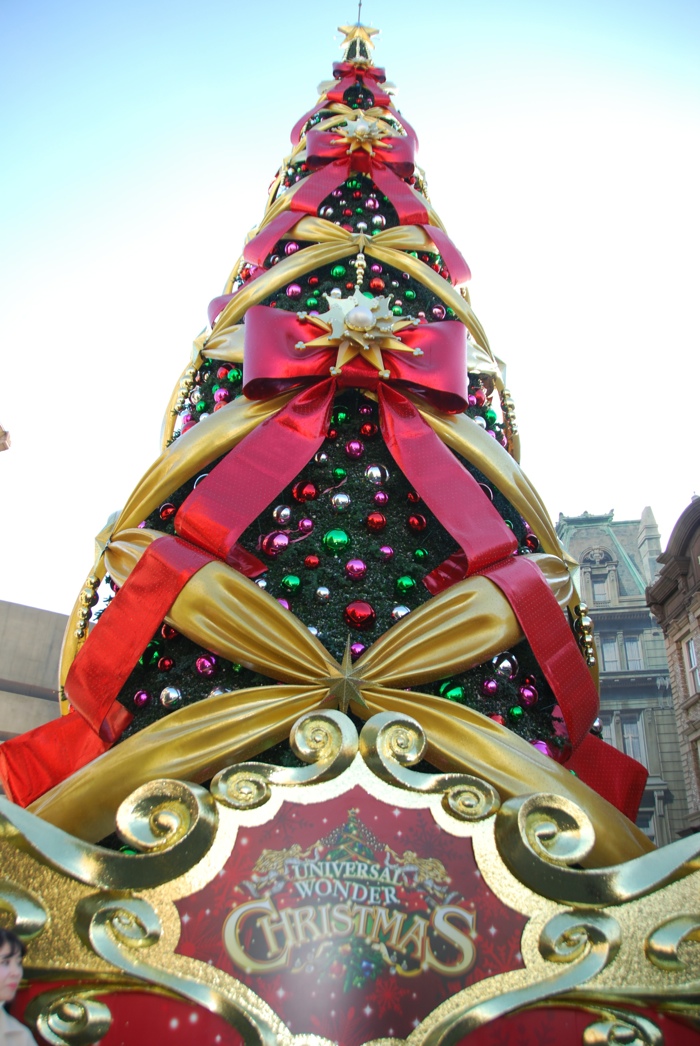 Merry Christmas from Universal Studios Japan!  This is a huge picture of a huge tree.  I'm not sizing it down because it really looks this big in real life.  This is from the USJ website:
"Ranked number one amongst 'the top 10 Christmas trees to see in your lifetime,' our legendary tree will make its final appearance this year.  Draped in a solemn light for its last showing, the tree will take your breath away during the highlight of the evening when it is fully illuminated.
"Certified on the Guinness World Records™ as having the most lights on an artificial Christmas tree (as of December 17, 2015, number of lights: 534,280)."
We didn't get to stay to see the tree illuminated when we went on New Year's Eve day because they shut the park down early for a special NYE party.  But we're going to go back before they take the tree down so hopefully we will get to see it lit up.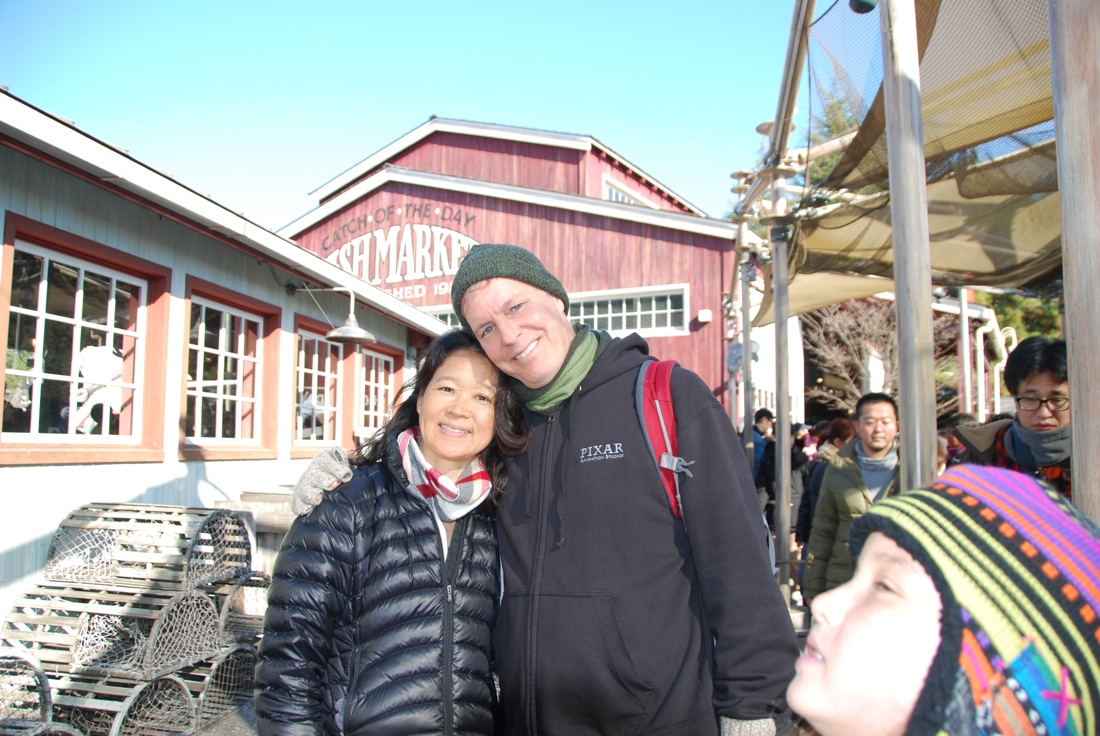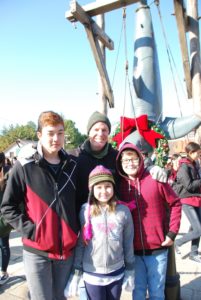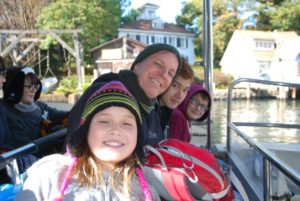 Before we left Universal City we stopped by the Takoyaki Museum and read about the history of takoyaki (fried balls of dough with chunks of octopus inside- it sounds weird but it's actually pretty tasty) in Osaka (this super popular festival and roadside stand food all started in Dotonburi) and Kaiyo and Avalon tried takoyaki for the first time.  The verdict: Kaiyo thought it wasn't too bad and Avalon isn't eating it again.  Halyard already loves takoyaki.  You have to be careful because takoyaki is crazy hot when they hand it to you.  It looks deceivingly innocent on the outside until you take a bite and burn your mouth and tongue.  Halyard swears he got 2nd degree burns on the roof of his mouth from takoyaki at the mall near our house.
We got home from USJ around 7pm.  I had already made most of our dinner beforehand so we had a good feast: beef curry, veggie curry, rice, miso soup, stir fry veggies and chicken and ice cream.  I know we are supposed to eat soba (buckwheat) noodles on NYE for longevity but no one in my house really likes soba a lot so we had to skip that tradition.
Here's to a happy and healthy 2017 for all of our family and friends near and far.  We've loved meeting new friends in 2016 and we miss our old ones across the Pacific.  Best Wishes everyone for a terrific new year.