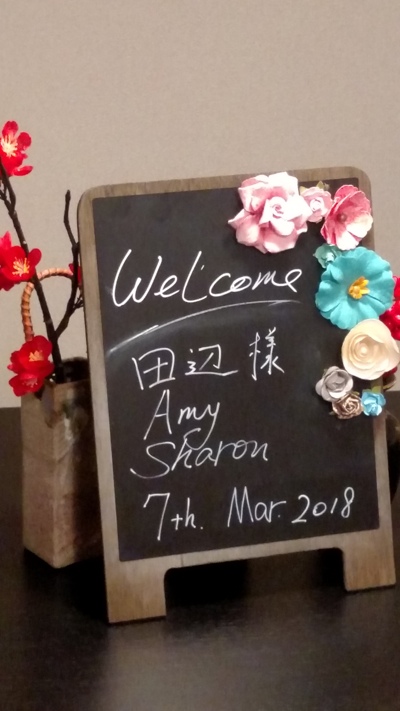 Living in a country that loves its Kobe Beef, lives and dies by seafood, loves pork dripping with fat and cracks a raw egg on everything that goes in a bowl, vegan cuisine is hard to come by.  Luckily I'm vegetarian/pescatarian, not so much vegan, but I do enjoy this kind of food category.
It happened one day that I saw on Airbnb an offering of a cooking class, in Osaka, for making vegan ramen and I knew I had to try it.  When I read the awesome description of the class, and the fact that it was near the train station AND the chef instructor listed UC Irvine as a place he had studied, I double knew I had to try it.
So I got my vegan friendly friends together and we signed up.  Today, Wednesday, March 7, was our cooking class in Sho's kitchen.  He calls his cooking enterprise, Washo.  He was a fountain of knowledge about nutrition, chemical additives in food, healthy living and vegan cuisine.  He told us a motto of his is, "Spend more money on good food and less in hospital."
On a side note, I paid for this Airbnb experience in USD and my friend paid for it in JPY and Japanese yen was cheaper!  I should have changed my setting to yen and I know now for the future.  My other friend got messed up by Airbnb and she had to pay in cash when we arrived and she got the best rate by far.
As soon as we arrived, our host Sho poured us hot tea and immediately announced that we would wash our hands and put on cooking clothes.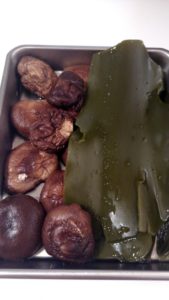 Then he told us about making the base of the broth, called dashi, by using konbu (seaweed) and shiitake mushrooms.  Konbu looks like big sea kelp and you often buy it dried and soak it overnight in water.  He also began gently deep frying onions and garlic in oil on LOW HEAT for later.  He probably said "low heat" about 20 times throughout the lesson, lest we forget and scorch our food.  We could easily copy this and make our own homemade garlic chili oil by adding chills and leaving it to fry for a half an hour.  It made the kitchen smell like something special was happening.
Then he plopped a whole lot of mushrooms (what kind?  I forgot to ask), onions and garlic in a pot of water and left it to boil.  This would be the other part of our broth with the dashi.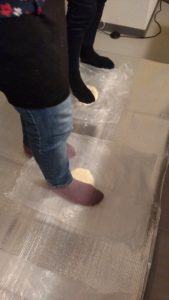 Next we made noodles from scratch, which involved adding a little salt water to flour, stirring it with our fingers, letting it rest in a plastic bag, and finally stepping on it with our stocking feet in order to knead the noodle dough.  What fun.  I immediately thought about how the kids would enjoy stomping on dough for 10 minutes.  It was a good workout too.  We let the dough rest for 5 minute intervals a few times and our feet got to rest, too.  That dough got tougher and tougher the more we stepped on it.  Finally we shaped it into a square shape and flattened it out with our feet one last time.
When the dough was ready we rolled it into a large flat shape using a rolling pin.  It took a lot of muscle to roll the noodle dough.  In the end we folded our thin pancake-like dough and sliced it into perfect, thin noodles.  The dough smelled so fresh!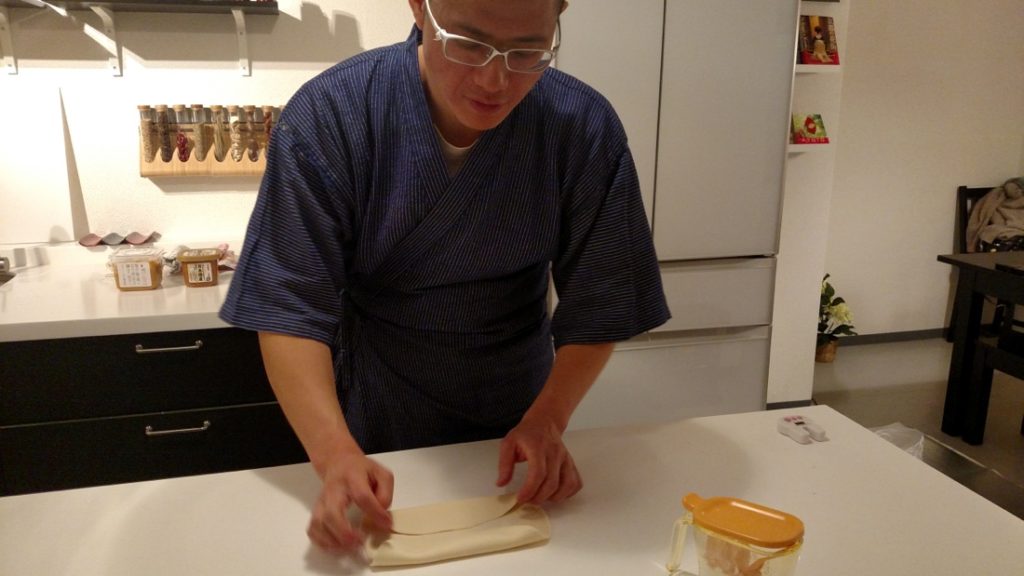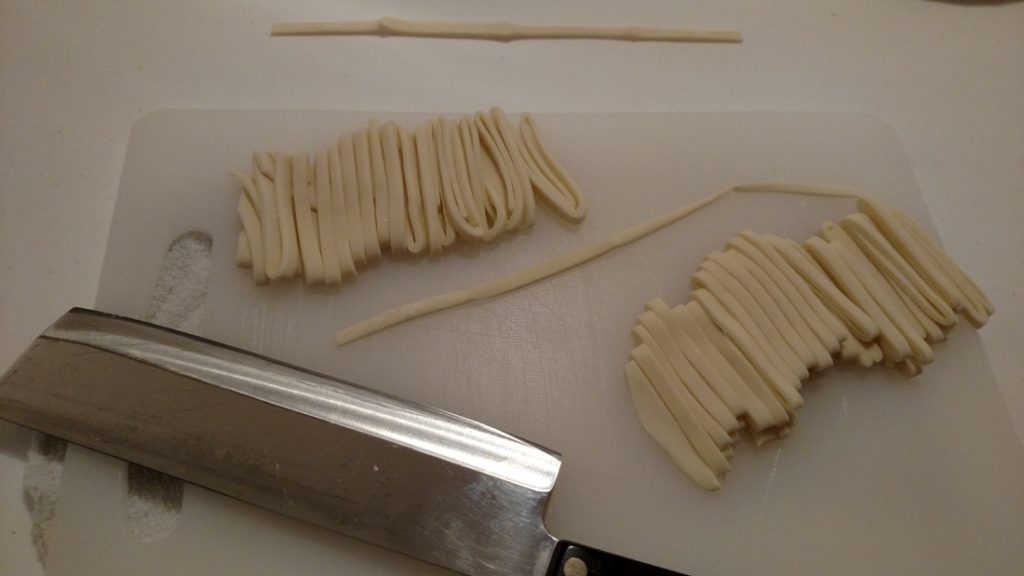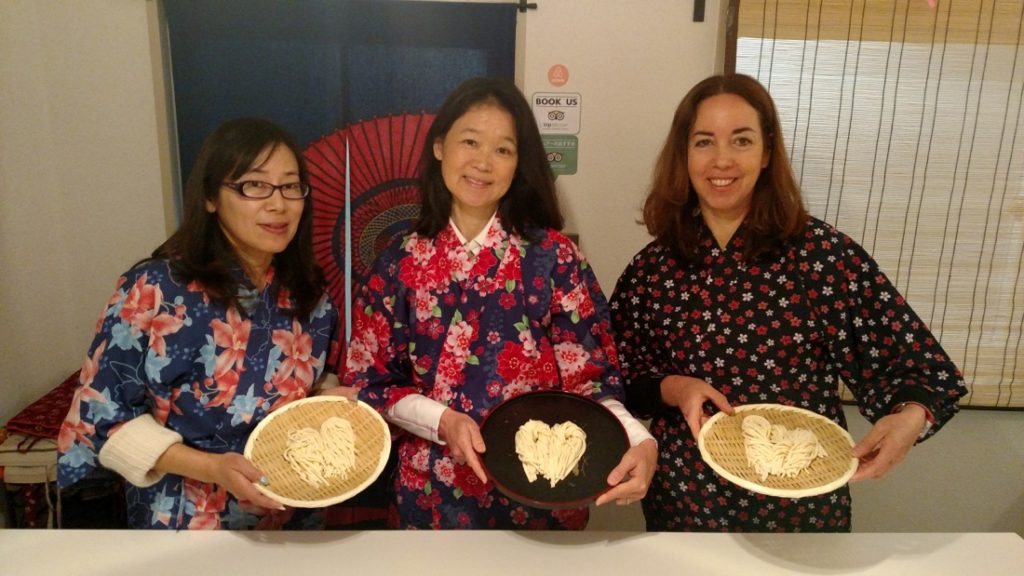 Sho had already made the dashi broth for us, so he brought it out and then added pure soy milk to it to make a creamy, vegan broth.  We put some miso paste in our serving bowls, plus oil and ground sesame seeds and stirred it.  Then we poured the creamy broth in our bowl, added the perfectly cooked noodles that we had made, and added colorful veggie toppings, chili oil and sesame seeds.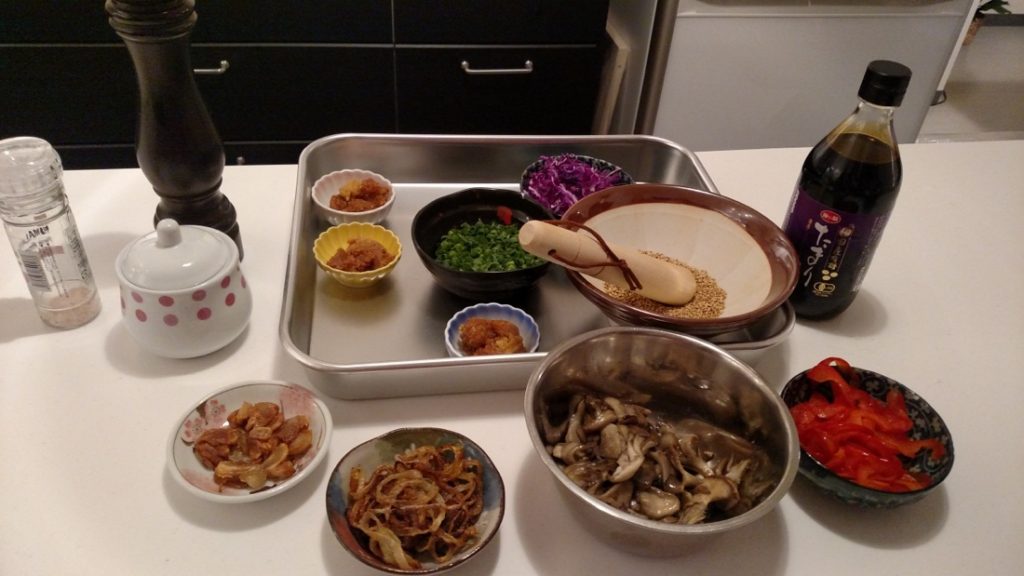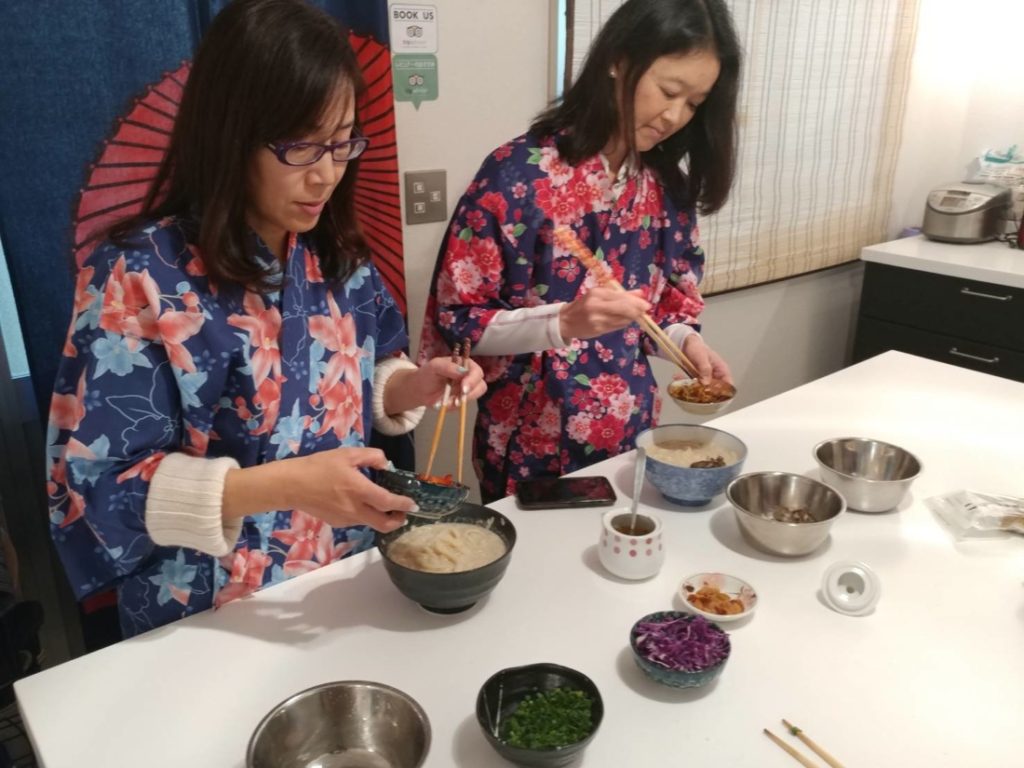 There's the garlic and onion that was fried in the oil for a half an hour.  There are maitake mushrooms, sliced red peppers, green onions, red cabbage, plus tamari sauce, chili oil and salt and pepper for seasoning.  It was an amazing meal.  I didn't want it to end.  Sho had made a beautiful table setting for us.  He poured us more tea and talked to us about nutrition, the chemistry of food, reasons to be vegan, and his aspirations for the future.  He is such an interesting guy.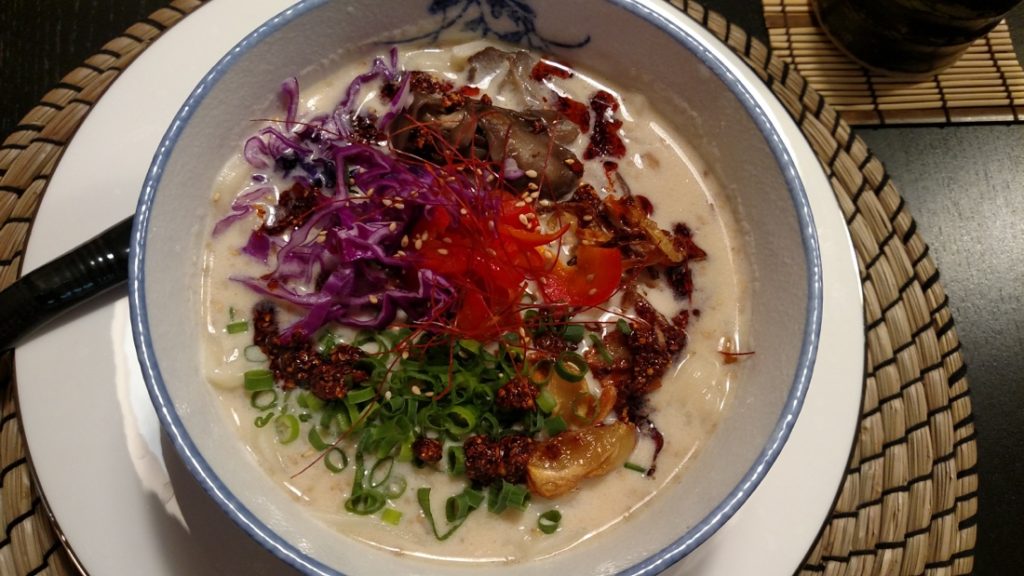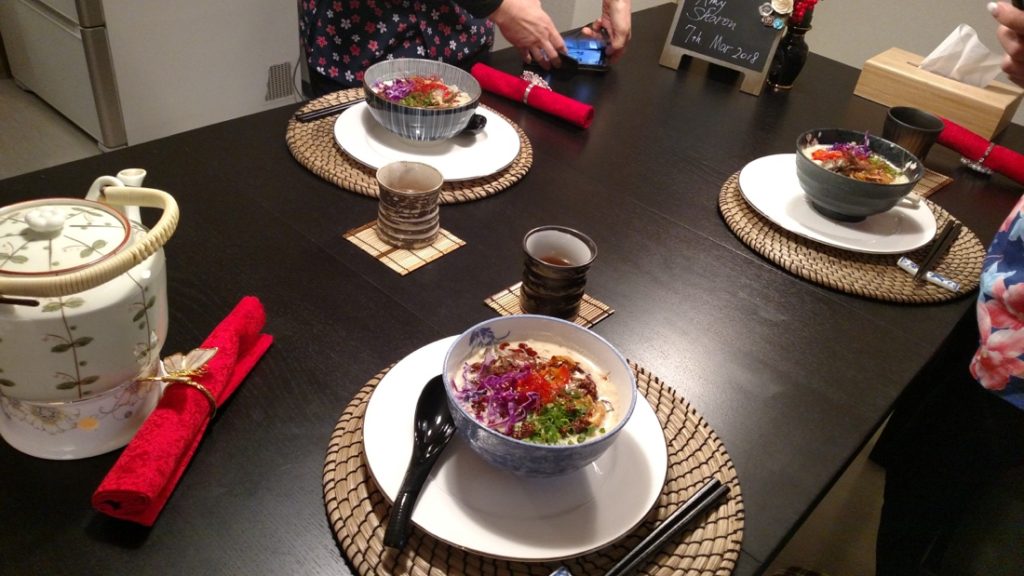 As I mentioned before, his online description said he had studied at the University of CA, Irvine, which is less than a half hour from our home in Newport Beach.  He said he went to California to study English for a year.  We talked about the perfect weather and I said how much I missed being warm!  Sho's English is very good and he is so outgoing and well spoken.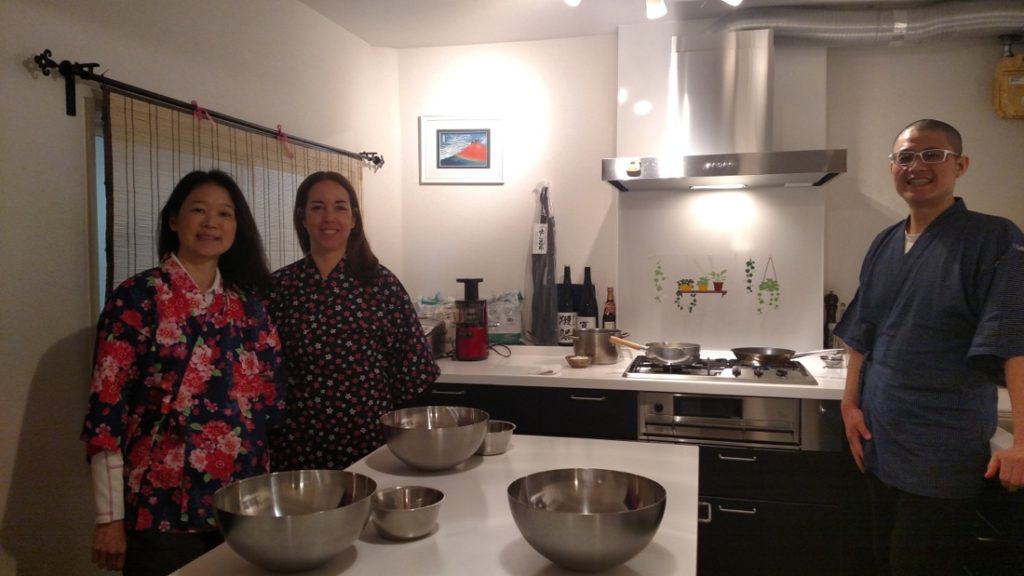 On his website description, at https://www.washo-cooking.com/activities-info, he calls our class, "Legendary Vegan Ramen from scratch."  Legendary indeed!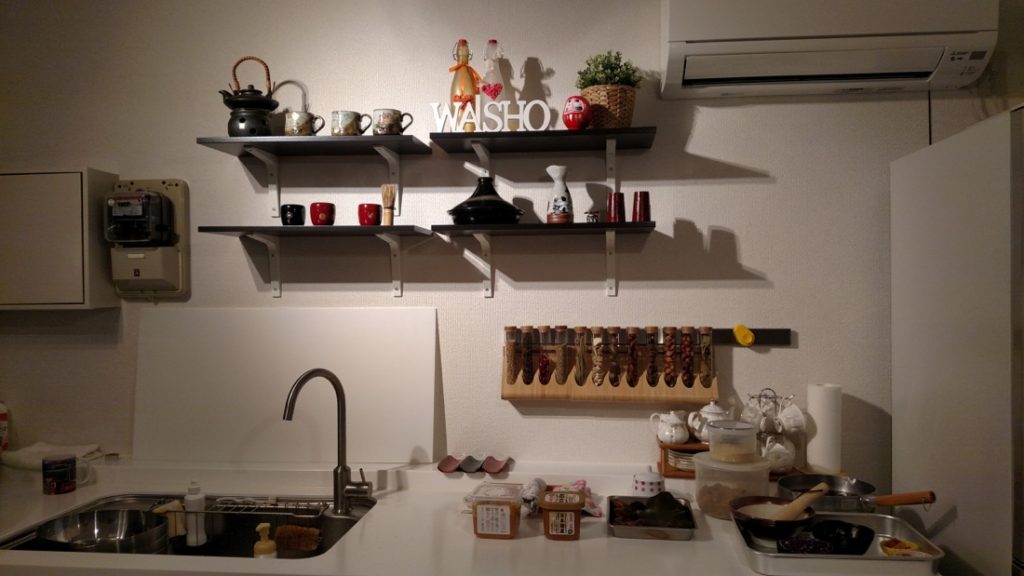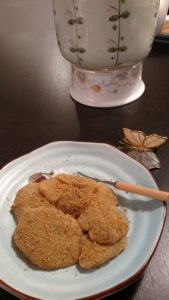 Sho even surprised us with dessert that he had made for us.  It's called warabi mochi.  I've had it once before in Kyoto.  The main ingredient is warabi starch or bracken starch.  I don't really know what bracken is, but that's the English translation and it's some kind of mountain plant.  You can buy this as a dry powder in the supermarket and you add water and sugar and boil it.  Then it becomes a gelatin texture.  It is slightly like jelly but stiffer than that and you can cut it and eat it with a fork.  Before serving, warabi mochi is coated with kinako, which is a sweet toasted soybean flour.  The dessert is very light and not too sweet.  It was a nice ending to a fun morning of cooking and eating.  I was stuffed full when I left.  Sho has other cooking classes, including those with and without meat.  I want to try his vegan dim sum class next!  Yum!  Oishii!