Saturday, June 17, Avalon is signed up for a nature art camp at Ritsumeikan University, Ibaraki campus.  We are meeting her friends and her art teacher at the Starbucks on campus in the morning.  After the camp, my friend Satoko will drive Avalon and I to a kimono shop in downtown Osaka to go kimono shopping.  This is a special kimono shop that mainly rents kimonos out to customers who need a kimono for a special occasion, or who just want to take fancy keepsake photos.  I am looking for a nice used kimono or yukata (a light version that is worn in the summer heat) that I can buy for Avalon and I to share.  This shop has beautiful kimonos with intricate designs and vibrant colors.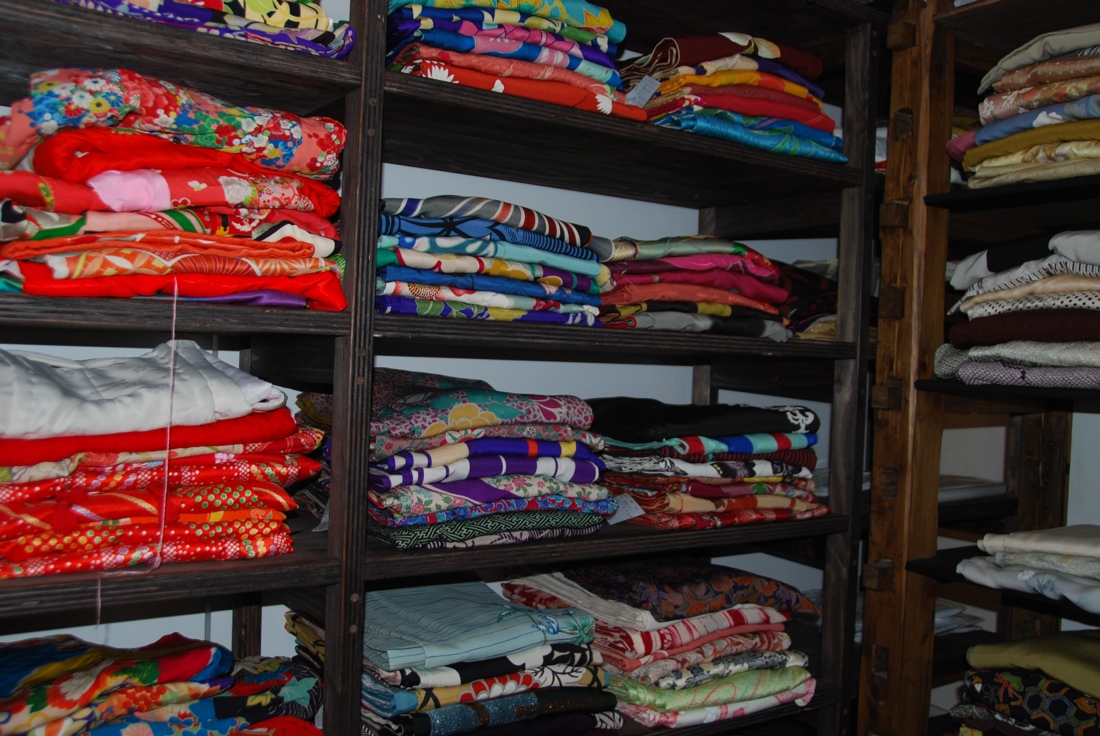 Avalon tried on a few kimonos.  In this photo the shopkeeper is helping her into a beautiful silk kimono with a traditional pattern.  She told us this kimono is 100 years old.  It is an antique!  My friend told me that this one is of high quality and looks like one of a kind.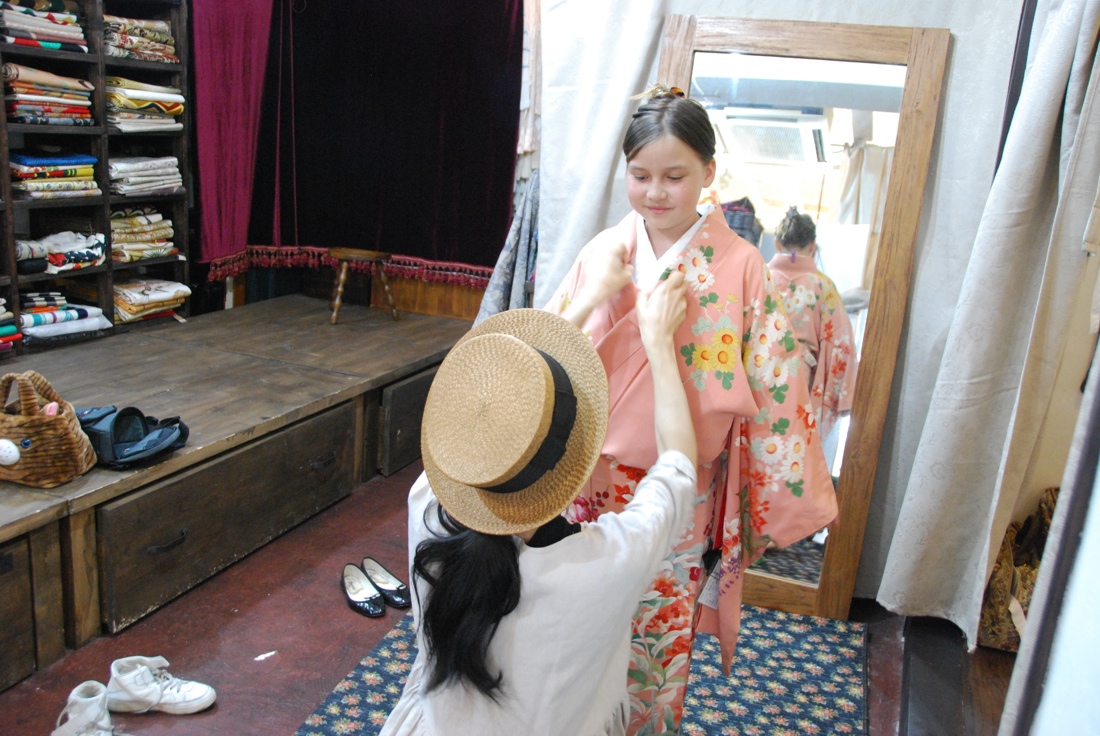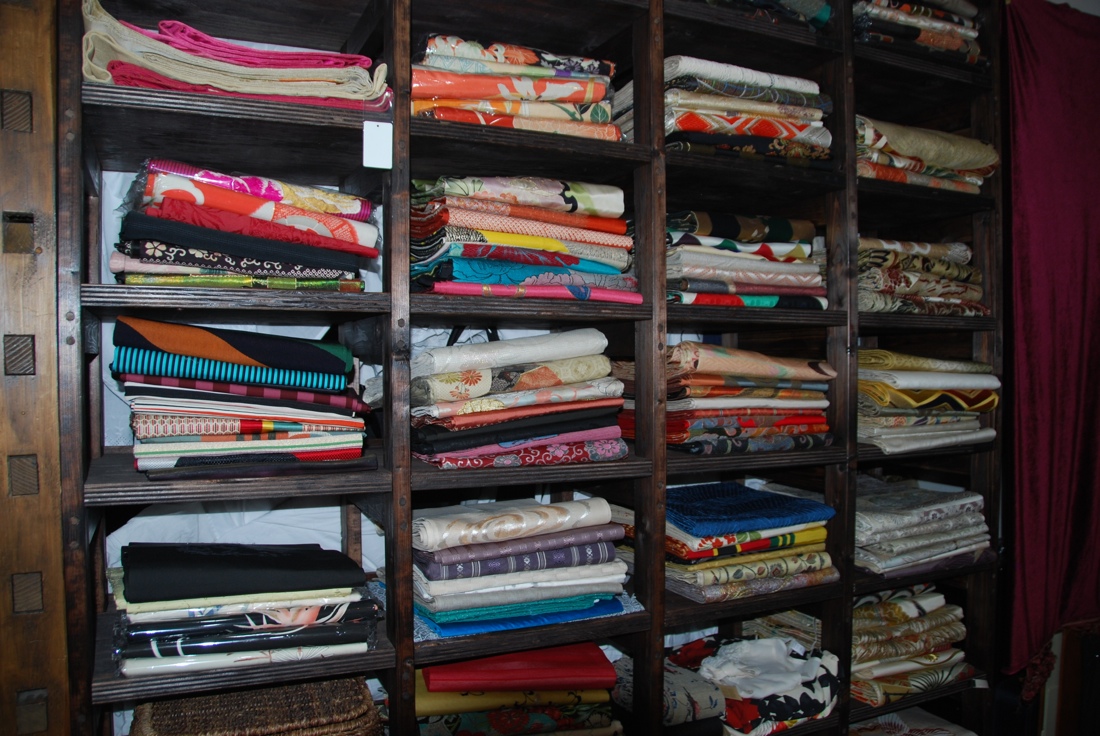 This is the kimono that we ended up buying.  It is a silk, navy kimono with a pattern of small colored squares on the front and back and also on one sleeve.  The obi (red belt) is a brilliant cherry red with a fancy embroidered pattern.  It looks so beautiful in person.  This kimono is (only) 40 years old!  Avalon liked the older, 100-year old kimono above, but I told her if she bought that and wore it to a festival then she could not eat shaved ice with syrup, ice cream, or anything chocolate or saucy.  Drips and spills on a 100-year old kimono is not happening!  She decided that was  an outrageous request, so she went with the dark kimono that hopefully won't show many food stains!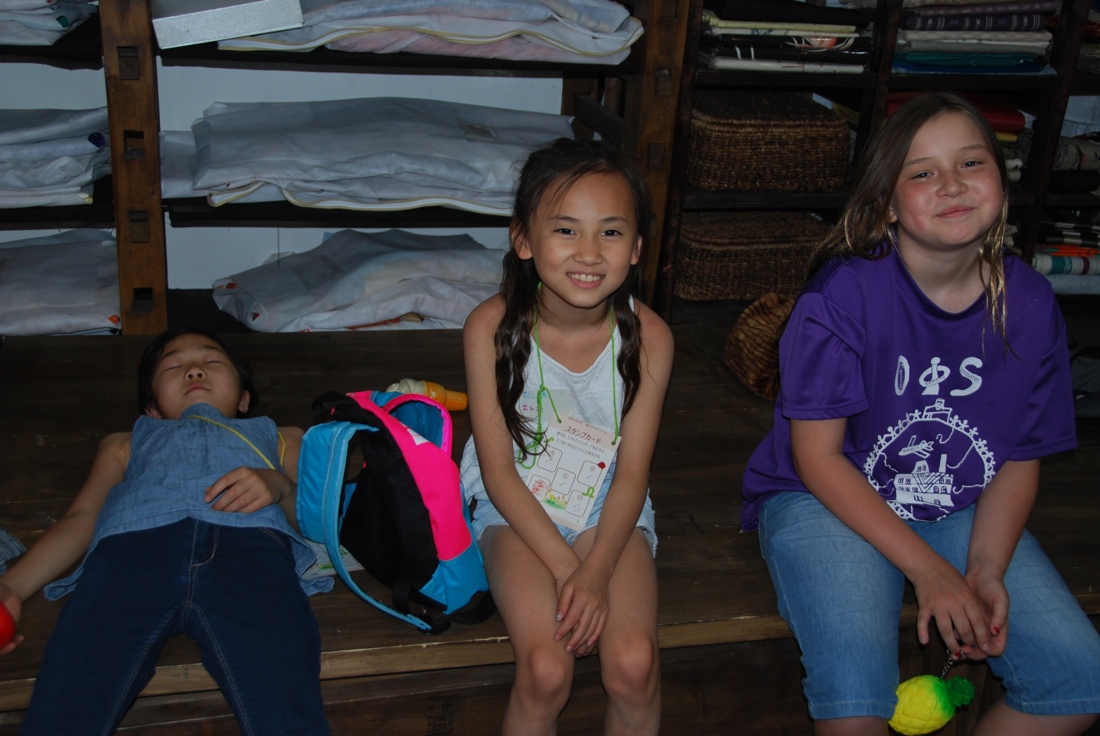 Trying and buying kimonos is exhausting!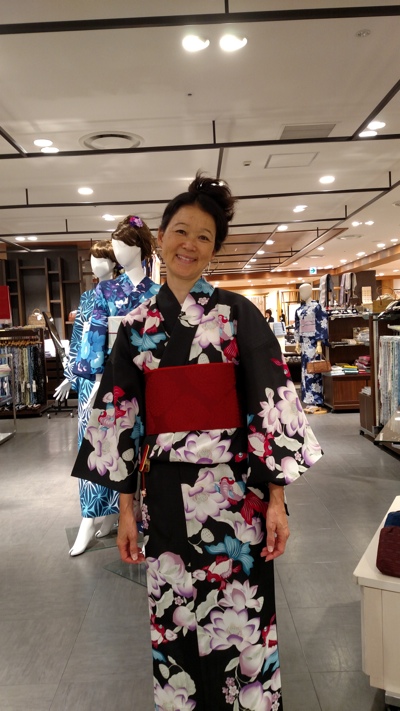 On another day (Saturday, July 1), I went with a Japanese friend to Hankyu (hah-n-queue) department store in Umeda.  This store is accessed underground as part of the cavernous Umeda train station and underground mall maze. Hankyu is high end and sells a lot of luxury goods.  We went to Hankyu to try on fancy yukatas.  I knew they would be expensive, but they were really expensive.  More than I thought.  I tried some on anyway.  This yukata has a very vibrant, modern pattern.  The material is polyester, which is super light, breathable and, best of all, washable at home!  It does not need ironing and is low maintenance.  Just my style.  My friend bought a yukata, obi (the wide fabric belt), undershirt, and geta (traditional shoes that are worn with a kimono).  The whole package came to just under $1000.00.  There was a big, annual sale going on at Hankyu but I don't think the yukata section was included!
We are busy with a lot of guests, back-to-back, now.  I am trying to squeeze in time to get a blog post written but I'm having quite a delay in getting them finished.  First, our friends from Newport Beach arrived in Japan shortly before Father's Day.  John and I took a quick morning trip to Kyoto to see them at Kiyomizu-dera (temple).  This is one of the most famous Buddhist temples in Kyoto.  Everyone wants to visit this special place.  A lot of people like to rent kimonos to wear to the temples and shrines and other famous sites in the city.  My friend didn't rent a kimono on this day, but she and her daughter did spend another morning getting dressed up in formal kimonos and taking fancy pictures.  My friend said the kimono was extremely heavy, tight and hot!  There are a lot of heavy layers involved in wearing a formal kimono.  I can't imagine how the ladies wore these all day.  I guess they didn't move around much.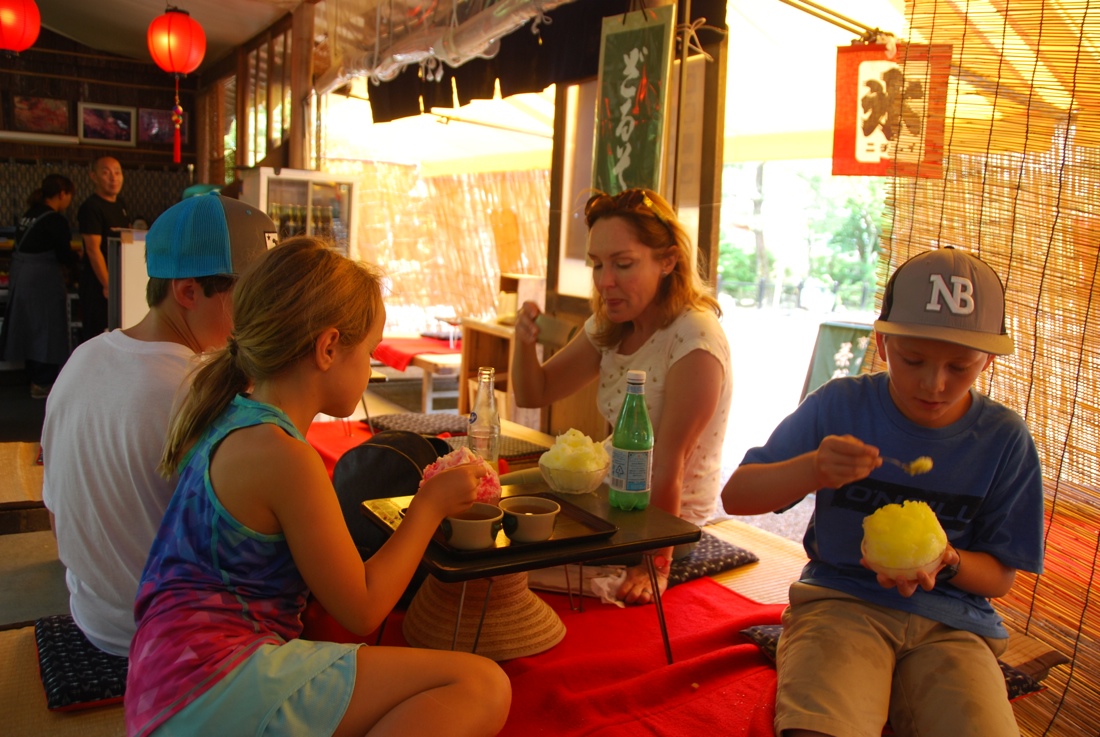 Here we are eating refreshing kakigori (shaved ice)!  Lemon and strawberry flavored syrup on top.  Yummy!  Nothing beats the heat like shaved ice.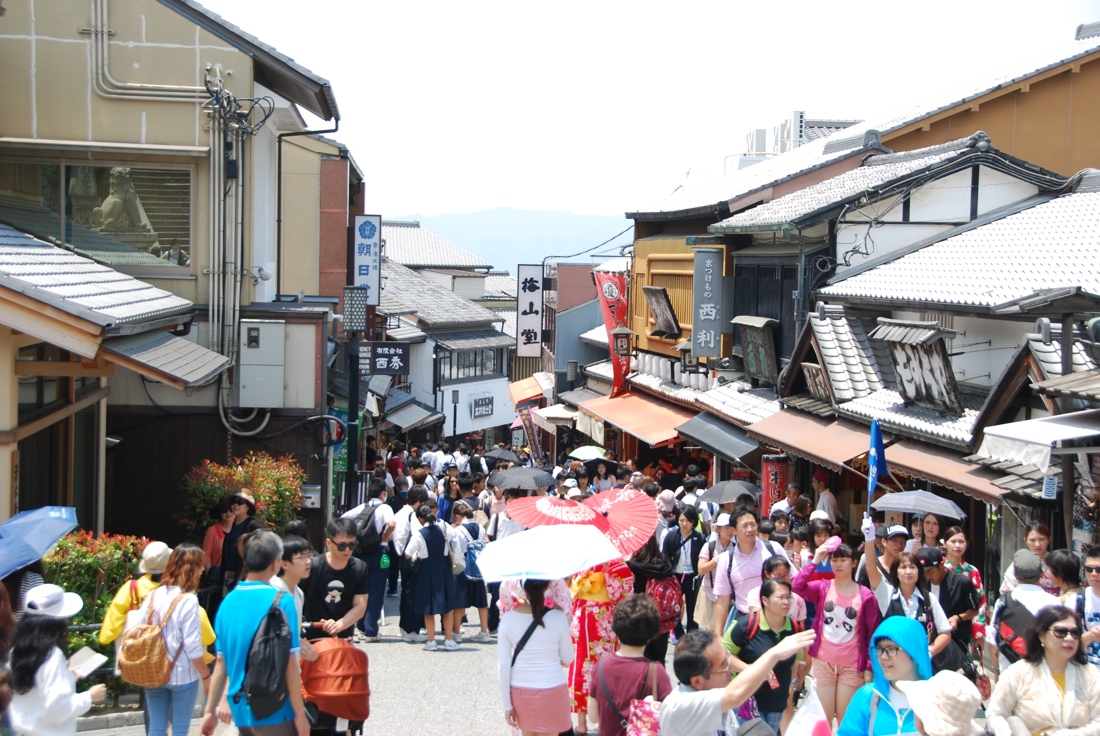 On the way to Kiyomizu-dera there is a famous shopping street.  Little shops are lined up along a hill with a pretty good uphill grade.  But you barely even notice the hill as you creep along checking out the souvenirs and goodies in each shop.  There are many shopkeepers standing out front trying to lure you in.  My kids' favorite Kyoto treat is called yatsuhashi.  It is famous here and I have a hard time finding it outside of Kyoto.  It is little triangle shaped treats made of rice flour and flavored bean paste inside.  You can sample all of the flavors as you walk along the shops.  Melon, peach, lemon, grape, ramune, cinnamon, matcha tea, strawberry, chocolate, mango, green apple, black tea, banana, and even more!  Avalon begs for mango yatsuhashi whenever she sees it.  John liked lemon the best.  I got ramune flavor for the boys and green apple for me.  Oishii!  (Delicious!)
Next is a photo of the most famous part of Kiyomizu-dera.  It's not even part of the main hall!  This is the Chouzuya.  All of the guests line up to put a ladle in the water and cleanse themselves.  From Wikipedia, the ritual is as follows, "washing their left hands, right hands, mouth and finally the handle of the water ladle to purify themselves before approaching the main Shinto shrine or shaden (社殿).  This symbolic purification is normal before worship and all manned shrines have this facility, as well as many Buddhist temples…"  The first time we came here in August 2013 the line was too long and we skipped it.  This time the line was only about 7 minutes.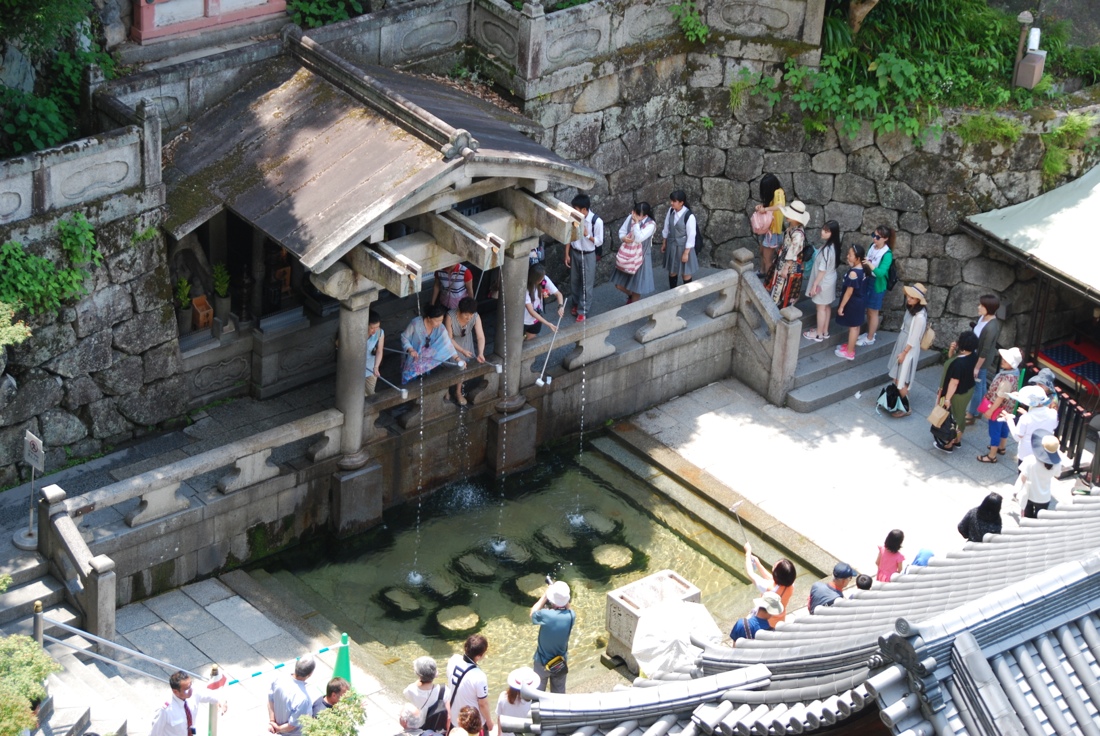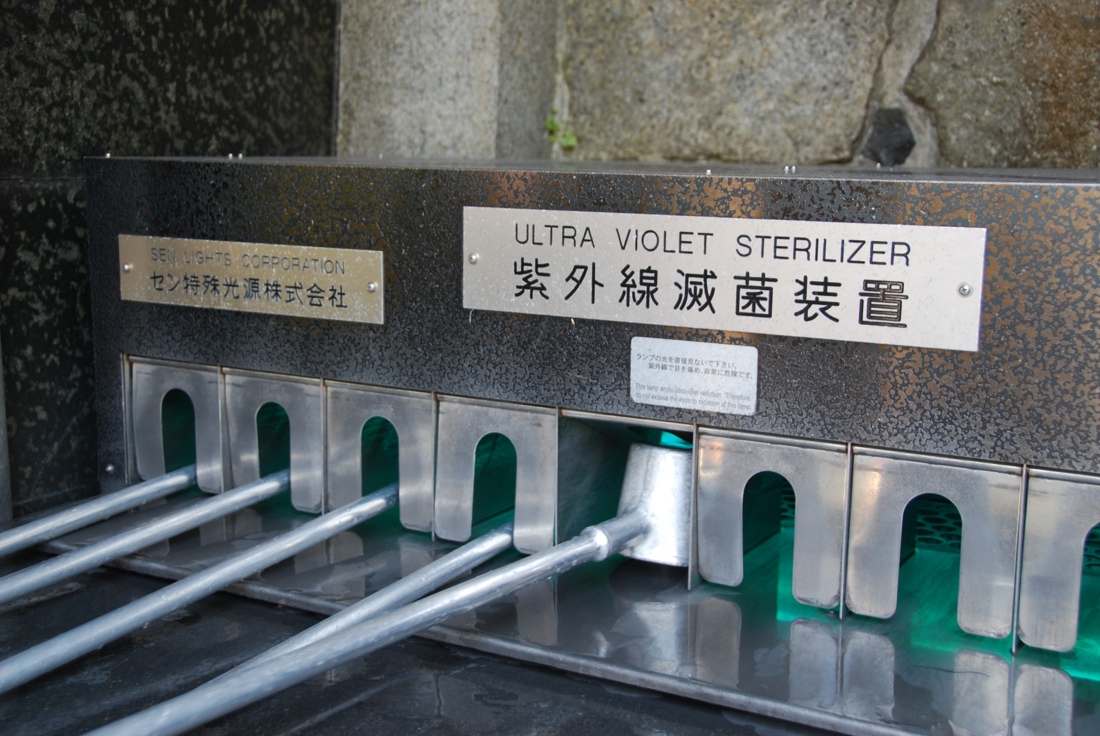 Some people drink from these ladles.  I guess it's allowed since they undergo ultra violet sterilization!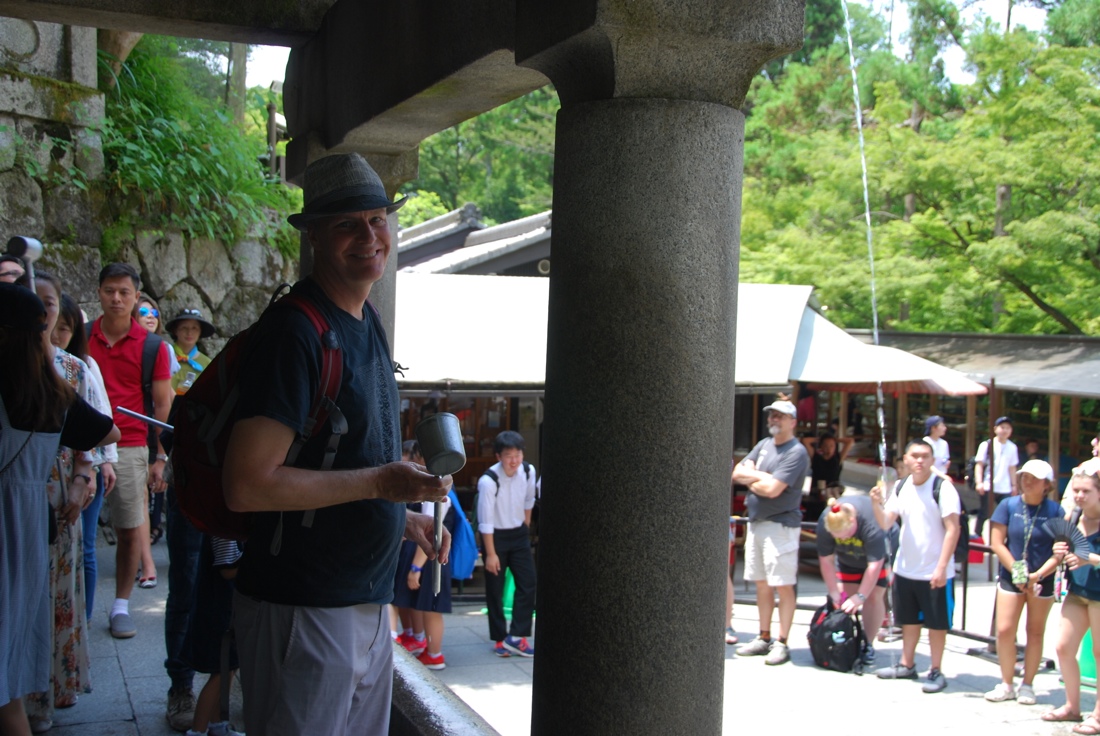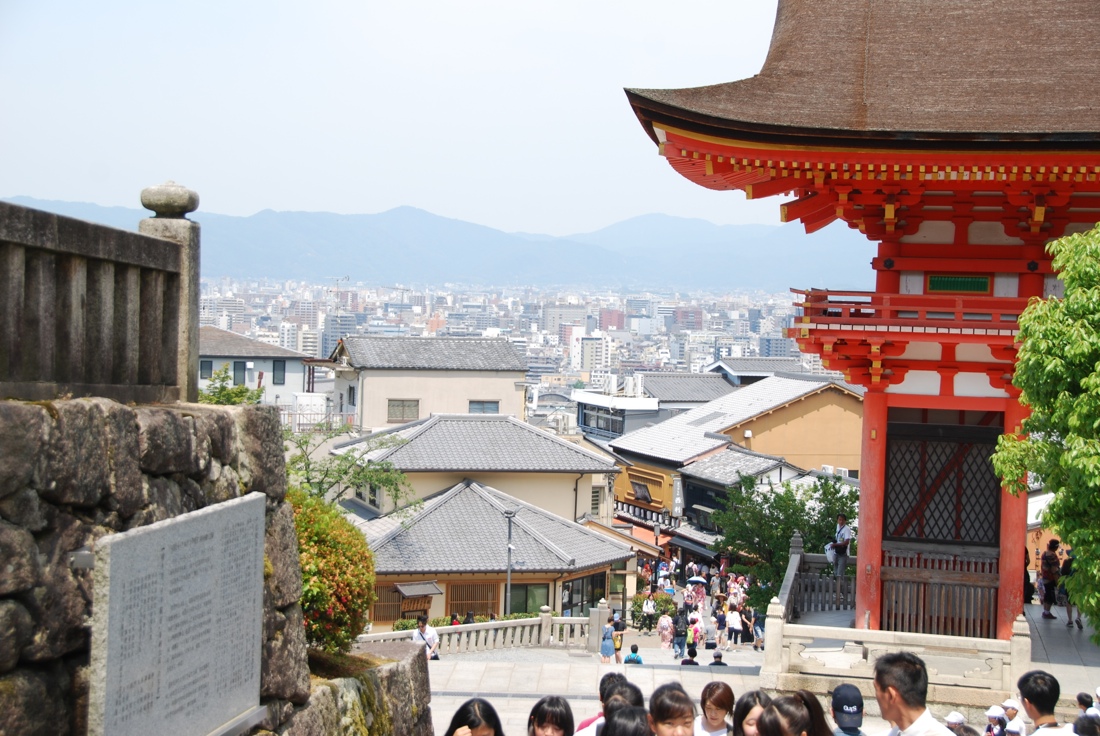 The view from Kiyomizu-dera offers a look at the city of Kyoto.  It looks pretty urban from up there.  And here we are standing in front of my favorite flowers in full bloom.