Japan loves to light up their landscape in winter!  What better way to spend a freezing night than to walk around outside in your heavy coat, hat, scarf, gloves and boots.  It's just like being inside the house so you might as well get outside and enjoy it!
Nabana no Sato is a large and spacious flower garden at Nagashima Resort in Kuwana City, near Nagoya.  It is about a 10 minute drive from the Nagashima amusement park where we went for Halyard's birthday on Saturday, November 4.  However, when we drove to Nabana no Sato, we managed to make it a 25 minute drive with hairpin turns and narrow roads with steep drop offs.  No thanks to Google.  Needless to say, our route was ridiculous, difficult and not advised.  And John was a bit stressed out.  We ended up parking a very far distance from the entrance and it was freezing cold out.  But the drive was forgotten once we got inside and saw the millions of LED lights that cover this entire place.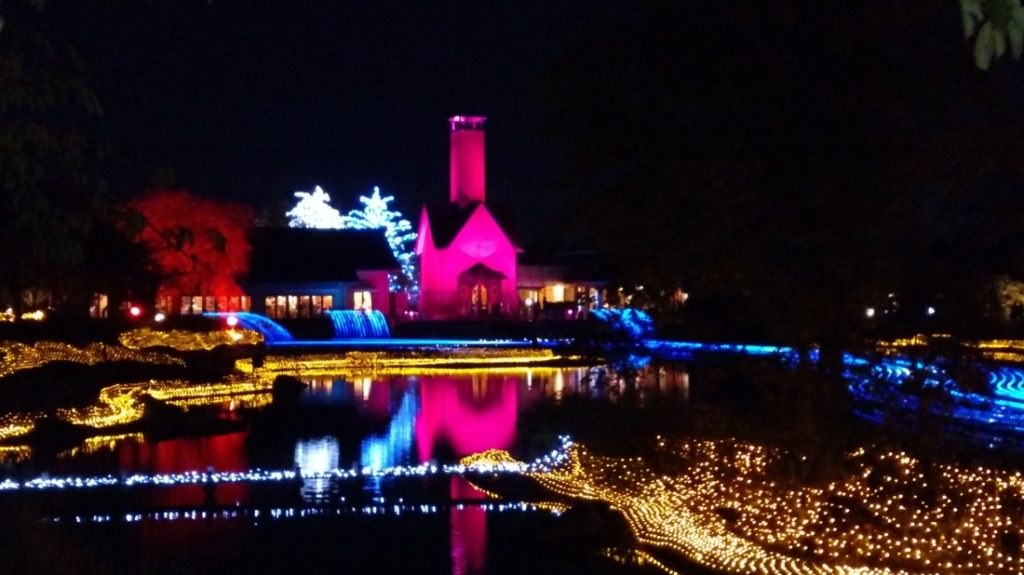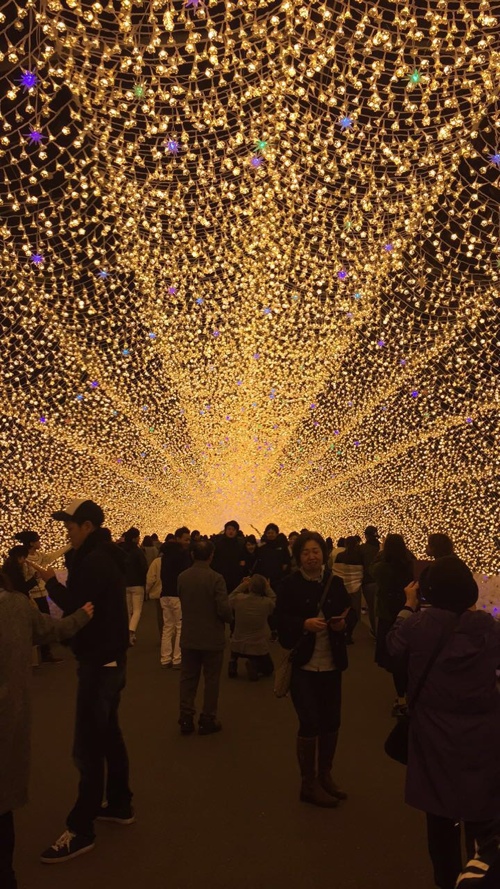 This light tunnel is the coolest.  The featured photo at the top of the blog shows Halyard trying to jump up and touch the hanging lights.  He had to jump pretty far up, but he has a long reach so sometimes he could swipe at them with his fingertips.  It's a very wide and fairly high space.  The tunnel is 100 meters long so it seems like you are walking through this tunnel of lights for a long time.  It is pretty cool.
Nabana no Sato has the largest illumination in Japan.  They leave it up from October to May and that seems pretty smart considering how long it must have taken to hang all the lights.  Think how upsetting it would be to put up so many lights and then take them down a few days later.
Here are photos from the animated illumination scene that features moving pictures on a large landscape of lights.  It's hard to tell from the photo, but this animated area is really huge.  This year, Kumamon, a cartoon black bear with red rosy circles for cheeks and a big smiling mouth, takes viewers on a journey through his homeland of Kumamoto, Japan.  Every year Nabana no Sato's winter illumination features a theme and this year's highlight is Kumamoto, one of Japan's earthquake-shaken prefectures.  Kumamoto is in southern Japan on the island of Kyushu.  Kumamon is a very popular and famous bear in Japan.  I think it's safe to say everyone knows him.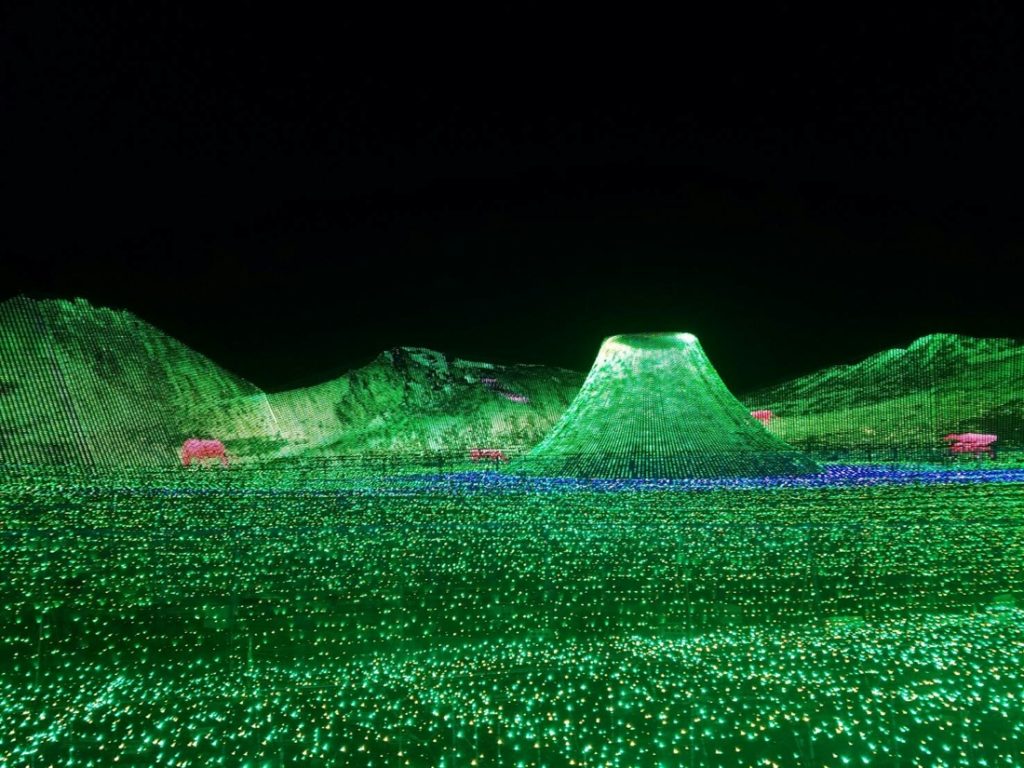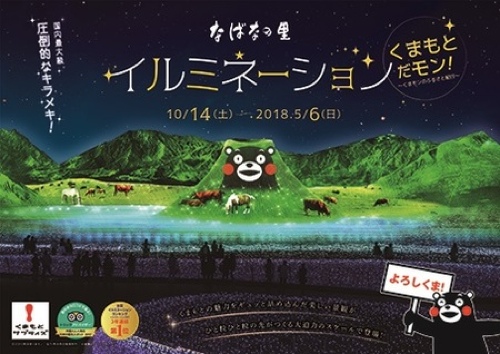 From CNN Travel online: "Our main theme of this year is 'Kumamon's hometown dream in Kumamoto.'"  Kumamon, a black bear, is Kumamoto Prefecture's superstar mascot.  This year's theme features beautiful landmarks of Kumamoto, where Kumamon travels.  The initiative is aimed at promoting Kumamoto as a tourist destination.  The prefecture's tourism industry suffered after a powerful earthquake shook the prefecture in April 2016."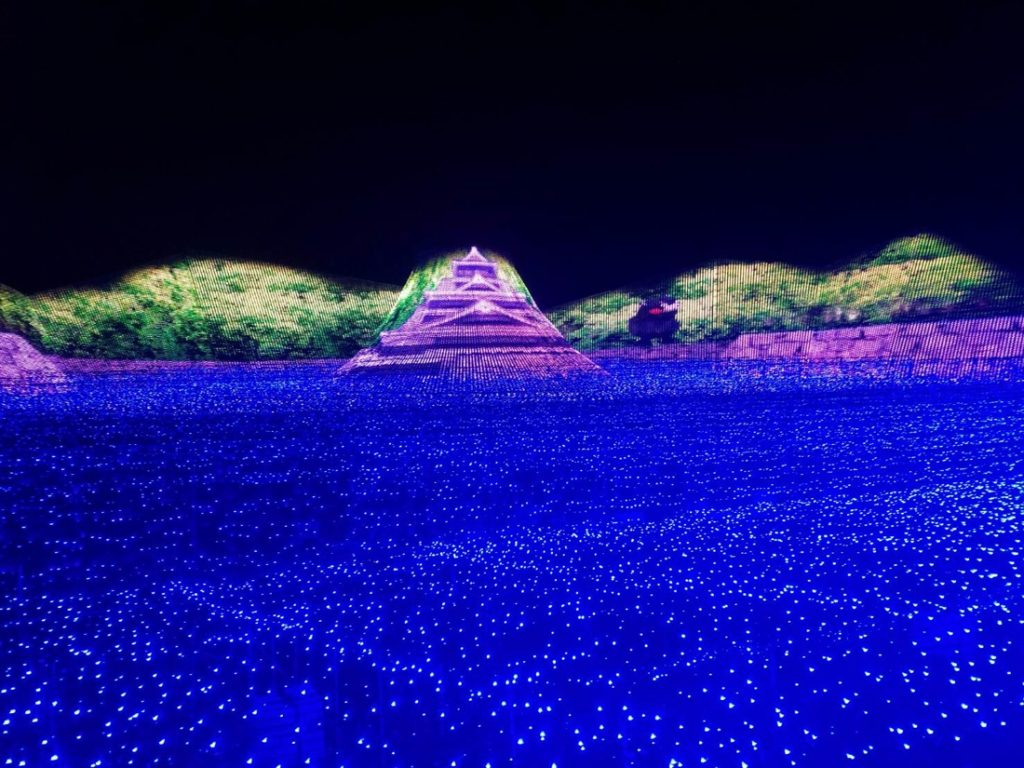 I've read that some of Japan's famous winter illuminations are in Tokyo, but there's one that everyone in Japan knows about:  Kobe's Luminaire.  This is said to be the one that started the large scale events.  The first winter light display began as a commemoration and memorial to the victims of Kobe's Great Hanshin Earthquake in 1995.  My friends have told me that the earthquake pretty much leveled Kobe and 6,000+ people died there.  After the earthquake the city was plunged into darkness without gas, electricity or water.  This light display was meant to inspire and bring hope to the people of Kobe via a message of light in a time of darkness.   I made that last part up, but I think it's true!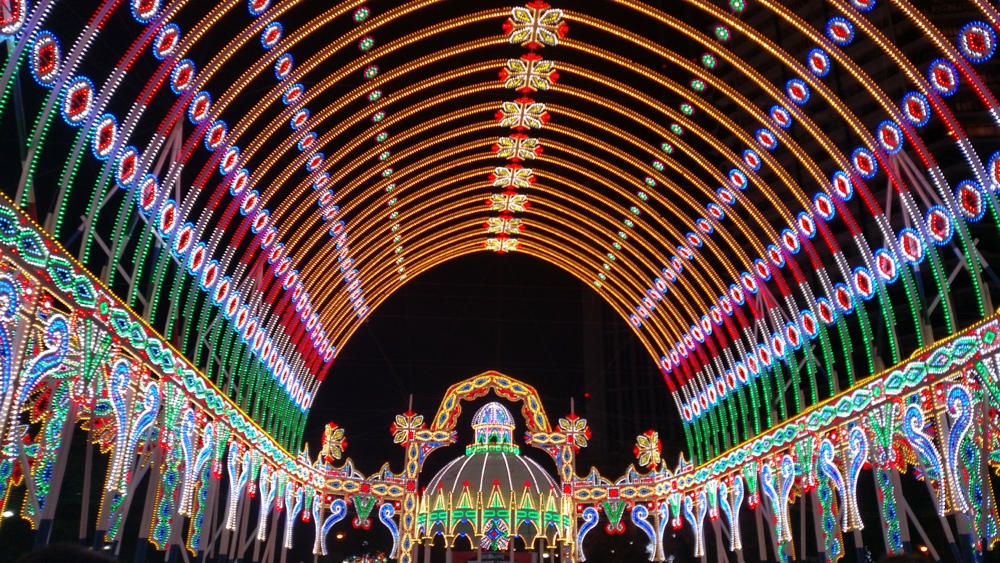 Anyway, the lights are stunning.  Luminaire is an Italian word meaning illumination with miniature bulbs.  The lights were donated by the Italian government and, according to Wikipedia, "over 200,000 individually hand painted lights are lit each year with electricity generated from biomass in order to stay environmentally friendly.  The lights are kept up for about two weeks and turned on for a few hours each evening.  Major streets in the vicinity are closed to traffic during these hours to allow pedestrians to fill the streets and enjoy the lights. It is viewed by about three to five million people each year."
Actually the lights are on display for 12 nights in early to mid December.  I really wanted to go so we snuck it in the night before our flight to California.  On
Saturday, December 16
we ate a quick meal, trying to eat up the food in the house, and then we set out for Kobe.  We can attest to the fact that a whole lot of people come to see these lights.  Since the display is only kept on for a limited amount of time, it's a mad crush of people.  When we stepped out of the train station we followed signs leading us to the end of the line.  I've mentioned before that Japanese people love to stand in line.  We walked forever and ever past hundreds, maybe thousands (!) of people, just to get to the end of the line.  I have to admit it moved at a rather quick pace which was nice.  Since the street is closed to traffic it is a fairly wide area for the crowd to move forward.  For a long time in line you can't see any lights up ahead whatsoever, because you keep having to turn right and left down the streets.  Finally, here is the first thing you see when you notice that there are actually lights up ahead.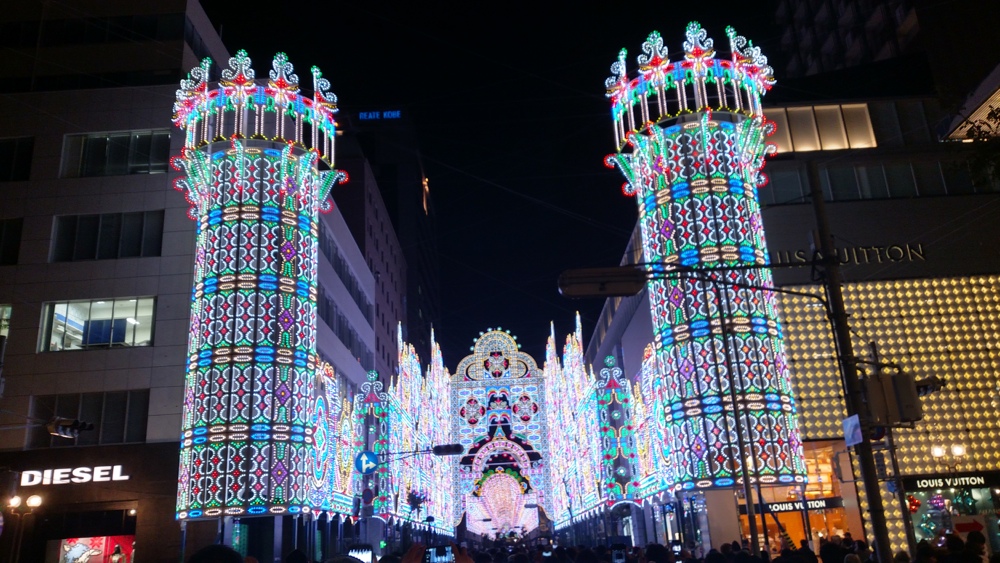 Then as you get closer you can see this: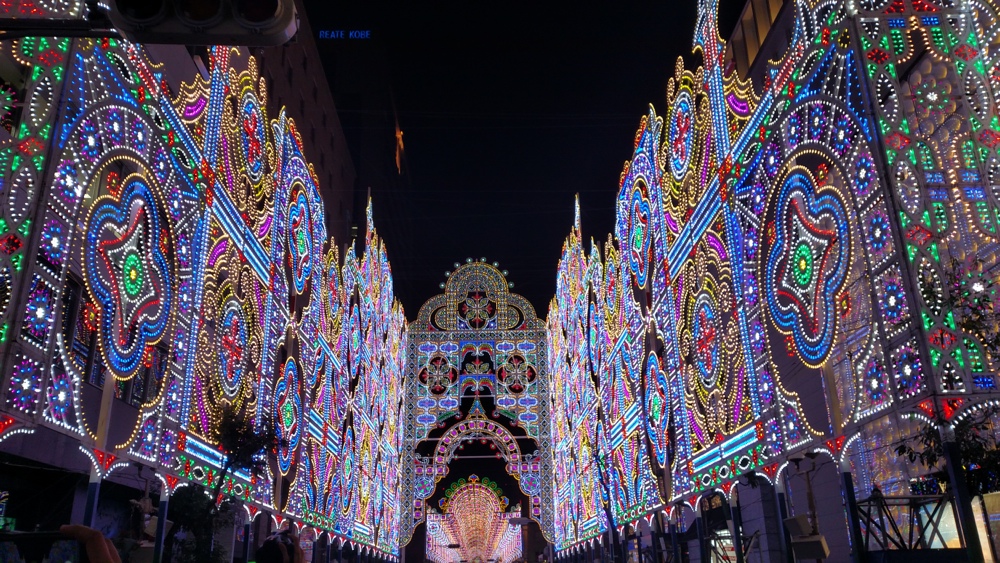 Then finally it's all around you and the lights are an amazing array of colors.  They look like shining jewels.  I can't believe they are all hand painted.  No wonder the colors are so unique and bright.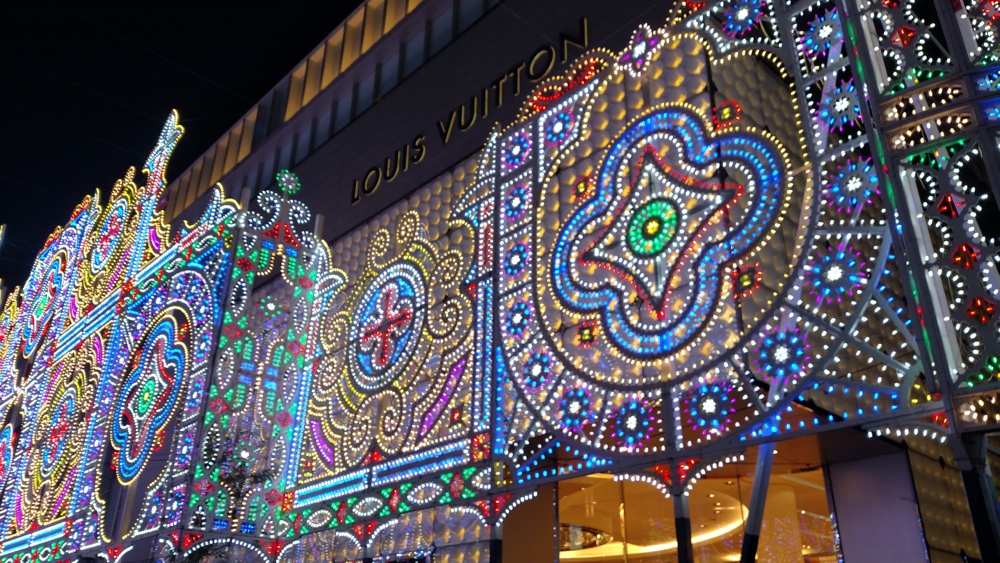 There's a lot to look at.  The walk under the lights goes on for a while.  It's totally worth the never-ending line and the crush of people.  At the end of the walk you find yourself in Kobe's Higashi Yuenchi Park, surrounded by lots of yatai vendors selling food and snacks, lots of sweets and hot wine and sake.  There's also some booths selling commemoration items for fundraising and there's a large pond that has a little light show going on.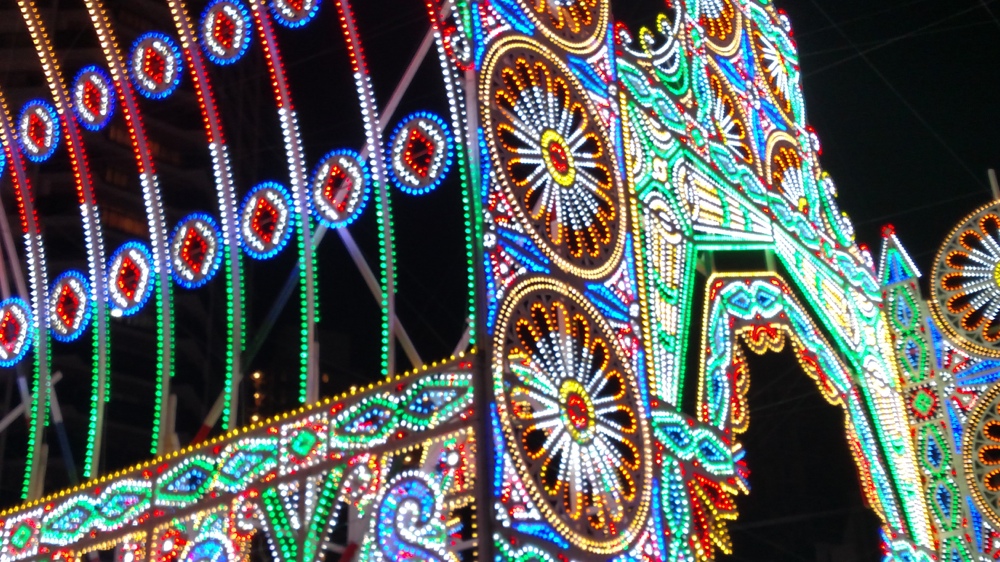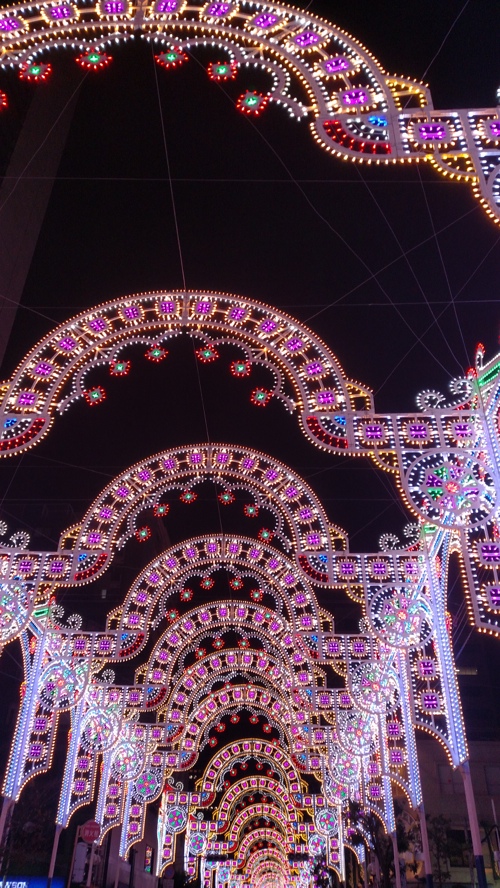 I think it was worth the wait and crowds and I would go again. This is a special event in Kobe.  The lights are brilliant and the mood is festive.  Japan loves their illuminations and I can see why this inspired other destinations to make their own local versions.