Call it a treasure hunt or a scavenger hunt.  One of my favorite parts about wandering around Japan is looking for fancy manhole covers (manhoru in Japanese) in every new area of Japan that we visit.  The first intricate and brightly colored manhole cover I saw was in downtown Minoh.  The Minoh manhole features the red maple leaves and waterfall that this city is famous for.  It is a beautiful piece of public art!  Every time I step on them I am amazed all over again at how cool these things are.
Up top, the featured manhole photo is also from Minoh.  Avalon just discovered this one recently.  It's by the train station and I don't know why we never noticed it.  It is Yuzuru, Minoh's friendly mascot.  Yuzu is a famous citrus here in Osaka and Yuzuru is a cute personification of yuzu.  He is also standing by the famous Minoh waterfall with maple leaves around him.
The second colorful manhole cover I saw was just off a side street from Ishibashi Station and this is when I realized there might be a lot of manhole covers turned into art.  From that point on I've tried to take a photo of every manhole cover I see that is interesting, colorful or essentially a piece of public art.  The art motif of each represents the city in which it can be found.  Sugoi!  (Wow!  Amazing!)
I find it so interesting that several Japanese natives that I've mentioned these manhole covers to have said they've never really noticed them.  How could you not notice them staring up at you from the pavement?  As I see more manhole covers I'll be adding the photos on to this blog post.
The latest manhoru… as of January 2018.
OKINAWA (Shisa – Lion Dog Guardian)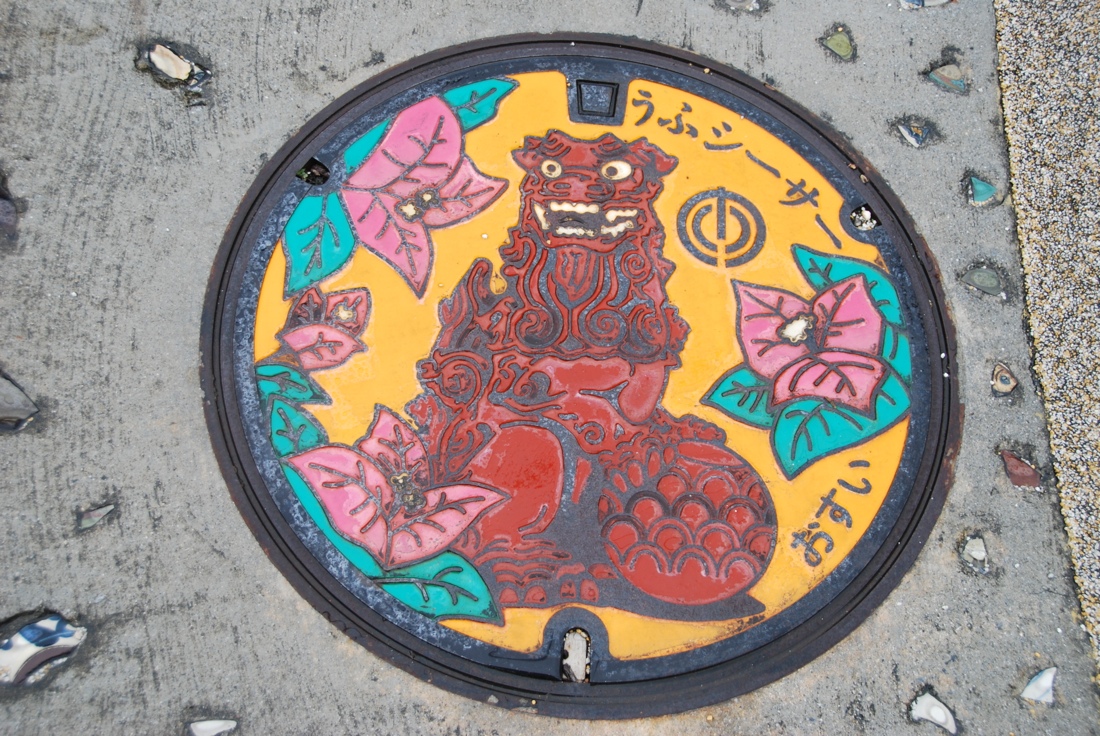 OKINAWA (Bougainvillea flower)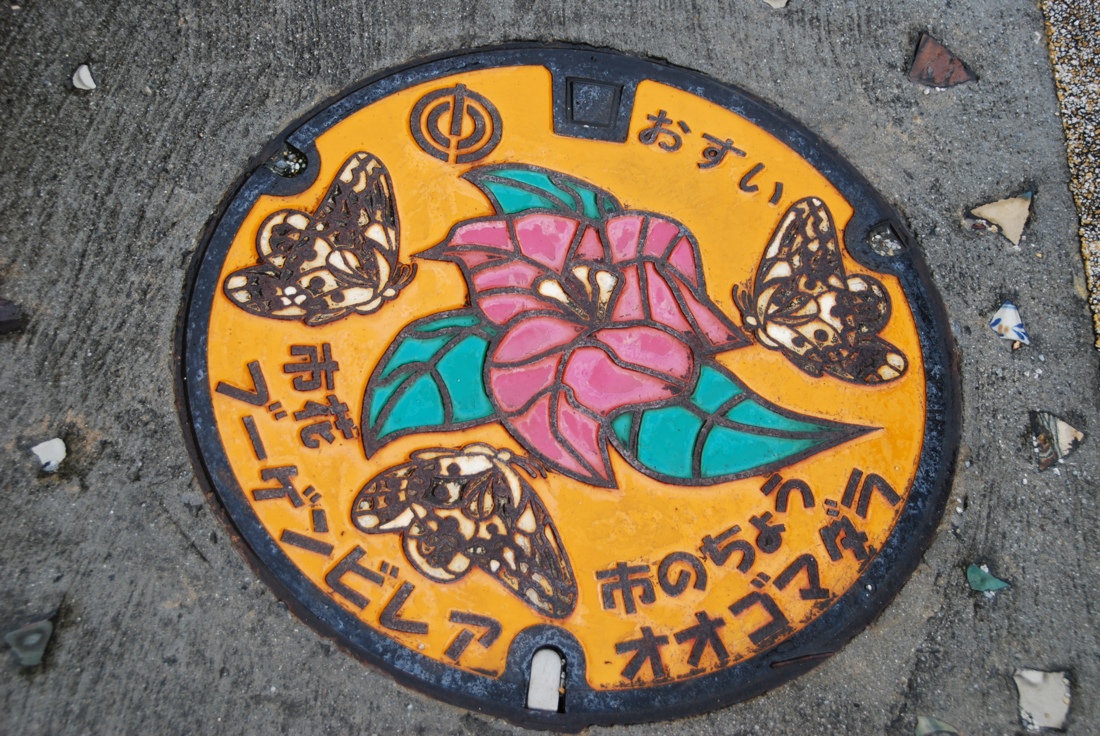 OKINAWA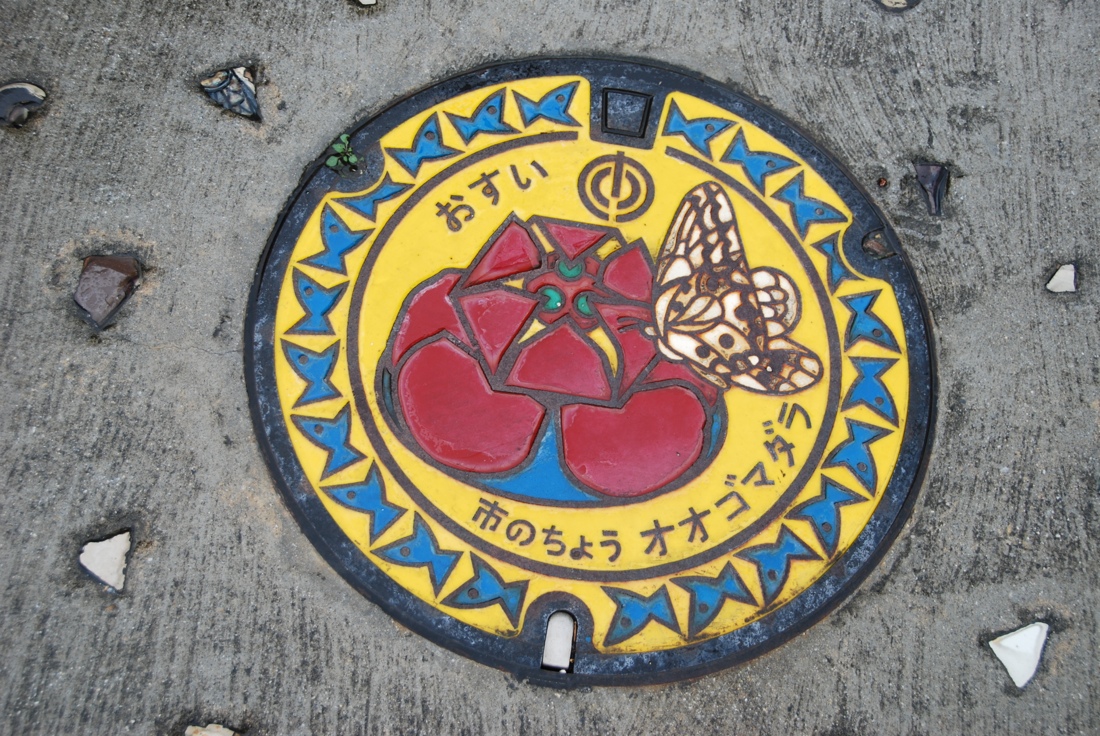 OKINAWA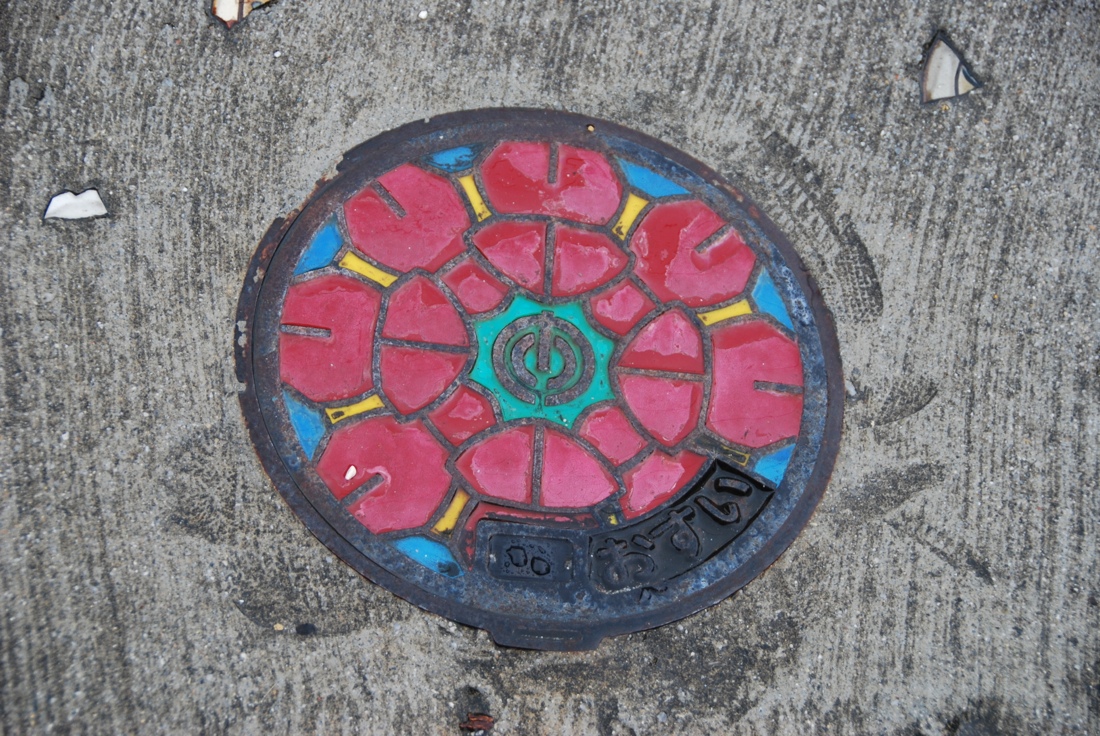 OKINAWA Street with colorful manhoru all over it!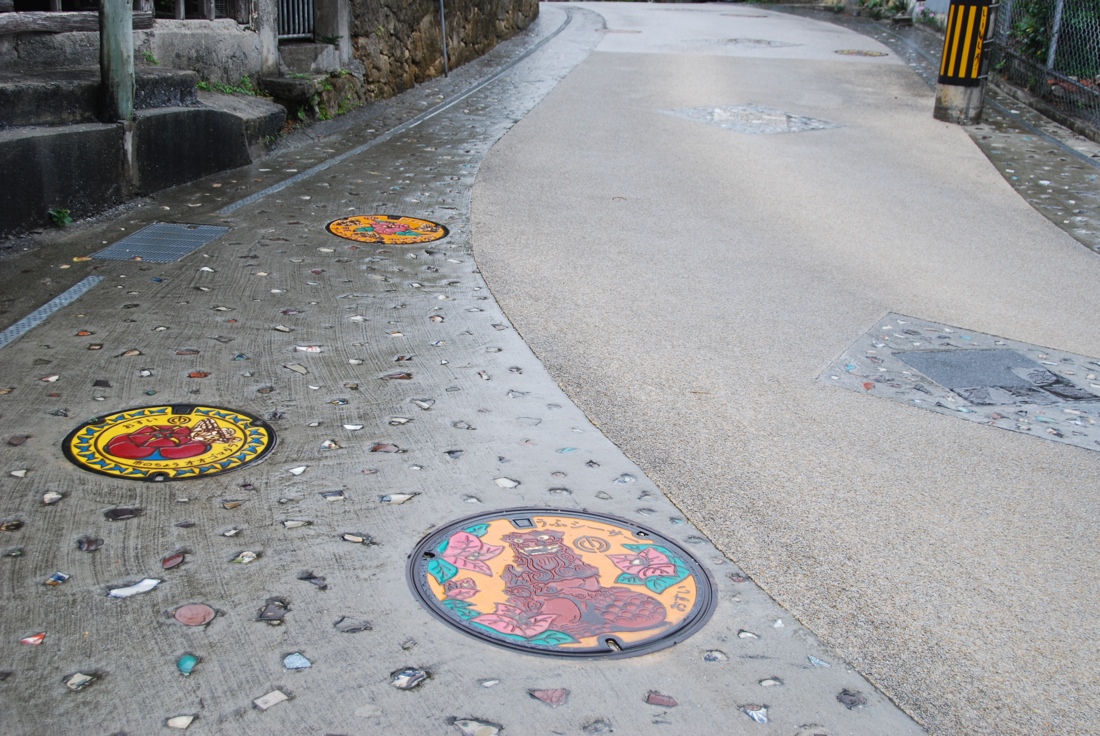 OKINAWA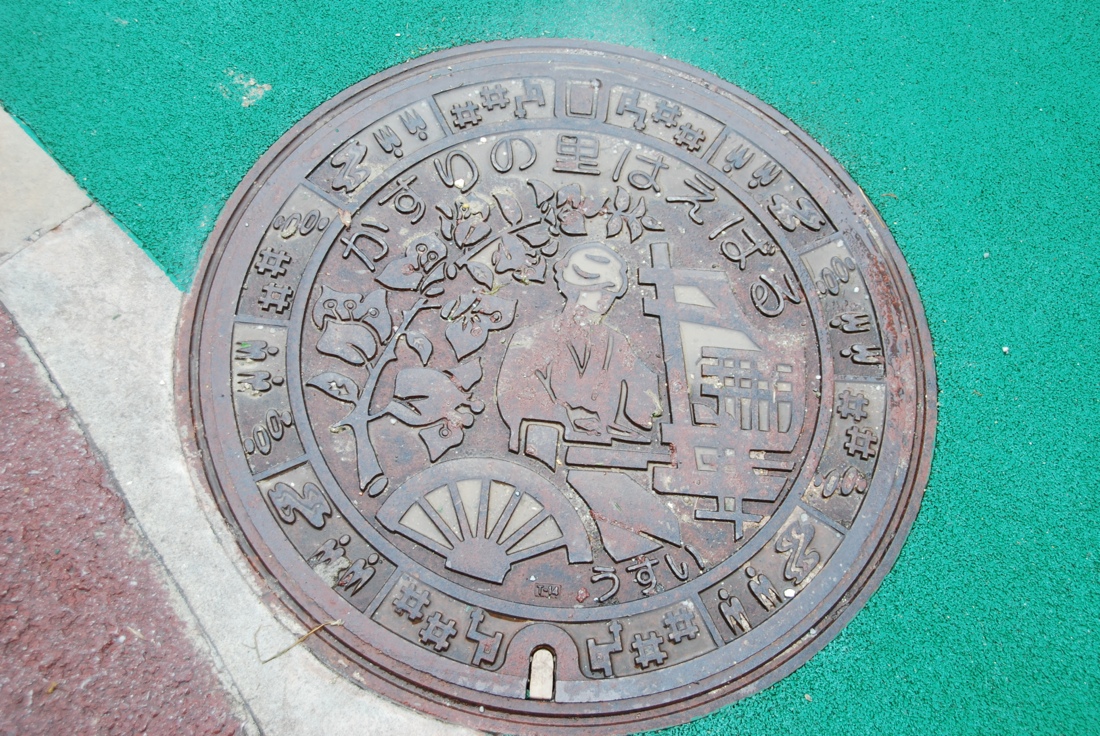 OKINAWA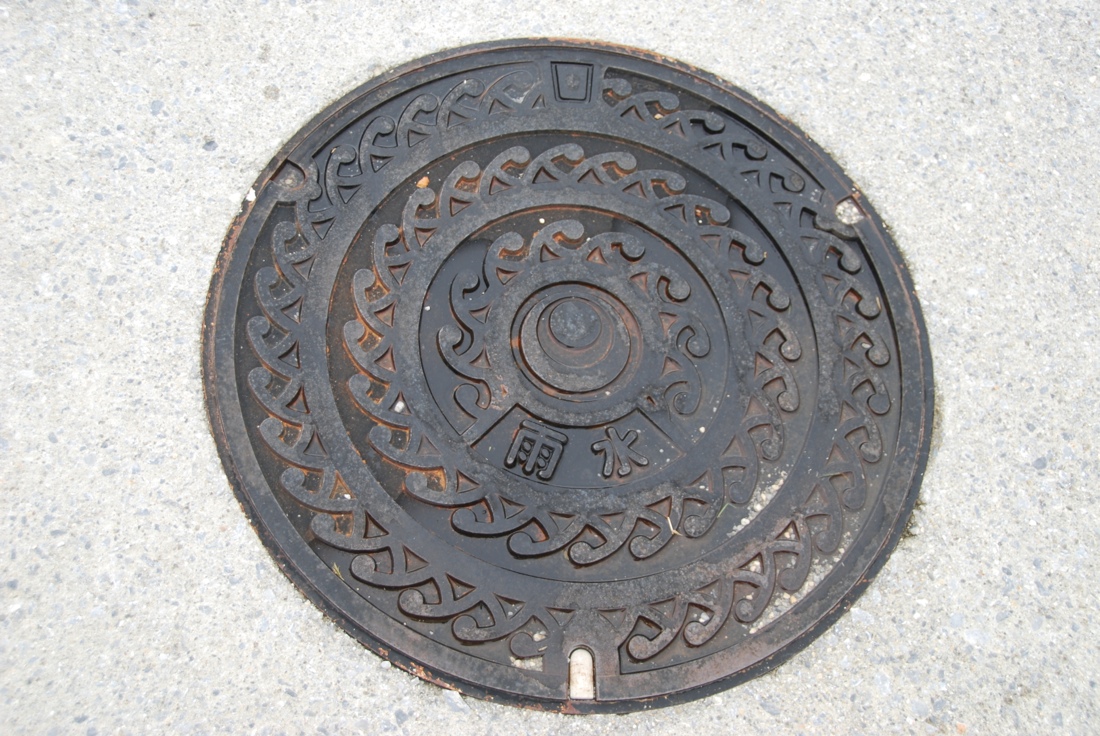 OKINAWA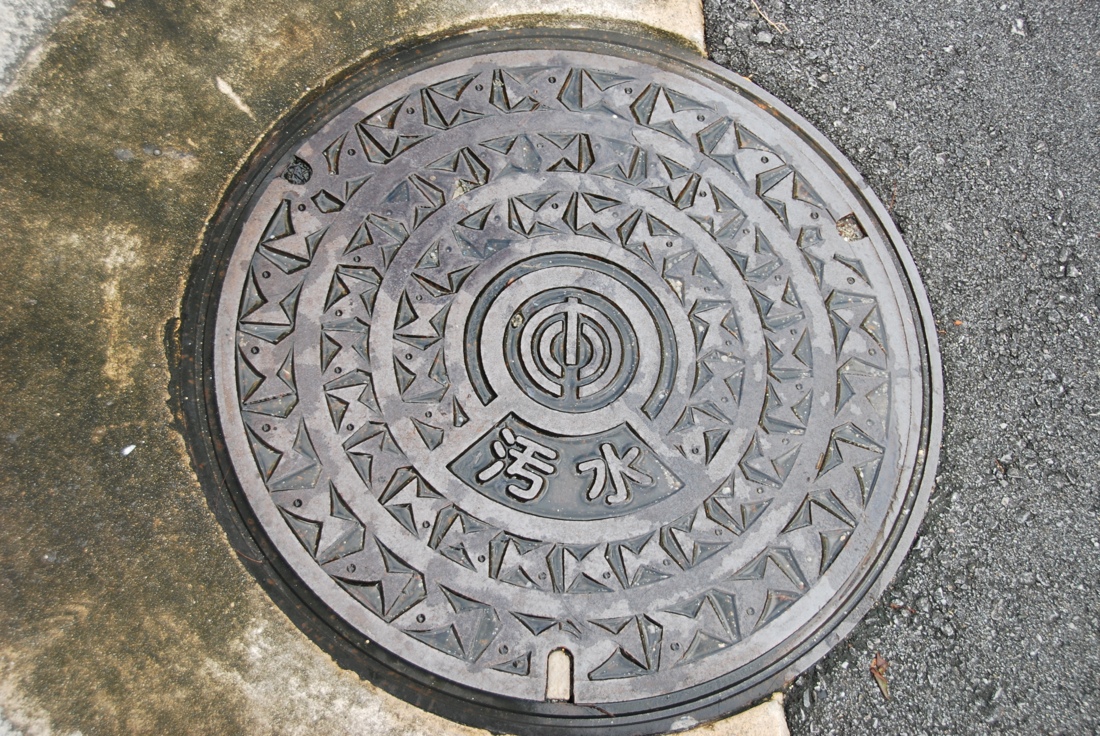 HONGU (Found at Kawayu – the riverbank onsen)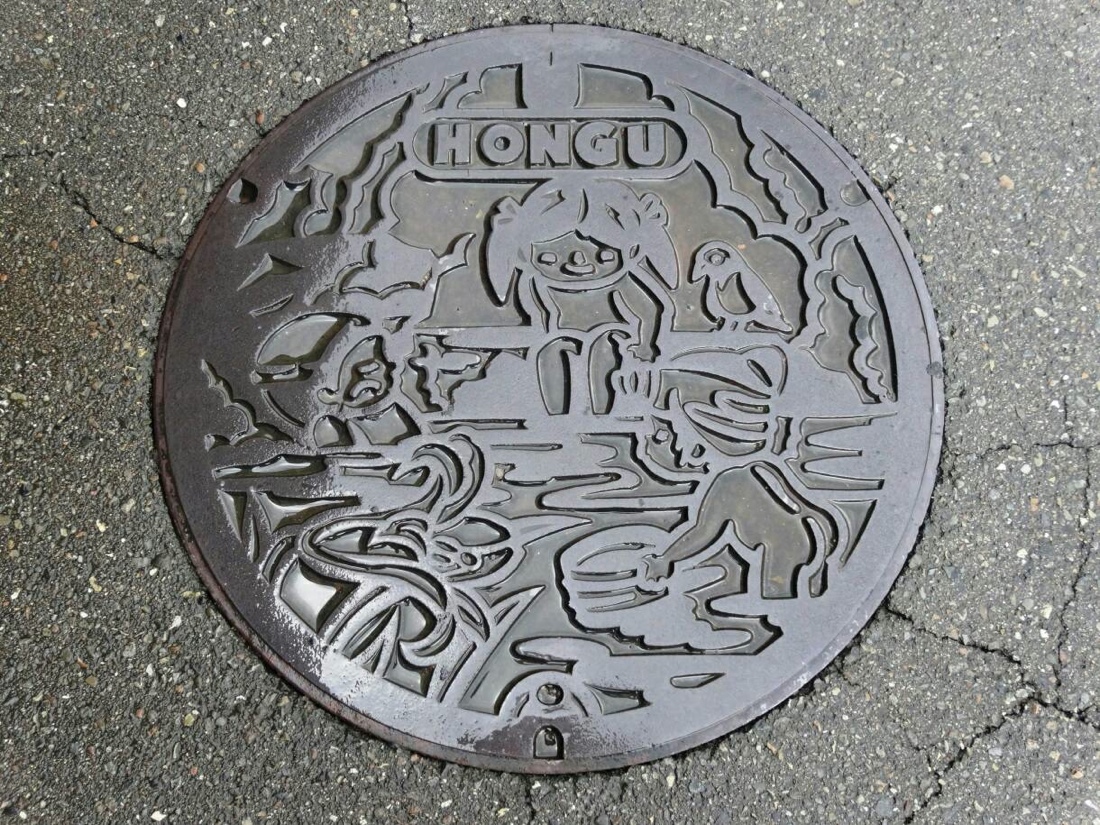 KUMANO KODO PILGRIMAGE TRAIL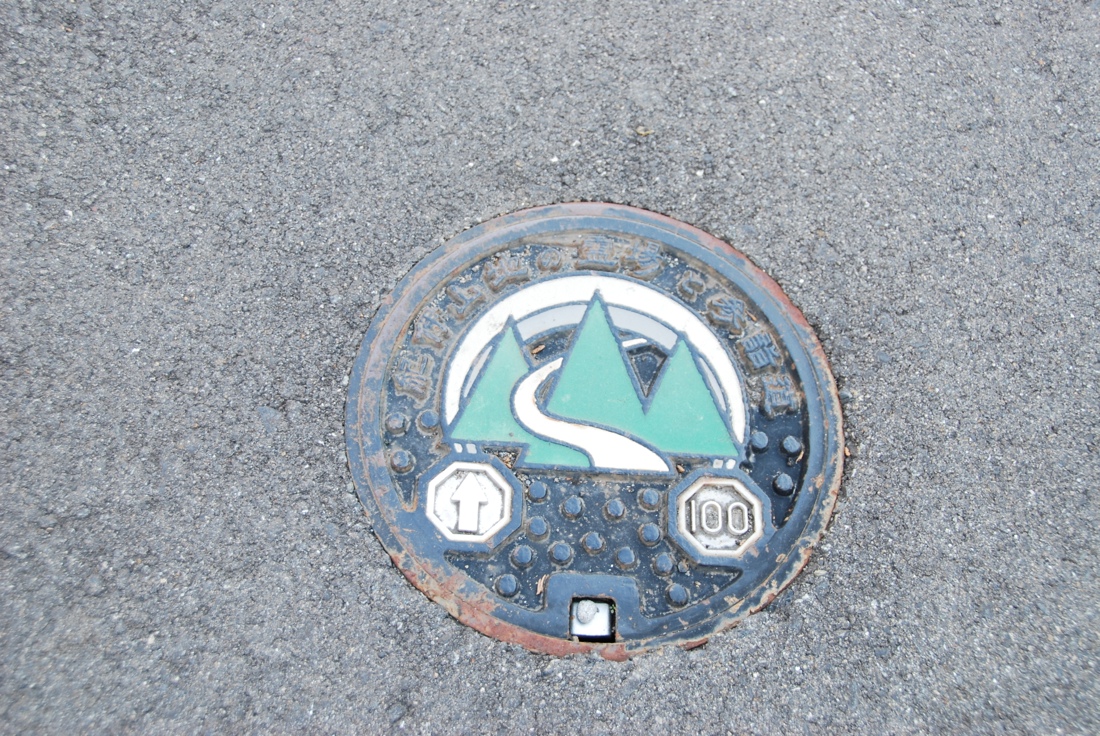 SHINGU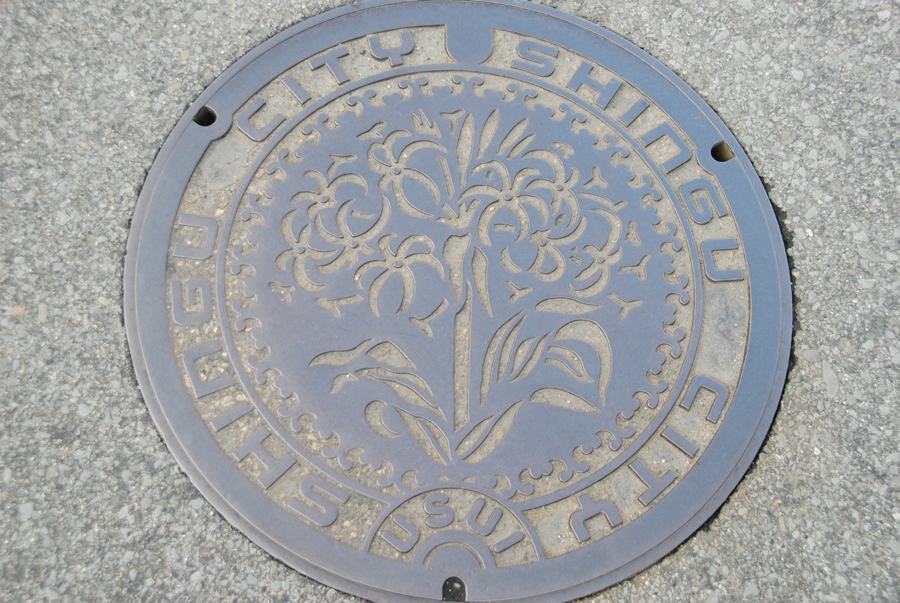 MINOH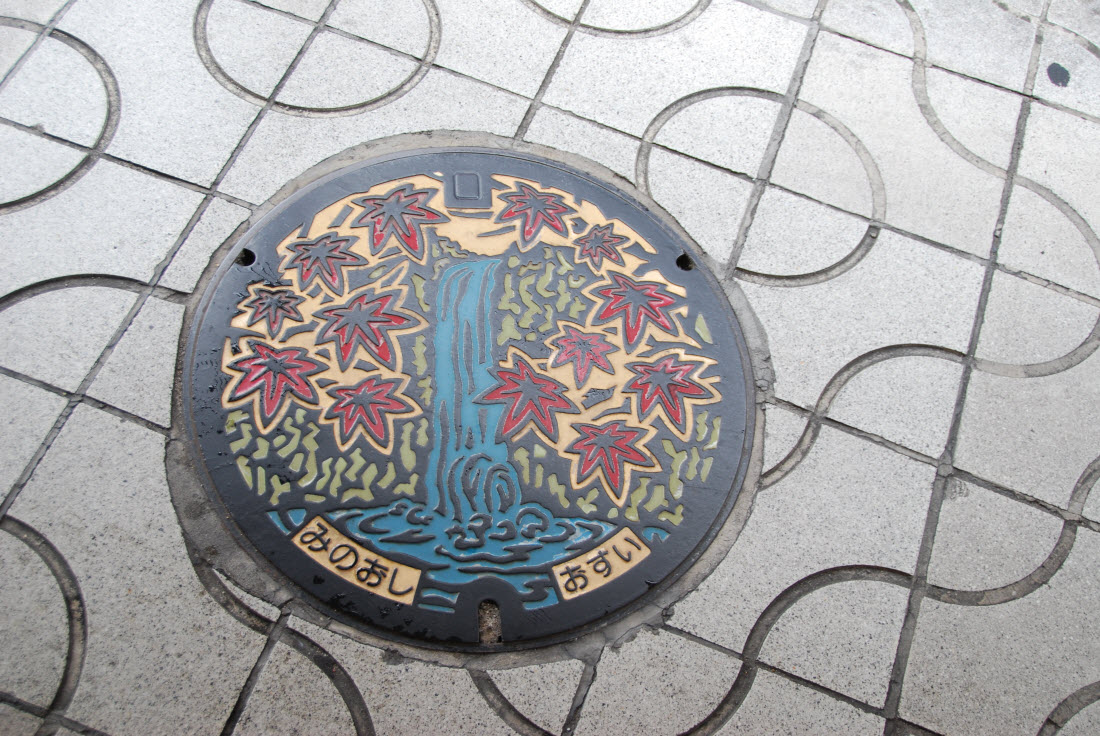 ISHIBASHI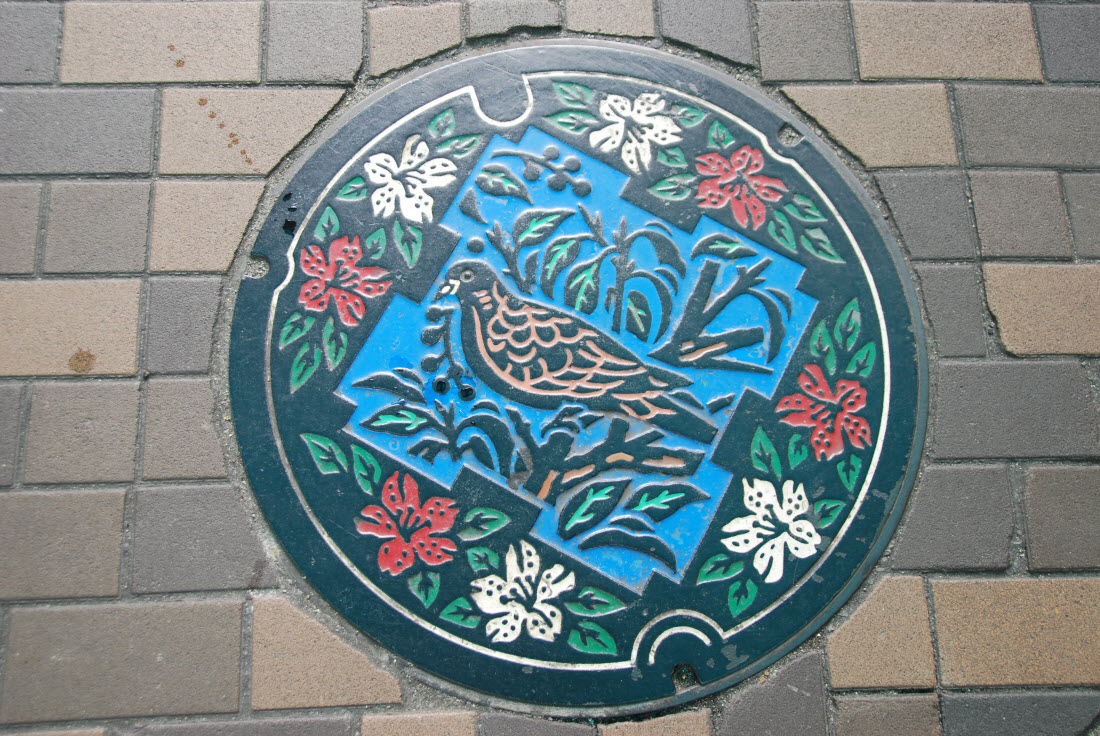 DOWNTOWN OSAKA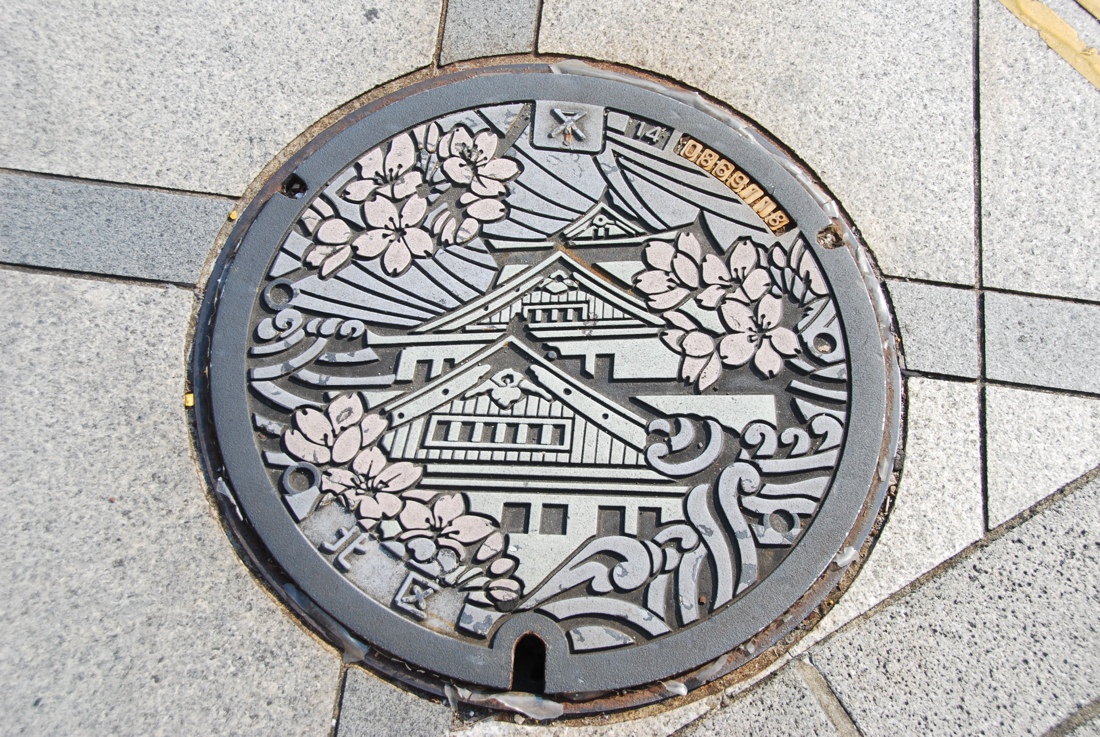 DOWNTOWN OSAKA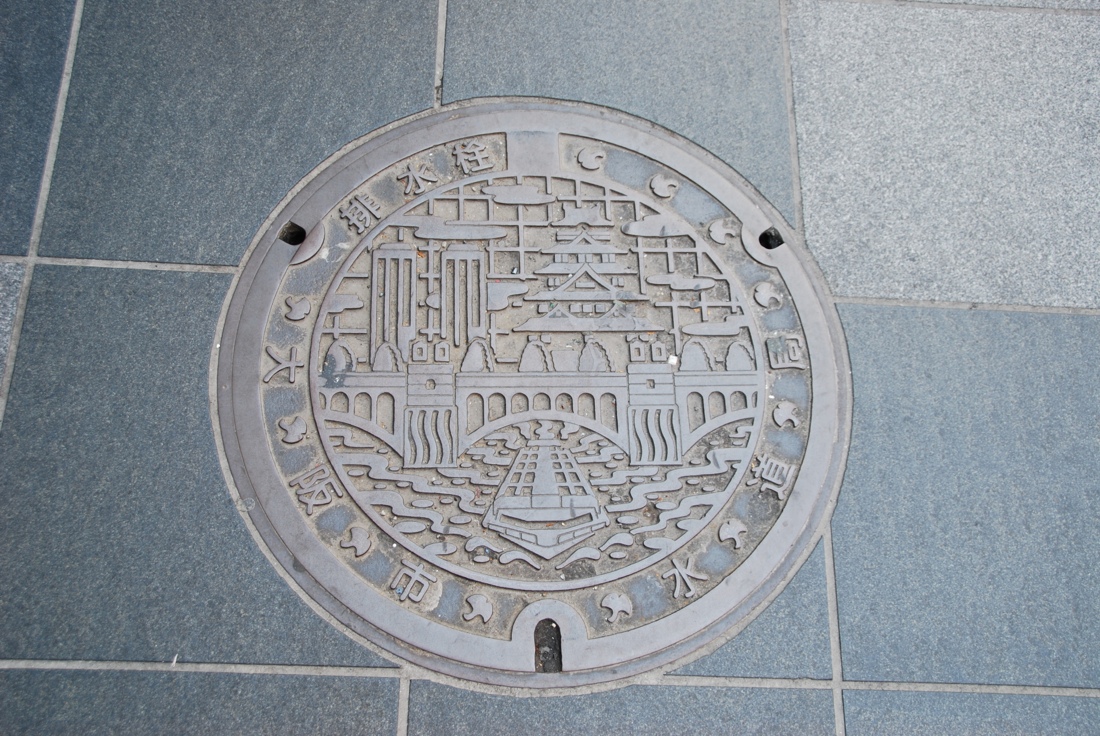 DOWNTOWN OSAKA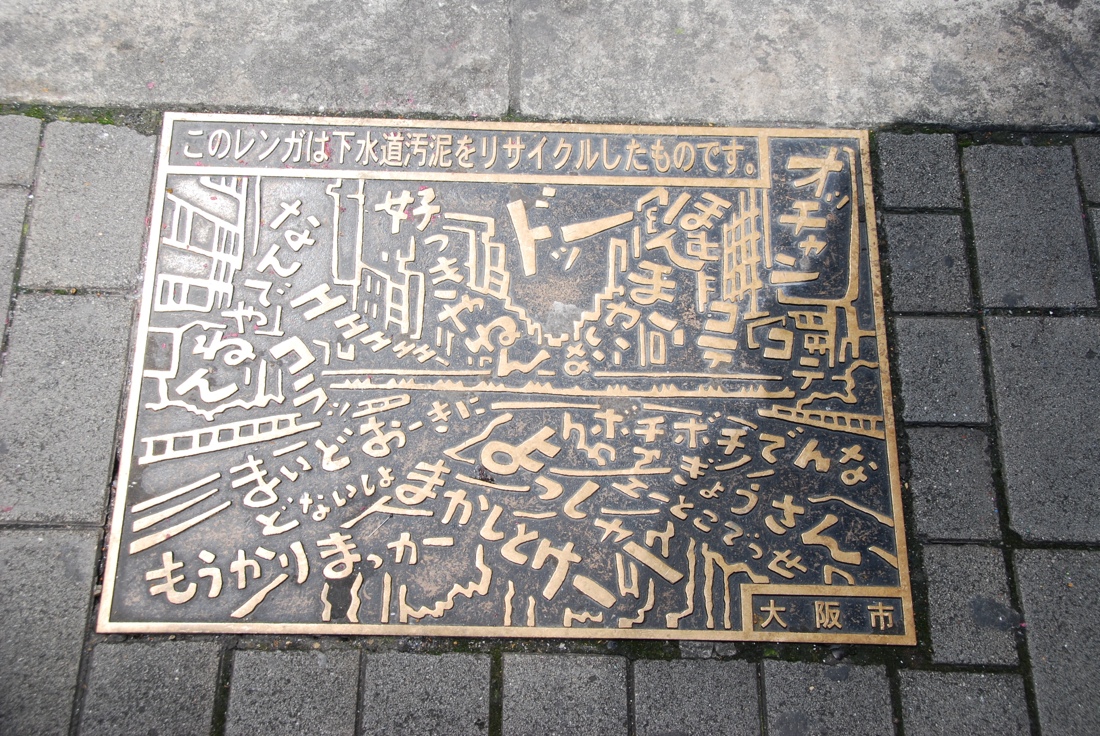 SHIRAHAMA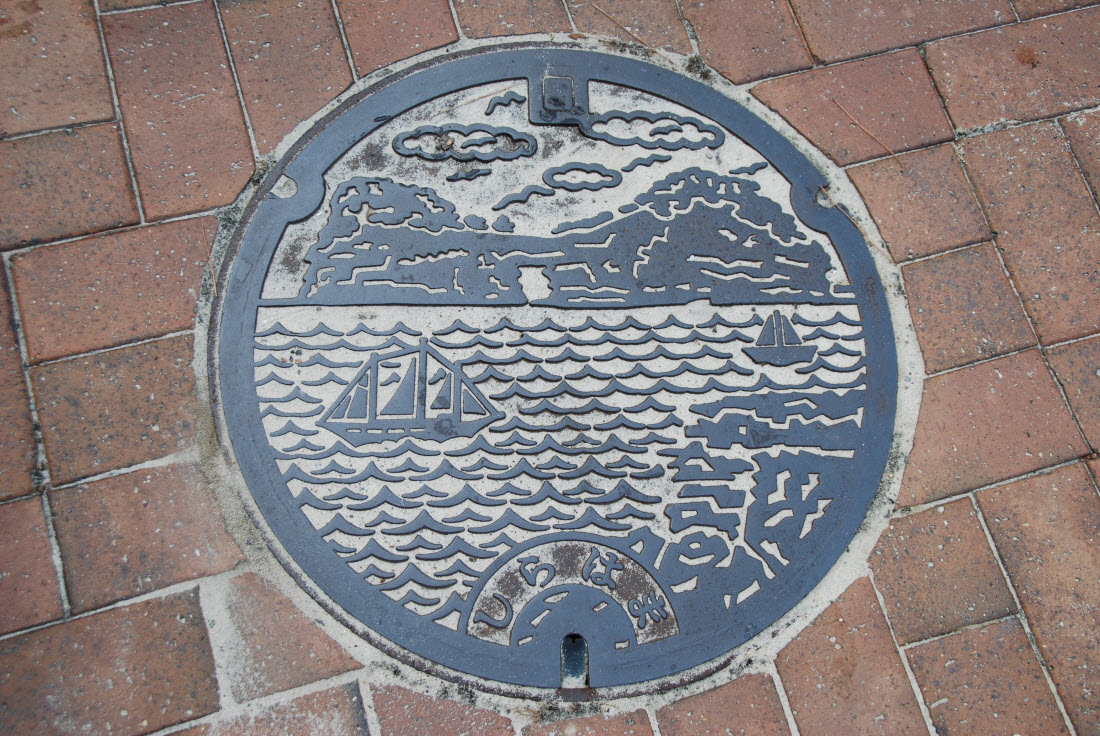 SAPPORO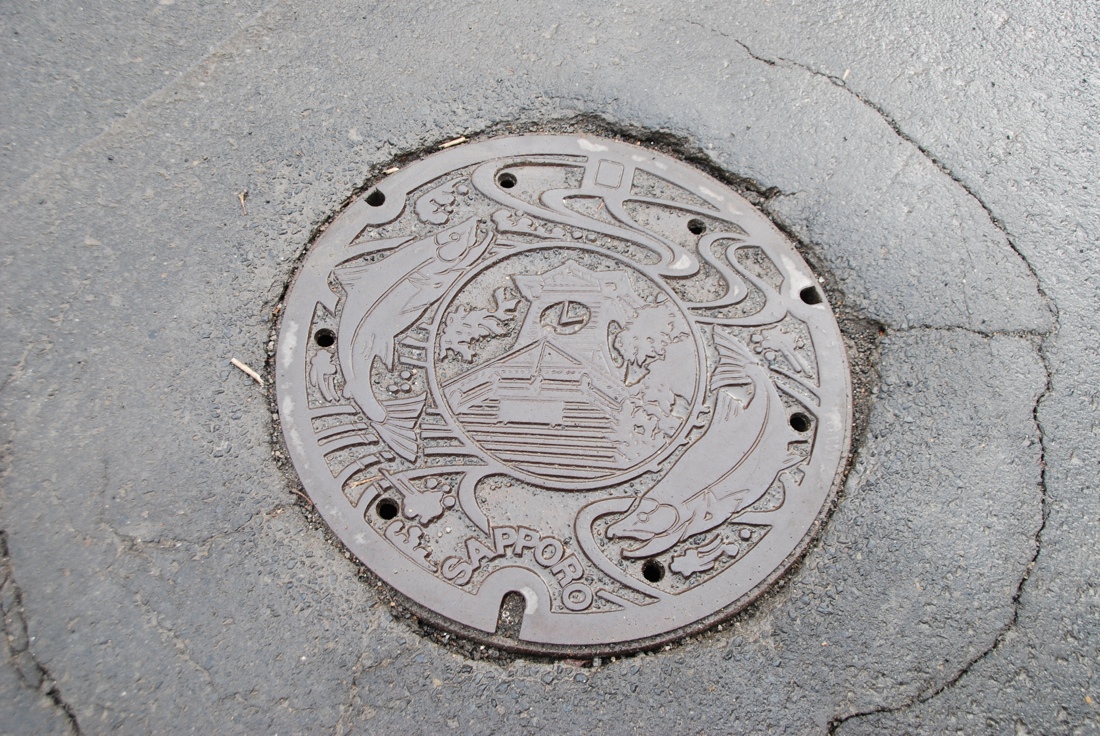 SUITA (You can see the face of the Tower of the Sun in the very center)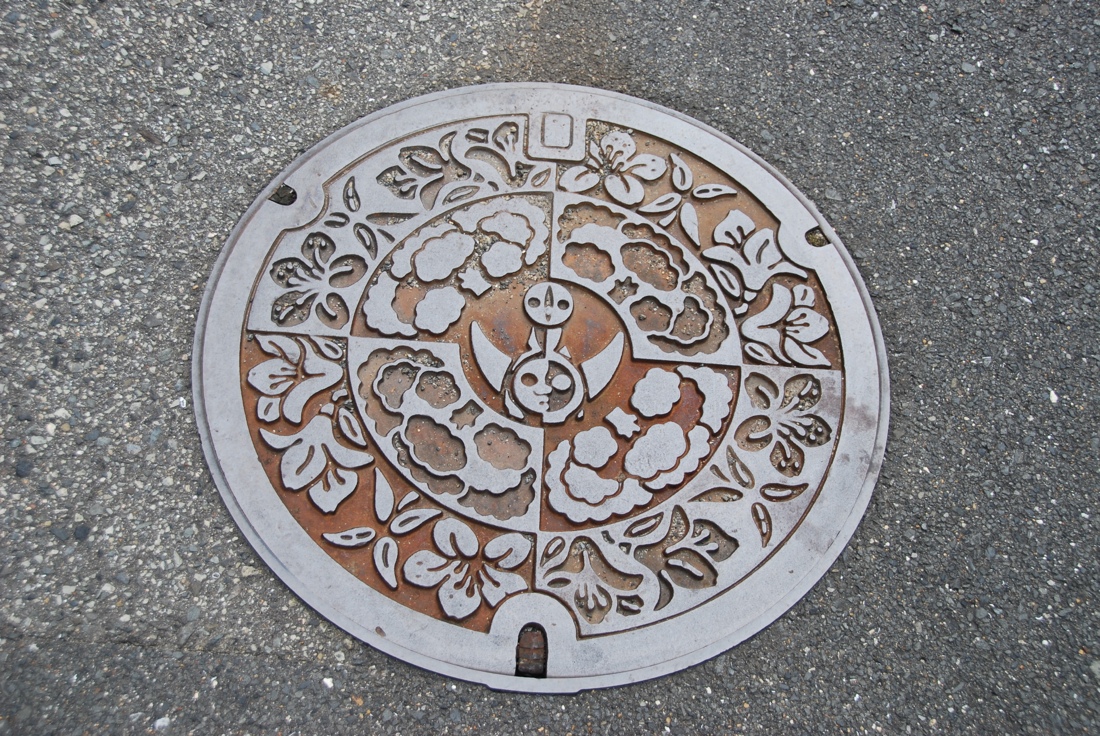 IBARAKI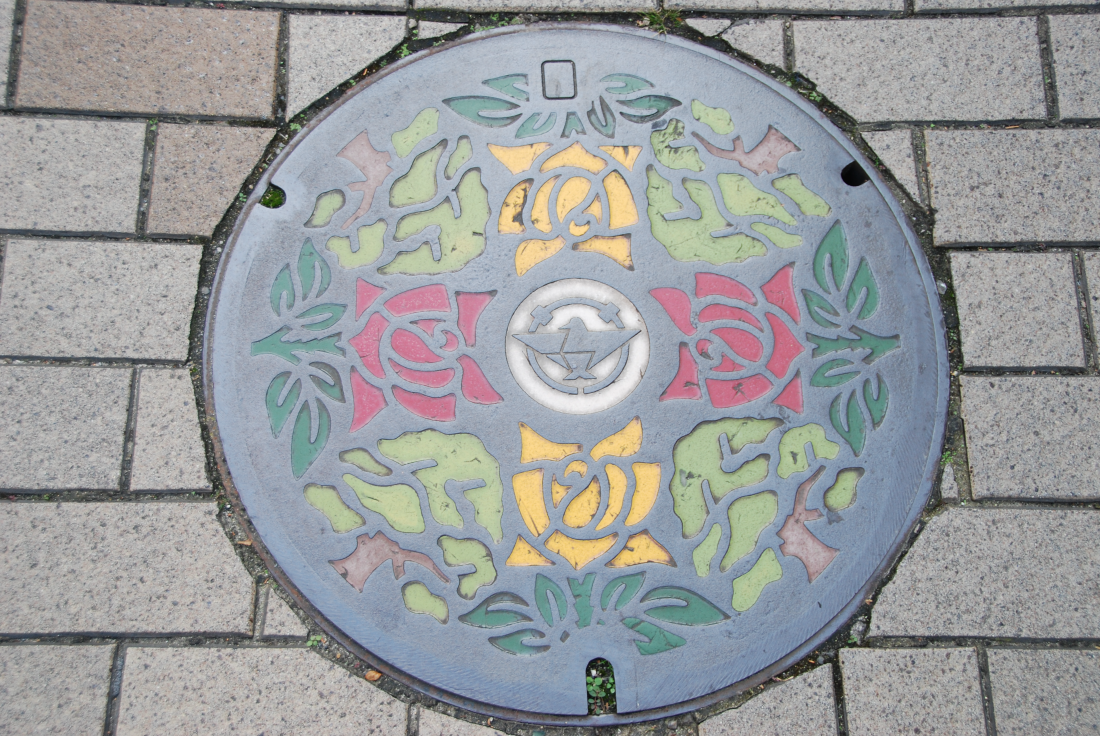 AMAGASAKI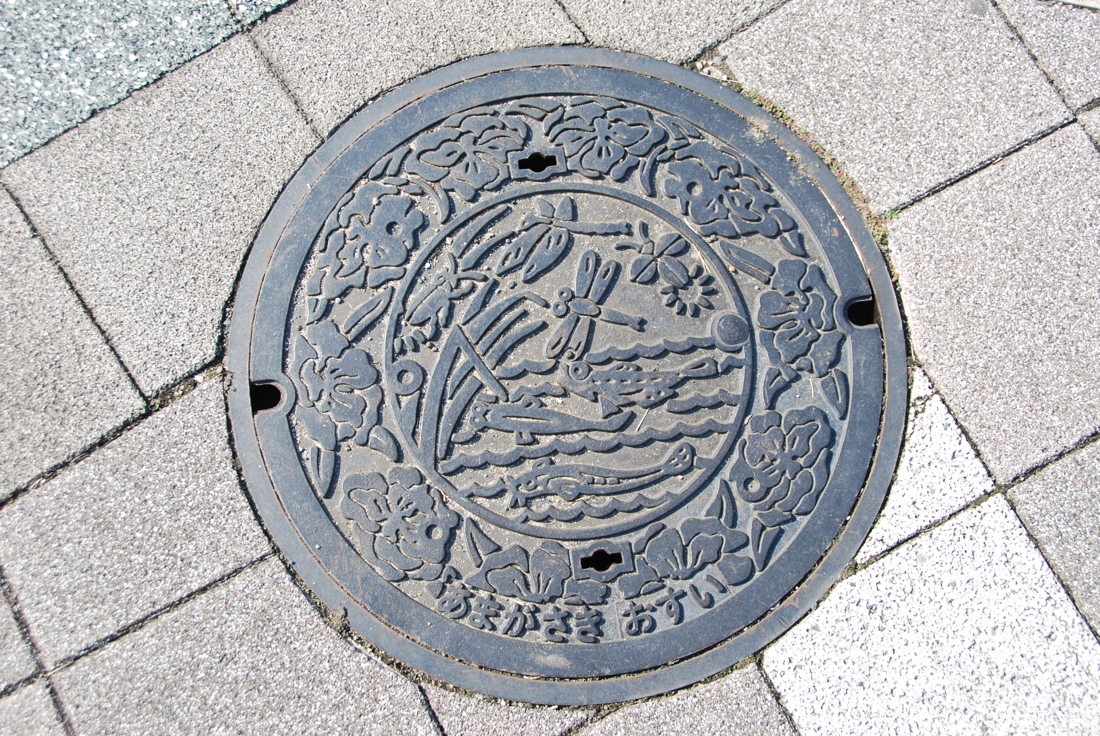 NAGANO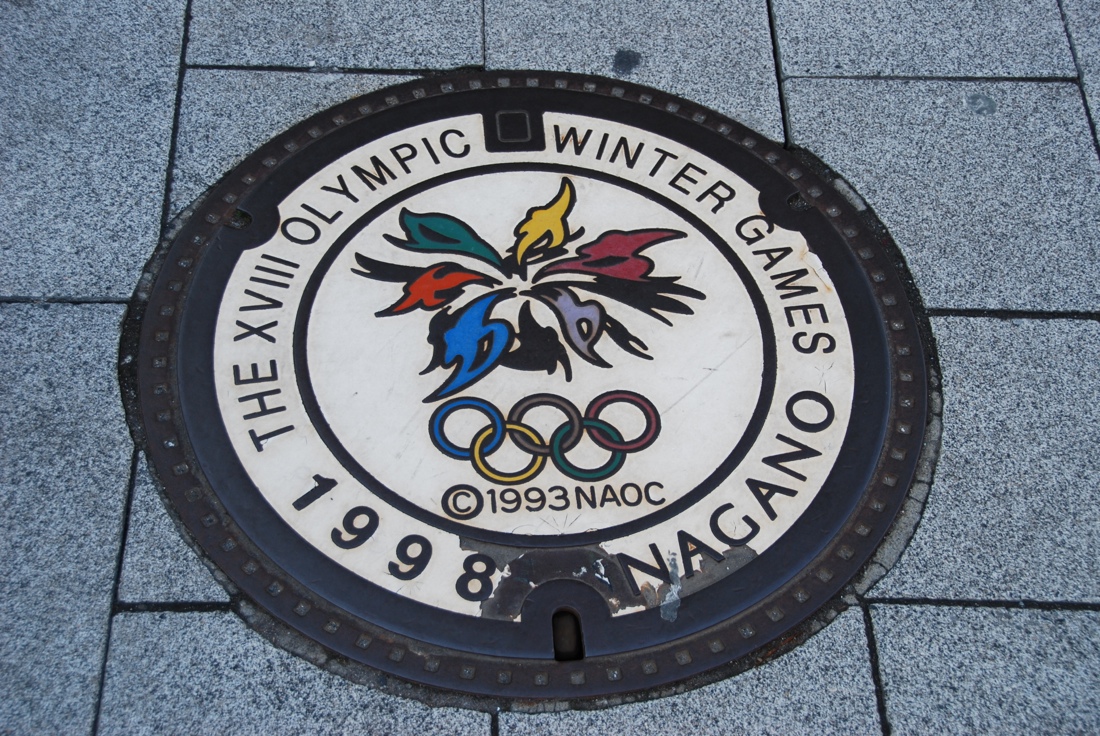 NAGANO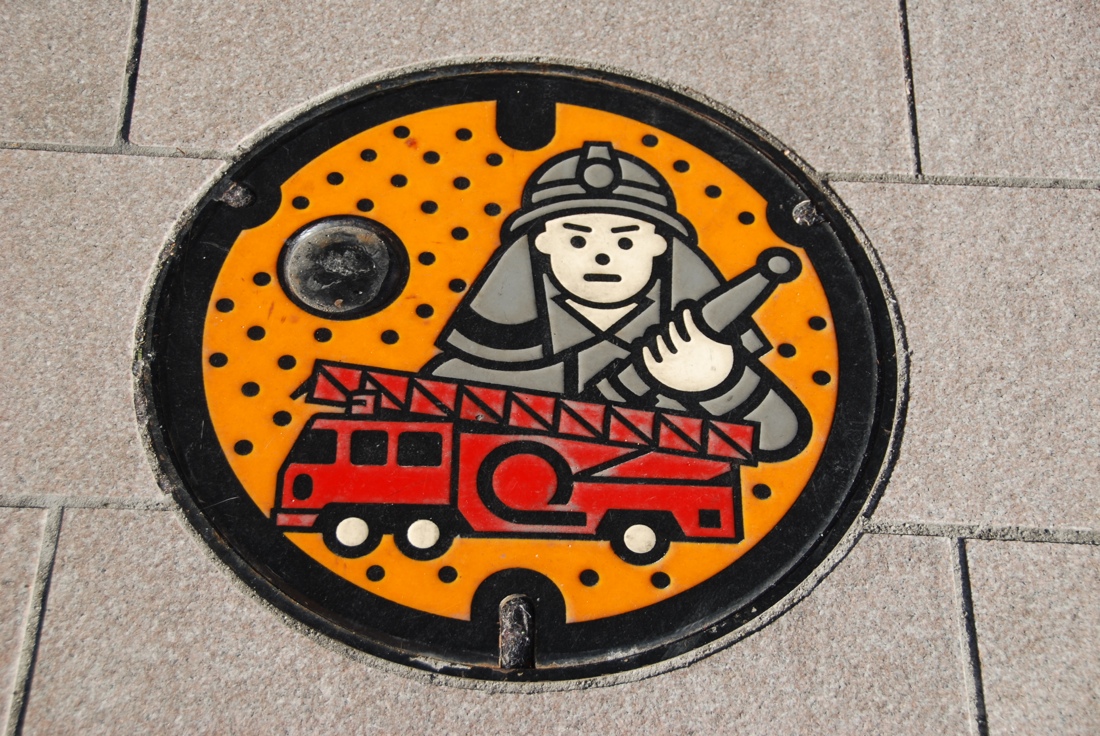 NAGANO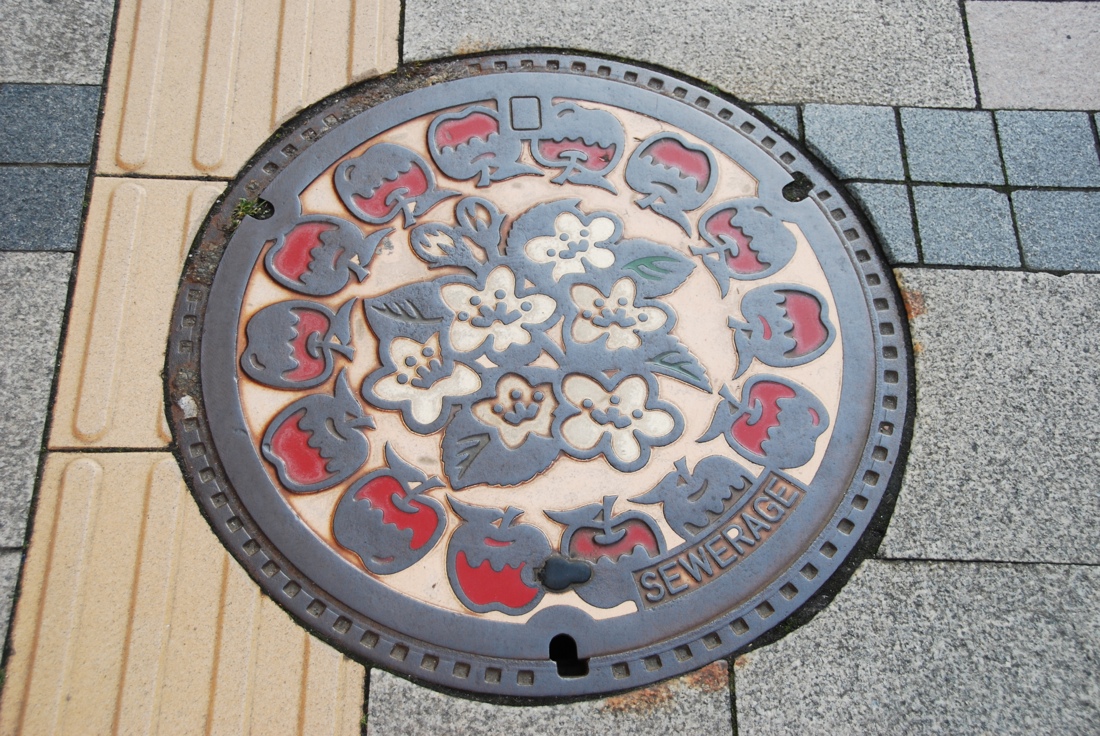 NAGANO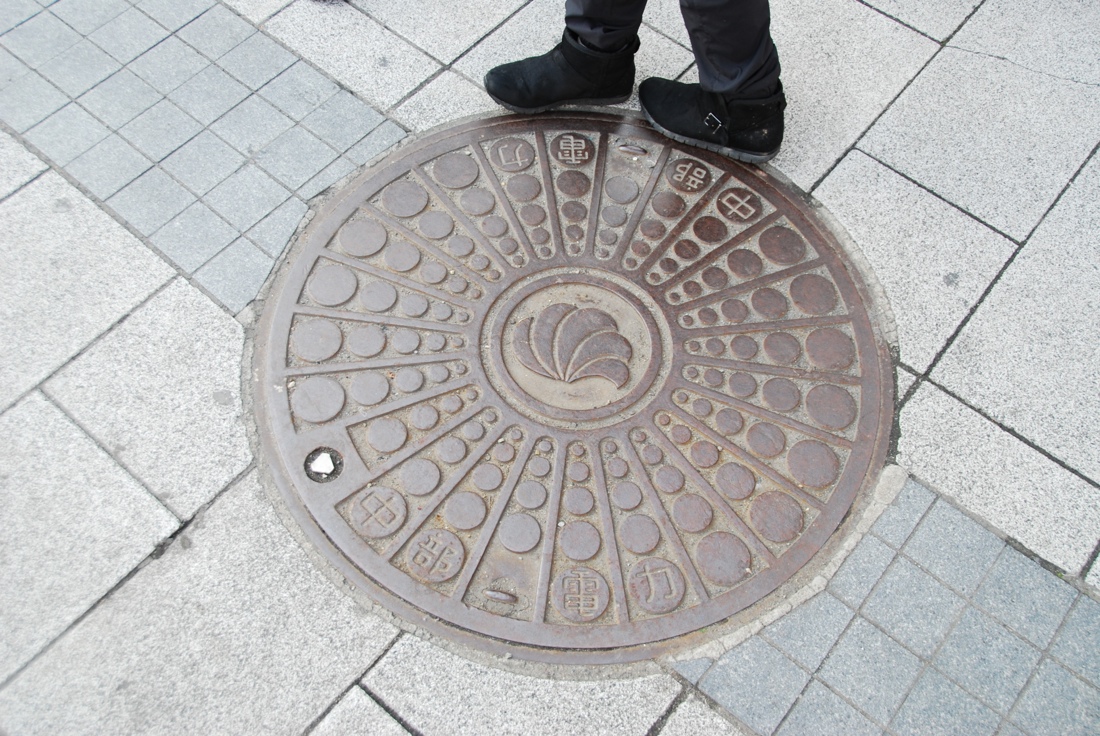 MATSUMOTO (These are "temari," a local handmade toy used in games)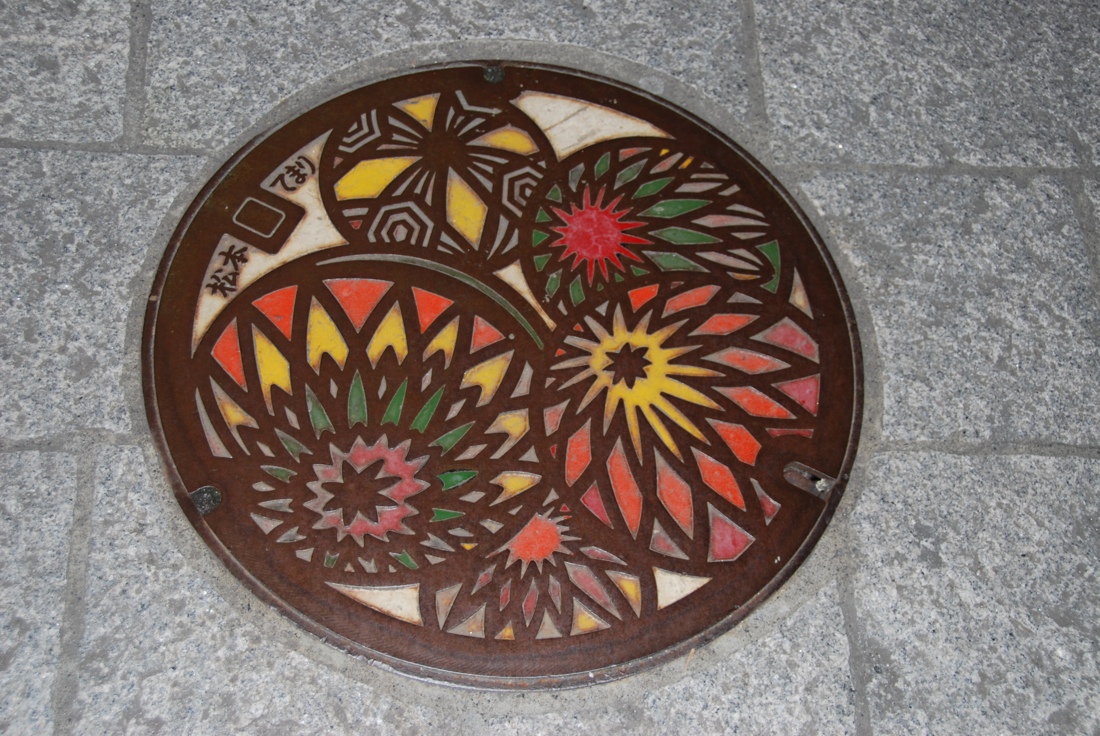 MATSUMOTO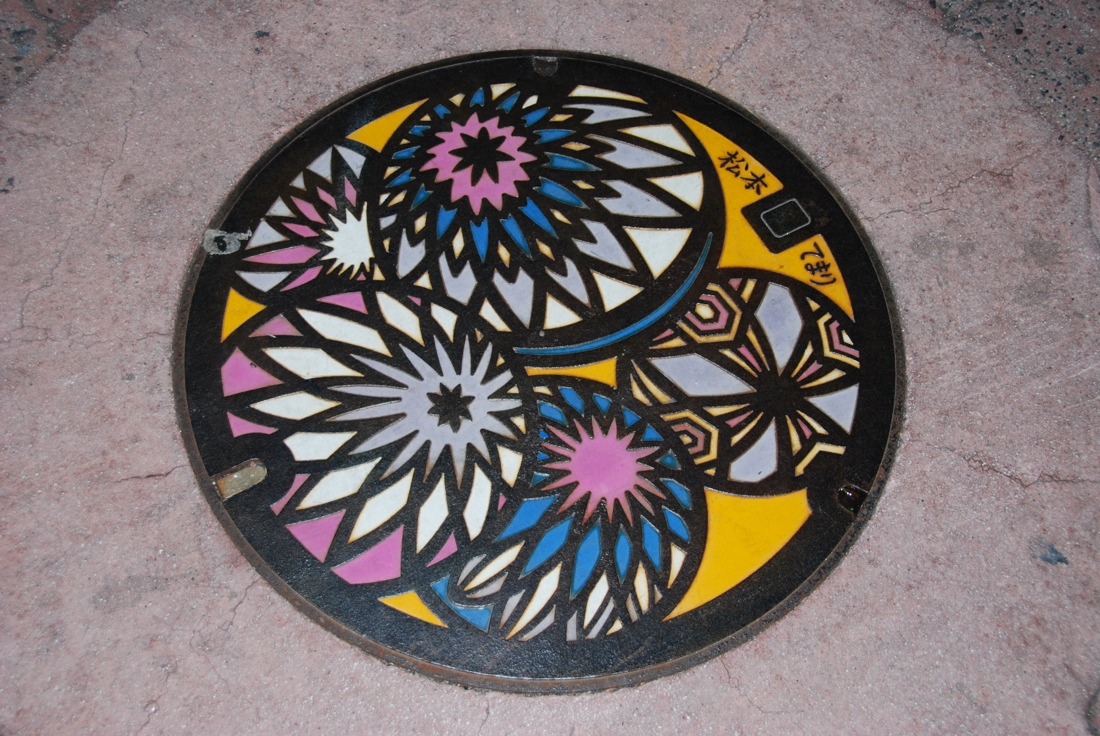 MATSUMOTO (Kids in kimonos playing with temari!)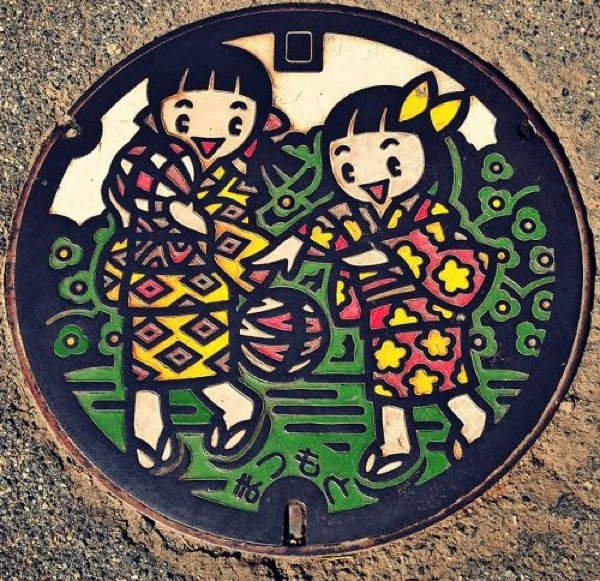 NARA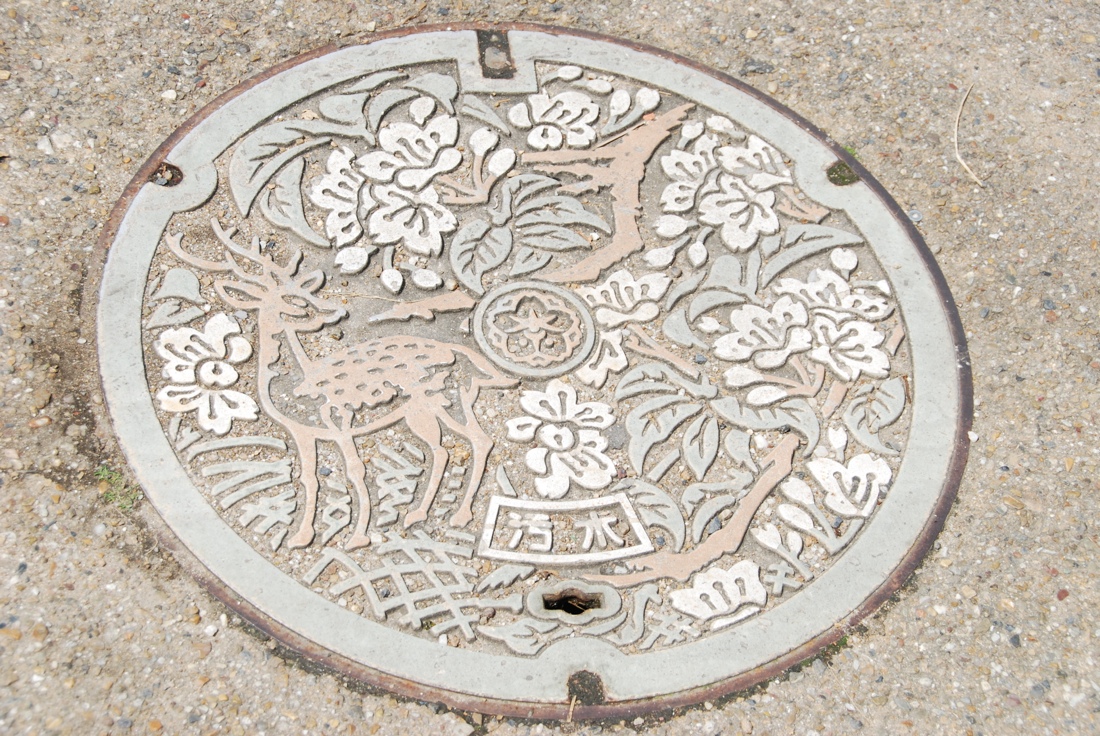 TAKATSUKI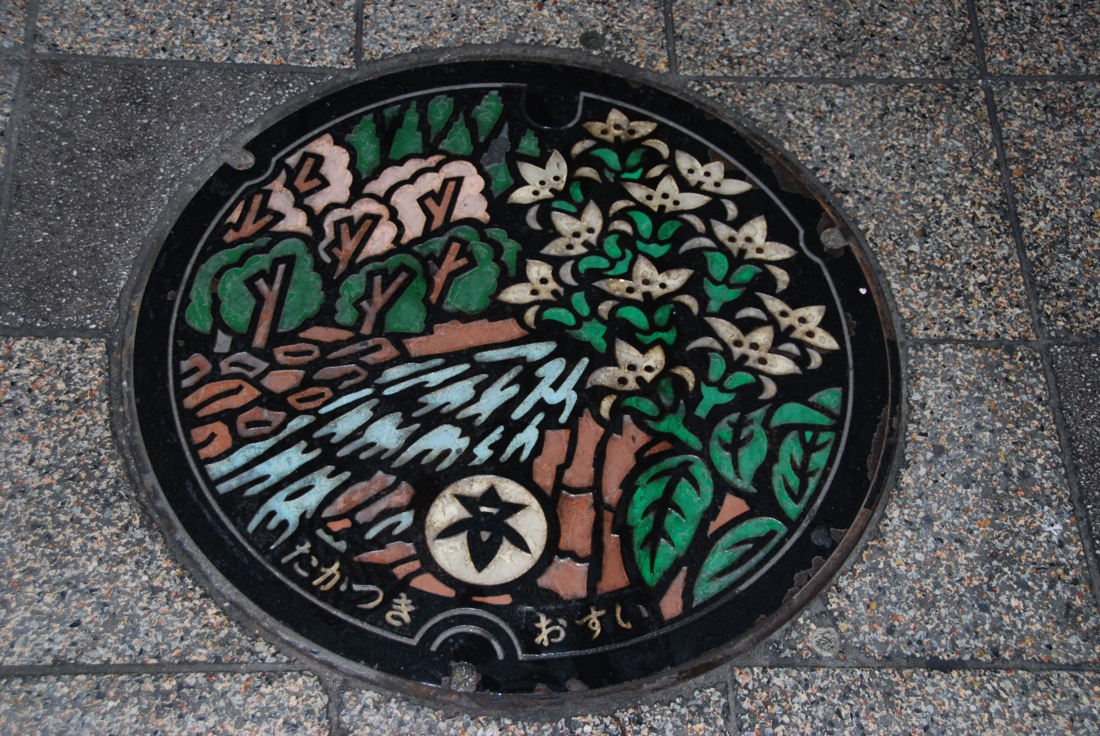 KOBE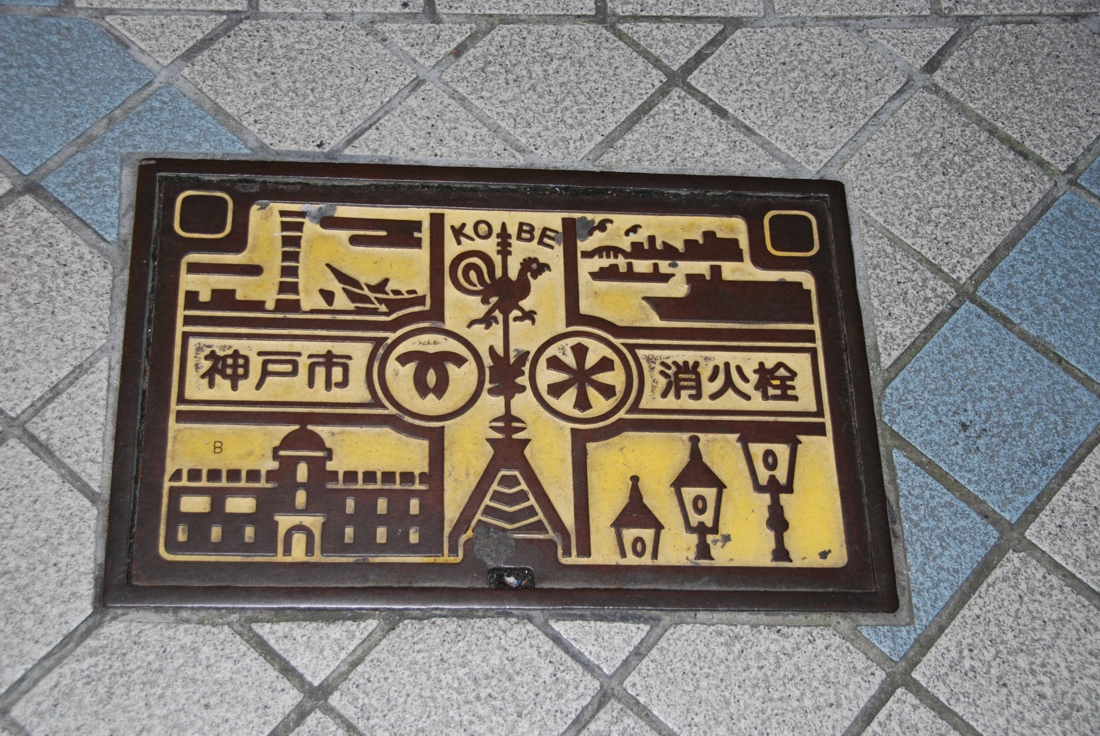 KADOMA-SHI, OSAKA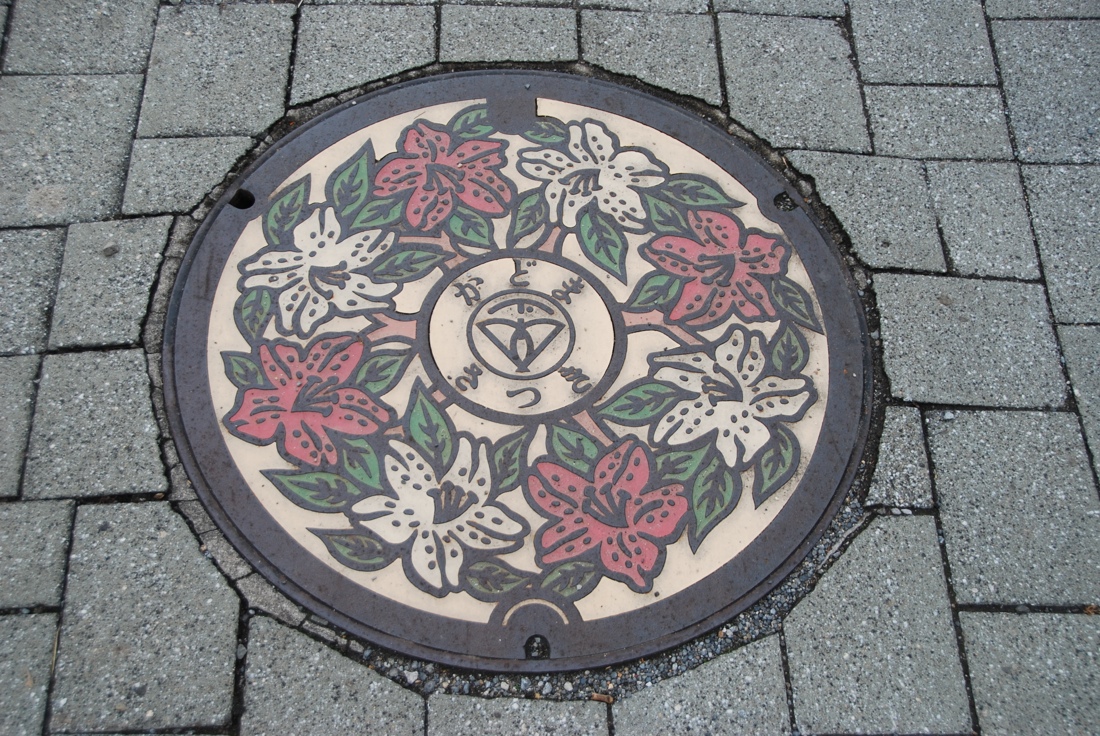 YAMANOUCHI (This one is so dirt filled it's hard to see.  I saw it near the snow monkey park)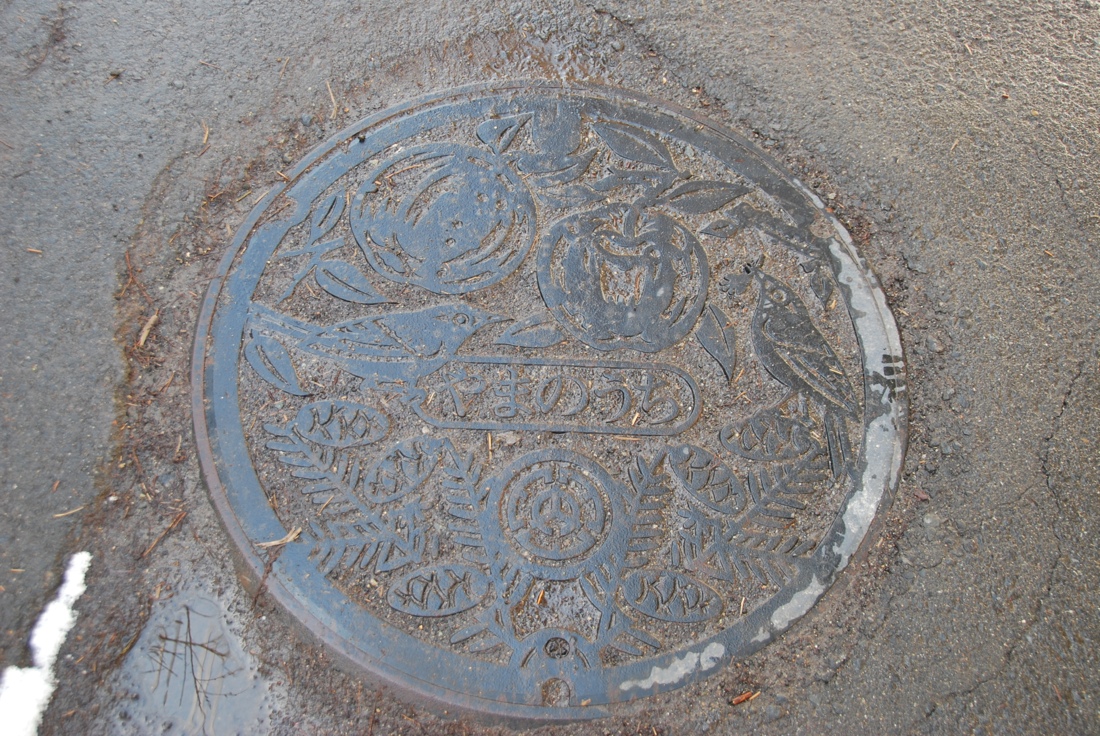 TOYONAKA (I saw this once in color.  It was beautiful and fun.  I've been looking ever since for another colorful one.)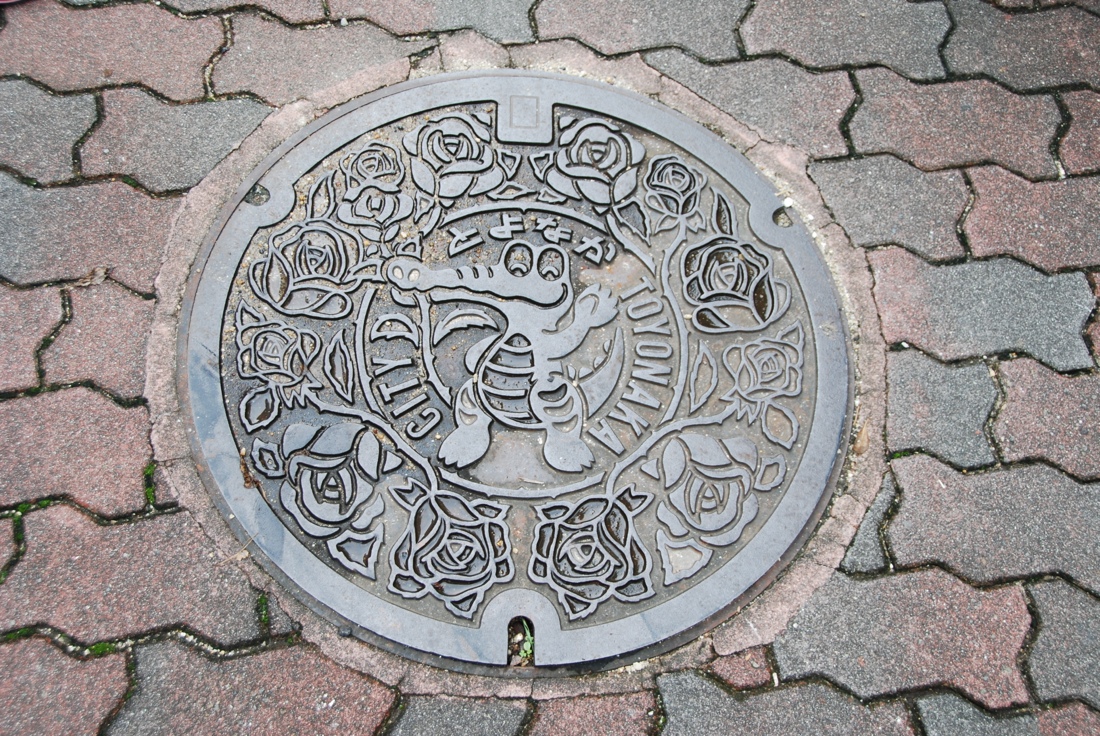 NISHINOMIYA (This is Koshien Stadium where the Hanshin Tigers (baseball) play)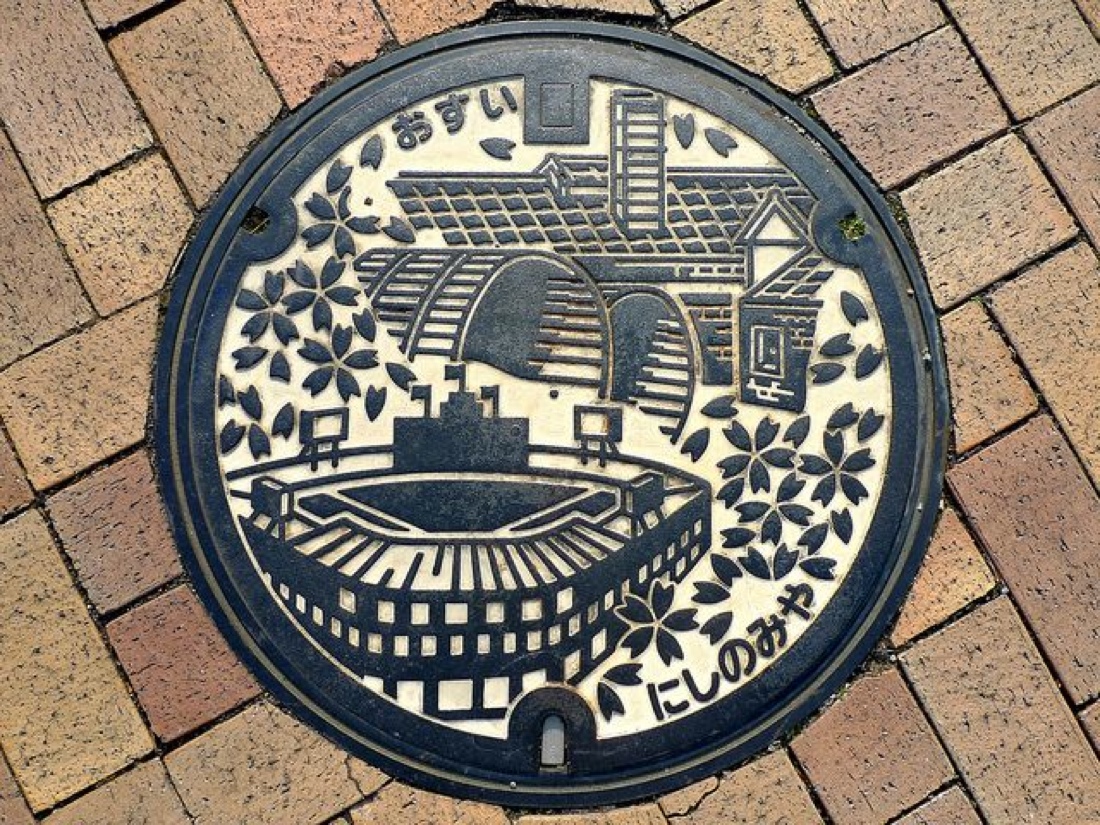 OSAKA CITY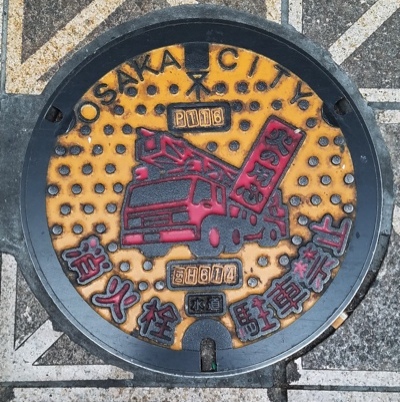 From Japan Times columnist Alice circa December 2008:
"The most important function of the raised design on manhole covers is not to look good, but to provide traction for the traffic moving over it. This is particularly important in wet weather, when manhole covers can be treacherously slippery, especially for two-wheeled conveyances such as motorcycles, scooters and bicycles. A good design, in terms of preventing slippage, will have multidirectional lines for better grip. Designs should also be recognizable no matter which direction they are viewed from, and have lasting appeal, since manhole covers last for decades at least, and often much longer.
"According to Noboru Fujiwara of the manhole association, credit for the proliferation of patterns goes to a man named Yasutake Kameda, who was then a ranking bureaucrat in the construction ministry. At the time, only about 60 percent of Japanese households were hooked up to municipal sewer systems. To raise acceptance of these costly public works, mostly underground and largely underappreciated, Kameda thought the one part that is visible — the manhole covers on the surface — ought to be more attractive. In particular, he encouraged cities, towns and villages around Japan to develop designs with local appeal.
"Custom covers cost on average about 5 percent more than off-the-rack designs, but even so, nearly 95 percent of the 1,780 municipalities in Japan now have a manhole-cover design to call their own. Trees and plants adorn nearly half of the designs, with official flowers being particularly popular. Animals, birds and local spots of natural beauty are also popular themes."
HIMEJI (A failed attempt to visit Himeji Castle during a typhoon, but at least I got this beautiful manhole cover)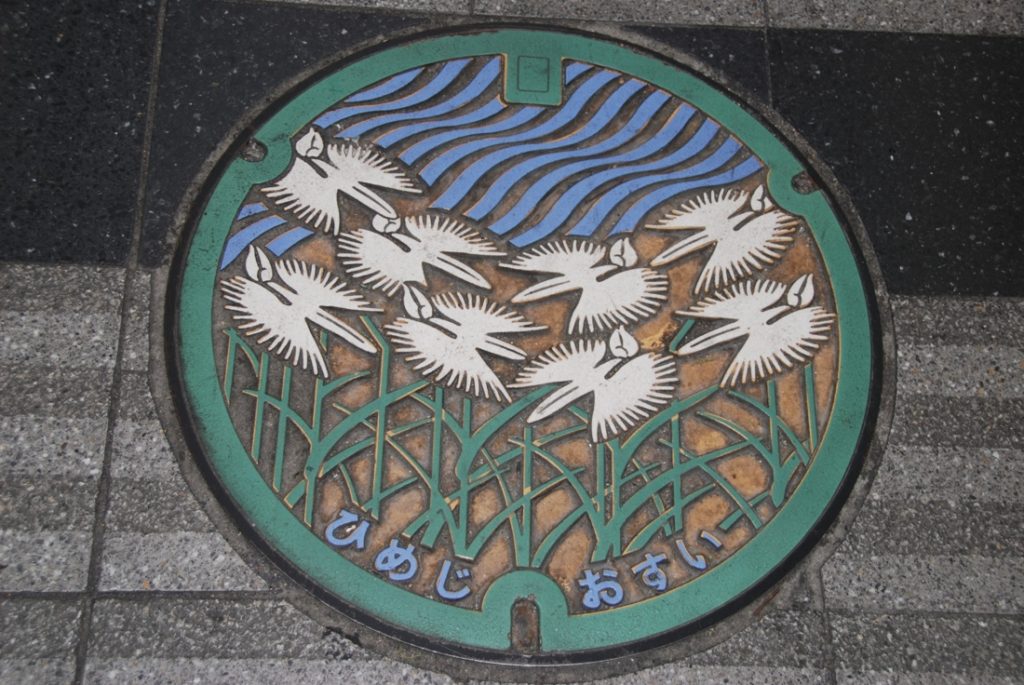 NAGASAKI (My favorite flower makes an appearance on a manhole cover!  Hydrangea is known as Ajisai in Japanese.  Here it is as street art in Nagasaki.  My friend took this one for me in Nagasaki.)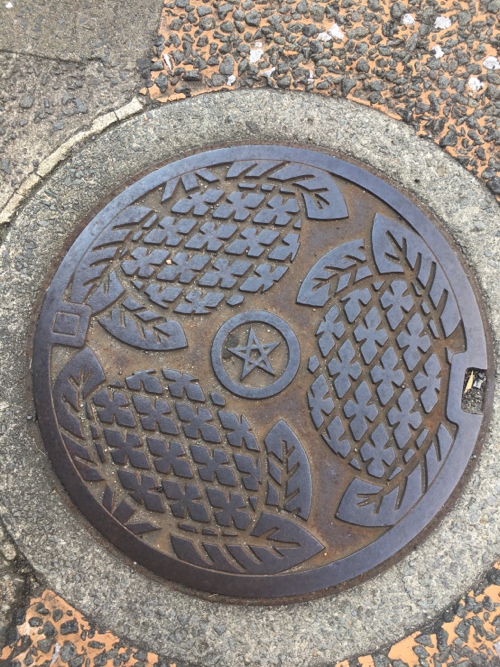 KUWANA CITY, MIE PREFECTURE (near Nagashima Spa Land amusement park)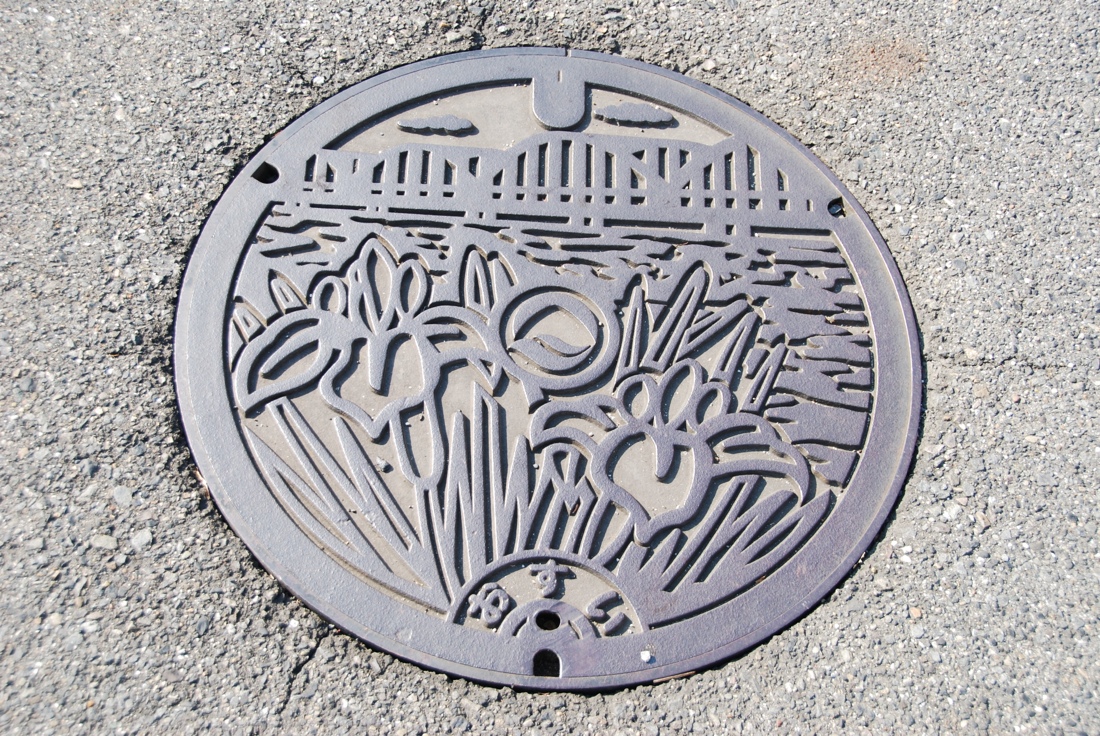 KYOTO (Rather plain, I think, for a city that has so much material to work with)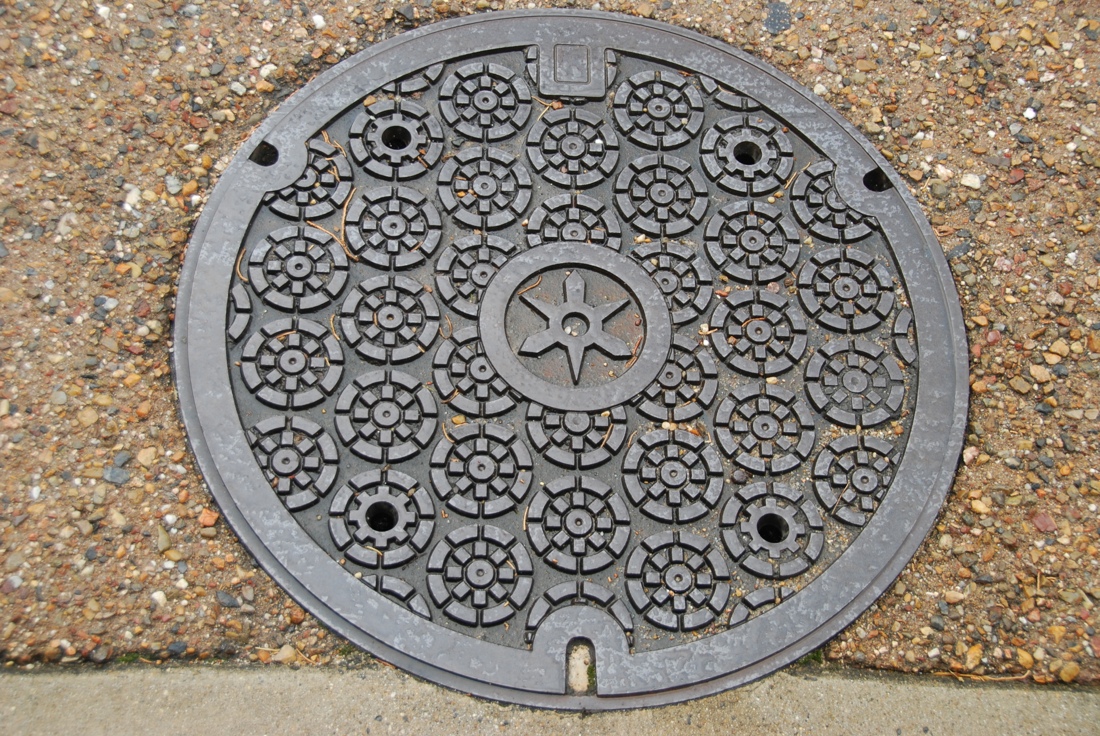 TAKARAZUKA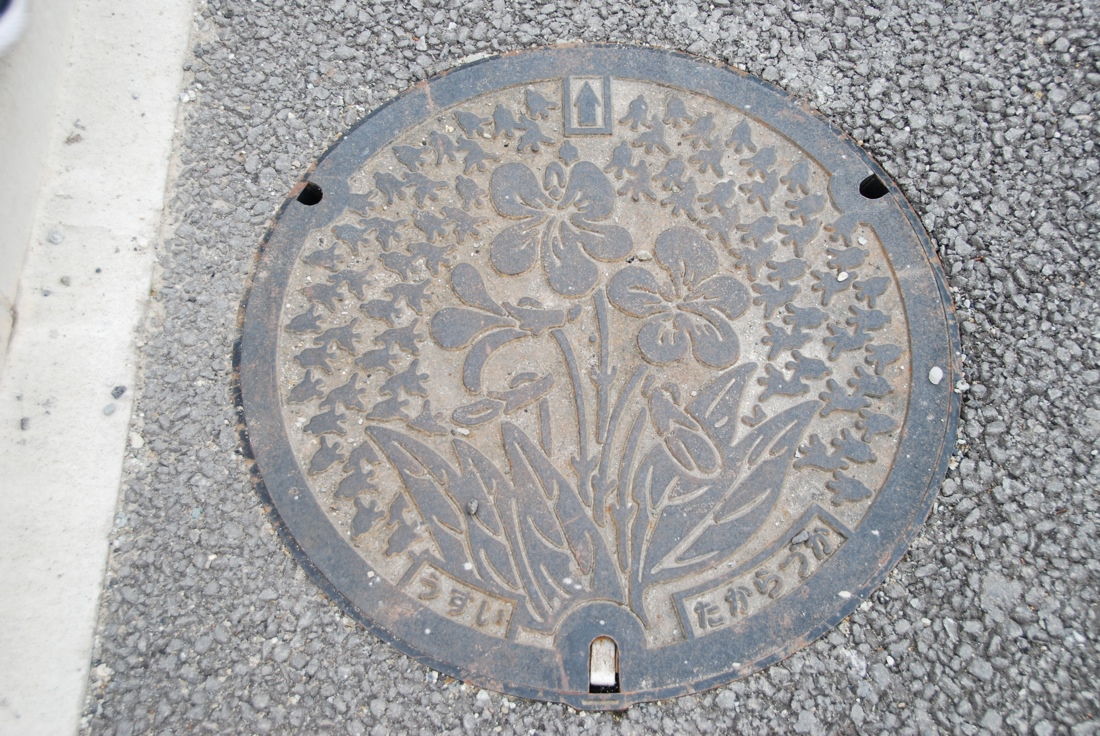 NISHINOMIYA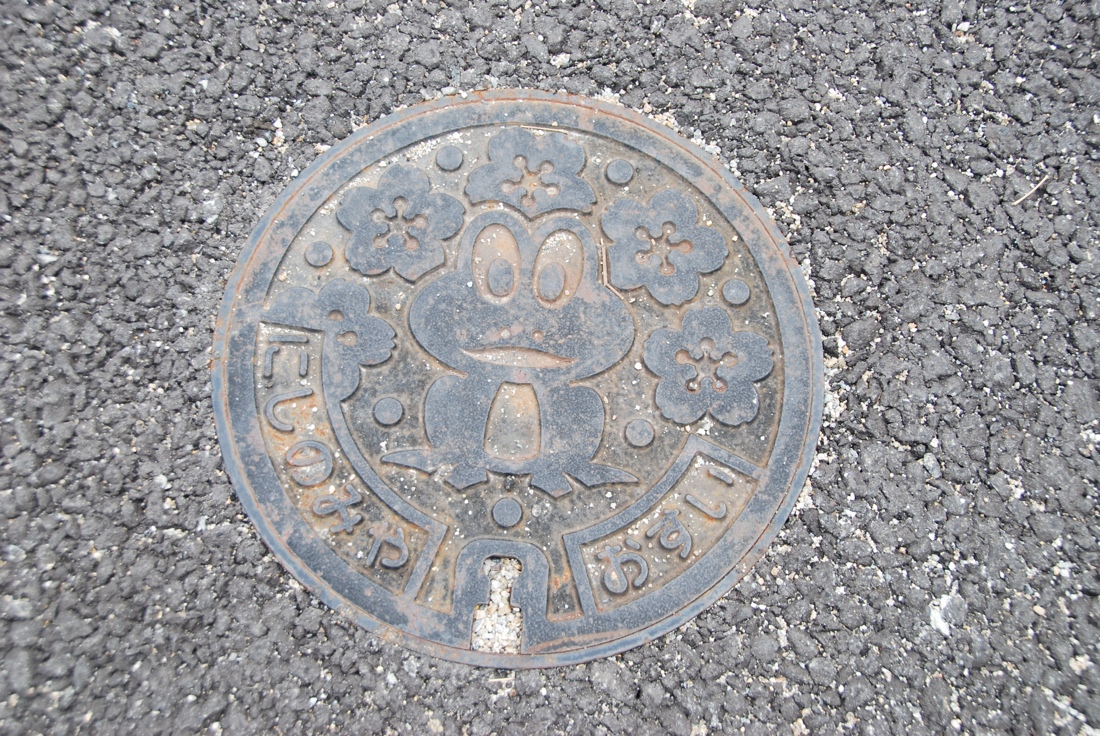 NISHINOMIYA