Day one, Thursday, November 23 (Thanksgiving in America!) of our Kumano Kodo adventure.
On our first full day we slept in.  The caretaker of the house, Jun, couldn't believe we weren't ready to open the wooden doors and let the light in by 9 am.  We said maybe 10 am would be good.  We made breakfast with fresh, organic eggs that they sell at the house, along with bread and fruit.  By 11 am we were finally ready to get going.  We hopped in the car and drove to the coastal town of Shingu, where the Kumano Hayatama Taisha is located.  I was eager to start hiking on the Kumano Kodo trail, but the town of Shingu is very developed.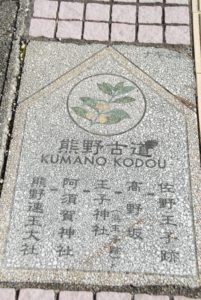 We looked at the trail map and it just guided us along a sidewalk path!  There are concrete markers on the sidewalk showing the old path of Kumano Kodo, but here in Shingu the traditional, original road is all gone.  Bummer.  We followed the sidewalk path for a while and found another smaller taisha called Asuka-jinja Shrine.  A Holy Priest (dressed in plain street clothes) asked us if we'd like to hear him play some traditional Japanese music.  So we sat down and he said he would play the flute for us and for the gods.  When he was done he bowed deeply at the altar.  It was a treat.
He spoke decent English so I asked the Holy Man where the original Kumano Kodo road was.  He said we had to head to the interior, in the woods, away from the coastal towns.  Surprisingly, he said he'd never been there himself.  He also said to me that I should try to speak more Japanese.  I said to him, "I'm trying everyday, but you can speak English so I want to speak English with you now."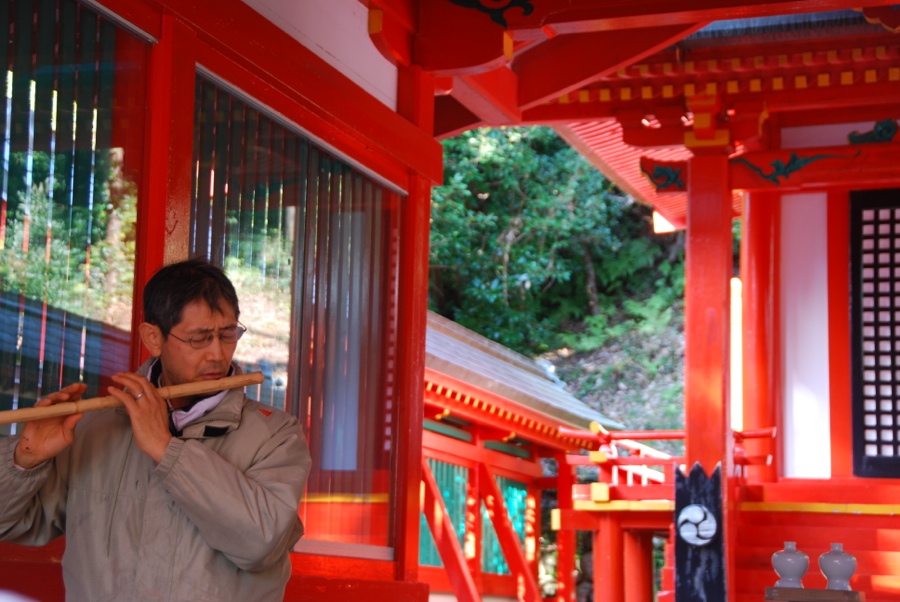 After the serenade it was getting late and the kids were hungry.  When you are towing 6 kids you have to keep them fed or it's a disaster.  A lot of Japanese restaurants take a siesta around 2 so we were really lucky to find a pizza and pasta place in Shingu.  The restaurant said we couldn't order any pizza because it was too close to their siesta, but we could order pasta.  Good enough!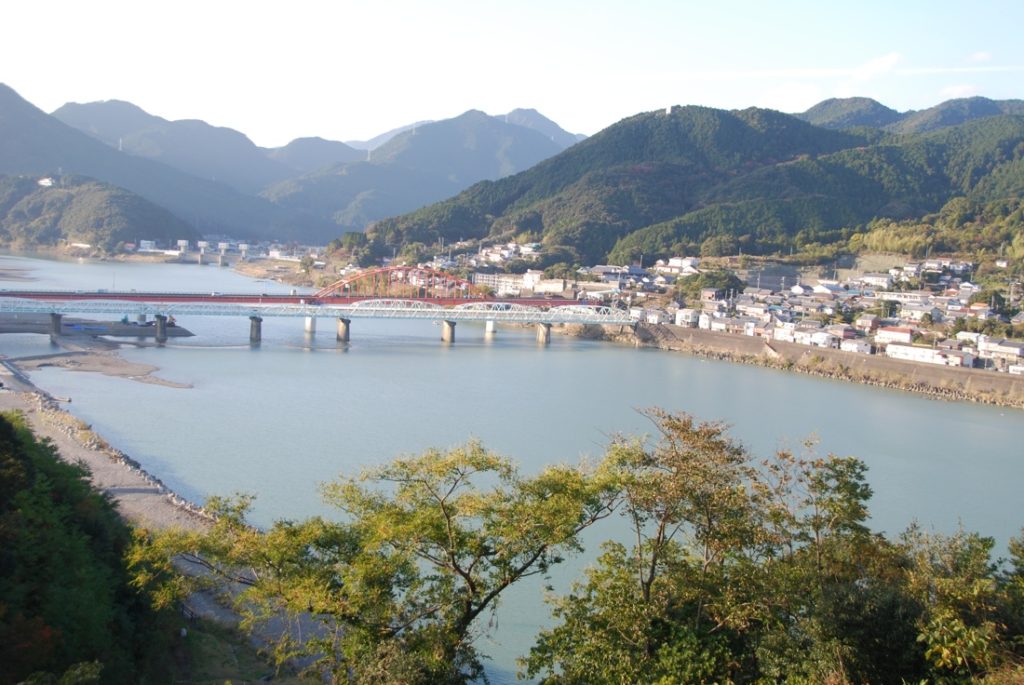 After lunch we climbed around the ruins of Shingu castle and admired the views from atop the hill.  You can see the Kumano River stretch way down.  Then we walked down the cliff from the castle ruins and played by the Kumano River.  After that we went back to the house.  On this night we had a big BBQ feast with grilled meat, fish, potatoes, veggies and s'mores over hot charcoal coals.  Happy Thanksgiving to us.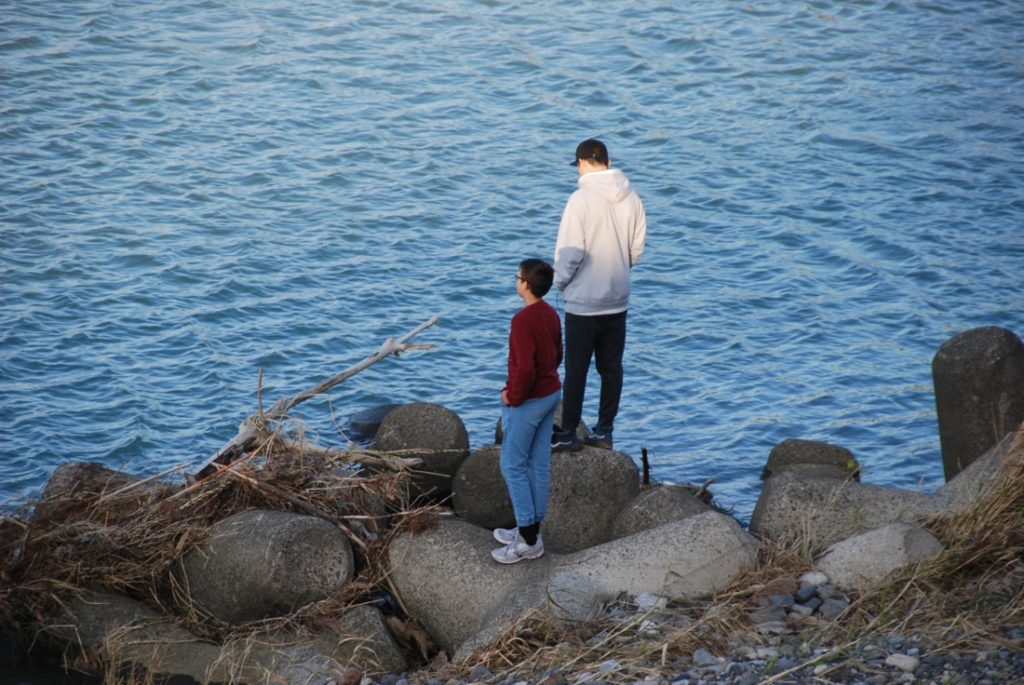 Day two, Friday, November 24, of our Kumano Kodo adventure.
I was determined to find a part of the old Kumano Kodo trail with dirt and actual hiking.  Jun recommended that we go to the Kumano Hongu Taisha and take a bus from there to Hoshinmon-oji, which is uphill in the woods.  Then we could hike back downhill, back to the taisha.  So that's what we did.  Success!  It was a beautiful hike with many of the sights that I had read about.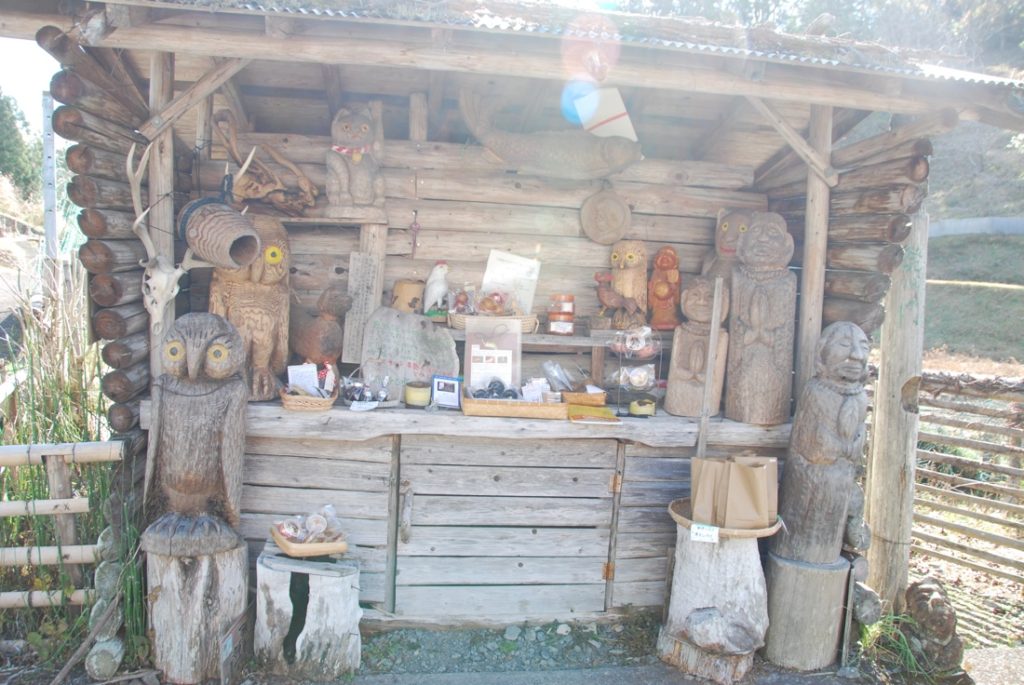 Here is a little trailside stand with wooden carvings.  A local person has made them and put them out for sale.  The stand is unattended.  The prices are marked on the items and you just leave the money there if you want to buy something.  Such an honor system.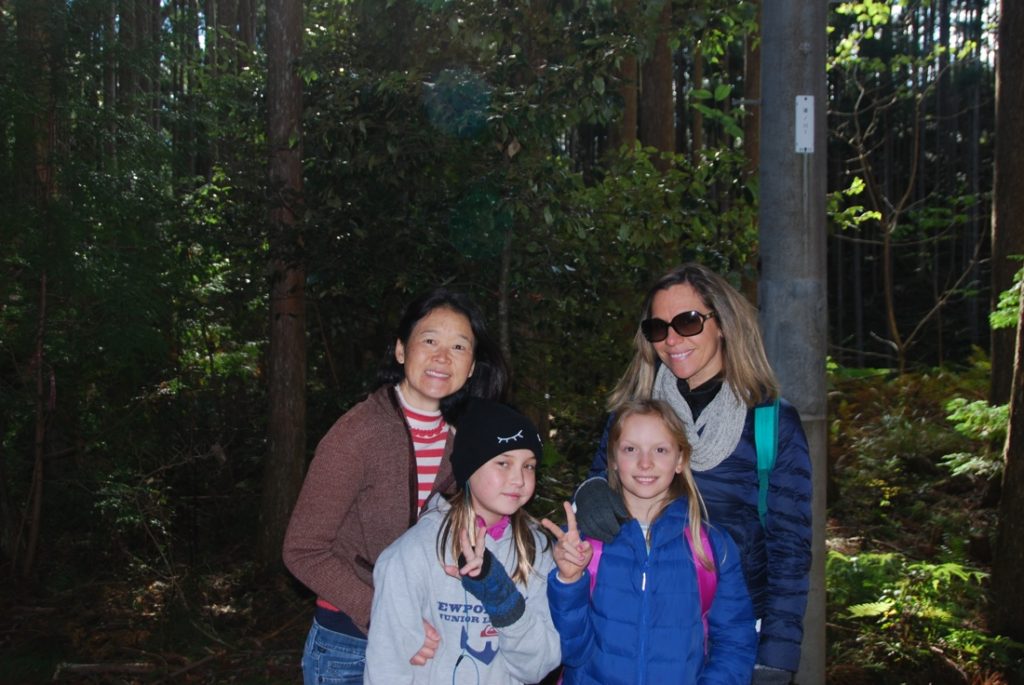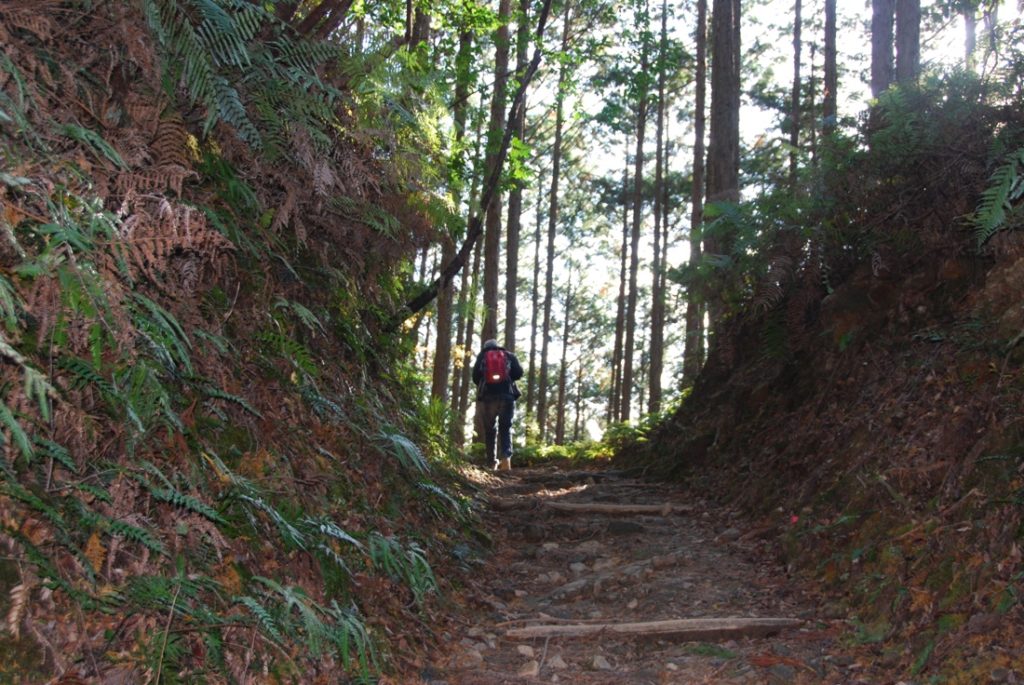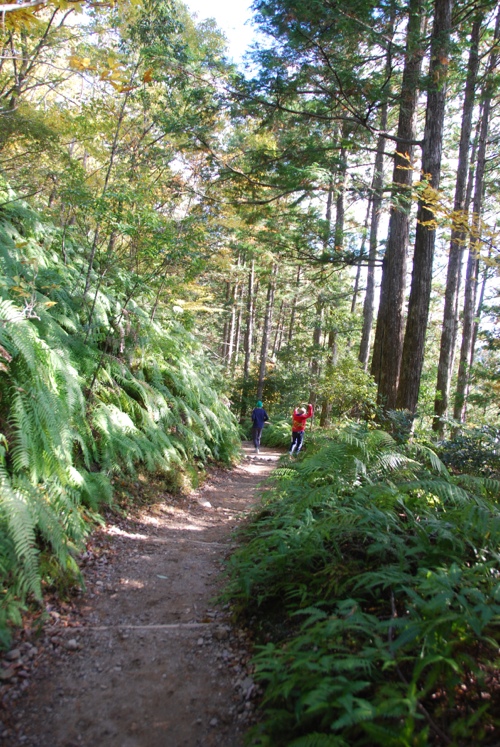 We hiked for nearly 3 hours.  Some of the trail was lined with a stone path.  Some of it was lined with small wood logs.  Some of it was just a dirt path and some of it was a disaster of tree roots and leaves.  It went through old towns and also thick forest.  Along the way were smaller oji, or small shrines, for the pilgrims to pray at along the way.
We stopped for a drink at a little stand selling purple shiso juice with mint.  Shiso is a popular leaf in Japan that is used in a lot of cooking.  It was pretty cold out but the shiso juice was still served with a lot of ice.  The kids bought little mikan (tangerines) from a man with boxes of them.  Finally, after about 3 hours, we arrived back at our original beginning at Kumano Hongu Taisha.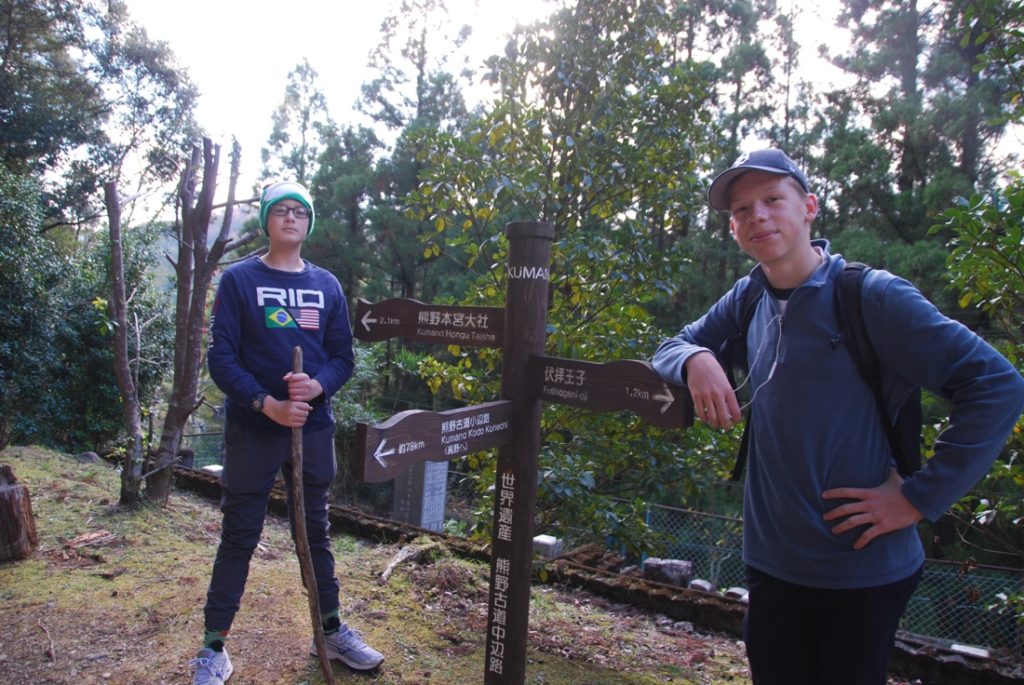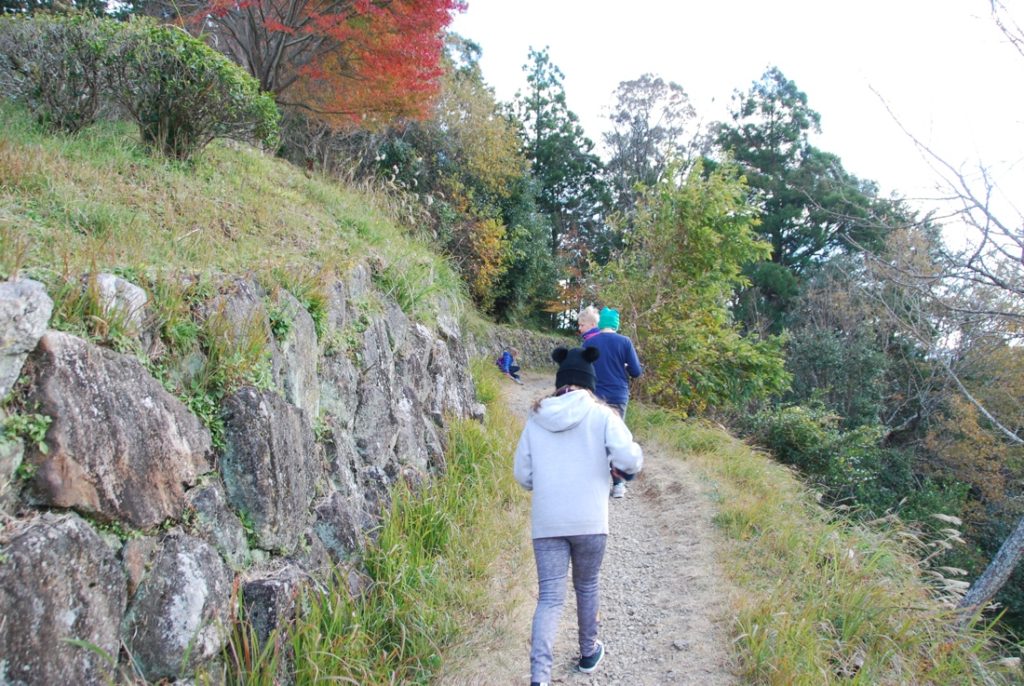 Then we were hungry again.  We had decided to find an onsen (hot springs) for the evening so we drove to Yunomine Onsen town, about 15 minutes away from Hongu.  Yunomine Onsen is a place that looks stuck in time.  Old wooden buildings dot the hillside and the town just looks like old era Japan.  There are a lot of hot springs hotels here.  We ate at a little place serving noodles, yakisoba, steak and fried rice.  My friend Nadia did not like this homestyle-type cooking here.  It was like stopping at a rest stop diner where you don't have a lot of choices.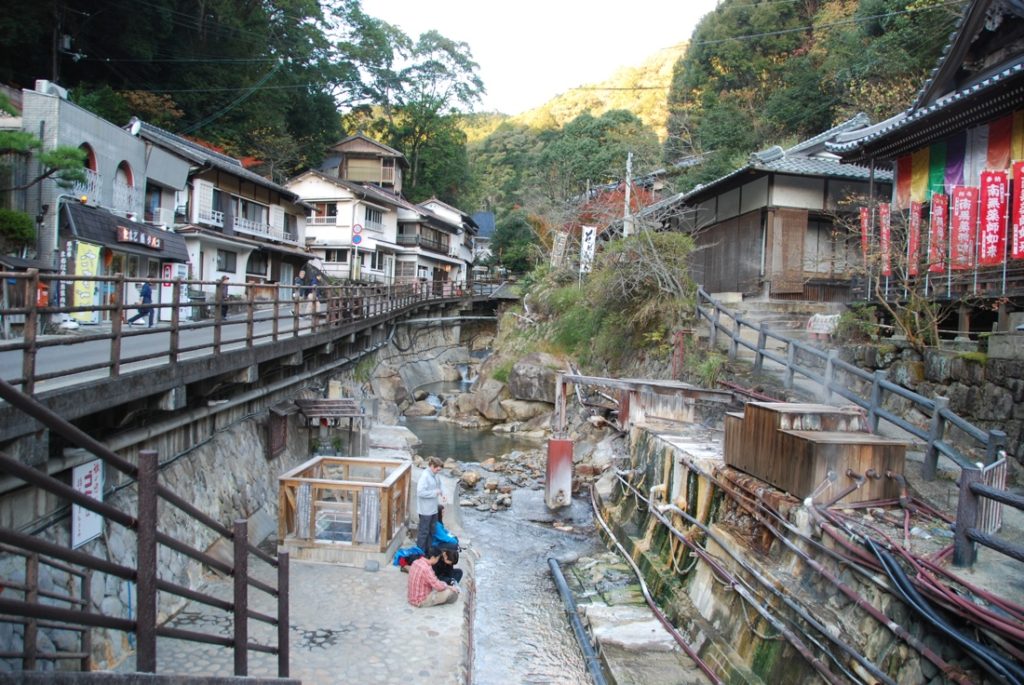 You can boil your own food in the public area of Yunomine hot springs.  The shops sell little bags of eggs and I imagine it's considered good luck to boil eggs in the hot springs water and then eat them.  We didn't do that, but several years back we did eat black colored, boiled eggs that were cooked in the hot, volcanic water at Owakudani in Hakone.  At that time we heard that if you eat the black eggs from the sulphuric volcano water it adds on a year to your life.
We looked at our onsen options in Yunomine.  It seemed that we were limited to the public onsen here, because the hotel onsen were only for hotel guests.  The public baths looked a bit small and creepy.  We passed on them.  There's a famous place, Tsuboyu Onsen, here.  It was actually declared a World Heritage Site and it's the only onsen with World Heritage designation in Japan.  It's super tiny and only big enough for 2 people at one time.  The man at the ticket window told us it was currently a 2-3 hour wait for the Tsuboyu Onsen experience.  Pass!
I had heard that a nearby place called Wataze Onsen was foreigner friendly with a hotel and onsen that the public could use.  We went there and it was beautiful.  It had a huge outdoor onsen with three separate hot springs pools outside, plus some inside too.  It turns out it's the largest outdoor onsen in Western Japan.  It is separated men from women and the traditional onsen bathing and etiquette rules are in force.  That means everyone gets naked at the lockers.  Then you wash yourself while sitting on a little bucket and pour hot water from the bucket over your head.  At least this was a very nice place and the bath products were first rate.  After you rinse off thoroughly you are ready to hop in the onsen.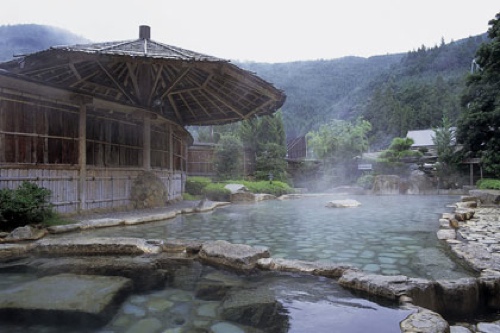 We (myself and Avalon, my friend and her daughter) all went outside.  It was gorgeous!  Trees lined the rim of the outdoor pools and the pool itself was paved with smooth stones.  When we got in, it was late and very dark but the lights from the inside and the moon overhead lit a soft glow on the water.  There's just a bamboo wall separating the men from women's side so we could hear the guys and boys talking over there.  We all had a great time.  Afterward we had more to eat in the onsen cafe and bought Haagen Daas ice cream bars from the vending machines.
Day three, Saturday, November 25, of our Kumano Kodo adventure.
Our friends decided to head home this morning.  They're hosting a big Thanksgiving Dinner at their house on Sunday so they felt like they needed to stop at Costco to load up and then get home to start cooking.  After packing up and saying good-bye to Jun and Omoya, we drove to the third shrine, the Kumano Nachi Taisha.  Here, there's a famous waterfall next to the shrine called Nachi Falls (Nachi no Taki) and it's the tallest waterfall in Japan at 133 meters.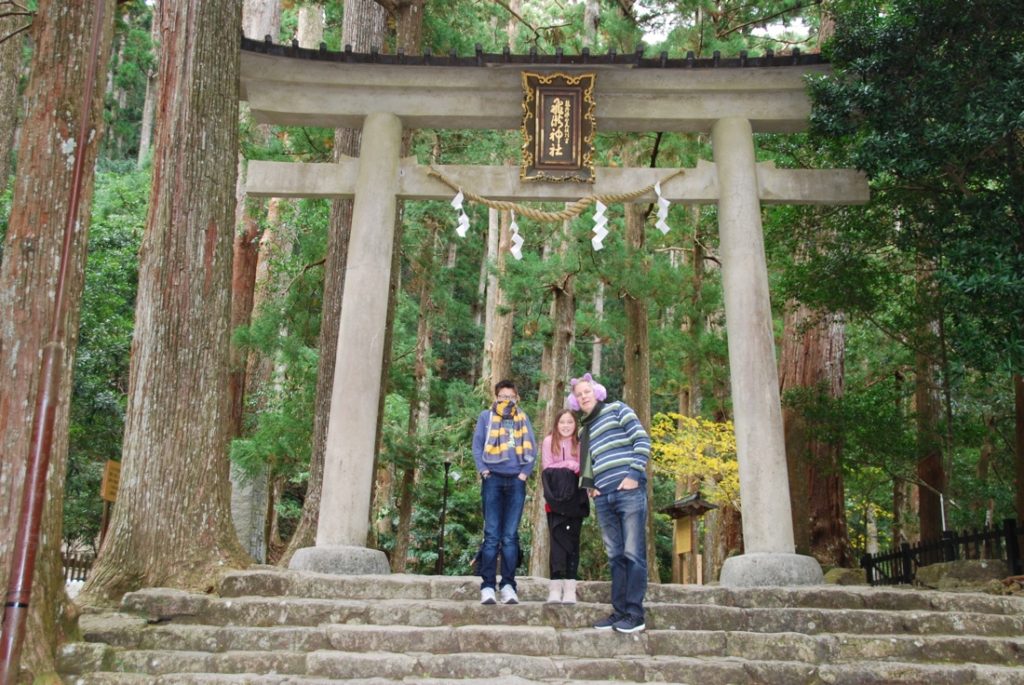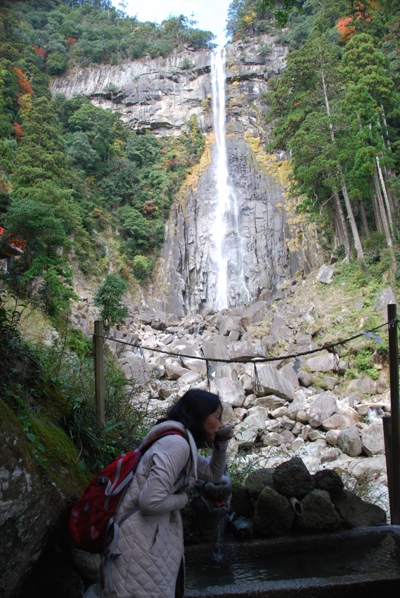 The first thing we did was climb the many steps leading to the waterfall viewing platform.  There's a place there where you can buy a small white ceramic dish for 100 yen and use it to scoop out water coming from the waterfall and drink it.  We all drank the water and agreed it was the freshest, cleanest, tastiest water we had ever had.  In fact, now, weeks later, Avalon is still talking about the waterfall's water.
The trails around Nachi Taisha are part of the Nakahechi Kumano Kodo route.  This area of the pilgrimage is the most preserved, least developed, original part of the trail.  I had really wanted to explore  around this area, but by this time we were pulling along some young and grumpy tag-a-longs and they were not so interested in more exercise.  So I had to settle for minor exploration around the Nachi Falls.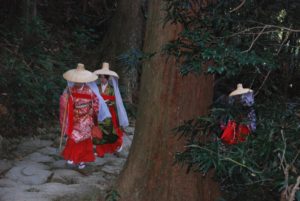 At one point we encountered a small group of ladies wearing traditional Heian-era costumes that anyone can rent and wear while walking the trail.  These period costumes are a fun way to have an authentic pilgrim experience.
After we explored around the Nachi Taisha area we had a brief break for soft cream.  Even though it's late November, it's never too cold for Japan's famous soft cream cones (we call it soft serve in the US).  They had a variety of flavors here.  I ordered black sesame ice cream (ho-hum, so-so), Avalon ordered melon ice cream (delicious), Kaiyo had grape flavor (pretty good, a 7.5), and John and Halyard got the same thing: condensed milk with strawberry cream (yummy they said).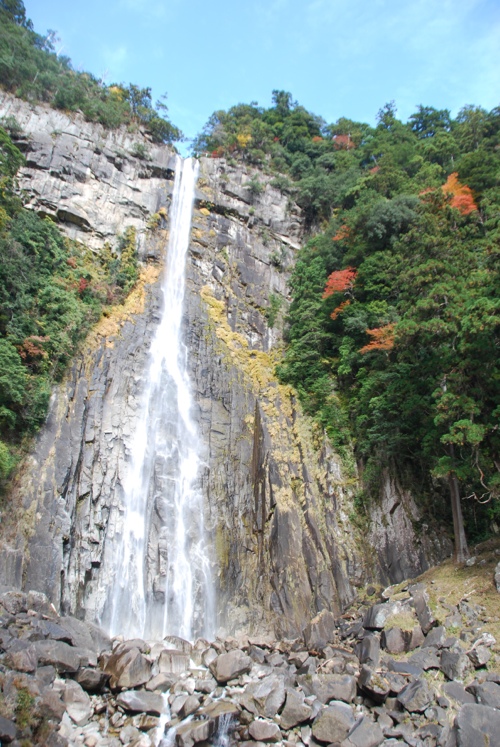 Then we hopped back in the car for the ride home.  We took the longer, scenic route, driving all the way around the Wakayama coast, around the southern tip and then up the west side.  We skipped Shirahama since we went there earlier this year, and kept to the main coastal highway.  When we reached Izumisano we stopped at Costco for a pizza dinner in the food court.  Pizza at Costco is the best deal in town.  We picked up some boxes of fruit before we left and then got back on the road.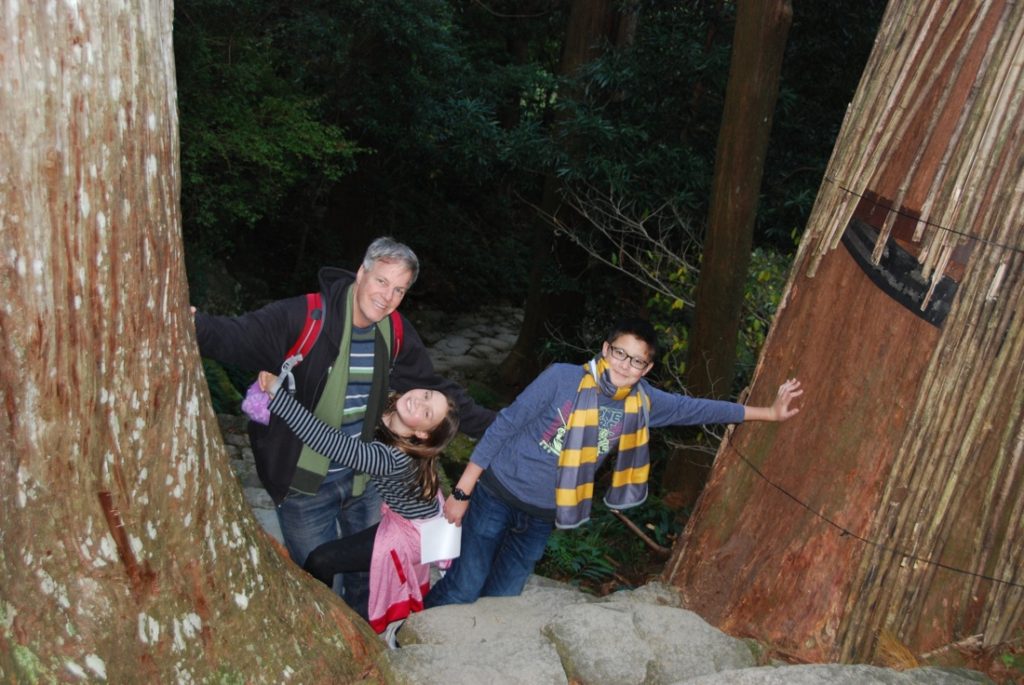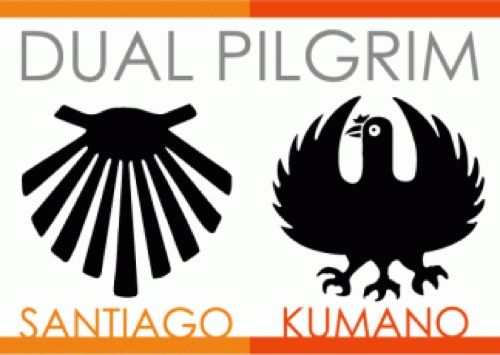 Now that I've experienced Kumano Kodo, I have to find my way to Spain's Camino de Santiago so that I can be a dual pilgrim!
Next up:  Kumano Sanzen.  Photos from the three Kumano Grand Taisha that are the reason for this spiritual journey.