Saturday, August 6 is another big momentous day.  It's Grandma's 100th Birthday Party.  When my mom was first thinking about the party I asked her to schedule it before our departure date.  So this is one of the things we've been waiting for before we leave.  It's in Riverside and we have to be there to help out with set up and greeting people at the door.  Grandma is looking so good!  She is as sharp as a tack and has perfect vision and hearing.  She's just amazing!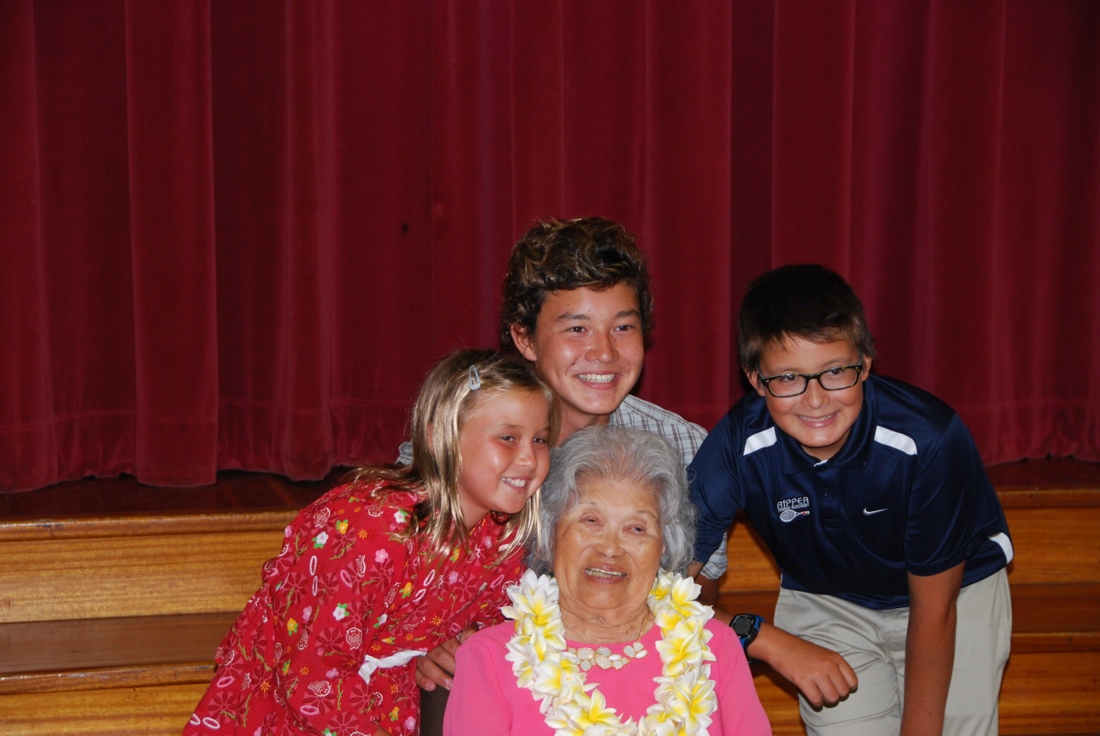 Since we couldn't get a dinner date on the books with our Kiwi friends, the Slomans, before they head out on vacation, we're having breakfast with them in the morning before heading out to Riverside.  Jo Ann suggested the cafe at the new Marina Park by the water and I'm so excited to go there.  But in the morning she found out it was completely booked.  So we all walked to Eat Chow in our neighborhood instead.  We're going to miss them!  I know Avalon is going to miss seeing her BFF Kate a lot.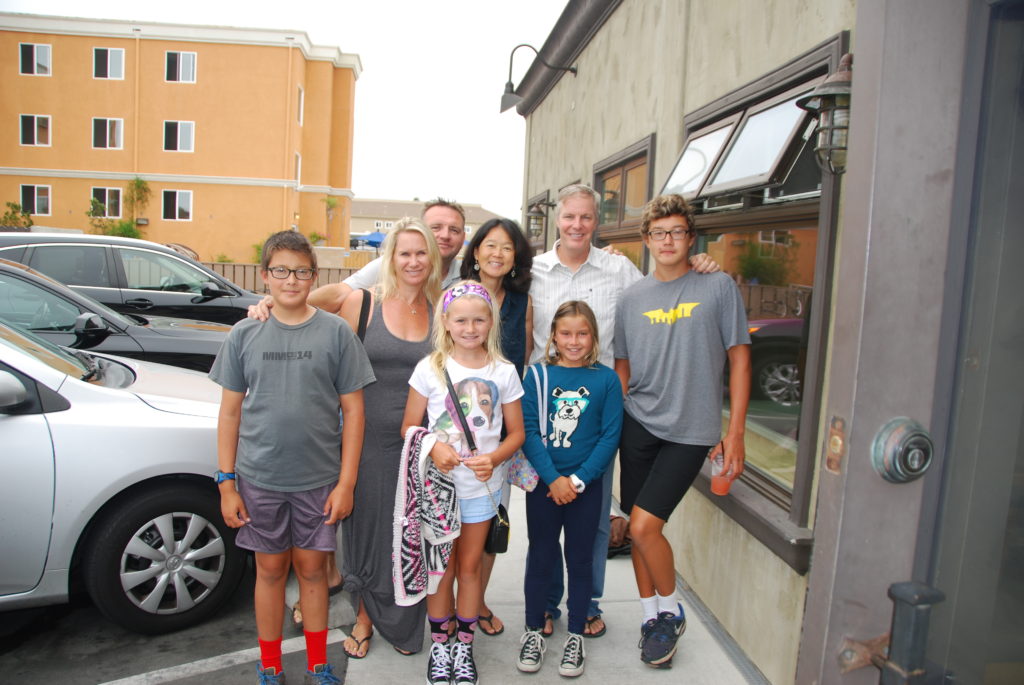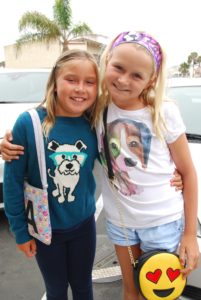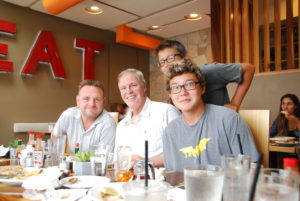 THANK YOU Val and Greg for letting us drive the Mitsubishi Montero to Riverside (and everyday after that as well!).  What a generous and absolutely appreciated gesture.  The car is just short of a hundred years old but runs just fine and my only complaint is that it has the most amazingly bad turning radius.  Val agrees on that.  We all pile in to the Montero for the journey to Riverside.  We got there in plenty of time to hang out at my parents' house first.  My sister, brother-in-law and brother are also on hand of course.  Plus a lot of people that came from all parts far and near and even my cousin Greg flew in from London and I haven't seen him in at least a decade.  It was a lovely party!  My Aunt Shanti (who often lives in India) was MC and my brother-in-law Chris assembled a great video of photos.  The food was delicious and my Grandma insisted on having ice cream at her party so Mint Chocolate Chip and Strawberry Ice Cream joined strawberry filling birthday cake.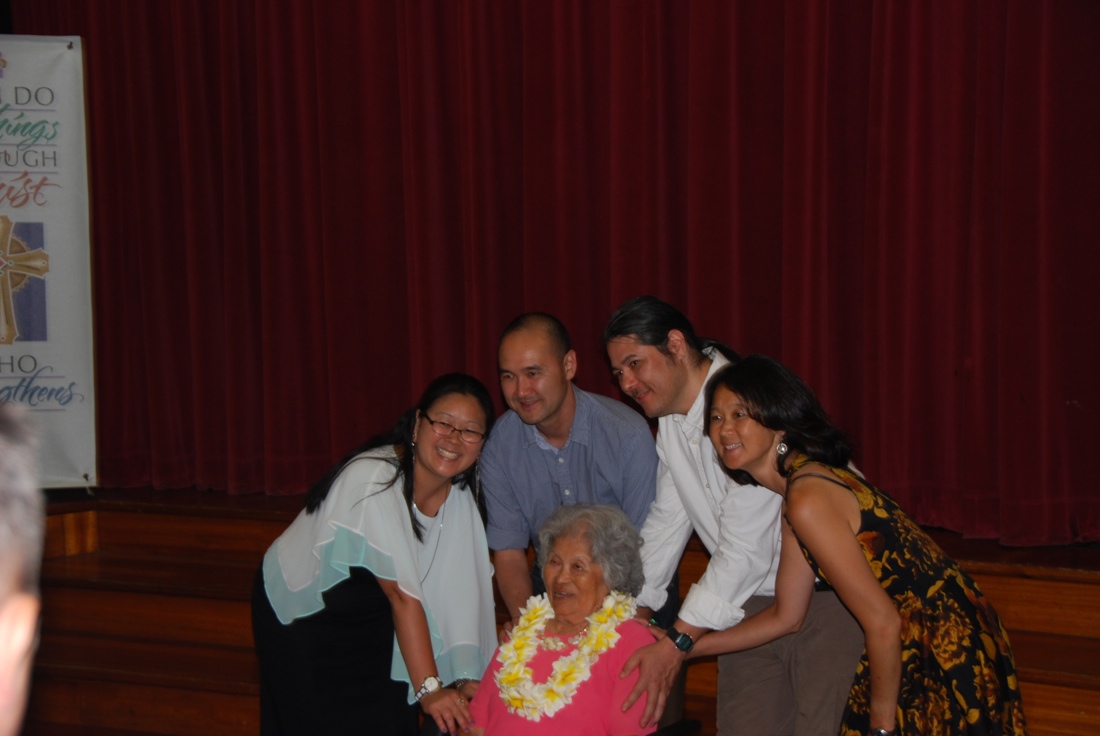 Here's the kicker:  My Grandma went to the same high school as I did, my siblings, my Dad and a lot of my parents' friends, too.  So all the Riverside Poly High School alum stood up and said what year they graduated.  We had everything from my Grandma at 1932 to a girl that graduated in 2016.  Then my Grandma sang the Poly High Alma Mater song (into the microphone no less) which she knows every word to and has sung to me before.  It was impressive to say the least.  I have no idea how the song goes or what the words are.
We had to say quick goodbyes so that Halyard could get back to Santa Ana for a concert with his Japanese school (OCG) senior friends.  They went to see a band called Oh Wonder at The Observatory.  I didn't want to rush home for it, but he wore me down with his incessant asking to go.