Golden Week is a major national holiday in Japan.  It's a string of consecutive holidays in early May that are combined with another holiday in late April to form a solid block of time off from school and work.  Business shuts down and everyone gets an extended break.  This is our first Golden Week so we're not really sure what to expect.  But from everything I read, it's crowded everywhere you go.  The prices of everything having to do with travel are all jacked up.  It sounds a lot like Thanksgiving vacation in America.
I was thinking about where we should go for Golden Week when I got a text message from my cousin Mayumi up in Sapporo.  She asked if her family could come stay at our house on Friday, May 5, right smack in the middle of the holiday.  Well of course.  "Mi casa es su casa" we say in California.  I briefly wondered if we also had to be at our house when her family arrived.  Could I leave a key under the doormat?  I'm not sure what's rude in Japan.  Actually, I was happy for her visit because Mayumi surely saved me from the headache of traveling during a very bad time.  Instead, she's the one traveling during the busy time, coming from Sapporo to Osaka.
My kids often complain when we take off somewhere during their holiday because they just want to sit around at home and see their friends (if any are still in town).  So having Mayumi and her family in Osaka is really the best way to spend part of our Golden Week holiday.  And everyone is very excited to see them again.  The last time they came there were four of them.  But this time she's bringing everyone, including her brother from Tokyo, which makes a total of six guests staying the night at our house.  Bring it on!  I don't mind, but it's a tight squeeze.  This house we're in is a large house by Japanese standards, but it would be a tiny house in America.  (It's roughly 1200 sq. ft.)  I told her it's going to be like camping.  I imagine we will be stepping over bodies everywhere.  However, she has stayed here before so she knows what she's up against.
The Golden Week holiday begins for us on Wednesday, May 3 so we have a few days before our guests arrive.  There's a locally famous festival called Takatsuki Jazz Street which takes place during Golden Week.  Takatsuki is pronounced ta-khat-sue-key.  As it turns out, Halyard's private bass tutor from school is the guy that started this whole event many years back!  His name is Minowa-san and he is well known in Takatsuki because he owns some local bars and he's popular in the jazz circles.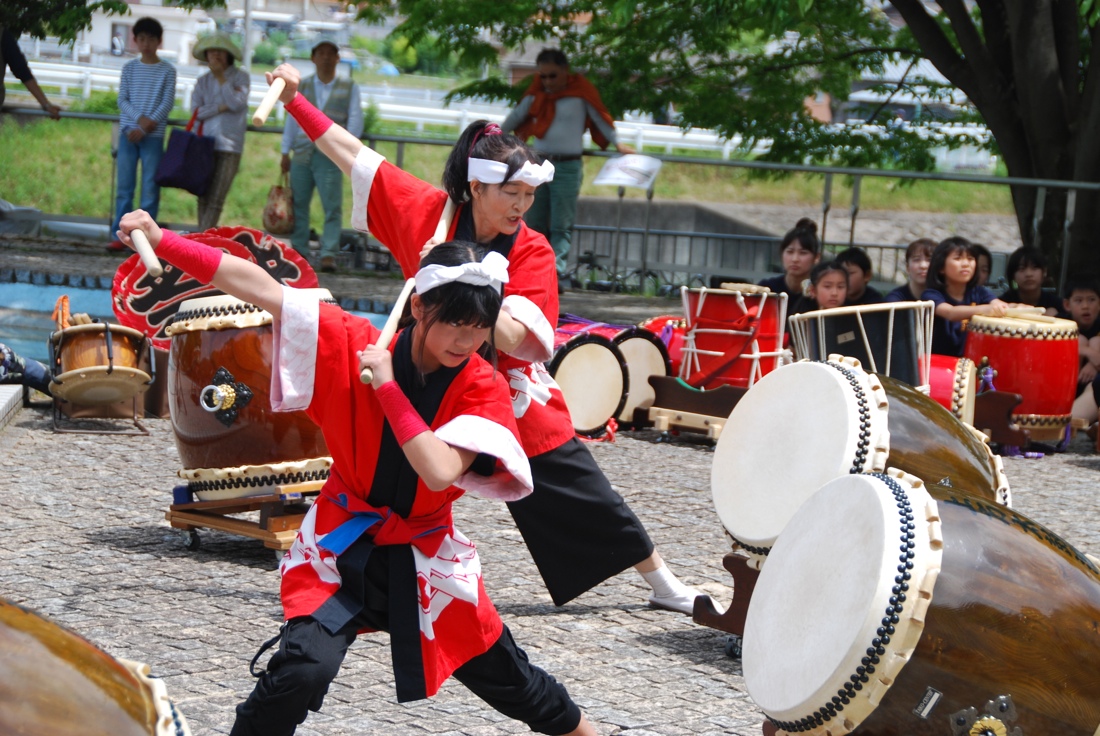 Our waterpolo friends live in Takatsuki very near one of the performance venues.  It's a small amphitheater.  Lucky for me there's going to be a taiko performance there (shown above).  I love the booming, rhythmic drumming known as taiko.  It's not just music, it's performance art too.  We plan to meet our friends at the JR Takatsuki train station, buy some deli take out food and listen to taiko and have a picnic lunch afterwards.
In the middle of the taiko performance the group leader asks if any of the kids in the audience would like to try it.  Kaiyo and Avalon insist no.  Our friends are trying to encourage them to go but they're staying put.  So John says, under his breath, that he'll pay them 500 yen ($5) to get out there and try taiko.  So they go.  It looks like fun to me.  But Halyard isn't moved by a measly 500 yen.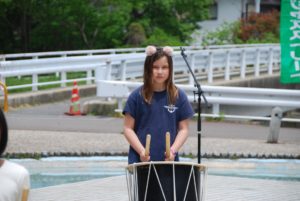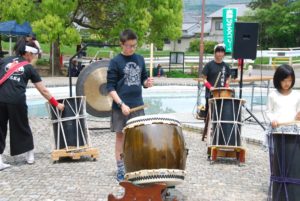 Afterwards, we eat our deli food together under the trees.  Our friend points out a stone path with waist high parallel bars nearby.  He then challenges us to walk across the stones with bare feet without feeling pain.  And without grabbing onto the bars.  The deal is if the stones don't hurt your feet you have a strong constitution.  If the stones do hurt your feet then you have some kind of ailment inside that you'd better go get checked out.
There were two sets of stones imbedded in the pavement, one had 3-4 inch stones and the other had smaller 1 inch stones.  We tried it.  Ouch!  Those stones hurt my feet like heck!  I grabbed the bars but our friend says, no bars!  I couldn't make it 5 steps before I quit.  I guess I'm not that healthy after all.  John grit his teeth and made it across.  He must have been hiding the tears in his eyes.
Before we say good-bye to our friends, they want show us the koinobori (Ko-ee-no-bow-ri) flying in the wind over the river near the train station.  It's the same place that I saw the sakura in full bloom in Takatsuki.  So many carp banners twisting and flying about.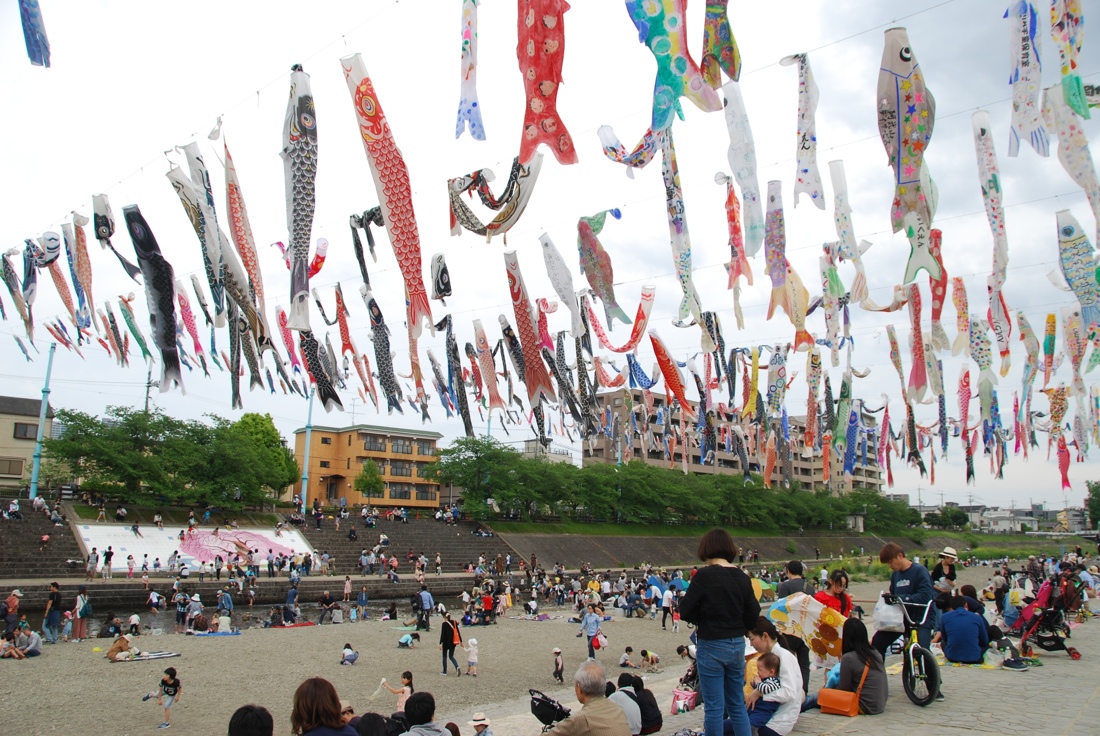 They leave us to wander around downtown.  Halyard is getting impatient so he takes off to explore on his own.  We decide to see a jazz performance at a bar called "Billy's Bounce."  It is the tiniest bar I've ever been to.  It feels like a dollhouse.  I am pretty sure I can't do a cartwheel (if I still could do a cartwheel) across the width of the room and the length is roughly 30 feet and I'm not kidding.   We are packed in like sardines.  It is nutty!  The performance is a duet with a woman on piano and another singing.  She's singing popular tunes like "When You Wish Upon a Star" and "The Girl from Ipanema" and "Summertime."  It was really lovely but not good for claustrophobia.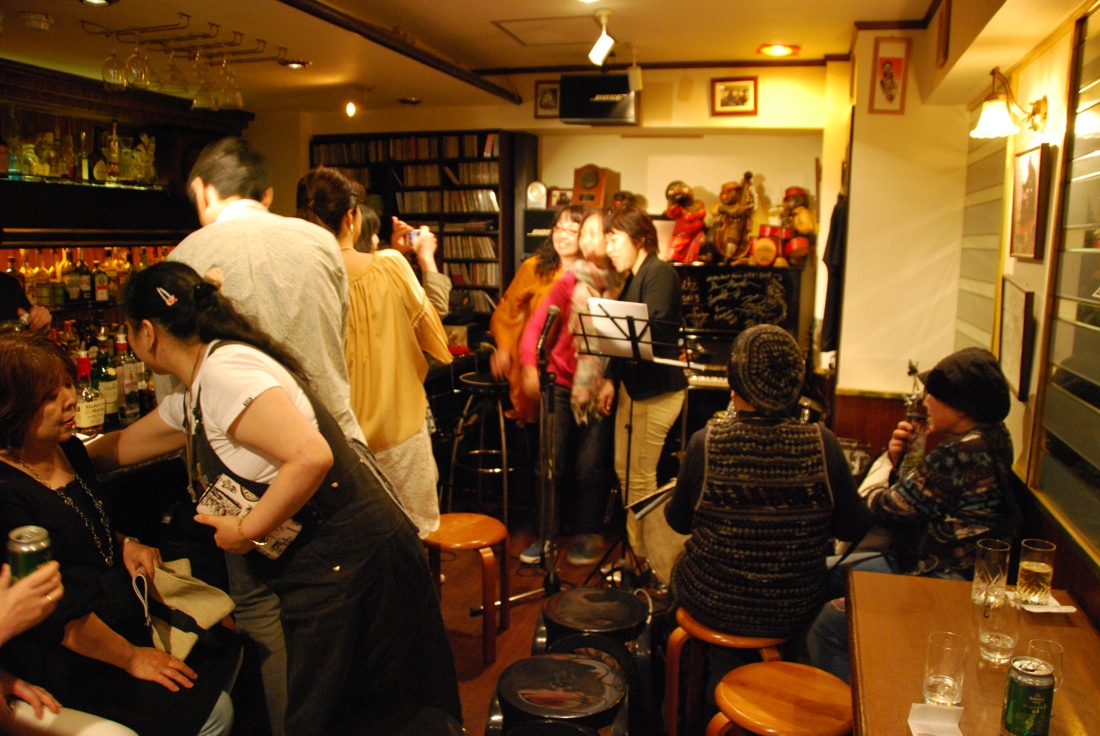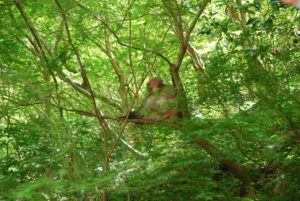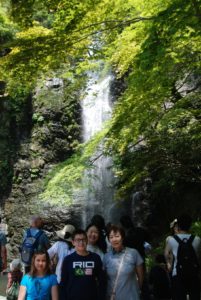 On our next day of Golden Week, Thursday, May 4, our friend Makiko from Tokyo came to Minoh for a visit.  Maybe I've already shared our amazing connection with Makiko, but anyway we were meant to be friends.  It was in our life plan.  She said she'd never been to the waterfall so up we went.  At the top there's a monkey in a nearby tree watching us.  We ate lunch at a cafe called "Cafe for the Good Day."  It's right next to the bike lot where we always park our bikes when we come to the train station.  I'm happy because everyone came out to see Makiko.  Halyard joined us later on, but he found us at the waterfall and we all had lunch together.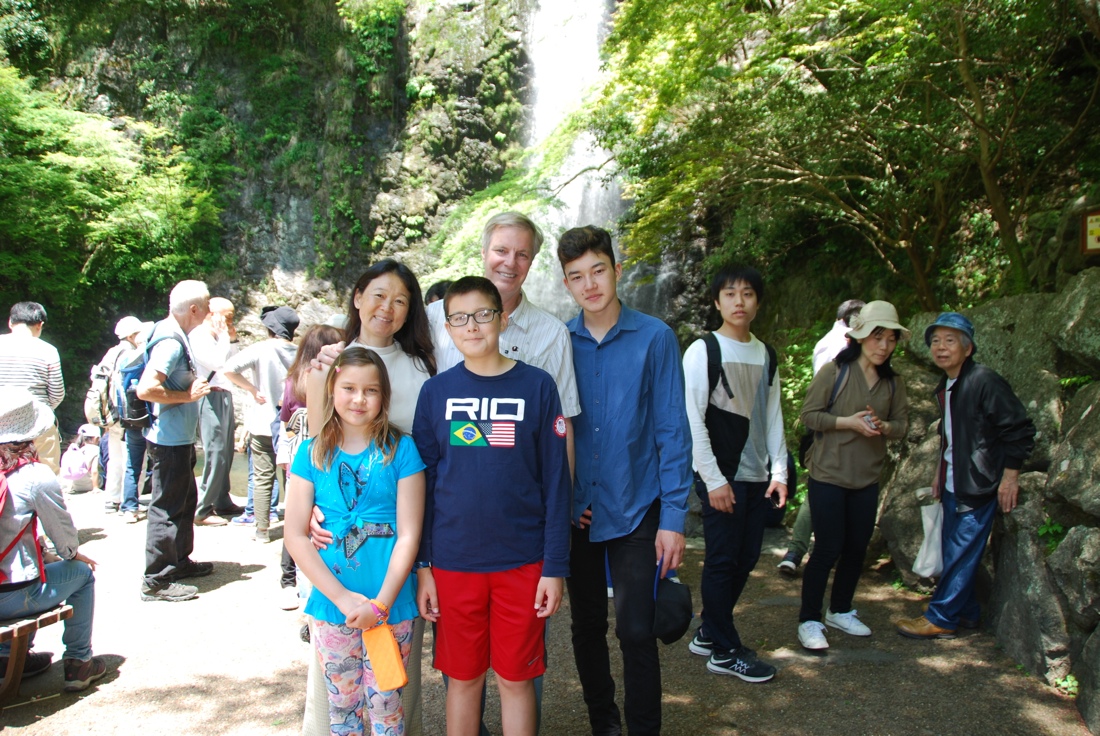 I am so sleepy after our hike and lunch.  It's siesta time.  We are supposed to meet friends from school this evening in Takatsuki again.  Halyard's teacher Minowa-san is playing at the Takatsuki Gendai Gekijo, a main concert/cultural hall in the downtown area.  The plan is to meet our friends between 5 and 6.  The problem is, it takes about an hour to get from Minoh to Takatsuki and now it's 3:30.  John says he's too tired to see a concert.  I don't know what to do, so I lay down on the bed to think about it.  My power nap ends at 4:30.
I want to see Minowa-san but I have no motivation because Halyard says he has homework, Kaiyo is at the arcade, Avalon is who knows where, and John is sound asleep.  I shake John and tell him to get up, we're going to meet our friends.  It might be our only chance to see Halyard's teacher play the stand up bass and besides, John loves jazz and I love the stand up bass.  We rally!  We arrive at Gendai Gekijo a little after 6.  Our friends said they always sit in the balcony section so we went straight there.  I had already texted to tell her I didn't think we'd make it so they are surprised to see us.  And there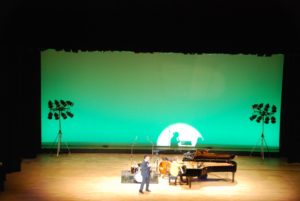 are two empty seats next to them, too!  There's supposed to be a special guest drummer with them, the drummer who plays with Diana Krall, but he had a death in the family and had to miss it.  It's a great concert.  Afterwards we all go out to dinner together at a tiny, smokey place serving little dishes of random Japanese cuisine.  After dinner we say good-bye to our friends, but since John and I both had our power naps we're ready to hit the town.
We walk to a bar called JK's Bird.  Someone told me that this is one of Minowa-san's bars.  The music sets were just changing so the place was clearing out a bit, getting ready for the next act.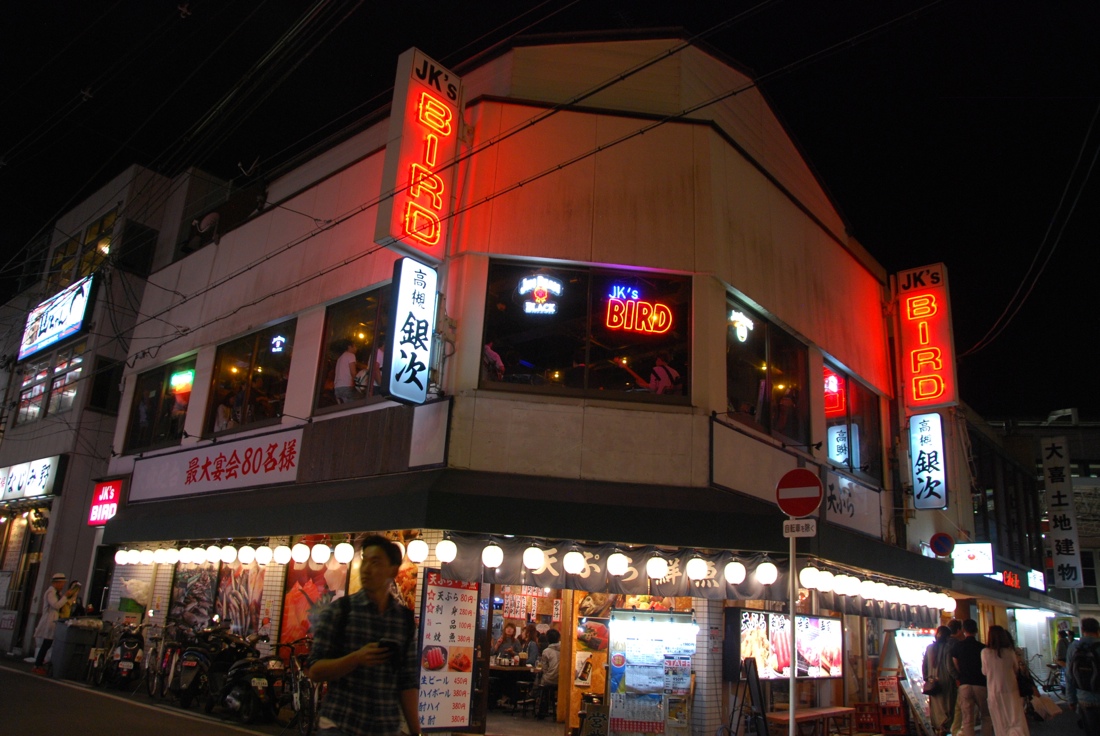 We find a place to watch that's really close.  John goes to get himself a Guinness. The band is so energetic and fun.  It's three sax players (one of whom is the singer too), a drummer, a trumpeter and a guy playing keyboard.  They're obviously having a great time together.  Then my phone buzzes.  It's Avalon sending me a text.  Her text says, "I have a BIG problem."  So I try to call her but I can't hear a word she's saying because it's so loud.  I show John the text and yell at him, I can't hear anything!  We decide to leave because I'm not sure what her big problem is.  When we sidestep our way out of the club, it's unbelievable.  The place is packed solid and there are people jammed on the stairs waiting to get in.  We had such a prime spot to see the band. This had better be good.  So I call Avalon but she doesn't answer.  Then John calls Halyard.  Halyard reports that all is well and Avalon was having issues with her texting app and had lost all of her contacts.  This was her big problem.  My big problem is this is why it's so hard for John and I to have a night out on our own.  Someone is always calling with a "big" problem.  Usually the big problem is a sibling so at least it wasn't that this time.  Anyway, we went home after that.
I have to get up early on Friday, May 5 (Cinco de Mayo!) because this is the day that Mayumi and her entourage of 5 more are arriving.  John is moving mountains with the vacuum cleaner.  We have an extra layer of insulation in the form of cat hair here.  I'm getting started on dinner early because tonight we're going to have 11 people here.  I'm not sure where we are all going to sit yet.  I've decided to assemble an American menu.   We're having hamburgers and french fries, plus chili, macaroni salad and baked beans.  The baked beans aren't the same as at home though.  They come in a can and they're from Heinz so they are American, but instead of a bbq sauce, they're in a tomato based sauce.  I think it's strange and I prefer the bbq baked beans, but I have to work with what I've got here.
John went to Senri Chuo train station to pick Mayumi and her family up.  I didn't go with him because I think the car isn't big enough for everyone plus luggage plus me.  The house looks nice and clean!  John did a super job.  While I'm finishing up dinner everyone else is playing a massive round of Uno.  Andrew has a deck here and we brought our own so we combined the two to make it a double deck.  Everyone knows how to play already expect Mayumi's eldest son and her brother.  I thought it was going to go on forever!  Finally Kaiyo won.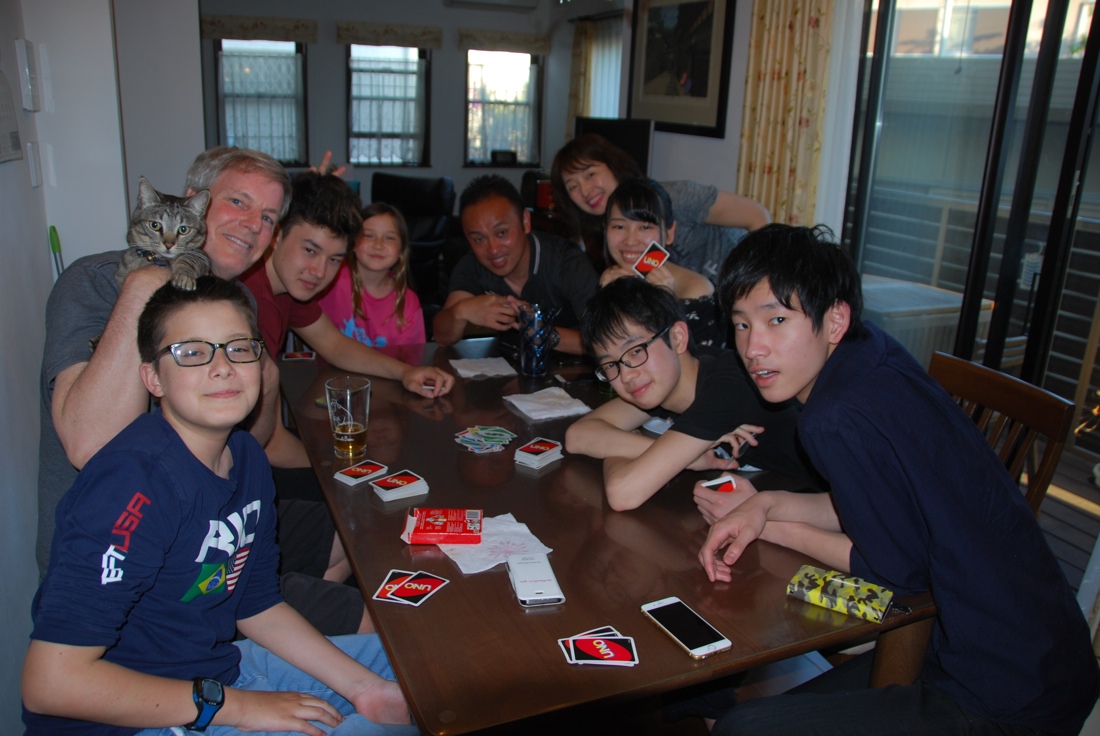 Everyone loves hamburgers and french fries.  Except John and I.  I'm making us salmon burgers instead.  Mayumi's brother Jun says he's always hungry so he's ready to stop Uno and eat.  Mayumi was interested in my macaroni salad.  I was trying to explain Spanish olives and pimentos to her.
After dinner our guests brought out Royce chocolates that they had brought from Sapporo!  Yummy!  They are impossibly soft and creamy tasting.  They brought three flavors: banana chocolate, champagne chocolate and matcha chocolate.  They also brought the cutest chocolate lollipops, shaped like animals from Hokkaido.  True to Japanese form, they have the cutest features and are holding little objects, like the chocolate bunny is holding an orange carrot.  Jun brought treats from a brand called Tokyo Banana.  They're like little spongy cakes with a thick banana cream filling inside.  It's like a mini banana flavored Twinkie.  After dinner it's time to decide who is sleeping where.  This is quite a puzzle.  Everyone has their own ideas about where they want to sleep and who they want to sleep near.  We got it sorted out with Jun, Halyard and Makoto sleeping downstairs on the floor or couch.  Everyone else is scattered about in the bedrooms.  Lights out!