Today, Sunday, August 28, Halyard spent the entire day with 2 new friends, a boy and girl, from OIS.  He made plans to meet them all by himself, he walked to the bus stop all by himself, he rode the bus and transferred to the train all by himself, he found them at the Senri Chuo Station all by himself and then they all went to Shinsaibashi together.  Later, he came home on the train and bus and walked back home all by himself!
The great thing about Japan is that it is very safe.  I don't worry too much about their safety, but rather that they're going to get lost and not know which direction to head in.  So Halyard was out from about 10:00 to 20:00 and even though that's 10 hours off with kids I've never met I didn't worry about him (too much).  Japan is a great place for independence.
Halyard said they wanted to go to a "Cat Cafe" but it was too expensive.  The cat cafe is somewhere that Kaiyo and Avalon are just dying to go to.  It is literally a place where you buy a drink and play with cats.  Val – if you come to visit we're taking you here!  It will make Avalon so happy.  But for Halyard and his friends, the rate of $12 per hour to drink a beverage and pet cats was too steep.  So they ended up at a karaoke (Ka-Rah-Oh-kay) not (Care-EE-Oh-key) bar instead.  He had a great time.
While Halyard was out spending money and singing Bruno Mars and Counting Stars, the rest of us decided to walk the path up to the Minoh waterfall (a bit of a hike at 2.5 km).  First we rode the bikes to the downtown Minoh train station, which is where the walk starts from.  On the way it started to rain lightly.  Kaiyo was very distressed about the sprinkling rain.  He wanted to go home, so as to avoid any chance of getting himself or his bike seat wet.  Rolling my eyes here!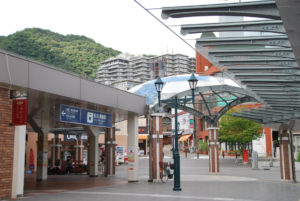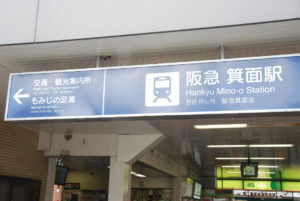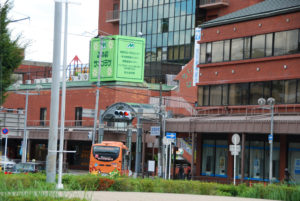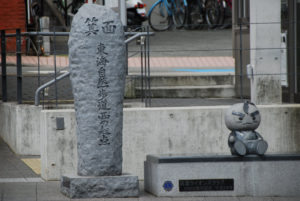 When we got to the train station we needed to find a place to park our bikes.  No bikes in sight.  (That's my lonely bike in the picture above.)  Hmmm.  I asked at the tourist information center where the bike park was.  Turned out to be about 3 blocks away and it costs 100 yen per bike (about $1 a bike).  That's when John realized that he STILL only has US dollars in his wallet and I didn't bring a wallet.  We sat there on the bikes, in the light drizzle, thinking we needed to abandon the plan for lack of 400 yen.  But then Avalon mentioned that she had brought some money.  She had 5,000 yen with her (about $50 USD)!  It was hard to pry the 5,000 yen off of her though.  She started to demand a high interest rate.  When I finally got it from her I took it in to the tourist center to ask for smaller change.  They gave me 4 – 1000 bills and 10 – 100 yen coins.  I gave Avalon the 4000 yen paper money back and kept the 10 coins.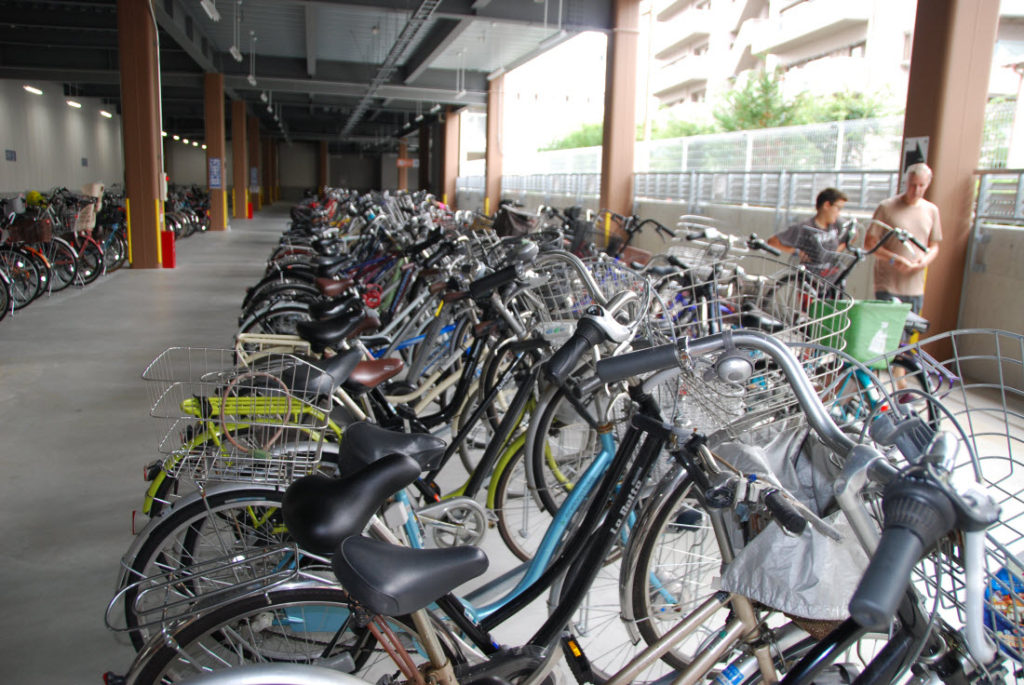 Here is the bicycle garage.  It is super ingenious.  There is also a moped/scooter parking area adjacent to this space.  The bikes are staggered so that one bike is between rails on the ground.  The next bike gets pushed up a small, slight 2 foot ramp and you push your front bike tire up the ramp between two rails.  That way the handle bars and large baskets are staggered and a lot more bikes can easily fit here without everyone running their bikes into each other.  There must be a couple hundred bikes in here.
Just past the Minoh train station is the beginning of the walk up to the waterfall.  The road here is called Taki-michi.  Here are shops selling little figures, toys and Minoh-themed snacks.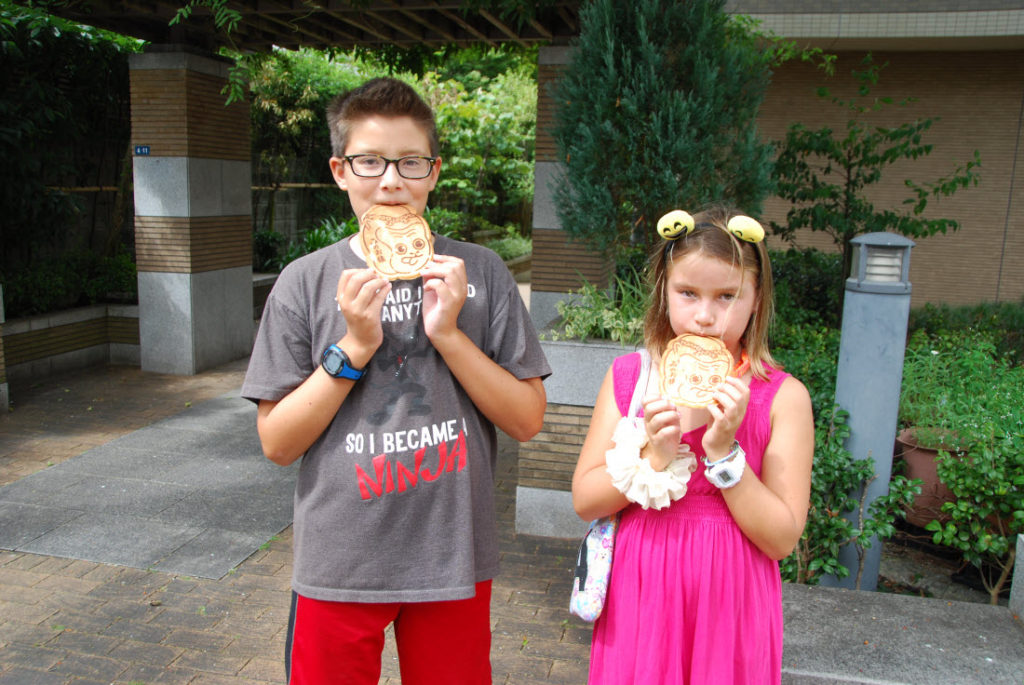 Kaiyo and Avalon eating Minoh monkey cookies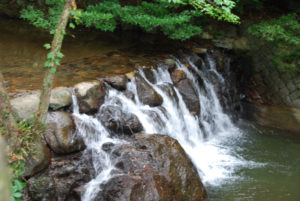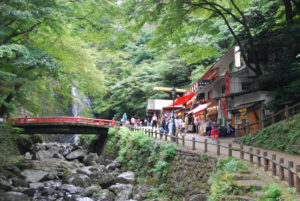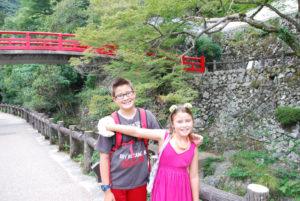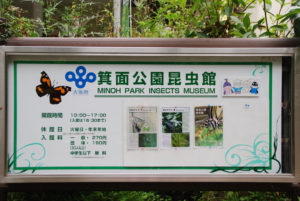 This is from the City of Minoh website and I only vaguely understand it since I'm not sure what "winnowing rice" is:
"It is said that Minoh is derived from "MINO (a basket for winnowing rice)", because the shape of falling water of the Minoh great waterfall with a fall of 33 meters seems like "MINO."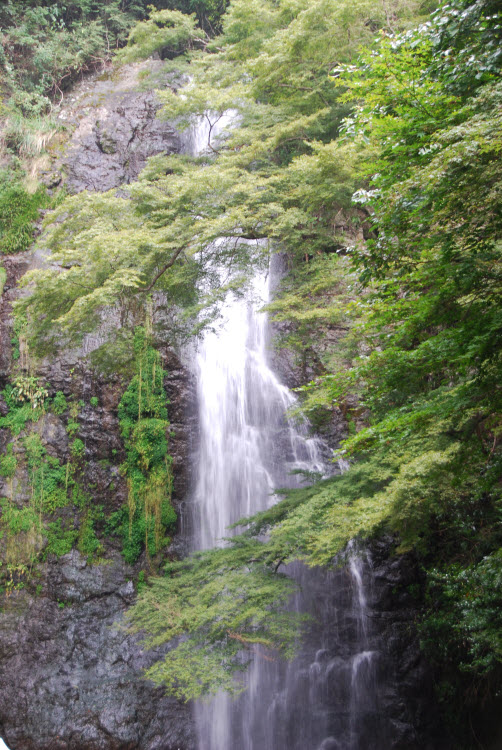 We hiked to the falls.  Avalon made it!  She wanted to give up several times but she kept going!  Every time she was passed by a child that looked to be toddler aged I told her she couldn't give up.  Kaiyo played Pokemon Go for much of the way and he said there were a lot of rare and very exciting Pokemon on this trail.  John bought momiji no tempura to eat on the way down.  He wants to try every local treat he sees.  Here is what that same website says about this treat: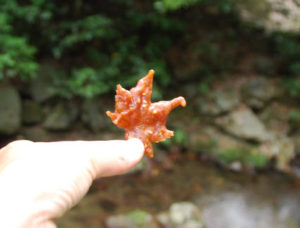 "Walking in Taki-michi, you would smell something sweet.  It comes from "Momiji no Tempura" that is one of specialties of Minoh.  Among Japanese foods, tempura is fried fishes and vegetables that are eaten as a side dish, but "Momiji no Tempura" is eaten as sweets.  The leaves of a maple tree are salted for one year and are fried with good quality flour, white sesame and sugar in grape seed oils.  It is very fragrant and crispy.  The shopkeepers fry it carefully one by one regardless of the weather in shops facing Taki-michi.  It is one of special features of Taki-michi."
I thought it tasted a lot like fried air.  I could see the leaf in there though.  It was interesting but very greasy.  The fried leaves were very delicate and beautiful though.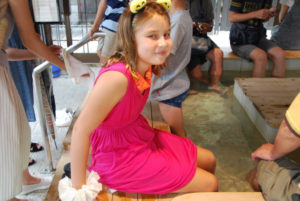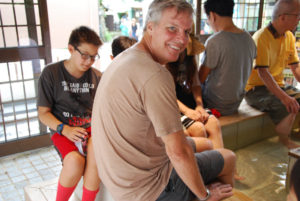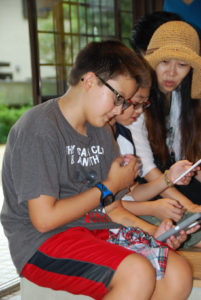 There was a place to soak your weary feet at the bottom of the trail and Avalon and John couldn't wait to take their socks and shoes off!  Kaiyo found a young boy to play Pokemon Go with, and I just studied the info guide till everyone was ready.
By the time we got back to the downtown train station area we were all hungry.  Especially Kaiyo and Avalon.  John and I had heard about some great vegetarian restaurants around downtown and we wanted to try them.  But Kaiyo and Avalon were against that.  So they bought lunch at a nearby convenience store (I'll have to write a post on the vast array of 7-11 and other convenience stores that sell amazingly tasty food options).  John and I ended up at a great Indian restaurant called Dip Rasna.  Not sure what that means, but it was tasty!  Near the end of the meal the kids were getting antsy.  So I decided to leave John with the bill and take them across the street to a hyaku-en store – translated in American speak as "the dollar store."  You may have seen Daiso stores pop up around several California cities and possibly beyond?
The hyaku-en store is fantastic.  You can find so many things to buy and the quality is good.  Everyone shops at the hyaku-en store.  The kids love it.  While we were there browsing, John appeared in the aisle to tell us that the Indian restaurant is cash only.  (And remember, he only had US dollars on him).  So we had to yet again beg Avalon for her cash.  She wasn't being agreeable and she actually said in her loud, sassy voice, "I CONTROL THE MONEY!"
She finally reluctantly handed over 3,000 yen so that John could pay the bill.  It was pretty funny actually.  The people at the Indian restaurant were incredibly nice and they probably thought we were clueless tourists – which isn't too far off.
Then we finished our shopping at the hyaku-en store and we reached the cashier and wouldn't you know — cash only!  Except this time Avalon had run out of money!!  She didn't have enough to pay our dollar store tab!!  Aaargh.  This is a lesson to carry cash in Japan.  No wonder you can withdraw 200,000 yen from the ATM at once.
We found an ATM, John took out several thousand yen and we paid Avalon back and also went back to finish buying our things.  Avalon was very bratty about her money!  Next time she wants something from me we will remember this day!