This blog post is not about Ariel, Aurora, Cinderella or Tiana. Actually, it's about 2 cruise ships: the Disney Wonder and Royal Princess. I went on both in a short time period and so I thought I'd combine the two reflections into one post.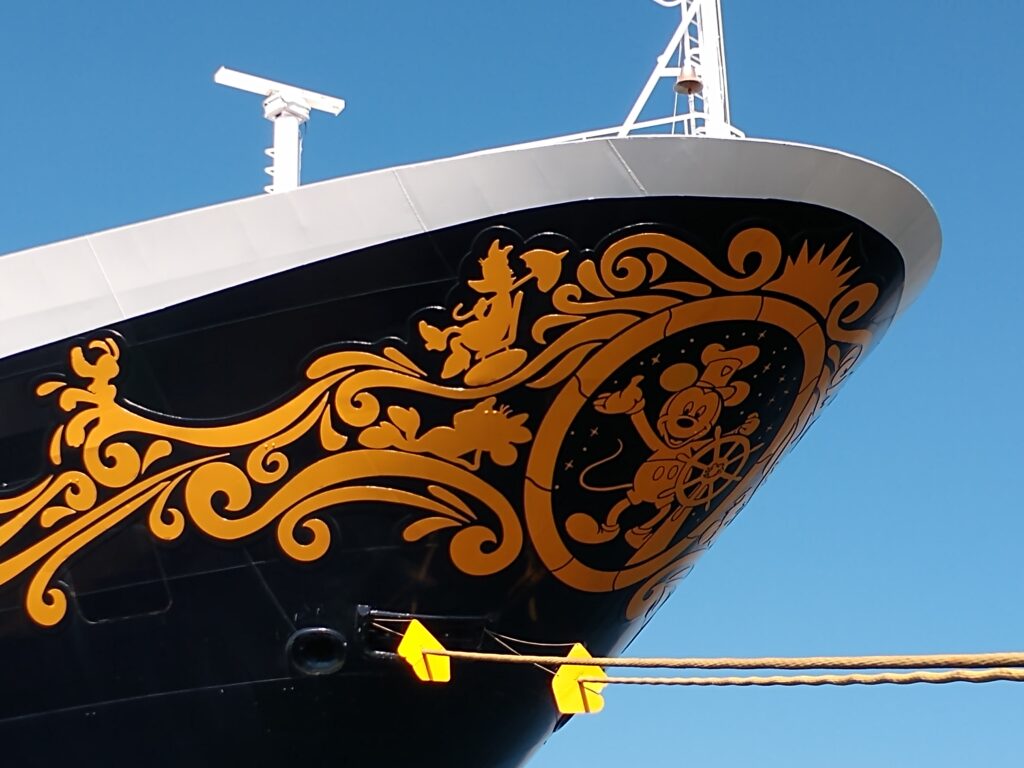 First, the Disney half.  Until recently, I'd never been on a Disney cruise ship.  I happen to have a few good friends who love Disney Vacations and at least one of them has probably been on a Disney cruise a half dozen times.  So when I got the chance for a tour on October 9, I had to go, if only to tell them I'd finally gotten on board.  Disney Wonder was docked down in San Diego, awaiting her next guests.  What better way to get down there than to hop on the Amtrak Surfliner and not worry about fighting traffic.  The crush from Orange County down to San Diego can be brutal nowadays.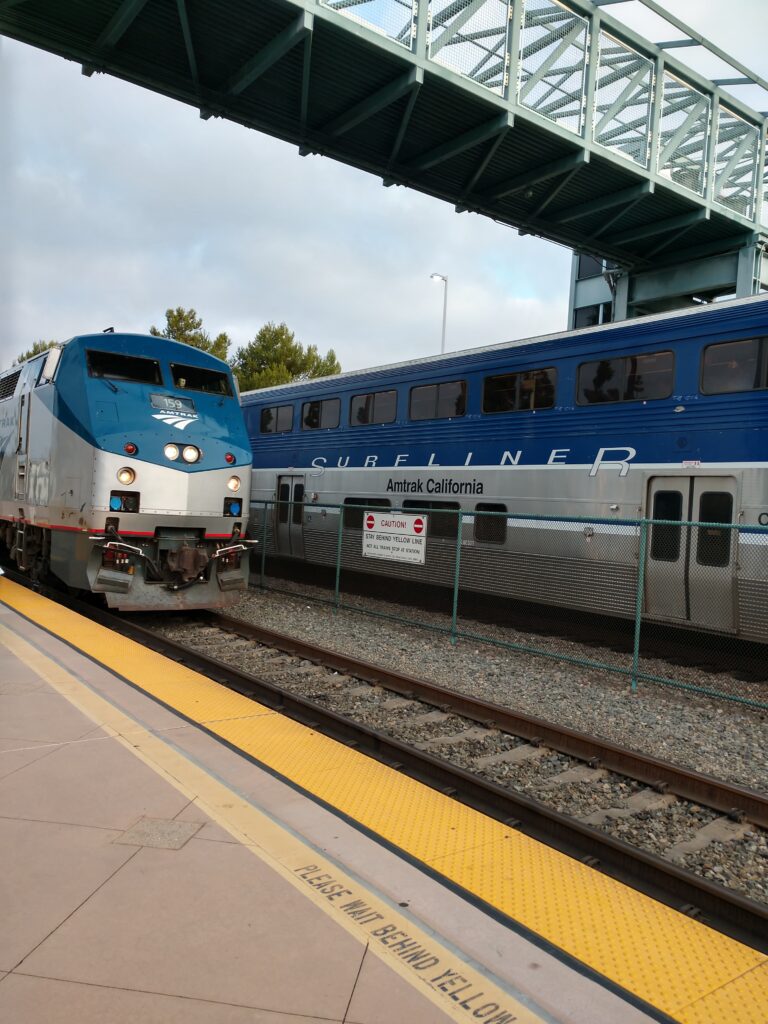 The Surfliner hugs the coast and if you're on the right side of the train you get an amazing view of the surfers sitting in the Pacific waiting for the next big wave. You get to see the San Clemente Pier and imagine yourself stopping off on the way home at The Fisherman's on the pier for an order of their daily fresh fish. You get to see the Mission San Juan Capistrano, one of the most beautiful structures in Orange County and a California Historical Landmark. And you get to see miles of foamy, sparkling coastline while racing south on the way to the end of the line at San Diego's historic Santa Fe Train Depot. If you haven't experienced Surfliner fun, well then, get onboard! It also goes north, all the way up to Seattle, Washington. In Disney parlance, the Surfliner is an E TICKET ride. You have to be a certain age to understand that!
I met up with two other Uniglobe Travel advisors who also took the train. One got on at Union Station in Los Angeles and the other hopped on at San Juan Capistrano. The train was running 40 minutes late! Eek! We were supposed to get in at 8:58 AM but we were just rolling in at 9:40 AM. No worries though. Santa Fe Depot and the San Diego Port are about a 10-minute walk apart. A speed walk down the path got us there just in time to check in and wait another 45 minutes for who knows what. Hurry up and wait!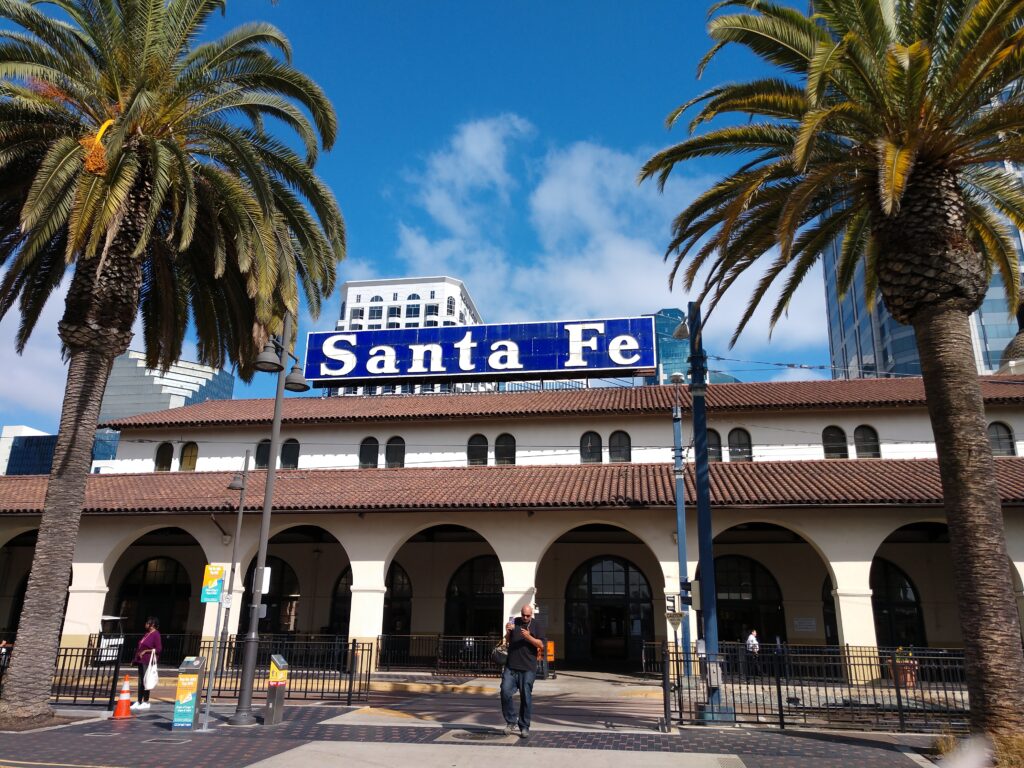 When we boarded the ship, we didn't get a grand entrance in the atrium like the real Disney cruisers. When passengers walk aboard, a booming shipboard voice announces each family's arrival into the atrium with great fanfare, as if Prince Eric has just come on board to meet Ariel. The kiddos must think that's so cool. I loved the ship's fun Halloween décor, carrying over from Disneyland's famous Halloween theme throughout the park in Fall.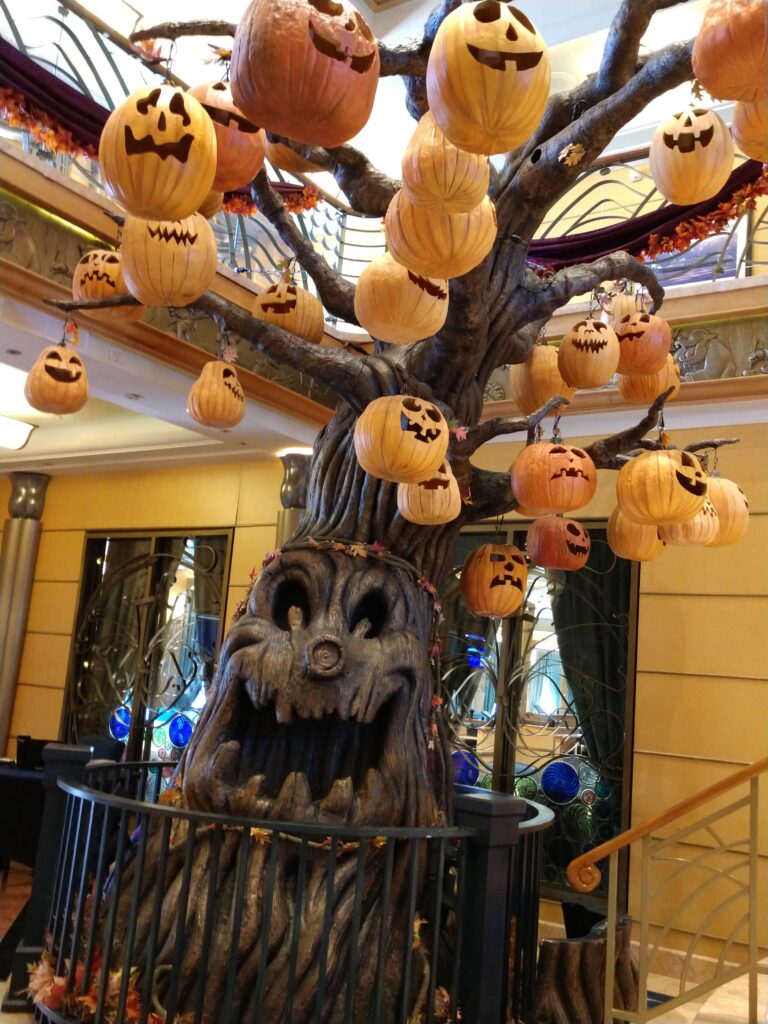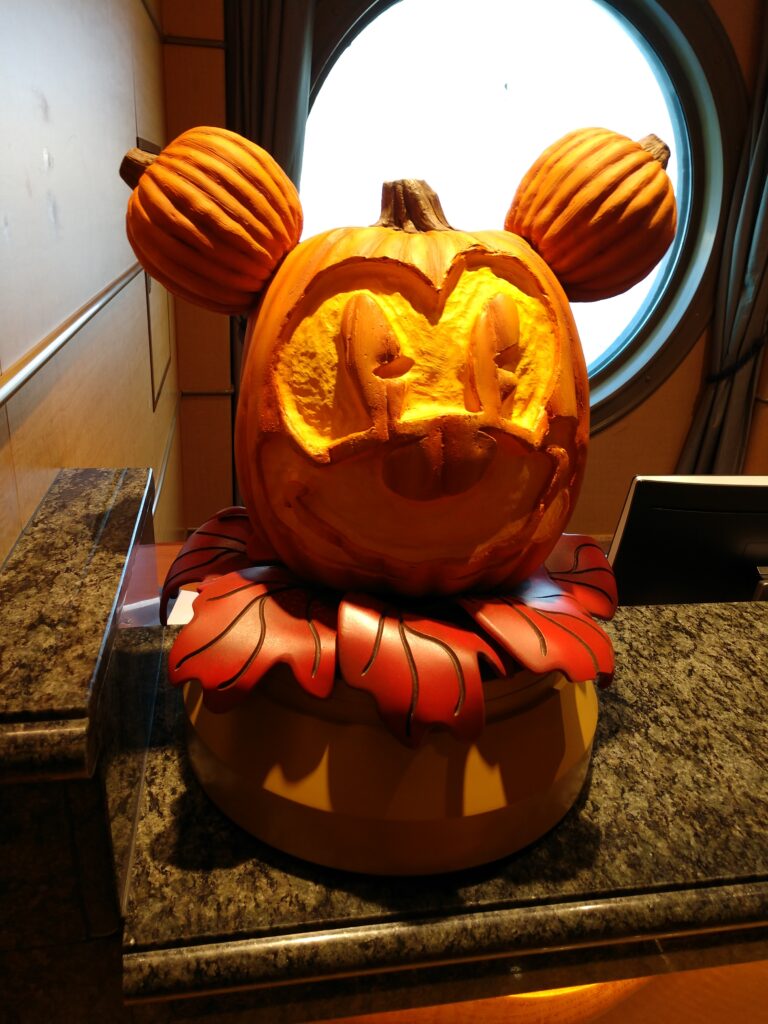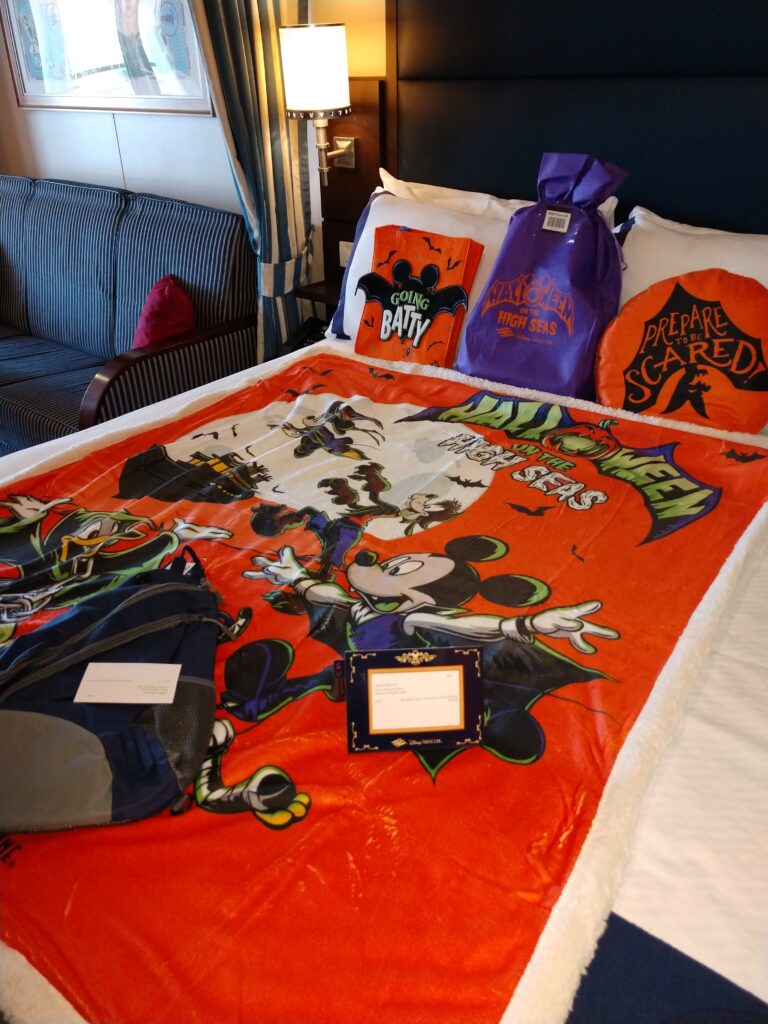 There were more "Adults Only" areas than I thought. A nice touch for the parents wanting to have their own vacation from the kids. A nightclub area called Azure, the Cadillac Lounge, a Sports Bar and a pool area called Quiet Cove were places that adults could get away. I loved the two gigantic movie screens, one outside on the pool deck and one in a huge theater inside, both of which were cued to show Disney movies of course. When a new Disney movie comes out, it premieres on its cruises as well as in theaters. That means I could have seen any of the new Star Wars movies on its opening night, while onboard a Disney ship. Shoot, I saw them in a boring theater. That's not as much fun.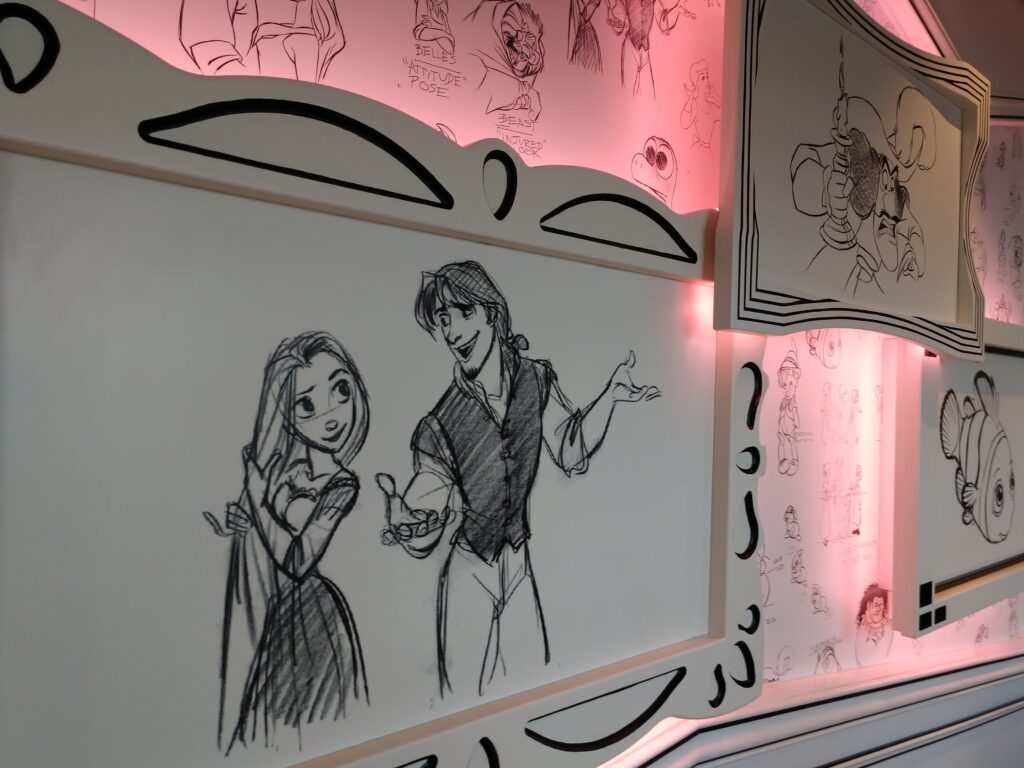 The 3 main dining restaurants had different themes and cute décor.  Walking through Tritons (Little Mermaid), Tiana's Place (Princess and the Frog), and Disney Animators (Disney cartoons) felt like being in a character café in Japan actually.  The attention to detail and level of cute was off the charts. The photo above is from Disney Animators which has a cartoon artists theme. In the beginning of the meal the room is lit in only one color. As each course is served one more color is lit up. Finally the room is a brightly colored artist palatte. It's quite clever and fun.
Some things to note about Disney Cruise Lines:
The earlier you book your reservations the better pricing you get. It pays to plan ahead with Disney vacations. Disney doesn't get cheaper as it gets closer to the traveling date so don't wait for a big firesale. I'm guessing the very best price is to just book your next cruise while on board the current one.
Disney has a Dine-N-Play program where you can feed the kids and then have them picked up and escorted to the Oceaneers Club while you order another beverage and your meal. The youngest age is 6 months for the nursery. And, unrelated but no less important, if you have the Disney Cruise app ready to go you can send text messages while onboard for no charge. Keep track of everyone wherever you are on the ship.
If you're a Disney veteran you already know all of this. But how about this… the newest Disney ship is called the Disney Wish and it's planning to get wet in 2022. And Rapunzel will grace the bow of the Wish. They should color the anchor chain the same as her golden hair. So when they let the anchor down it's like, "Rapunzel, let down your hair!"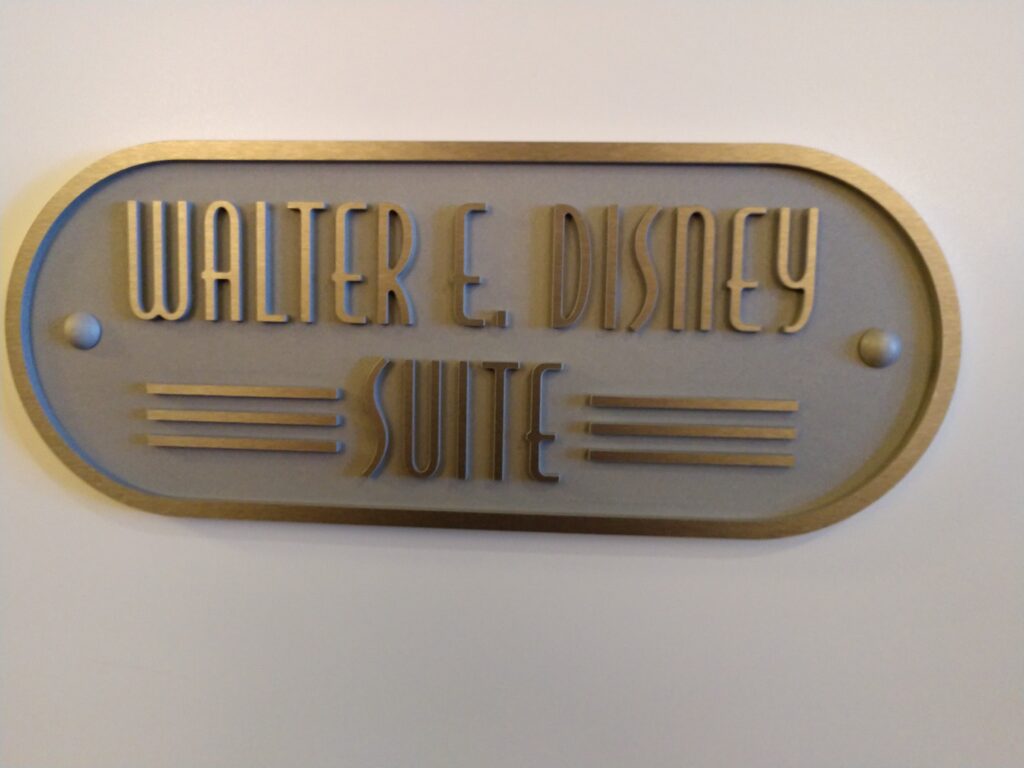 Our tour got lucky because our fearless leader Frank (OR, our leader fearless Frank) was able to get us in to see the super duper, fancy, Walt Disney Suite. There are only 2 suites on the ship of this caliber, the other being the Roy Disney Suite on the ship's opposite side. It's for the supreme spenders with deep pockets. But Frank says these high roller suites are the first to sell out every time, since there's only 2 of them.
First off there's a sitting room with shelves full of fancy knick knacks and glass things, books and who knows what.  I hope the littles keep their hands off the precious goods!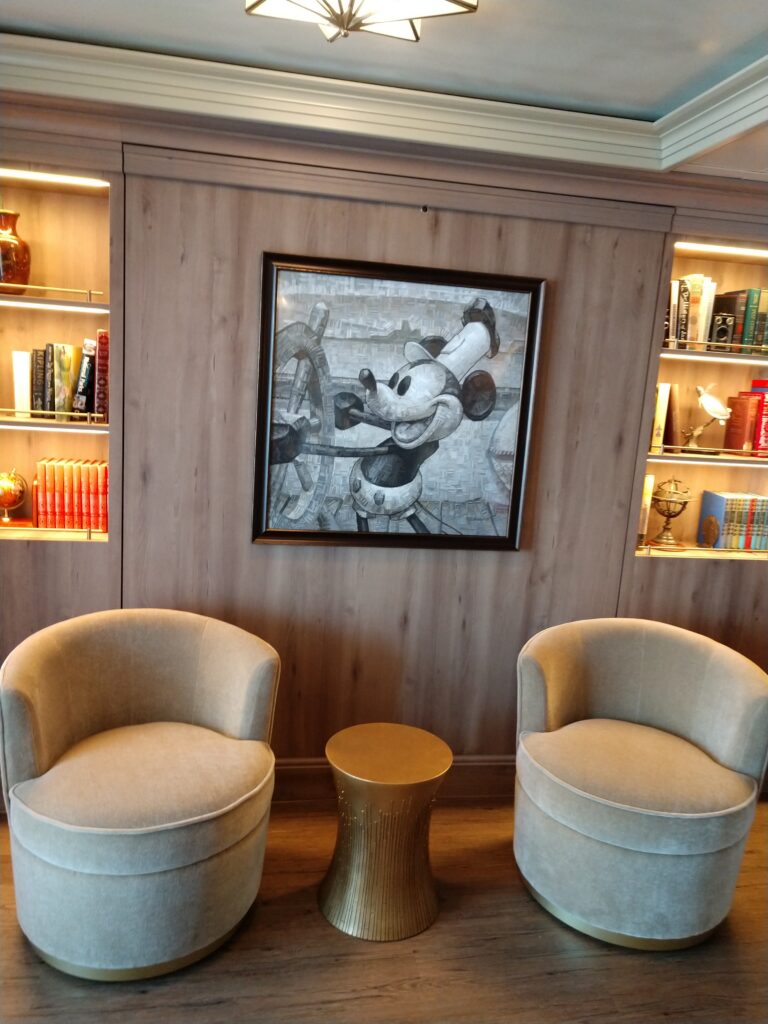 This stateroom is like Lifestyles of the Rich and Famous.  There's a living room area with couches and a bottle of champagne on ice ready to pop, and an honest to goodness dining room with a table and chairs, just beyond the living area.  Fluffy robes are hanging in the huge closet, and a deep soaking tub in the bathroom.  In case you forget where you are, there are bright orange life jackets in the closet, too.  My friend's friend said she has a friend who goes on Disney Cruises all the time, but ONLY if this swanky suite is available for her.  Fit for Disney Royalty!  Ooooh.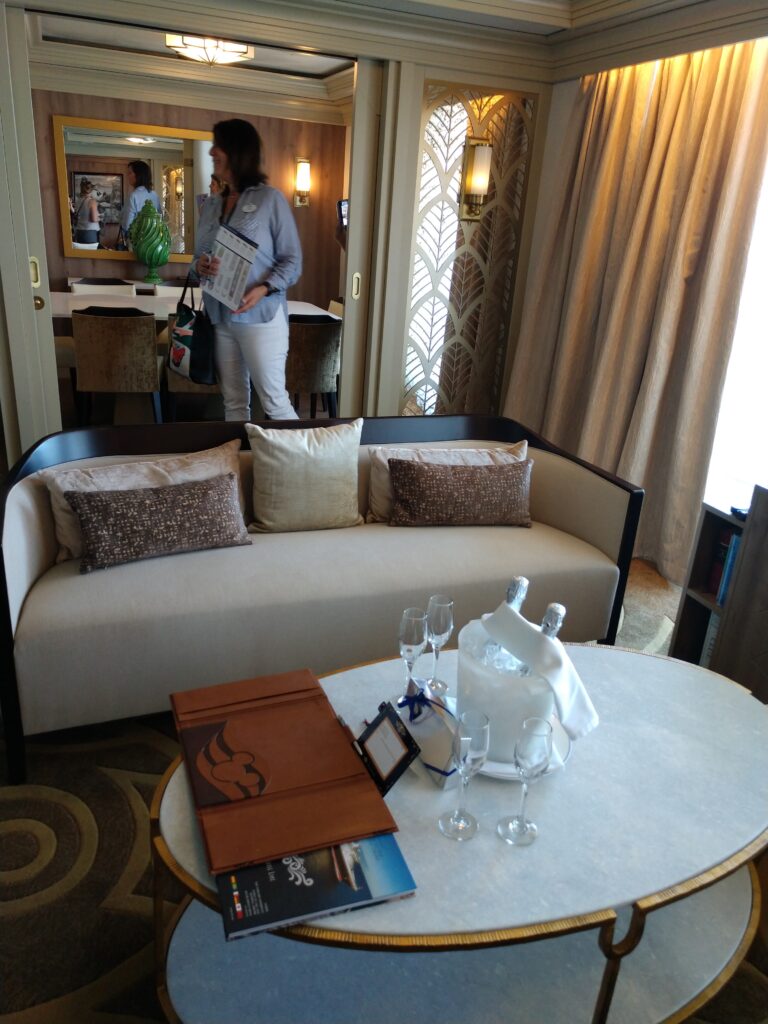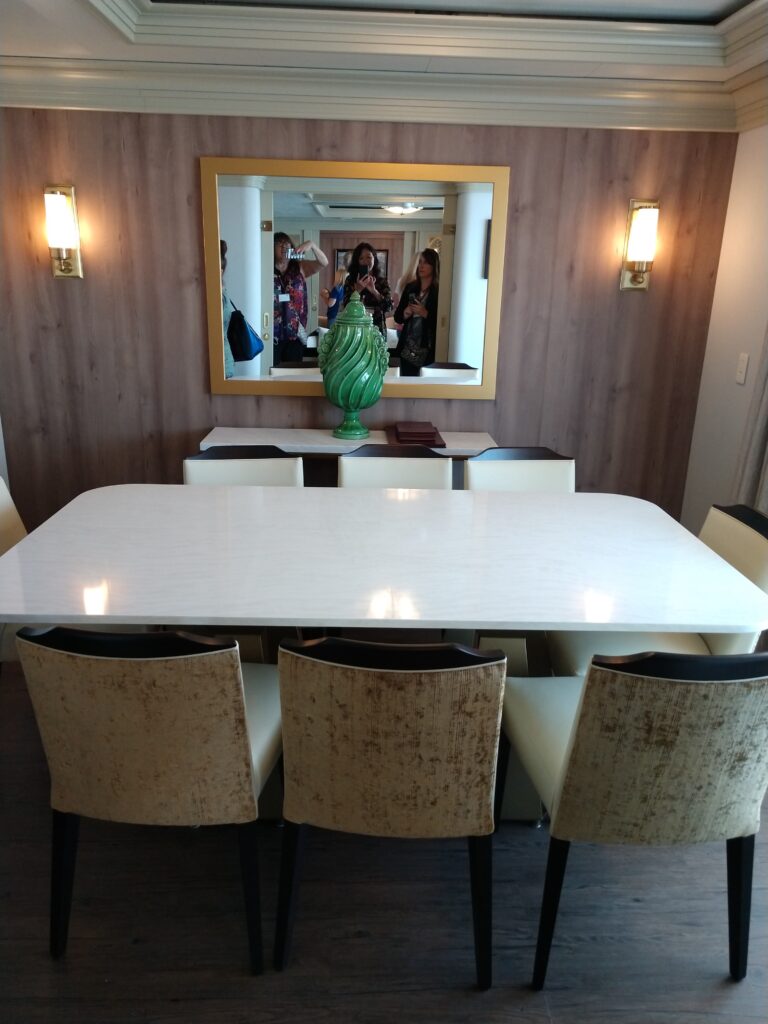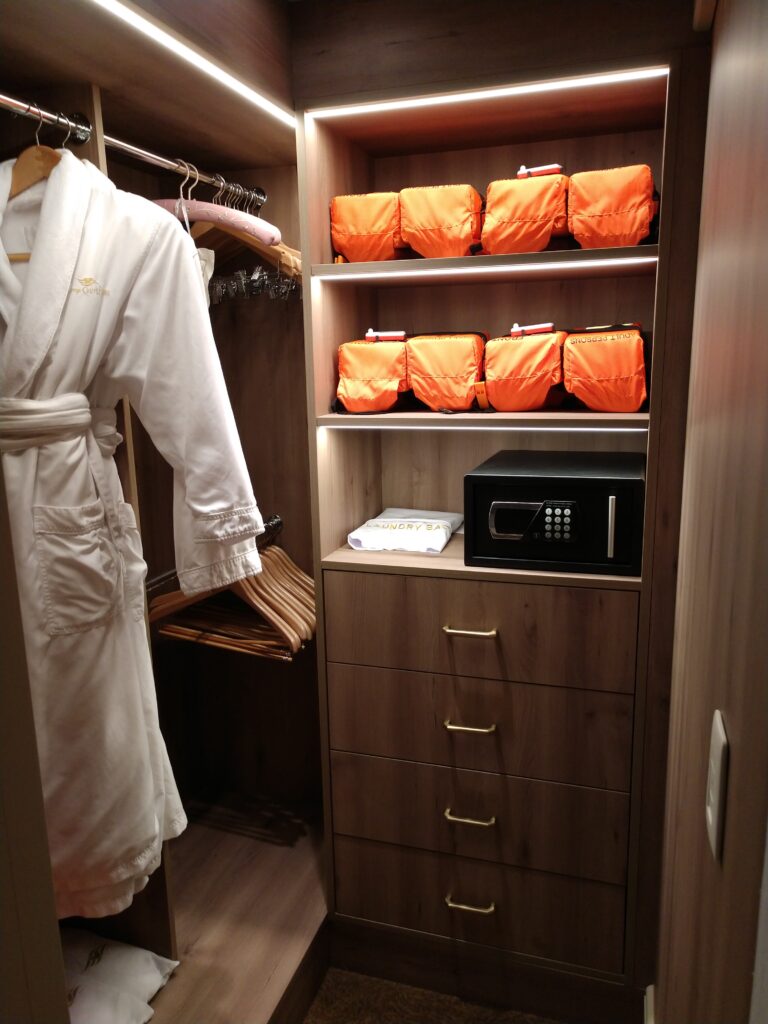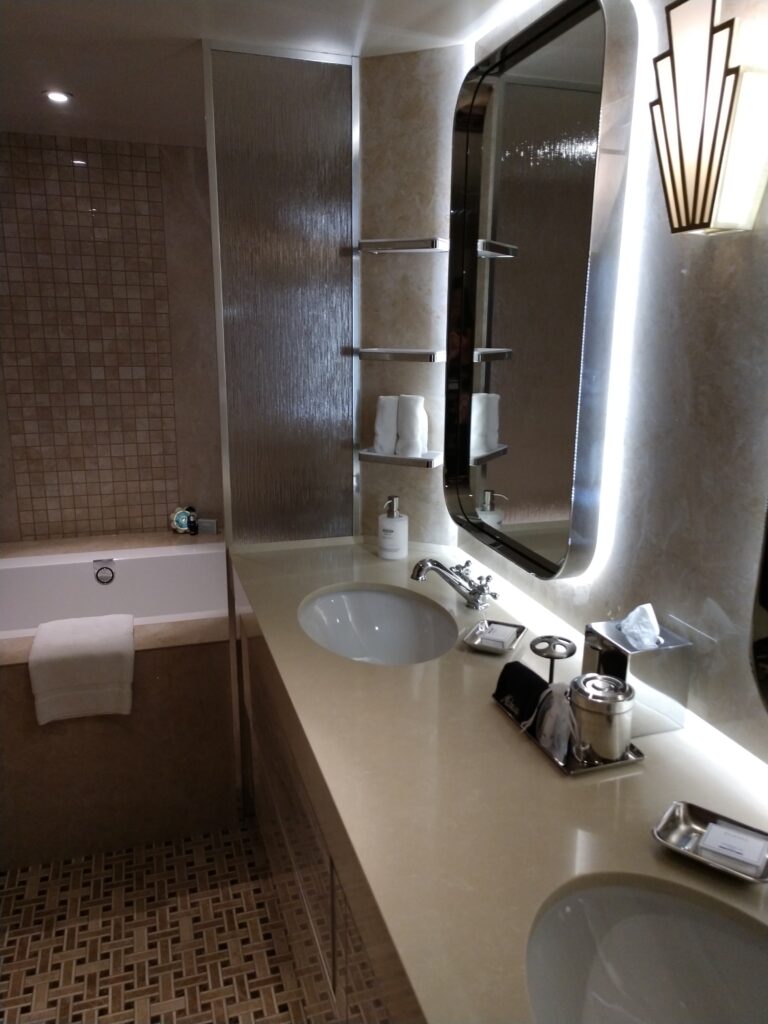 And speaking of Royal Princesses…
Recently, I accepted an invitation from Princess Cruises to spend an afternoon on board its Royal Princess ship for a special event. Not only did guests get treated to complimentary cocktails, wine, big apps and desserts, I got to be among the first to learn the name of the newest Princess ship, which is being built as I write this.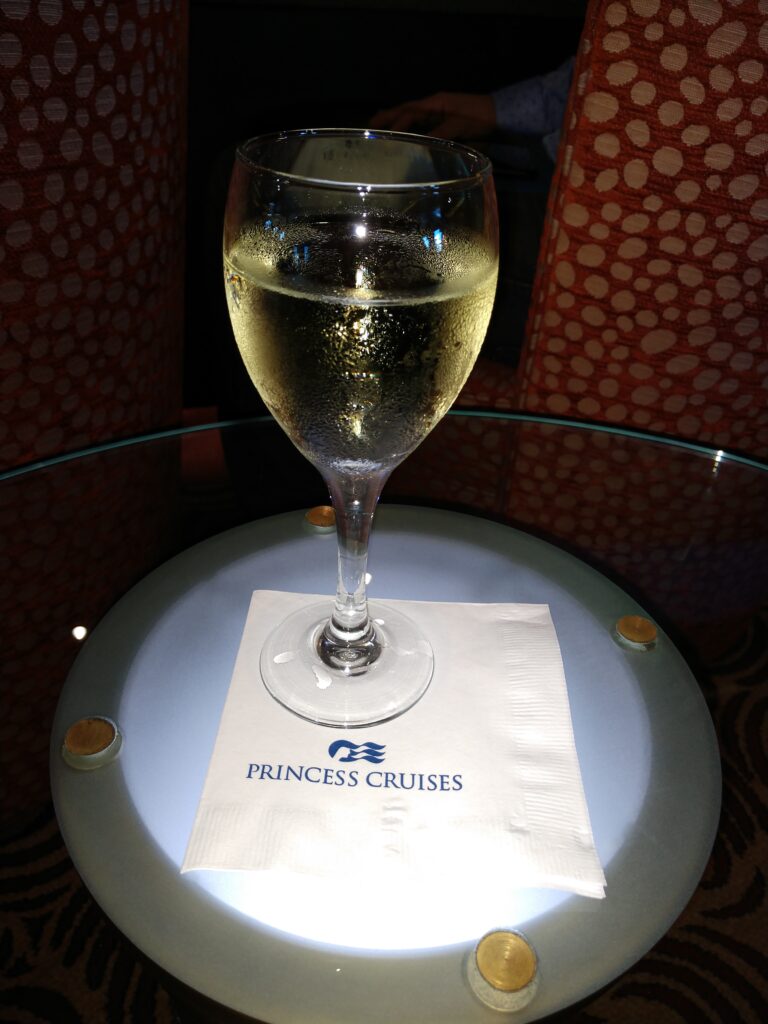 I met my colleague and friend Mary Ann at the check-in counter at the Port of Los Angeles. She had driven up from San Diego just for the day to attend this event. After we passed security, we saw John Chernesky, a North American VP, chatting up some crew members. He's a bit of a Princess celebrity. I said to Mary Ann, I think we really need to go say hello to John.
He was super friendly and we told him we needed to get a photo with him to send to Betsy, our own VP at Uniglobe Travel. Later, John told a funny joke in his address to everyone about how Princess decided to invite "real" travel advisors for this special event, because owners and execs aren't doing any actual work. Haha, Betsy. Anyway, here's our photo with John Chernesky, super star advocate and salesman for Princess Cruises. He's a funny guy.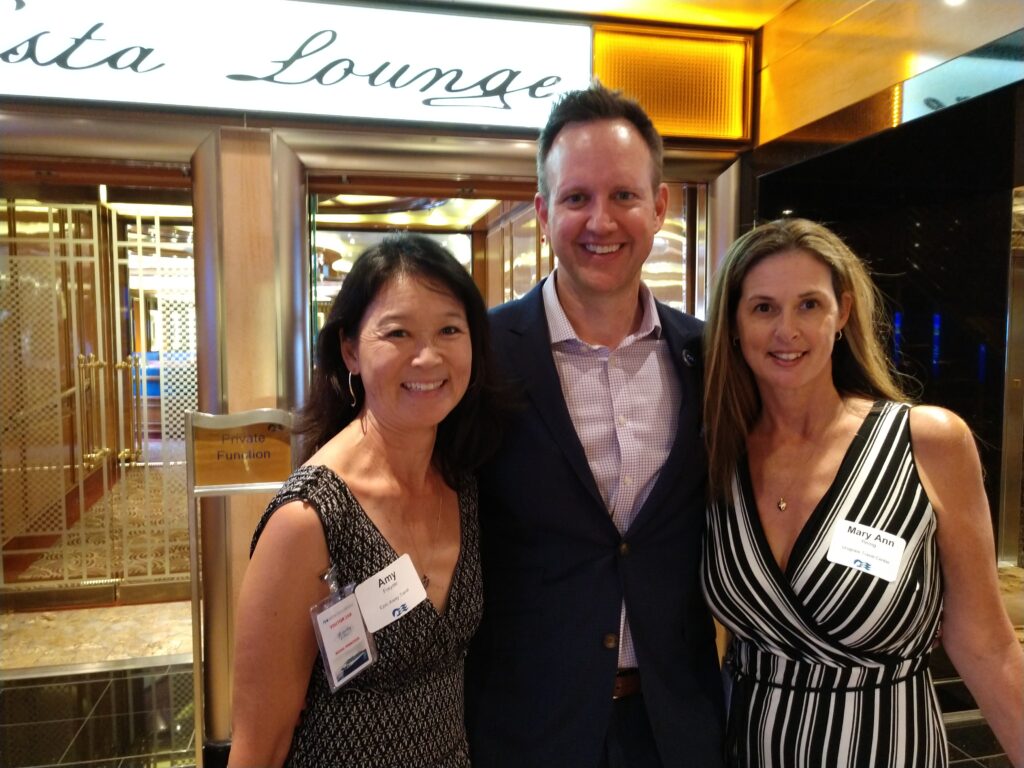 The name of the next Princess in line is… no, it's not Charlotte, though that would be the first name to pop into mind…it's DISCOVERY Princess! Yay!
(John Chernesky predicted it was going to be Chernesky Princess, but he was wrong)
Check out this image from the aptly named, Sanctuary. Kids, stay away! Mum and Pop are having cocktails in our sanctuary.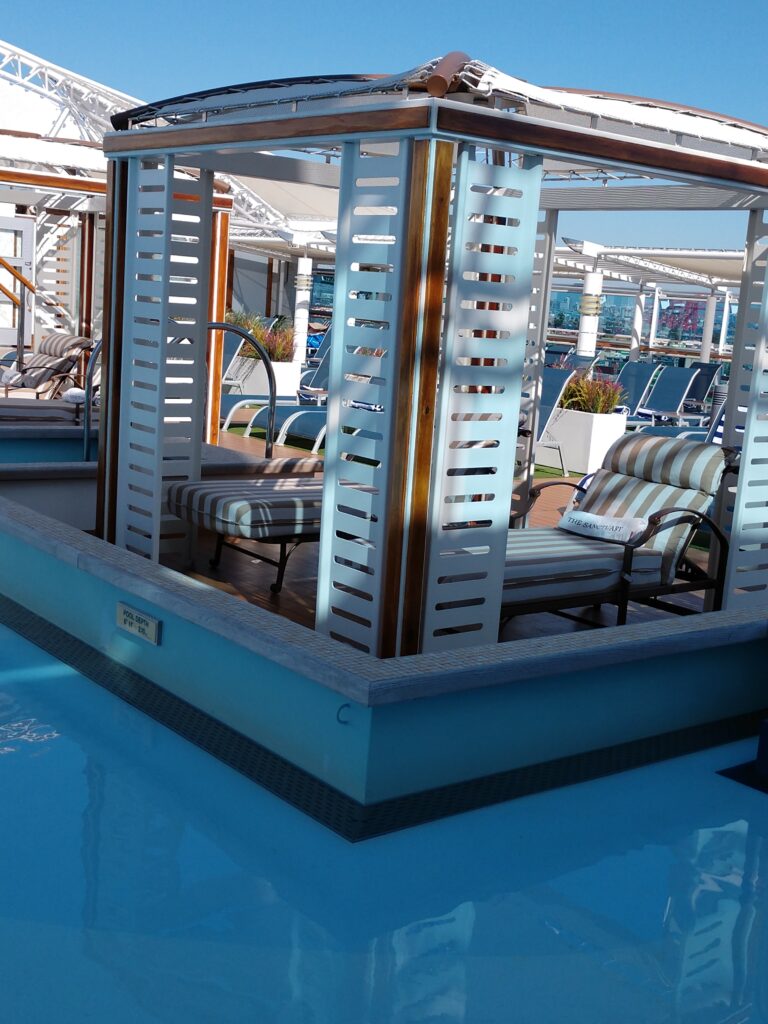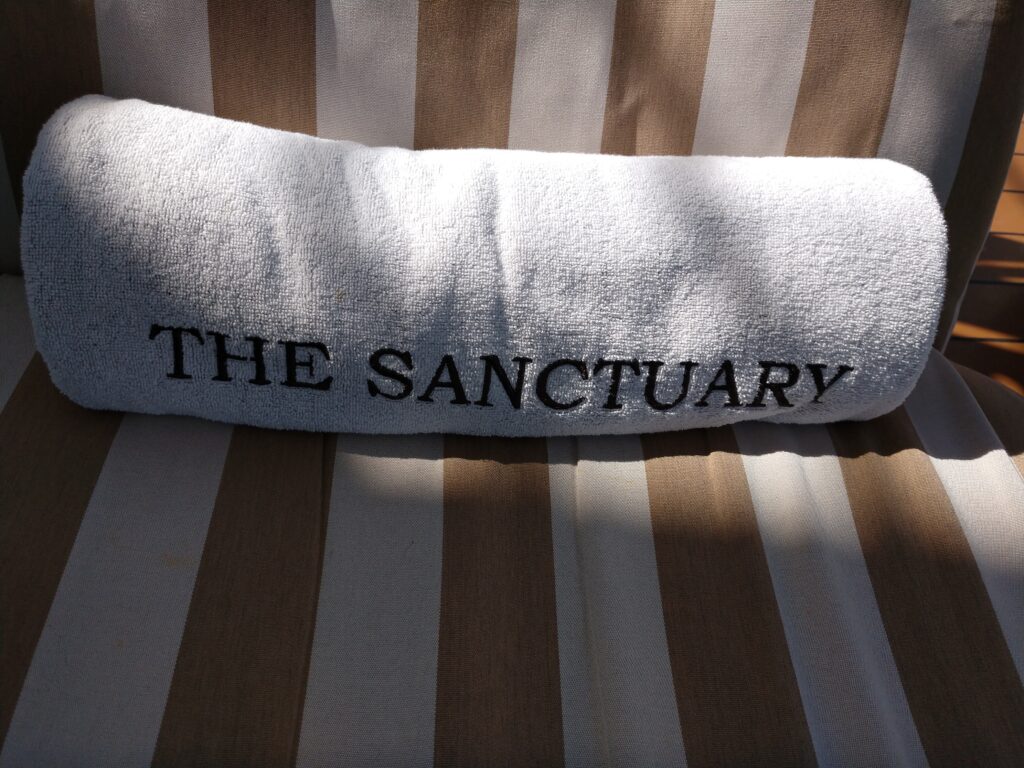 This new ship will be a Medallion Class Ship, which basically means that it's at the top of the technology heap in terms of cool conveniences and what you really need to know is that with a click of a button you can have things delivered to you wherever you are on the ship – except maybe the bathroom.  "A bar wherever you are" concept.  When people snap their fingers, the number one thing ordered is…what? It's Pina Coladas.  The number two thing?  Fries and ketchup. 
A note about the food we were served: fabulous. The drinks: fabulous. Princess has partnered with celebrity mixologist Rob Floyd, of TV's Bar Rescue fame, who is creating fun and tasty drinks for cruisers and street taco expert and Los Angeles Magazine food writer Bill Esparza to create mouth-watering menu items on all journeys that touch down in Ensenada. We got to taste test some of these tasty creations and they were awesome.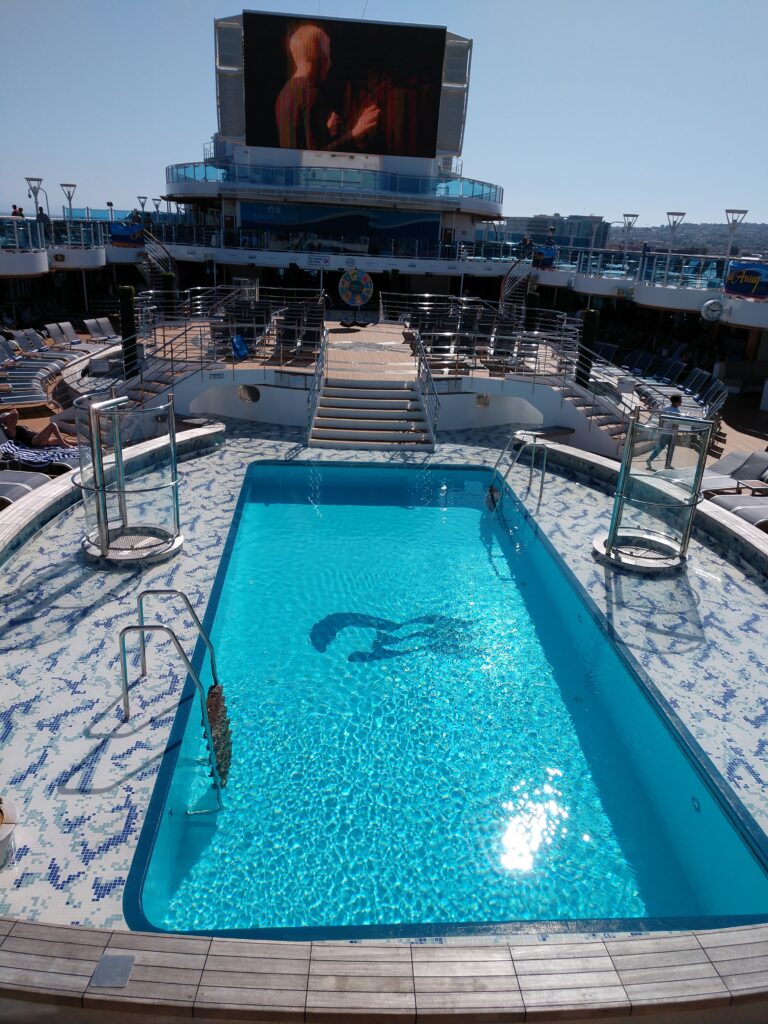 Princess Cruises prides itself on calling Los Angeles a home base. Last March, Royal Princess arrived in style for its maiden voyage departing from LA. This old story comes from PRNewswire:
"At the Port of Los Angeles today a Royal Princess arrived – that is, the 3,560-guest Princess Cruises ship –now here to take travelers to sought-after destinations including the Mexican Riviera, the California Coast and Alaska.
"To mark the ship's maiden call and celebrate her West Coast season, the iconic University of Southern California Trojan Marching Band, under the direction of Dr. Arthur C. Bartner, provided pageantry and fanfare for guests sailing on Royal Princess from a grand location onboard Battleship IOWA. As Royal Princess departed and sounded its "Love Boat" harmony-tuned horn, the USC Marching Band then played back the beloved theme song.
"Guests and well-wishers were then treated to a fireworks display as Royal Princess departed on her very first seven-day Mexican Riviera cruise – the same itinerary made famous by Princess and 'The Love Boat.'"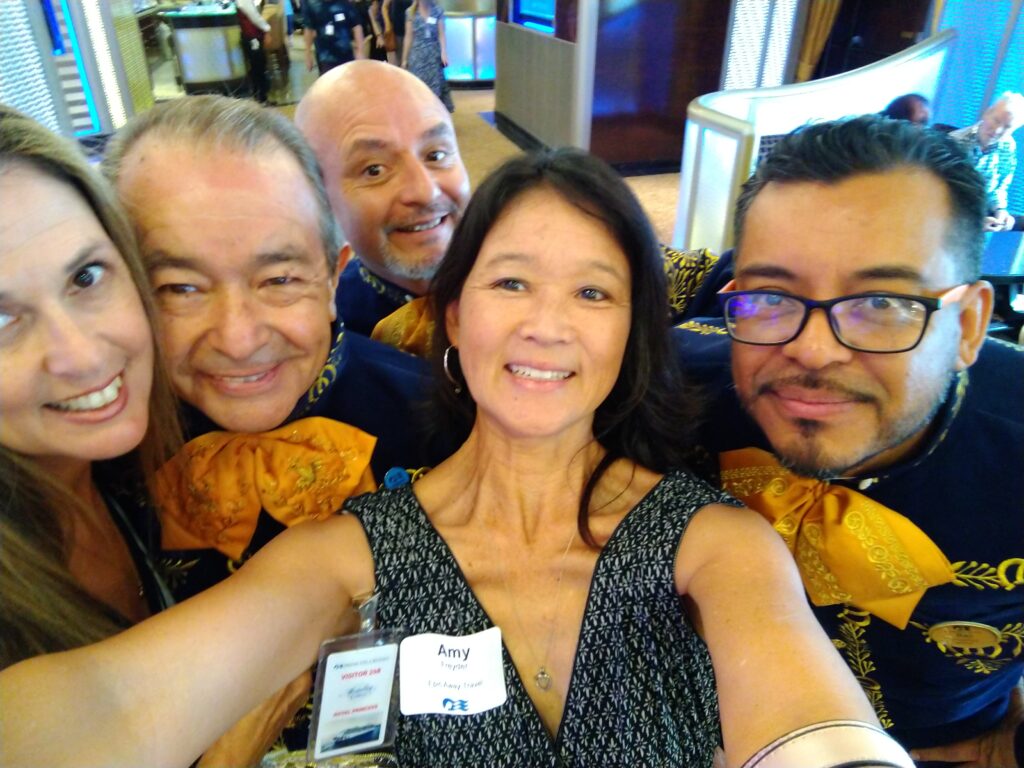 So cool! Hanging with the mariachi musicians.
This ship lives up to its royal name. It was christened by her Royal Highness, Catherine, the Duchess of Cambridge herself. She is the Godmother of this Royal Princess line of ships. This photo is from the special christening event in 2013.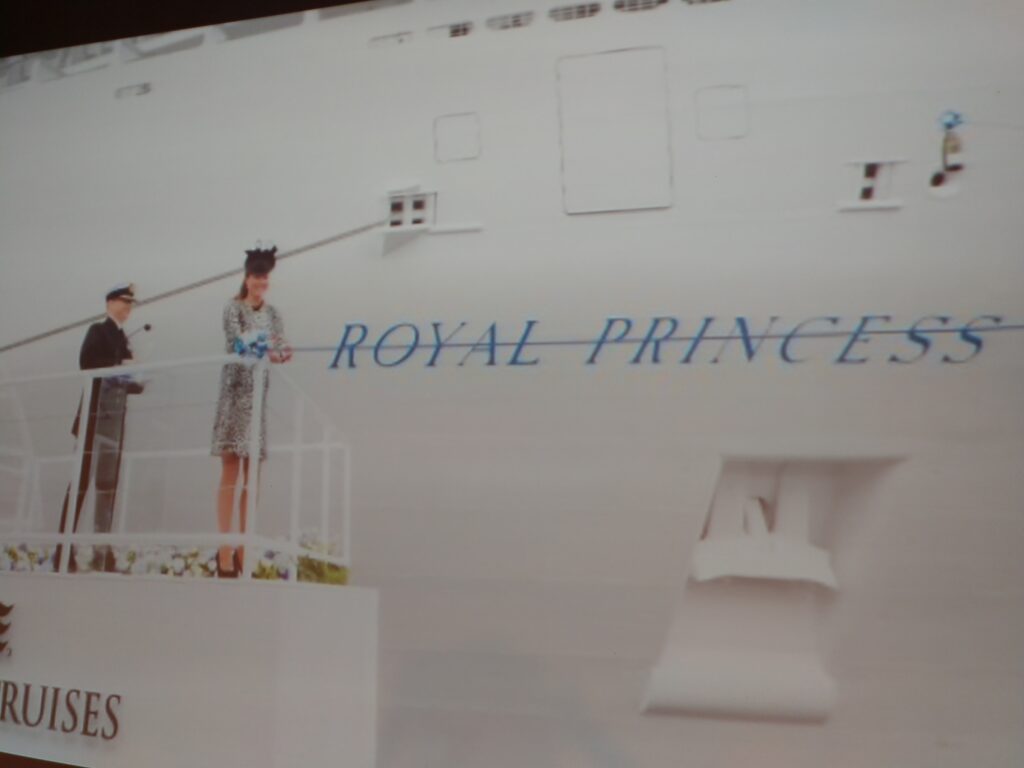 In the past 7 months I've been on tours and sampled the cuisine on 1 MSC Cruise ship, 2 Princess ships, 2 Carnival ships and 1 Disney Cruise Line. I did an overnighter on the super fun Norwegian Joy. I'll be back on board on the brand, spanking new, Carnival Panorama in December for another special dinner. I'm pretty much averaging one a month. To keep my streak going I might get on board another Princess ship at the end of this month. But then again, I might be "shipped out!" Contact me to book your next fabulous cruise and I'll match you with the best ship for your personality, tastes and traveling crew!
amy@epicaway.com
www.epicaway.com
#epicawaytravel #epictravel #utcagentsrock #royalprincess #disneywonder #lovetocruise #cruisinglife #getonboard #surfliner #lovethisjob