SATURDAY, AUGUST 13.  DEPARTURE DAY.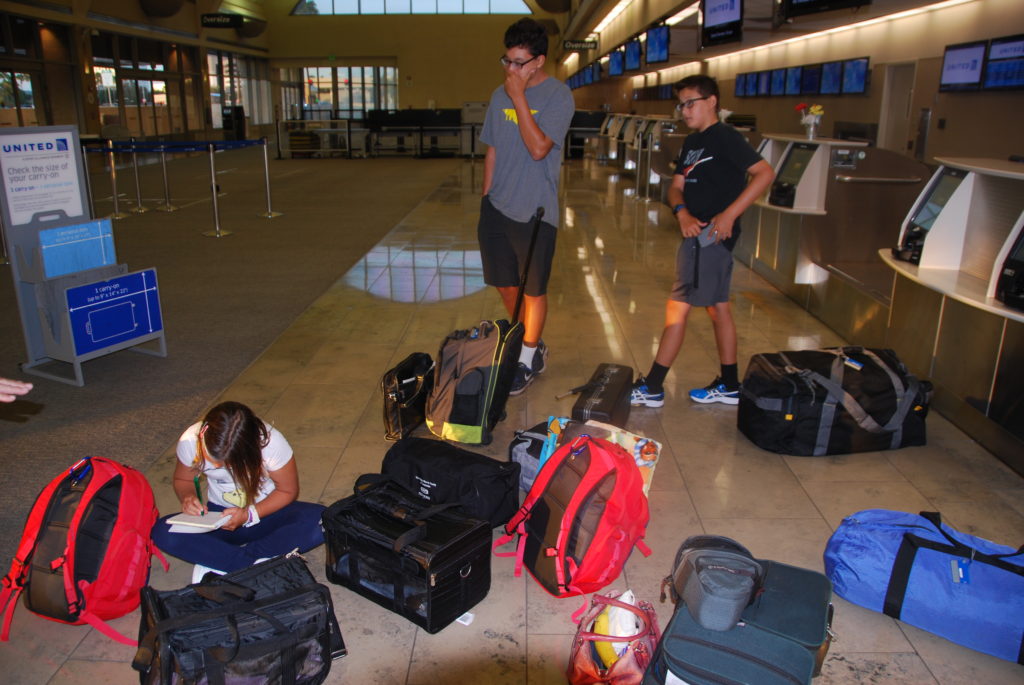 Last night Halyard and Avalon spent the night next door at Val and Greg's house.  Val had an outrigger race to get to early so she actually woke them up at 4 am and they scooted home.  The rest of us were all still asleep!  I had my alarm set for 4:30 am.
This is a frantic morning of throwing more last minute things away from the fridge and freezer, taking things out of the garage and putting them out in the alley and finding forgotten items hanging in the closet – like John's suit.  What was he going to do with that anyway?  He gave it to my mom to take with her.  The kids ate leftovers from the fridge (yesterday's In-N-Out fries and half a burrito among other random items) that looked appealing.
My parents arrived at the house at 5 am.  Val and Greg were already up too so Val came over to say good bye before she had to leave for her outrigger race.  Greg hung around and helped move stuff.  Alisa and Devan arrived next.  Devan's brother Brent (our travel agent extraordinaire) said only crazy people go to the airport at 5:30 am if they don't have to and he's probably right.  I gave Alisa more things from the pantry.  Then Wendy and Sandi showed up.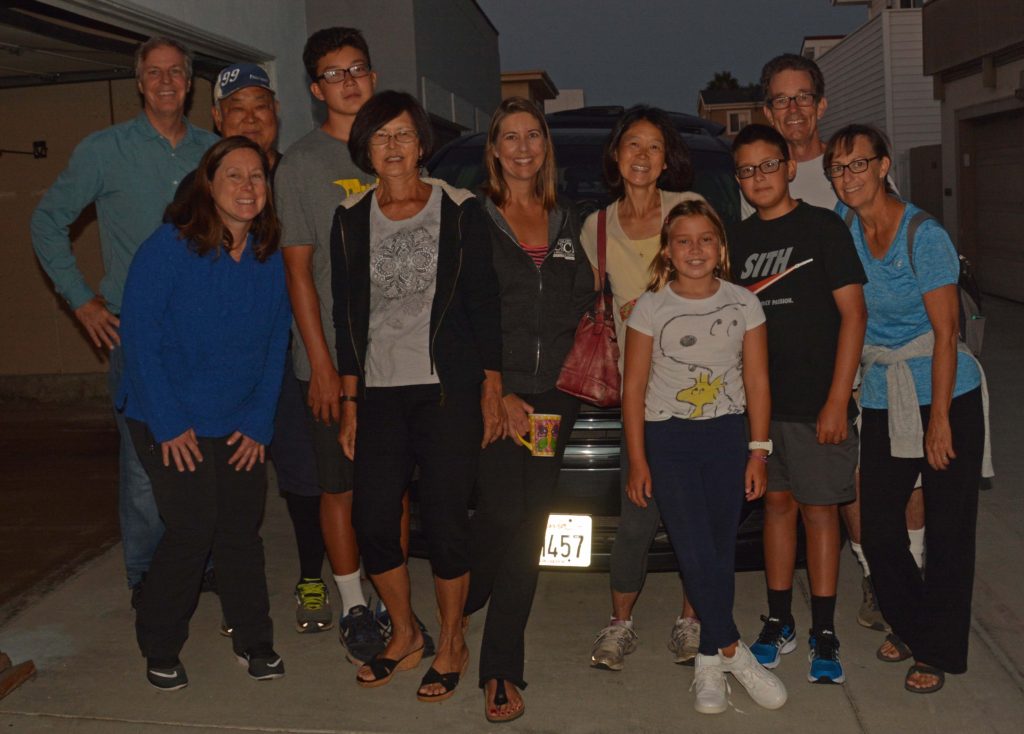 I am super thankful for the crazy friends and family in my life.  Here we are at 5:30 am in our alley, ready for take off.  Devan is taking the photo and Val already left for her outrigger race in Dana Point.  We loaded up the cars with our final push to get out.  Sandi drove her truck with Wendy, Alisa and I.  John drove Wendy's minivan which we had pre-loaded the night before.  He also had the boys.  And my parents brought up the rear with Avalon and the 2 cats.  At the airport we said sad/happy goodbyes and we all tried not to cry.
Avalon was sad, I think only because it is contagious.  She put her head in Halyard's stomach and he gave her a hug and said, "You'll make new friends in Japan, Avalon."  She said, "I know."  Kaiyo is looking the most well adjusted for being historically the least excited about this trip.  Everyone at the United Airlines counter was incredibly nice and helpful when they saw us coming at them with our 9 checked bags, 8 carry on luggage and 2 cat carriers.  Brent had us marked for Pre-check with the TSA so we breezed through.  Alisa – the TSA lady took my jar of Knott's Boysenberry Jam!  I had put it in the wrong bag, it was meant for a checked bag, not a carry on, and she said no and threw it out.  I was devastated!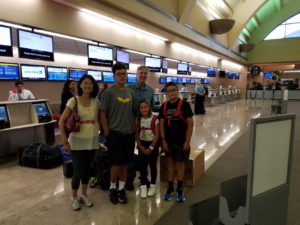 By the time we messed around with getting the cats' leashes on we really didn't have that much time before boarding.  We got into the front of the line for Group B boarding and John ran off to Starbucks.  When they started the loading for Group B John hadn't come back from Starbucks yet.  OH he would have been mad if I'd done that!  He is lucky I am not a neurotic person in the airport like he is.  We had to step aside (all 4 of us plus our 8 carry on and 2 cat carriers) and let others behind us through while we waited for John to come back.
First flight to San Francisco was smooth.  Cats were great.  Kids were great.  Flight was easy.  We had 2.5 hours to wait at SFO.  Once we were on the 787-Dreamliner the kids were excited to eat candy and watch movies for the next 10.5 hours.  The plane was fairly empty so we were able to spread around and lay across seats and take naps.  Brent had booked us into Economy Plus seats so we had extra leg room in the cabin.  John and I were at the bulkhead so during the flight we stuck the cats there and they didn't interfere with anyone's legroom!
Side note:  Supposedly Tony our painter came on Saturday to paint our house.  We picked some pretty dull neutral colors that will hopefully appeal to everyone.  I hope it turned out well!