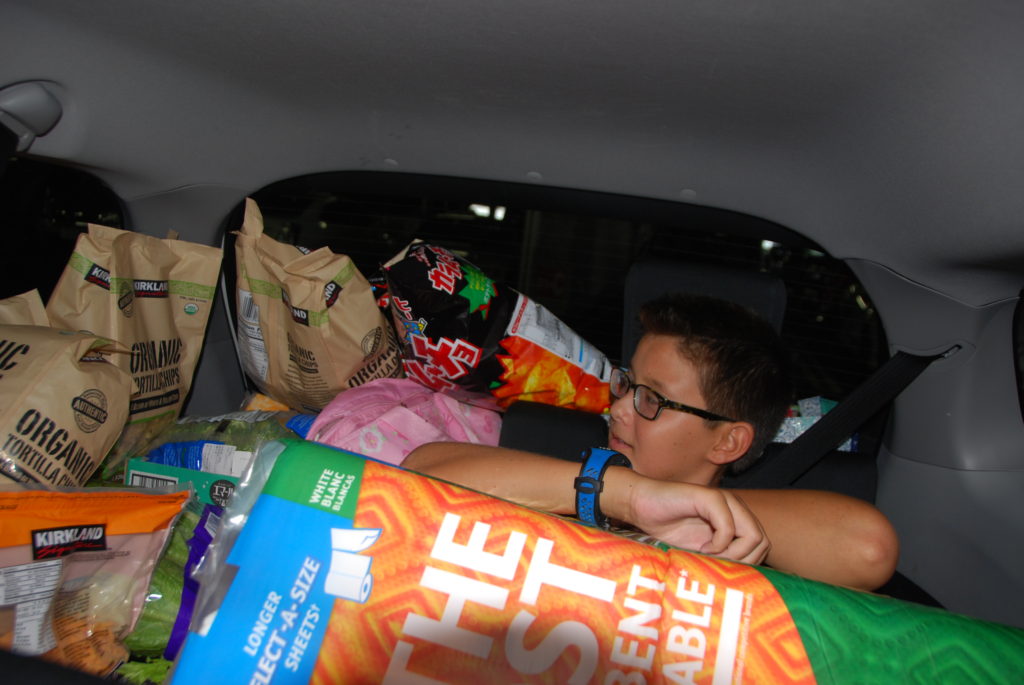 Costco is in Osaka about a 45 minute drive from our house.  A slice of Little America says our new friend Art.  He is going to pick us all up at 10am on Saturday, August 20 for an exciting excursion to Little America in a Big Box.
Art is from Illinois and he has four kids at the international school where our kids will go.  He says his wife knew that she could survive in Japan when she found out there was a Costco nearby.  I actually do not have a Costco membership since I hated to buy things in such big bulk because then I had nowhere to put those huge quantities in my small house.  But I'm willing to work it out here in Japan in my even smaller house with no garage, in order to have some American comforts.  I'm going to be looking for Palmolive, Skippy, Bounty, Nature Valley and Lubriderm.  We'll see what I find!
I stand corrected:  Costco is actually in Kobe which is just the next town over.  I got my Japanese Costco membership and guess what – it only costs 4,000 yen ($40) instead of $50!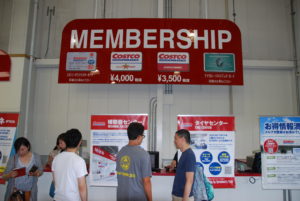 Costco in Japan is literally set up EXACTLY like Costco in America.  I mean the road map in the place is the same to a T.  You have your membership in one corner along with the Optical department on the side.  Then you have the bakery in another corner right next to the wine and spirits.  In the other corner is the produce section along with the toilet paper and paper towels and Kleenex.  In the final corner, and this is where it's a little bit different, there are still the medicines and toiletries, but also the hot food counter.  The filled shopping carts are all parked in neat orderly rows as people stop to eat something before leaving.  Same Costco menu, too!  Slice of pizza, hot dog, cup of chili on baked potato (Is this in America?  I'm not sure.) plus the fountain drinks.  The drinks are a bad selection though.  It's just Pepsi, Diet Pepsi, Mountain Dew, and some non-carbonated but very sweet orange drink.
I wasn't able to access the shopping list that I had e-mailed to myself so that was a bummer as I missed a few critical things.  I'll have to go back again.  At any rate, I figured out why Japanese people do not use paper towels or napkins.  They don't want to pay that much.  I cannot live without paper towels so I bought in, but later as I was studying my receipt I saw that they were 3228 yen, which is pretty much $33 for 12 rolls.  Now that's the same in America if I were to buy one roll by itself at Target, but I'd hoped for the bulk discount to be better!
I found a lot of things without my list so I was pleased with the trip overall.  String cheese, cheddar cheese, paper towels, raspberries, bagels and cream cheese, flour tortillas, cashews and peanut butter were at the top.  Art pretty much came to buy tortilla chips!  3 big bags worth!  We stuffed everything into the back of his car.  One cool thing at Costco is that to access the garage you need to use the elevator or escalator.  The escalator is essentially a long conveyor belt with a magnetized bottom.  The shopping carts have big magnets on the bottom next to the wheels.  They grab on to the moving walkway and haul the carts up.