Sunday-Tuesday, July 16-18 is a time to rest and sightsee in Hoi An, Vietnam.
It's another traveling day, this time from Hanoi to Hoi An, Vietnam.  We must fly to the Da Nang Airport and then a car will pick us up to take us to Hoi An.  John heard that Da Nang is a relatively new seaside town meant to cater to booming Vietnamese growth and wealth.  There is a large, fancy housing complex going up on our way outside of Da Nang and our driver tells us that the most famous soccer star, Ronaldo, has bought a place there.  John tells the driver he's never heard of Ronaldo.  Our driver cannot believe this and he must have thought John couldn't understand him because he keeps saying Ronaldo over again, slowly, so that John can understand what he's saying.  Nope, it's not helping.  John says he doesn't know Ronaldo.  I know our driver thinks he's not getting through so to put him out of his misery I say, I thought Messi was the most famous soccer star.  Our driver brightens up and says, Messi and Ronaldo trade places for supreme soccer star status.  John says to me, how do you know anything about soccer?  I thought everyone knows who Messi is.  I guess that's exactly how our driver feels about Ronaldo.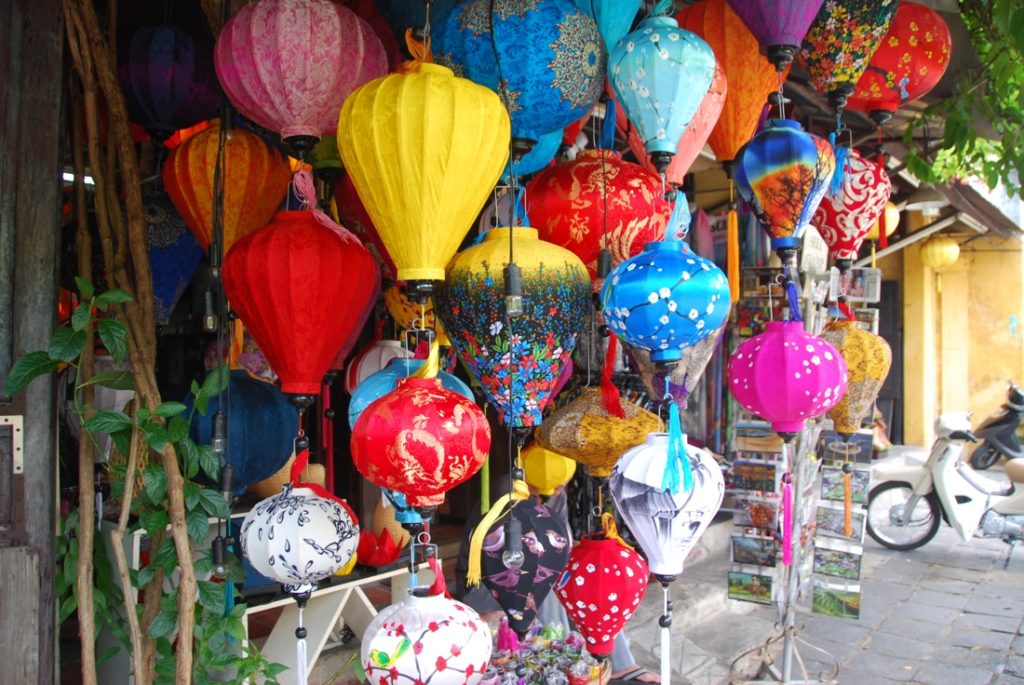 Hoi An is a beautiful town with traditional character.  Michael, our guide from the cruise, called Hoi An a charming place.  Our hotel here has a swimming pool so Avalon is thrilled.  It's another beautiful place to hang our hats.  Our view off the balcony is a stunning vista of rooftops, the river and the old town beyond.  Hoi An is meant to be a relaxing point in our trip.  But it's hot and humid and Avalon starts complaining about a lot of things so it isn't as relaxing as I'd hoped.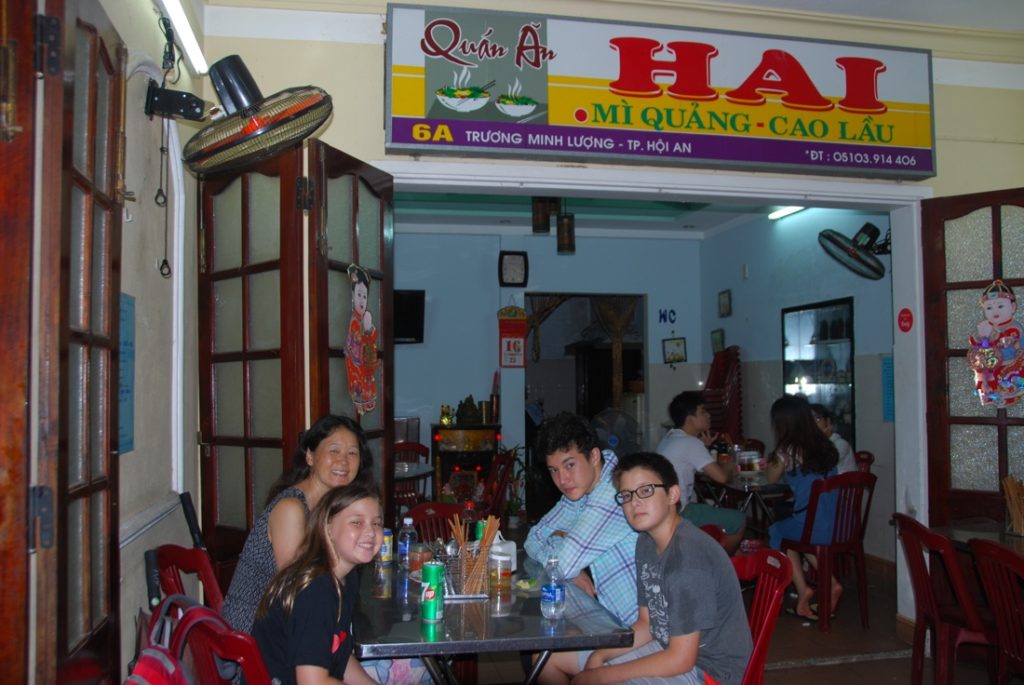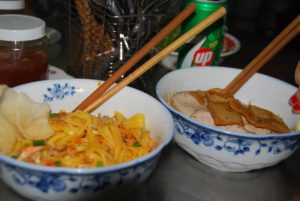 We ate Cao Lau noodles at a local noodle shop one dinner but it was "too local" for Kaiyo so he went and got a chicken burger later.  Cao Lau noodles are Hoi An's foremost traditional food and they are not like any noodles I've ever had before.  On another night Kaiyo ate Vietnamese Bun Cha and actually enjoyed it.  This is one of the great success stories of our trip – the broadening of Kaiyo's taste buds.  It's worthy of a separate blog post of its own.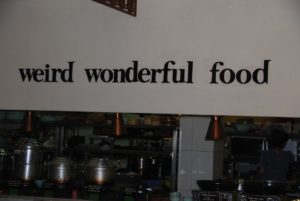 However, under the category of weird, wonderful food, as this wall decor suggests, we couldn't get Kaiyo or any of the rest of us to try the special delicacies that can be found here.  Pig brains!  Whole lemongrass frogs! Silkworms!  Pig ears!  It's all just so outrageous and a bit creepy.  I know people eat frog legs, but these frogs are about 3-4 inches long and they look rather crispy.  I had written in a previous post that when we took Avalon to Seoul, the photo of pupa soup on the menu gave me nightmares.  Well, here's the salad version to go with it and it's only slightly more tolerable on the eyes.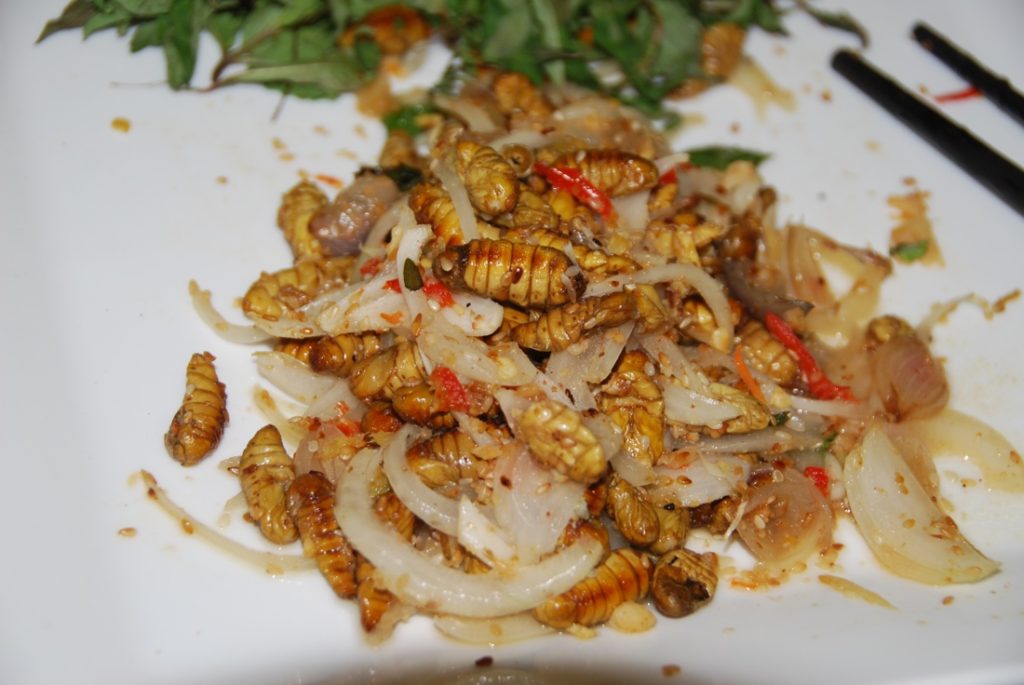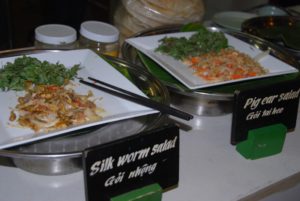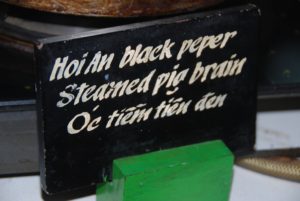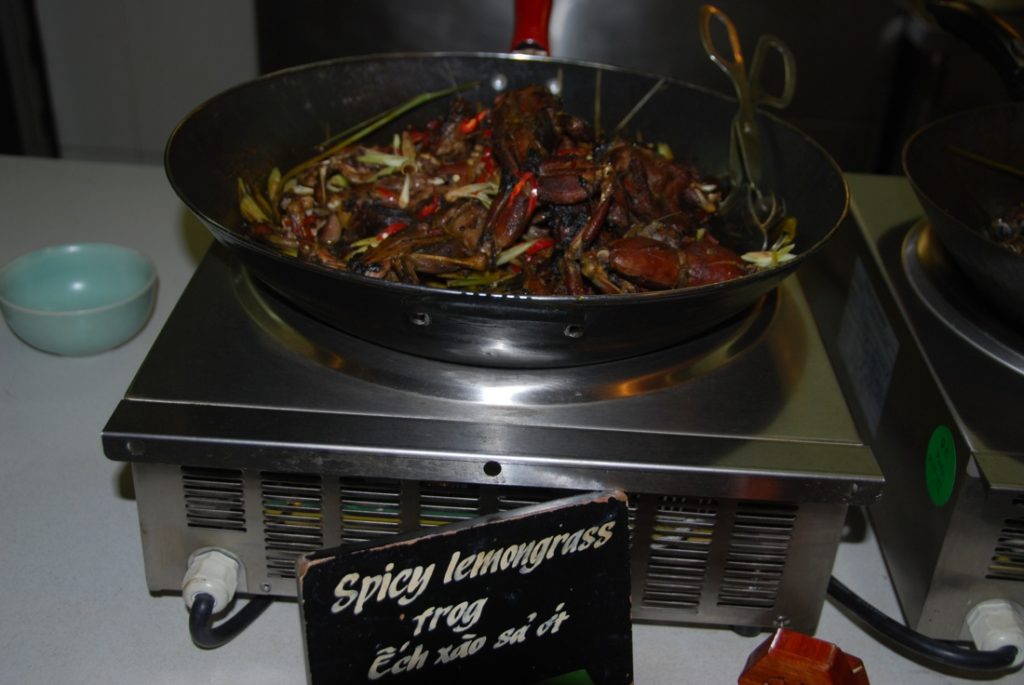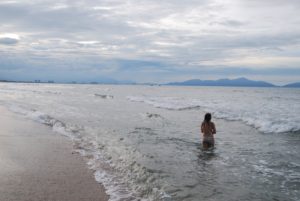 One afternoon in Hoi An Avalon and I took the shuttle to the hotel's private beach.  John said he wanted to go but then he went off and took a nap.  The boys couldn't be bothered.  It was called An Bang Private Beach and we got dropped off on the main road and had to walk along a dirt path for about a quarter mile to get to the beach.  When we arrived at the sand Avalon was over the moon.  She declared it was just like the California beach that she's been missing so much.  There were beach loungers and umbrellas and soft sand and waves.  The water was incredibly warm and the waves were large enough to play in but not quite big enough for bodysurfing, though she and other kids tried.  I loved swimming in the ocean here, too.  Avalon was disappointed when it was time to go.  It was probably one of the best parts of Hoi An for us.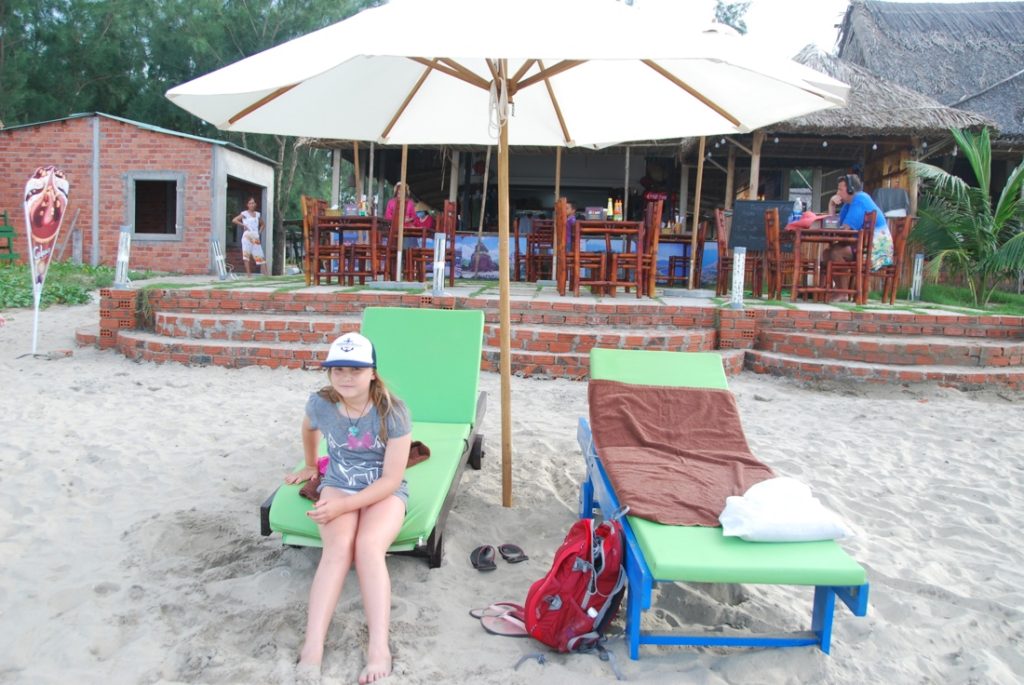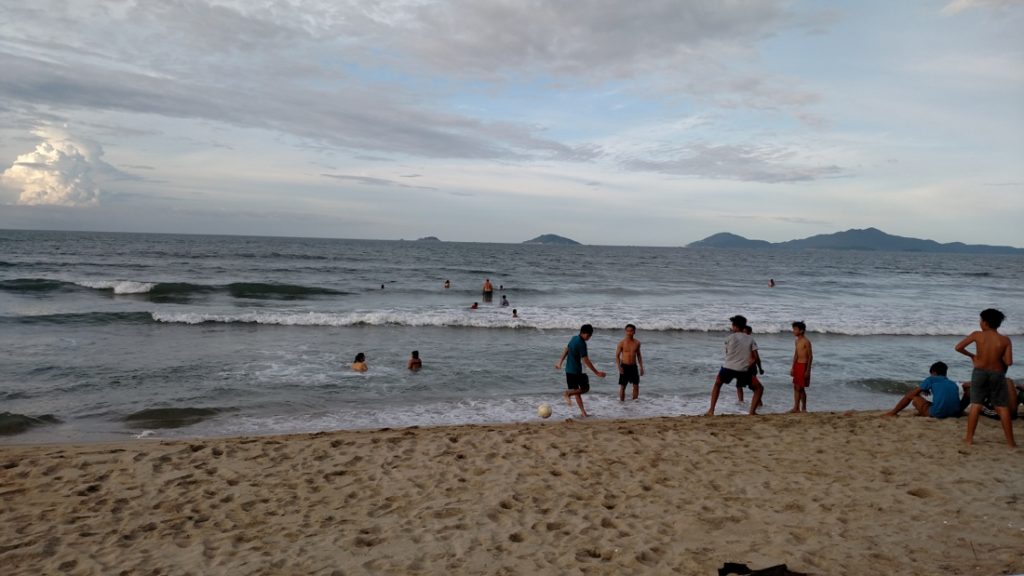 One night we stayed up playing cards in the hotel lobby until 10pm.  It was blackjack with a twist.  Instead of playing for money, the kids wanted to play for "favors."  Whoever won the hand got to get a favor from the person with the worst hand.  If there was a tie then it was settled by jan ken pon (rock paper scissors).  This trip has been nice, not just for Kaiyo's new palette, but also for the forced family time.  Halyard gets grumpy about spending every minute with us, but he also likes having a captive audience to listen to his ideas and thoughts on music, movies and current events.  John is a very good listener.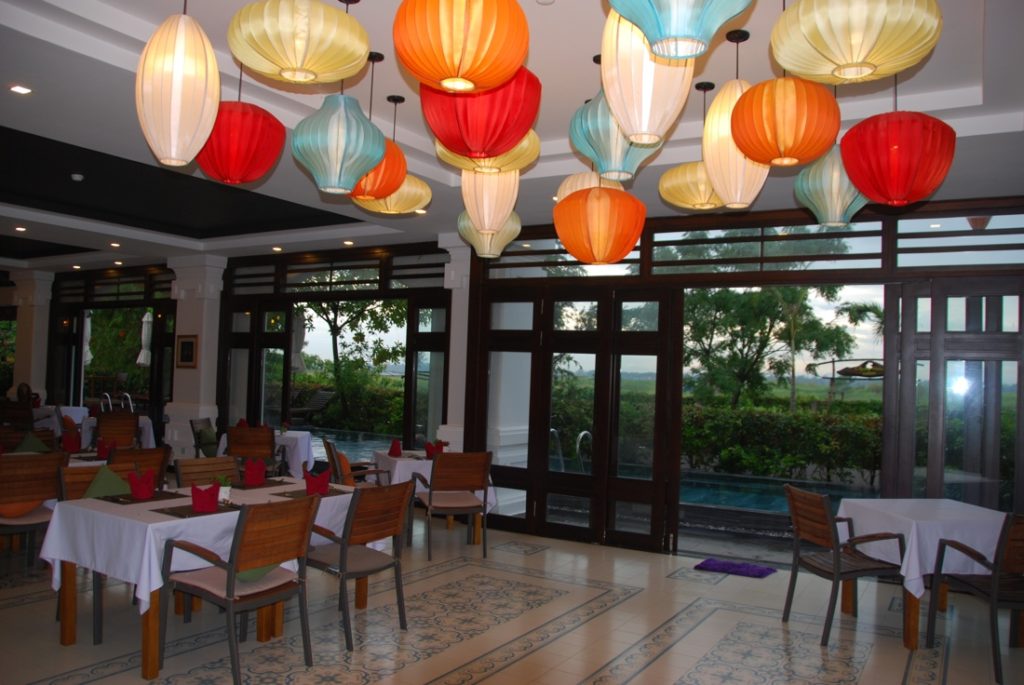 We also spent a lot of time wandering around Hoi An and buying gifts and souvenirs.  I swam in the pool with Avalon because she loves hotel pools.  We heard a lot of French spoken in our hotel and around town, more than any other language.  Unfortunately, we did not have enough time to have any clothes made here.  Hoi An is a famous place for excellent tailors and many tourists come here to have custom clothes, shoes and accessories made.  I read a lot about it and most people suggest at least 5-6 days for a well fitting dress or suit.  So we just didn't have time to do anything but buy off the rack!
Here are some photos of the beautiful sights in Hoi An.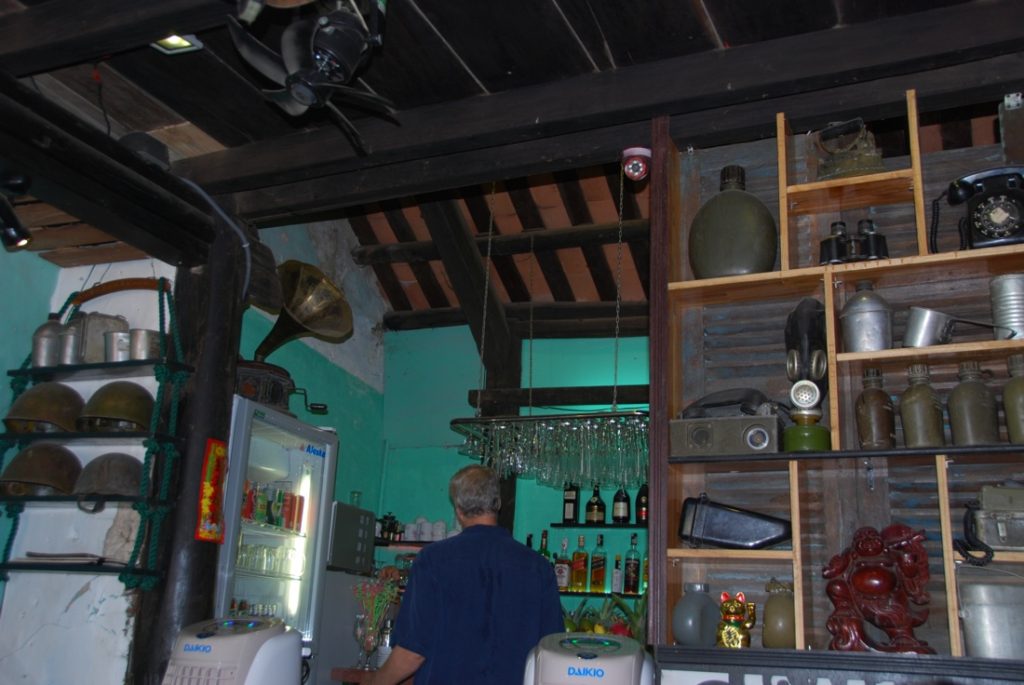 This is a place we stopped for fruit smoothies when we couldn't take the heat anymore.  The decor in this place is all old war relics and antiques.  It was very interesting.  There are old army helmets, canteens, a gas mask, old fashioned telephone, phonograph, binoculars and more.  The tables were made of antique Singer sewing machine stands with a granite slab on top.  We had heard avocado smoothies are popular in Vietnam so Avalon tried one.  It was good, but not the best.  John got Vietnamese coffee and Kaiyo got an apple and lime smoothie.  I just sampled all of their drinks.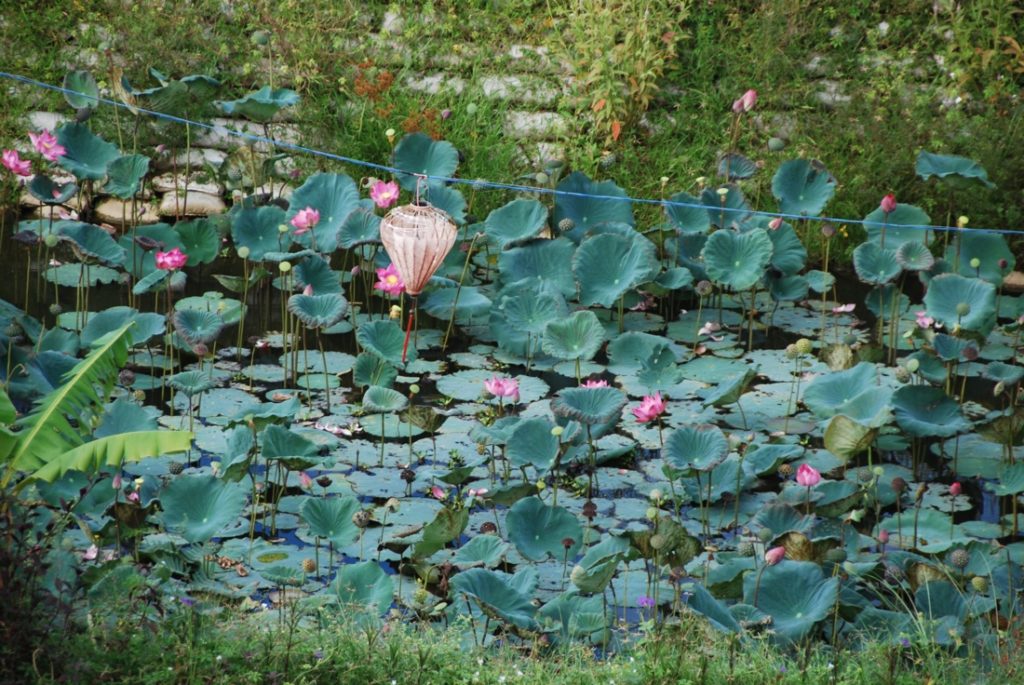 I love the large lotus ponds around the countryside.  They are gorgeous.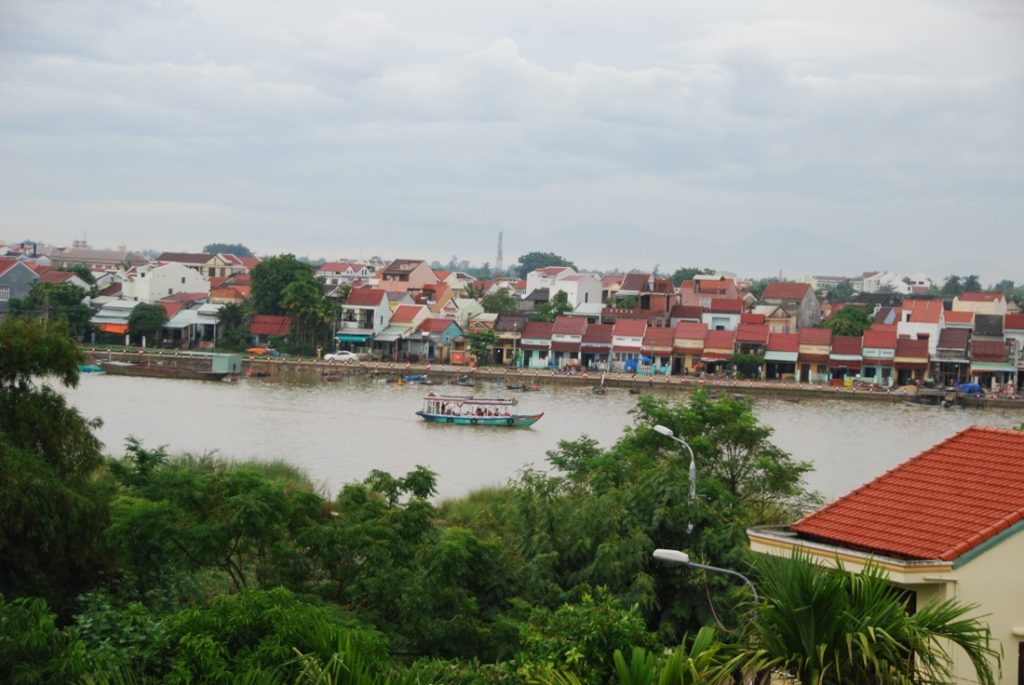 This is the view from our hotel balcony.  The hotel offered us free bikes to get across the river and into the Old Town.  We had to pay about a nickel to park our bikes in town.  There were several big cows resting by the side of the road near our hotel.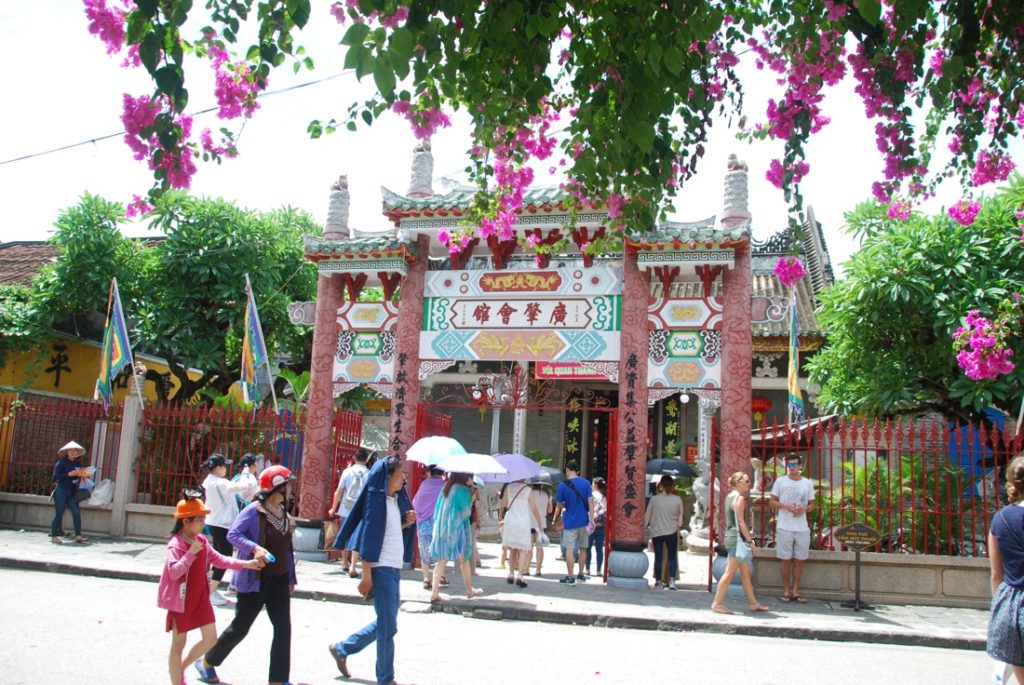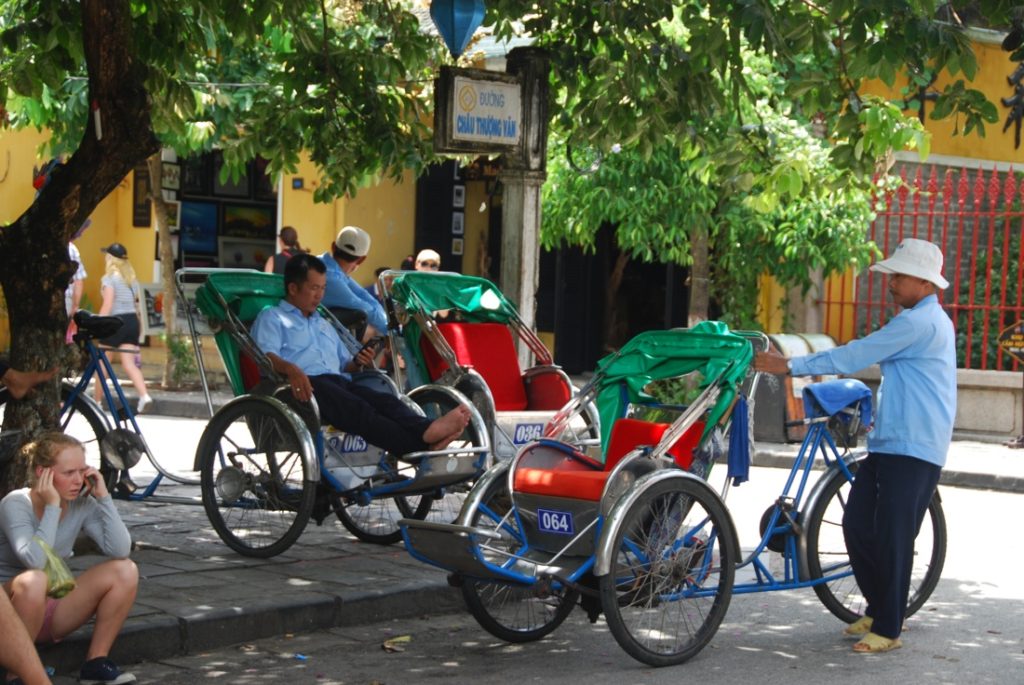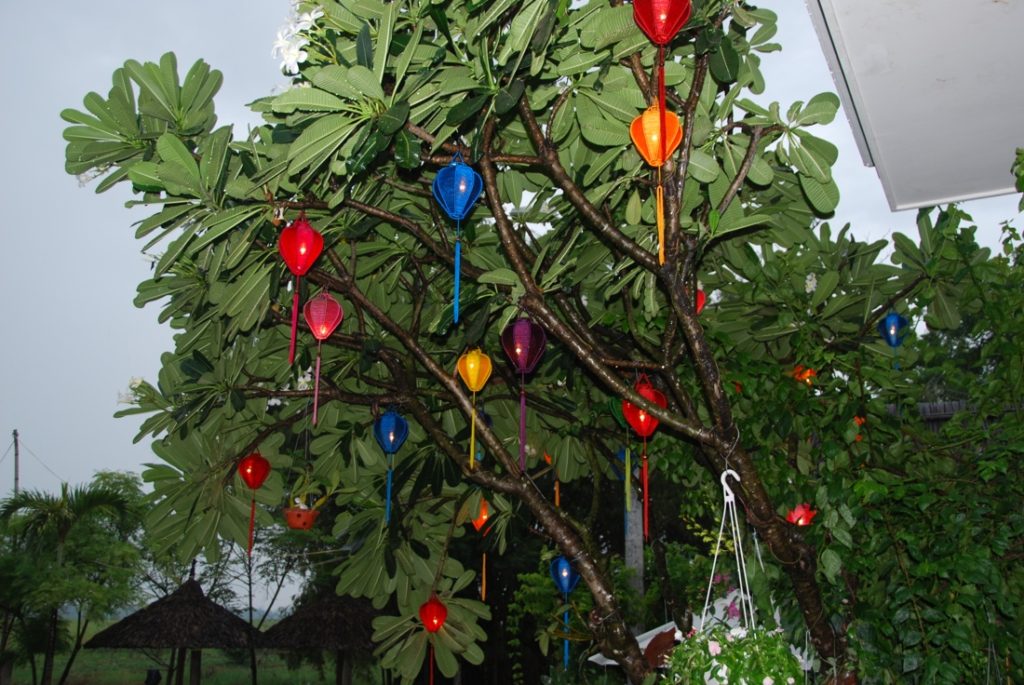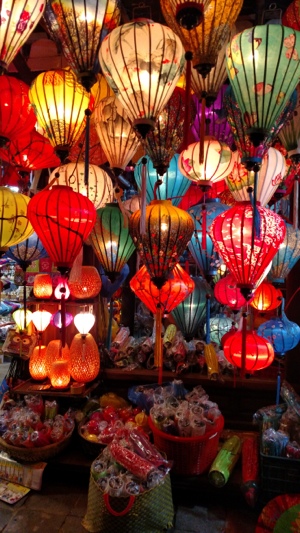 Hoi An is a wonderful place to visit.  The name of the city means "peaceful meeting place."  It is recognized as a UNESCO World Heritage Site.  We saw workshops where artisans were working on their craft and beautiful works of pottery and jewelry on sale.  One of the famous sights of Hoi An are hundreds of lanterns hung up in the streets and lit up at night.  They also light up bridges and store fronts.  Only John and Halyard went to see the lanterns in the streets, because Avalon and Kaiyo were too tired to head over there.