Monday, December 19 is officially the start of the kids' winter break.  Everyone wanted to lay low today so we booked our driver for an excursion tomorrow and spent the day in Seminyak Square.  Our villa is nicely located about a 15 minute walk to the lively "downtown" area.  We are far enough away that it is very quiet, but close enough for a quick walk to eat and shop.  We just discovered the concept of the "escape room" games while we were in KL but didn't have enough time to try it while there.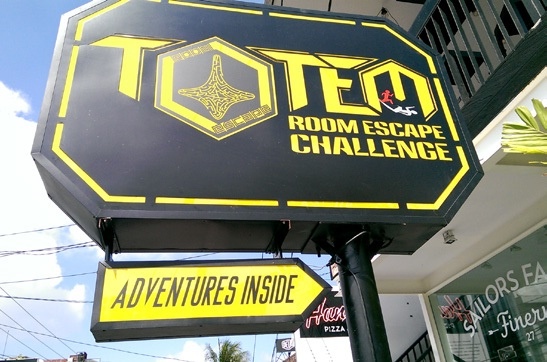 So when we discovered an escape room game in Seminyak we added it to our to-do list.  The place we found is called Totem Room Escape Challenge and it's a mind game where teams try to solve puzzles with clues in order to escape from a series of locked rooms.
There are four different levels and themes to choose from and we picked the easiest: Locked in Darkland, with an Alice in Wonderland theme.  You are given 50 minutes to escape from 5 rooms and exit the game.  The first thing that happens here is you must climb a ladder to a small door the size of a crawl space.  You open the door and enter into darkness.  John went first.  It was a slide!  After all 5 of us had fallen (like Alice) into the first room and found a flashlight our challenge began.  There are closed circuit cameras in every room so if you get stuck and can't solve the puzzle in any room you just wave at the camera and the staff will come to help.  But you only get two calls for help and then you lose.
The puzzles are very challenging and they get harder as you progress into the next room.  Some of the rooms were very small and we barely had space to move around.  We ended up calling for help twice and the last room was especially difficult.  The gal that came to assist us practically did it for us, but in the end she said we still had 4 minutes left so she declared us winners!  Yay.  It was a lot of fun and now that we've done it once and we know how it works I think we will perform better the next time.  Apparently escape rooms are a worldwide phenomenon that I'd never heard of.  Now that we know about them I expect we'll see them everywhere.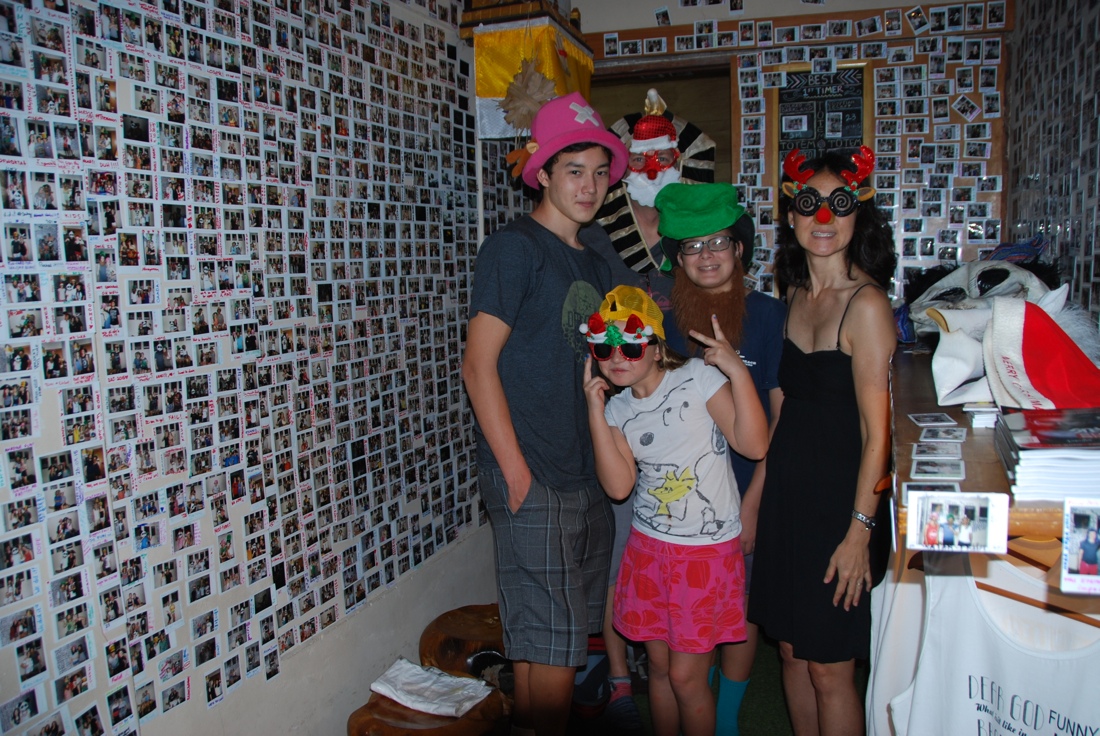 Here is a photo of us celebrating our escape!
After our mentally exhausting time locked in 5 dark rooms we needed lunch.  I wanted to go to a local Bali cafe, called warung, but I got outvoted by hungry people that didn't have the patience to search for a good one.  Warung are everywhere in Bali, but the problem with finding one for us is that most ("super local" ones) aren't vegetarian, some have a lot of flies about as a lot of pre cooked food is on display, and some offer completely strange looking food.  Most are a combination of all 3 of these things.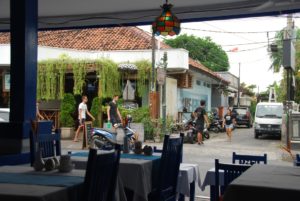 The warung will have to wait for another day.  Instead we went to a Greek restaurant called Mykonos. Lamb, pork, lamb, pita, hummus, lamb, baba ghanoush, lamb, Greek salad… it was all Greek to us.  And yummy!  I was especially happy to eat hummus since I can't find this anywhere in Japan.  Avalon, who loves hummus, said, oh yeah, I forgot that existed!  We ordered lunch with mango and watermelon juice as usual.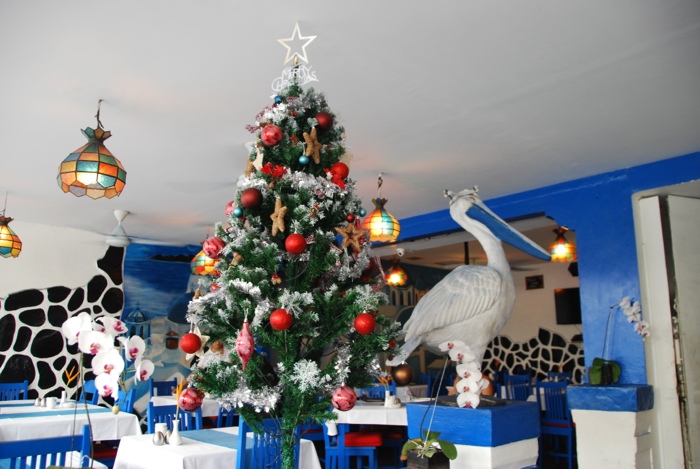 Still looking a lot like Christmas in Bali, everywhere we go!  Including our Grecian Bali lunch!
After lunch we decided to fulfil Halyard's wish of getting his hair dyed.  He wants blue or purple hair (highlights? streaks? his complete head?  no idea).  After stopping in a few hair salons we found a place that would do it but no blue or purple here.  And they all said Halyard doesn't have "tourist hair" so his Asian hair would be more difficult to color.  Tourist hair!  Ha!  As we walked around peering into salon windows, Avalon said she would like her hair braided.  And then she dragged me into it too.  100,000 IDR ($7.50 USD) for half a head of braids seemed okay so I said I'd do it with her.
Oh my.  What a mistake.  Well, it was fun at first.  I'd never had it done before and neither had Avalon so that aspect of it was fun.  But the gal that braided my hair pulled so hard it made my eyes water.  That should have been my first warning to turn around and call it off.  But no, I kept going.  I don't think Avalon's braider did hers nearly as tightly.  In fact I know he didn't given how our hair looked after we took it out at the end of the week.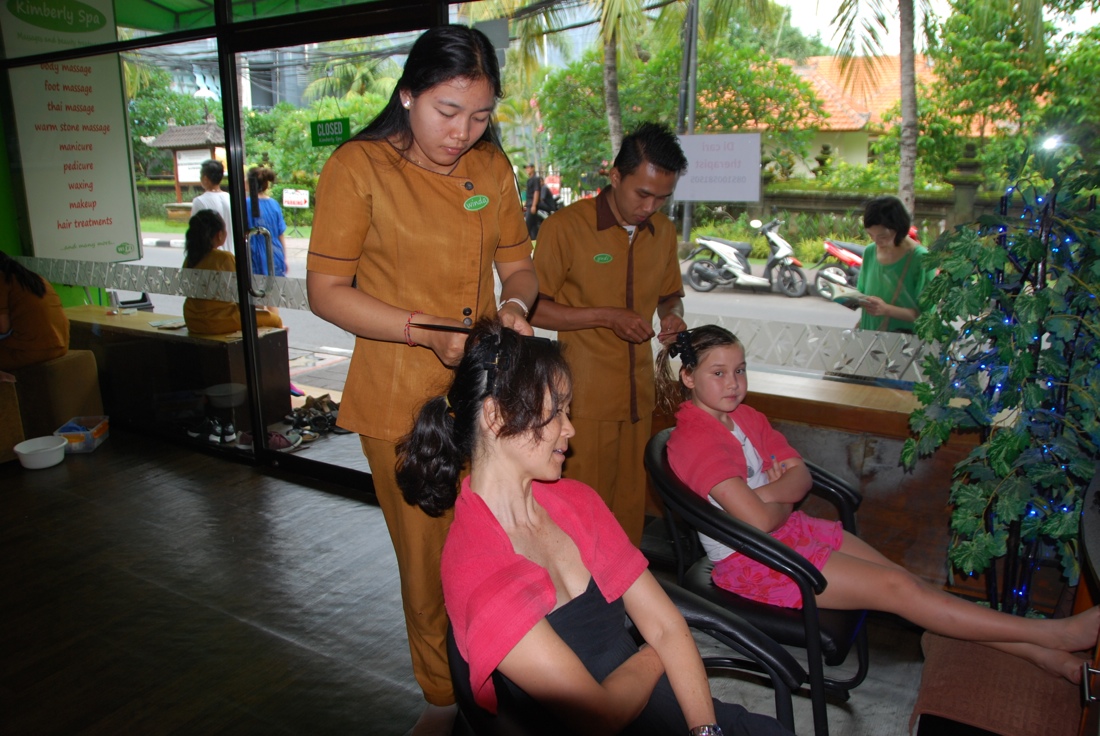 Here we are en route to pain.  As you can see from this photo, the gal braiding my hair is standing on a stool above my head.  She is actually up high so as to give her more leverage in pulling my hair tight.  The guy doing Avalon's hair is braiding gently and considerately!  I'm not sure how long it took but it felt like hours.  There was a darling, young caucasian girl sitting on the other side of me, she looked to be about 7 or 8 years old.  A woman spent at least 15-20 minutes combing her wet hair out.  I thought she was getting braids, but then the young girl got up and left.  I asked the woman braiding my hair what service the young girl had gotten and she told me that the girl had come in to have her hair washed.  Hmmm.  Surely after sitting in that seat next to me for so long she had something else done? Okay, so here's my hair mid-way: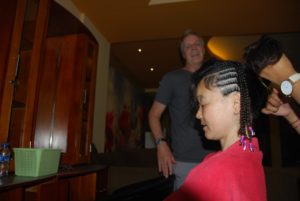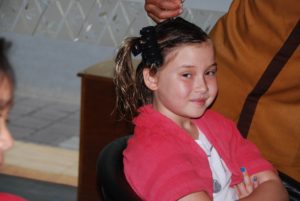 I believe John is laughing in the back!  Avalon is looking cute and relaxed.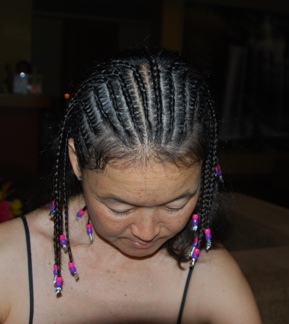 The epilogue to my hair story is that we left our braids in all week.  It never occurred to me to apply suntan lotion spray on my scalp but that's exactly what I should have done.  As you can see, my ghostly white scalp was ripe for sunburn.  Especially after we went snorkelling on our last day.  I am sure that made red and white stripes on my head.  My head didn't tan, it burned.  And even a week later my head has been super itchy, burned and peeling.  Big chunks of my flaky scalp are falling like snow in my hair.  Gross!  And did I mention itchy!  I'm joking about my head feeling like lice but it really isn't funny.
Another bit is that the IDR completely confused me and though I wanted to give my hair torturer a nice tip, I gave her 5,000 IDR and asked her if she would split it with Avalon's nice braider guy.  She looked grumpy about it but said okay and later I realized that this amounts to only 37 cents (USD) so each of them would only get 19 cents as a tip!  I don't think big tips are particularly common but coming from a tourist that's pretty embarrassing!  I know they expect more from tourists.
Avalon took her braids out a day before I did and her hair was wavy for half a day before it fell flat again.  When I took my braids out my hair literally went bezerk and it looked like I had stuck my finger in a light socket.  It was so far off my head and frizzy like a clown wig.  I didn't take it out in front of a mirror so when my family was genuinely laughing and pointing at me I knew it was bad.  There is no photo evidence of this!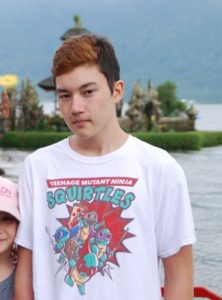 Halyard's non-tourist hair turned out fairly well.  I say fairly well because seeing him with an auburn patch on the front tuft of his hair is kind of strange.  It looks pretty good poking out from under a hat though!  I think he likes it so that's what counts.
Transformation!  Here he is, at left, the day after he got his hair done.  Below, later after we arrived home from Bali on Christmas morning.
Anyone recognize this guy?  (Other than the fact that he's got a huge smile below, which instantly makes him look cuter than his regular teenage growl.)