This was another busy day.  Friday, September 2 started out as usual, with all five of us biking to school together.  By now, Halyard and Kaiyo sometimes ride ahead and leave the rest of us in their dust.  They can't be bothered to slow down for me.  And it's probably a good thing because today I actually fell off the bike.  Ugh!  It really hurt too!  I was just arriving at school and I guess I was playing chicken with a pole but that pole didn't flinch so I lost!  The electric bike is really heavy so once I started to lose my balance momentum and gravity took over.  I fell right in the driveway area of school so that was embarrassing, but not very many people were driving in at that exact moment so that was a relief!  For the rest of the day my hands and knee hurt like a hundred needles.  What I feel most lucky about is that my purse was actually zipped up for once so when it flew out of my basket the contents stayed put.  If I had to scramble around the driveway collecting random purse items that would have been awful!
As luck would have it, more biking was on the agenda for today.  My bruised ego shed some tears and then it was time to get over it.  John and I took a circuitous, winding route to the Kita-Senri Station in order to get on a train to Umeda.  Kita-Senri is quite close to the school but we don't know the shortcut route so we had to take the long way around.  We discovered that this station is less than half the cost of our bus + train route from home!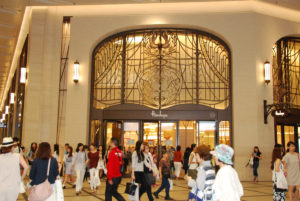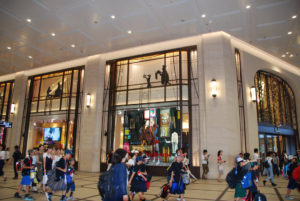 This is Hankyu Department store in the Umeda train station.  It is right across from Shinsei Bank.  The pictures don't do it justice.  It is really a beautiful building and we're still underground I think.
Well, we have come to Umeda for one main mission and a few minor missions.  The main goal is to pay our school tuition at Shinsei Bank.  I might have mentioned this before, but Shinsei is not one of the school's pre-approved banks.  It took nearly 3 hours and we felt abandoned for large chunks of time.  The banking system is super antiquated in Japan.  In the end, it turned out that the bank was calling the wrong school to coordinate the transaction.  Since they went away to do this we didn't know what was going on.  But I suppose since they were speaking Japanese it really didn't matter where they were.  Finally I got our school's business office on the line and they straightened it out with the bank.  After that it took about 15 minutes.  What a crazy waste of time!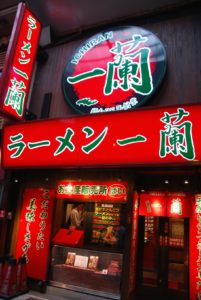 Next it's lunchtime and we were starving after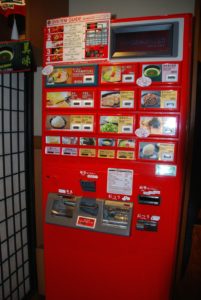 our strenuous visit to the bank!  Sitting there for hours can really give you an appetite!
So John searched in his trusty Google and found a highly rated ramen shop called Ichiran Umeda.  This type of ramen restaurant is where you walk up to a machine in front (we looked for an English button but there wasn't any!) and buy a ticket for the type of ramen that you want.  There is also a sheet to fill out with more specific options for your ramen.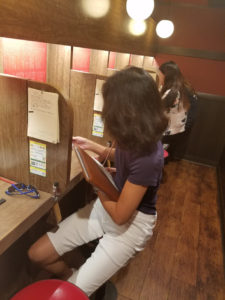 Then you go sit down and hand your ticket to a person.  But the counter is quite low so all you see is a person's waist through a small opening.  They make the ramen and hand over a steaming hot bowl of noodles.  Here, the counter has partitions dividing each person's area.  It seriously reminded me of the movies where people go to visit someone in jail and they're sitting down in a small space with cubicle partitions separating them from the next person.  But the little partitions actually folded in so that if you wanted to sit and talk with someone without the divider you could.  After you get your food they fold down a little bamboo shade to block the staff from watching you so you are eating in private.  It was very interesting!
John asked for super hot/spicy ramen and when it came, it was super spicy!  His nose was running and his eyes were glassy.  He said he needed a tissue but I didn't have any.  Then I realized that there were tissue boxes on the wall behind every other seat!  I guess other people have had the same experience.  I have to add in here that everywhere you go there is random, mostly American, music playing over a PA system.  At this ramen shop I was sitting there trying to pick out a familiar instrumental tune and suddenly I recognized it.  I was listening to GOD BLESS AMERICA while eating ramen in Japan.  What a crack up.
Before we left the ramen place both John and I used the bathroom because they aren't always readily available or western style in Japan.  So when you have access to a toilet that you know is nice you gotta take advantage of that.  We'll have to call this one a toilet room and not a bathroom because the whole thing was about the size of a toilet stall in a ski resort when you have all of your ski gear on and you can barely squeeze in to the stall without touching the toilet.  That's how it was getting into this "bathroom."  When I came out I said to John, check it out, I took a picture in there because the toilet paper rolls were hilarious.  He said, oh really, did you.  Then he whipped out his phone and he had taken the same picture as I did!  Here it is: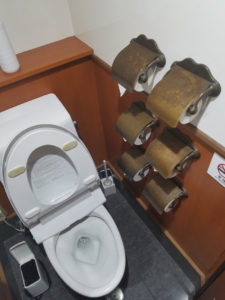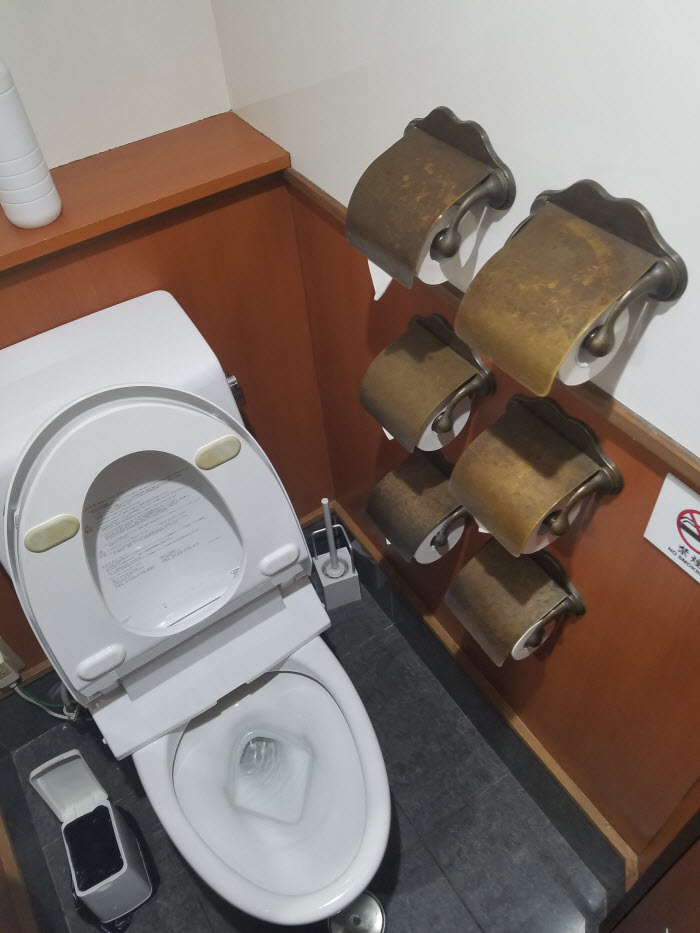 We showed this photo around and one person said, oh is that for people of different heights?  Here is the kicker: 5 out of 6 of those toilet paper rolls had the ends folded into triangle corners – like in a hotel.  This was in the middle of the day when surely people have been using the toilet.  So, does an employee go in there and re-fold the ends into triangles, or are customers expected to re-fold the toilet paper after using it??  I'm not sure.  But as you can see, this toilet is spotlessly clean.
After that we figured out how to load yen onto train and bus cards from the ticket machines.  This way we won't need a ton of change every time we go somewhere.  Then it was back to Kita-Senri station and biking back to school on our circuitous route – this time uphill.
Is this blog post getting too long?  Because our day isn't over yet and I'm wondering if I should split this up into two posts.  Maybe someone can comment if they care.
We picked up the kids from school and biked home.  Now, it's time to have a rest before we head out for our new friend Art's 50th birthday party!  The party is at their home and they said they've invited about 50 people so I'm very interested to see how we all fit in there.  They told me their house is about 1,800 square feet and it has 7 bedrooms.  I wonder if the party will be all inside or both in and outside.  I'm worried about my enemy: the mosquito.  I know they are grilling hamburgers and hot dogs and having cake.  My kids are so excited to have hamburgers.  Avalon said it's been so long since she had a hamburger.  But I reminded her that Grandma and Grandpa brought over In-N-Out the day before we left.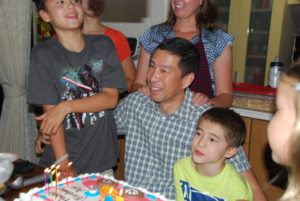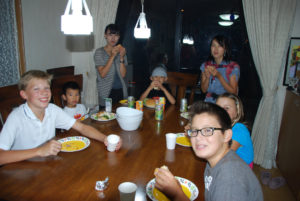 The party was a blast.  If there were 50 people there it didn't seem crowded at all.  Most of the kids were in the piano room.  So called a piano room because its feature piece of furniture is Mariah's Grandma's piano which they had shipped here from Illinois!  Oh wow.  There was a lot of food and a big Costco cake with ice cream.  I know my kids had a good time.  And Art, the birthday man of honor, looked like he was having a good time too.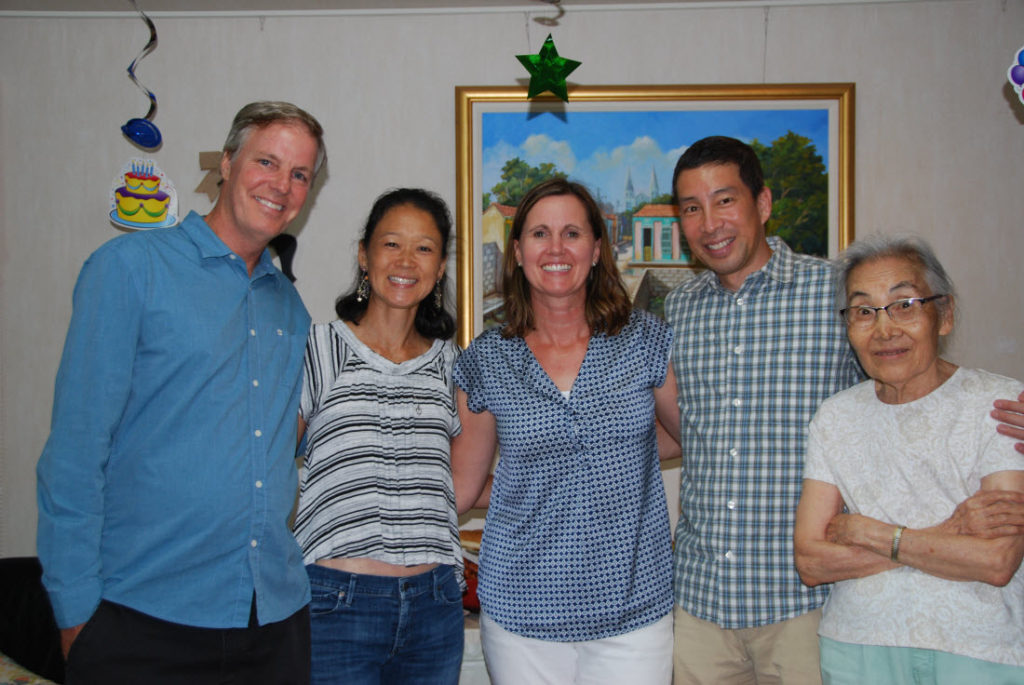 Here we are with Mariah and Art and Art's mother who is visiting for a few weeks from Kansas!
Avalon was pooped out at 9:30pm (21:30) but the boys wanted to keep going.  A bunch of the older kids wanted to walk to the nearby park so they all left, Halyard and Kaiyo included.  We asked Halyard to stick with Kaiyo and to make sure that they biked home together.  We biked with Avalon and got home around 10pm (22:00).  The boys rolled up on their own around 11 (23:00)!  Never in America would I let them hang out at a park so late and then bike home on a highway at 11!  But in Japan no one really thinks twice.