Our awesome guide Helen is with us all day today, Friday, March 30.  It's going to be a busy day!  First we will ride bicycles around the entire perimeter of the Xi'an ancient city wall.  Then we will go to the lively Muslim Quarter to marvel at all of the vendors with delicious smells and odd sights.  After lunch Helen is taking us to see the famous army of Terracotta Warriors.  At the end of the day we will be too tired to move another inch.  At that point she's going to drop us off at the airport for our next flight across China.
Xi'an's wall is the best preserved existing ancient city wall in China.  It was ordered by the first emperor of the Ming Dynasty around 1370 A.D.  A wise old man told the emperor to build high city walls all over China and so he did.  The wall was originally made of tamped earth but bricks and other fortifications were added later and over the centuries the wall has been refurbished many times, with the most recent being in 1983.  In its final, current form, the wall is 12 meters = 39 feet high, 12-14 meters = 39-46 feet wide, and is a total length of 13.7 kilometers = 8.5 miles.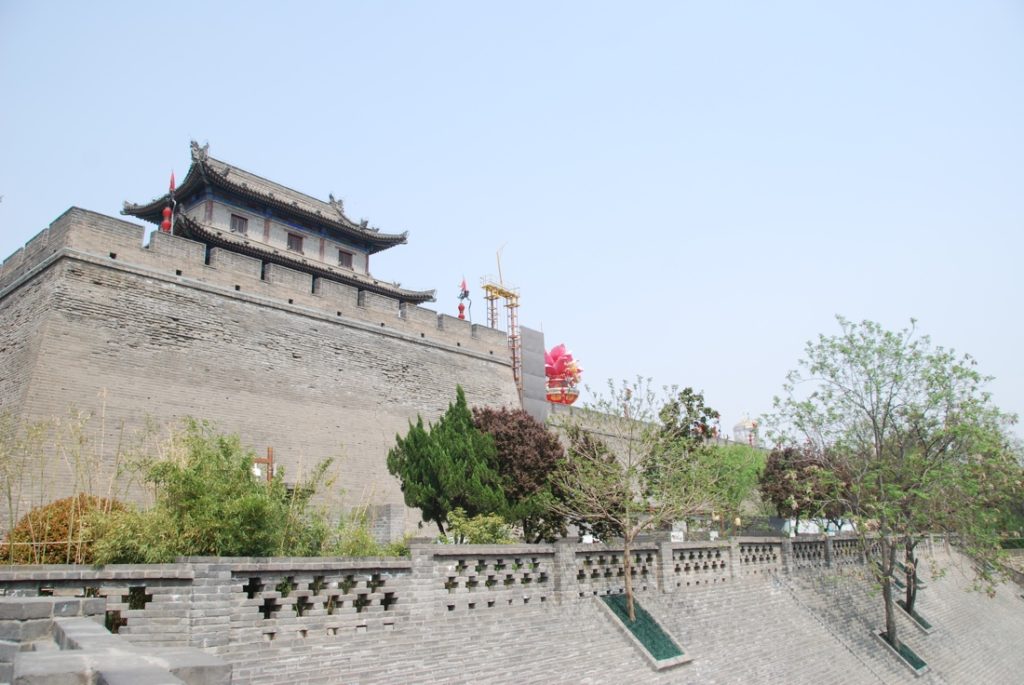 This is from CNN Travel online: "Built in the Ming Dynasty, with intricate drawbridges, towers and a moat, the wall was once one of the most impressive military defense systems in the world.  It safeguarded a city where many Silk Road journeys began and 13 Chinese dynasties had their capital."
It takes an average of 4 hours to walk around the entire, rectangular, 8.5 miles of wall.  Or you can rent bicycles, which is what we did.  Helen got us set up and then she said she would be back in 2 hours.  It took us exactly 2 hours, including many photo stops, to ride around the entire city wall.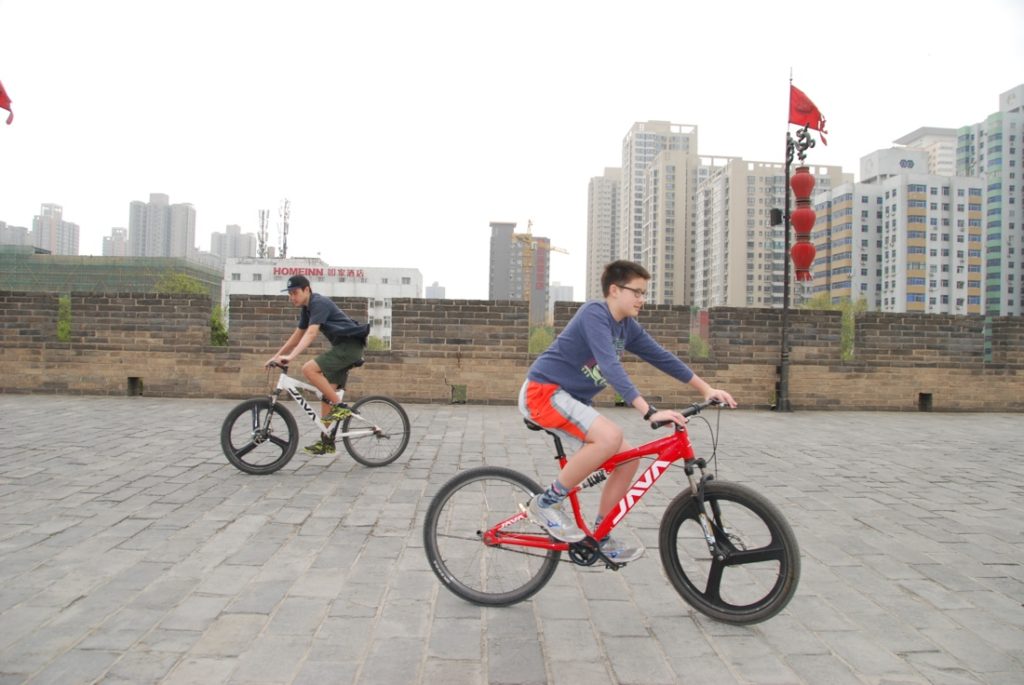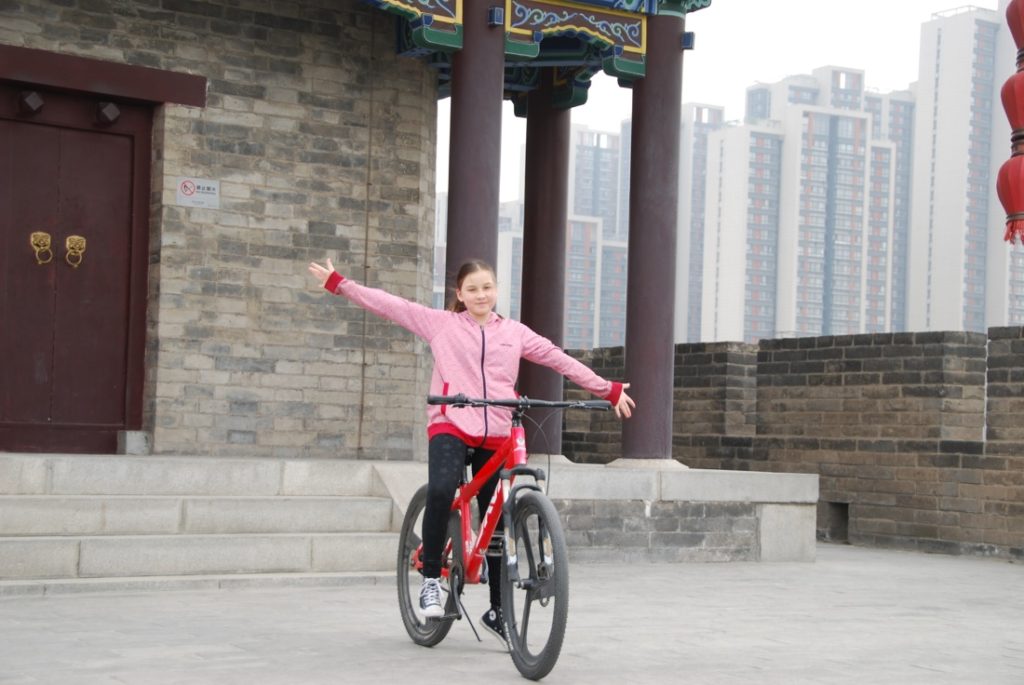 On the inside of the rectangle wall is the ancient city – ancient, albeit touristy.  On the outside is the modern, developed city of Xi'an.  The towering office buildings, massive apartment buildings, parking garages, modern hotels, etc. are all on the outside of the wall.  It is interesting to look out over the wall's ramparts or look through the crenels to see the modern world outside, complete with traffic jams and marketing signs.  Hazy pollution hangs over it all.  Here's a beautiful temple with a gold roof inside the wall and big skyscrapers in the distance beyond.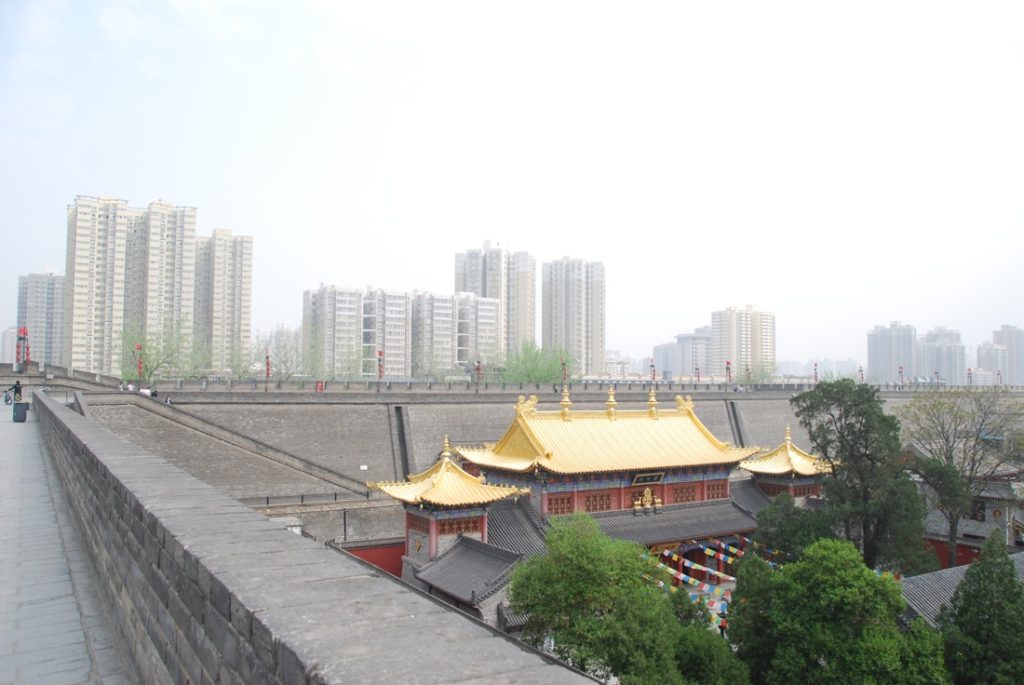 Each side of the wall is represented by four different creatures.  Helen said to meet her back on the south side of the wall, which she said we would know because it's represented by the phoenix.   According to my research on the internet, the four mythological creatures of the Chinese constellations are the Azure Dragon of the East, the White Tiger of the West, the Black Tortoise of the North, and the Vermillion Bird of the South.  It was kind of fun to mark where we were when we saw the creatures.  The north and south sides are the long sides of the rectangle.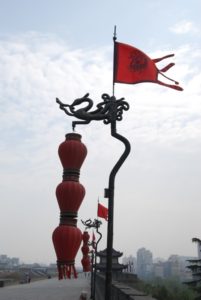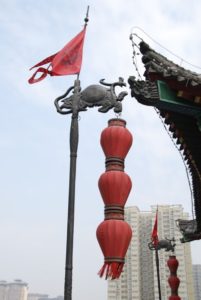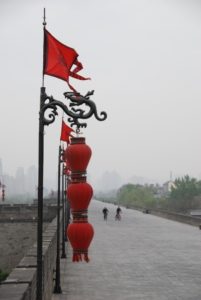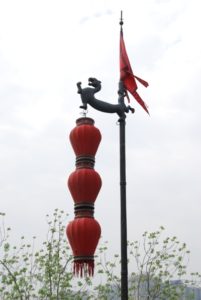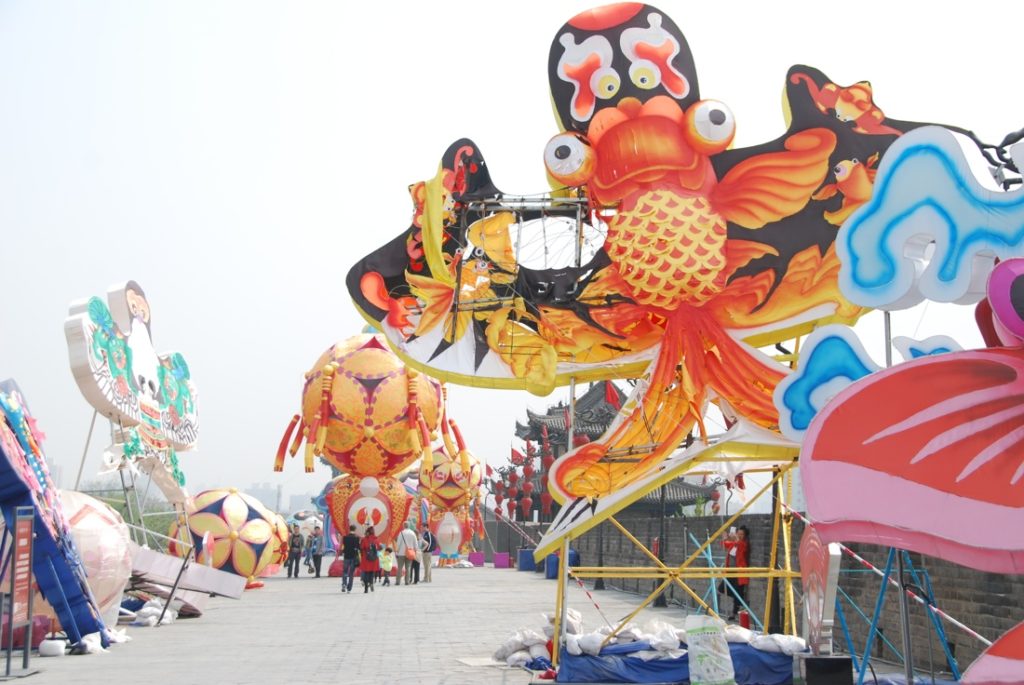 These large scale Chinese lanterns were set up for the lantern festival and they glow at night up on the wall.  Looking down from the wall you can see many ping pong tables set up below.  They are assembled in the park.  Even our Beijing guide Michael was talking to us about the famous "Ping Pong Diplomacy" between the US and China back in 1971.  "Never before in history has a sport been used so effectively as a tool of international diplomacy," said Chinese Premier Chou En-lai at that time.  It's still a national pastime.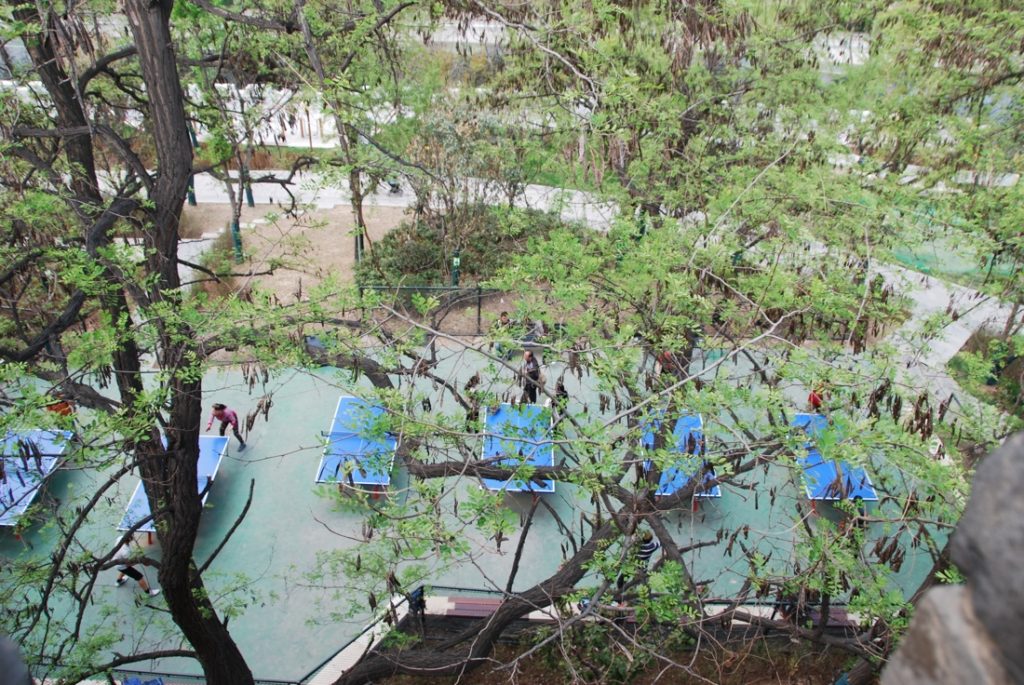 After we finished our bike ride Helen helped us turn in our bikes and asked if we wanted a toilet break.  I wondered if I needed to bring my own personal supply of toilet paper with me.  Yes.  She told us that by early afternoon the paper from the ONE SHARED ROLL (to be fair it is industrial size, but still…) just inside the main bathroom door is usually emptied.  You are supposed to take a handful when you walk in, before you enter the stalls.  But some women, maybe tourists, take a lot and stash it away for later in their handbags.  I'd read that toilet paper can be hard to come by, so everyone actually says, take it when you see it.  But that leads to a shortage for everyone else which really isn't very nice.  When we packed our bags John insisted on packing a whole roll from home and I'm glad he did.  We used all of it!
After that we were off to the Muslim Quarter for street sights and smells.  The first place we went had taffy which was being pulled right there in the sidewalk.  It looked really cool but I couldn't help wonder about dust, leaves and tiny bugs floating into the taffy unnoticed.  I guess it tastes better that way?  John bought some chili peanuts from the first vendor we saw.  Avalon wanted to buy taffy.  I said okay, bugs and all.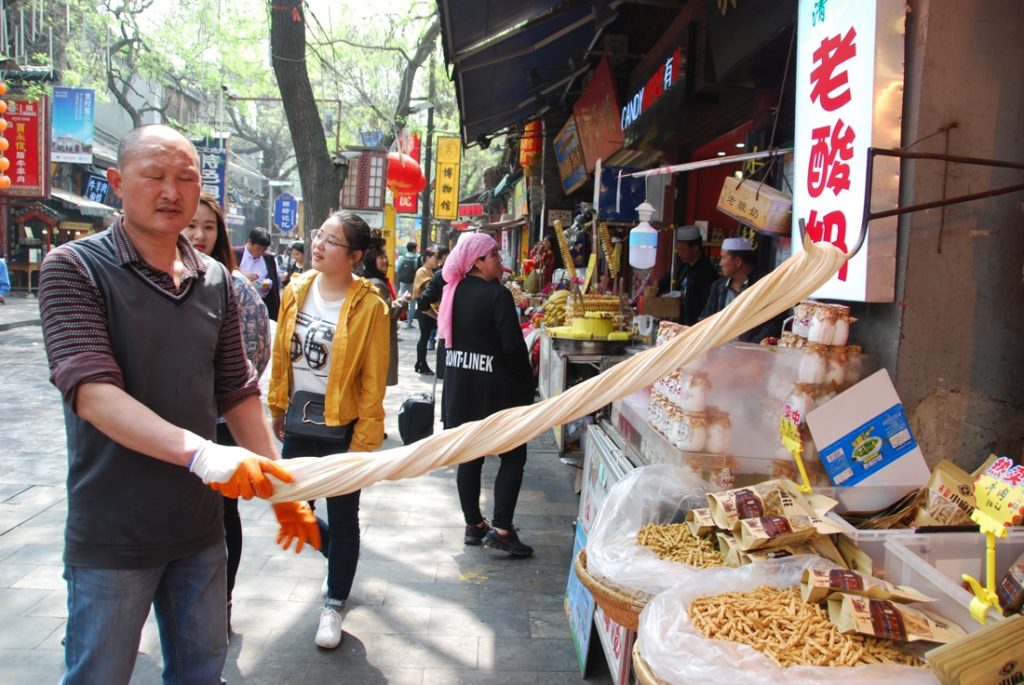 I still feel a little remorse for not buying a package of chili pepper.  This man is doing the job of an ox, turning the grinder around the block to crush the pepper into flakes.  My memory is that packages were only about 25 yuan each (about $4 USD), but they were Costco sized!  And I didn't know if I could use that much Chinese chili pepper.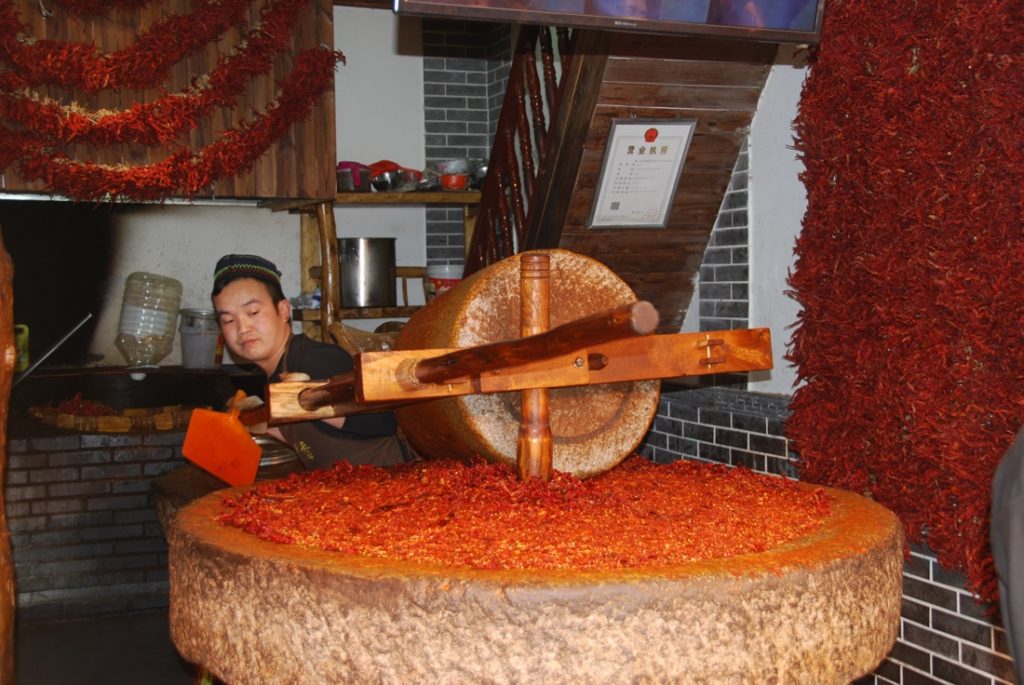 Are those pig feet piled high on the plate to the left?  I think maybe so.  They don't look like chicken feet, which are often fried and gnarled and look like an old lady's bony twisted fingers.  The plate on the right is spicy tofu strips, which John bought to try.  Below, some young women are making large amounts of pork dumplings.  That's a lot of filling they've got there.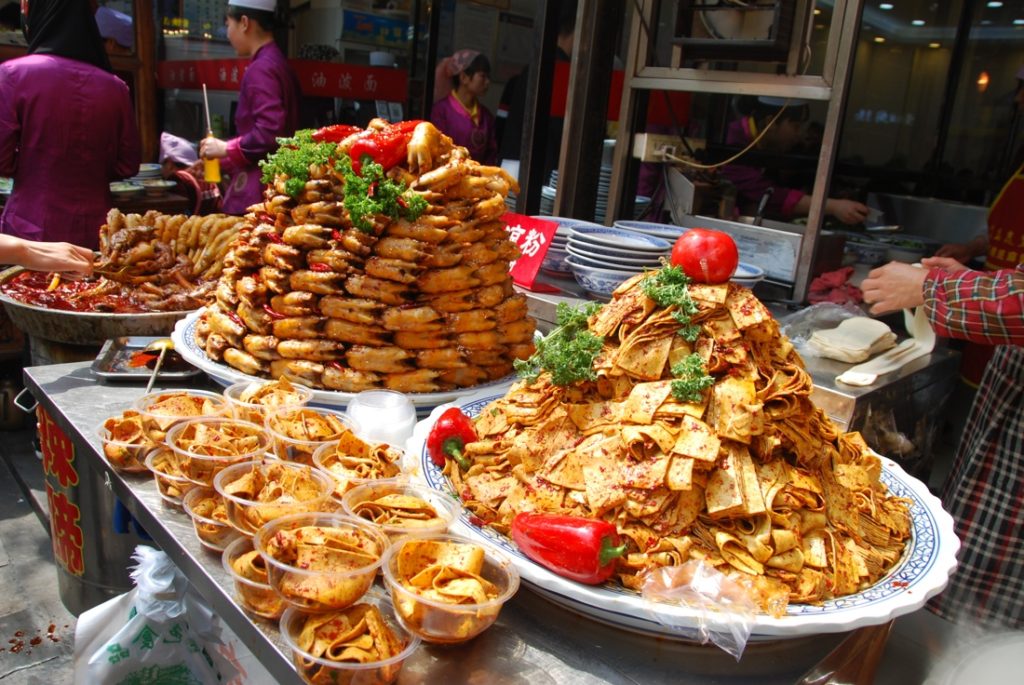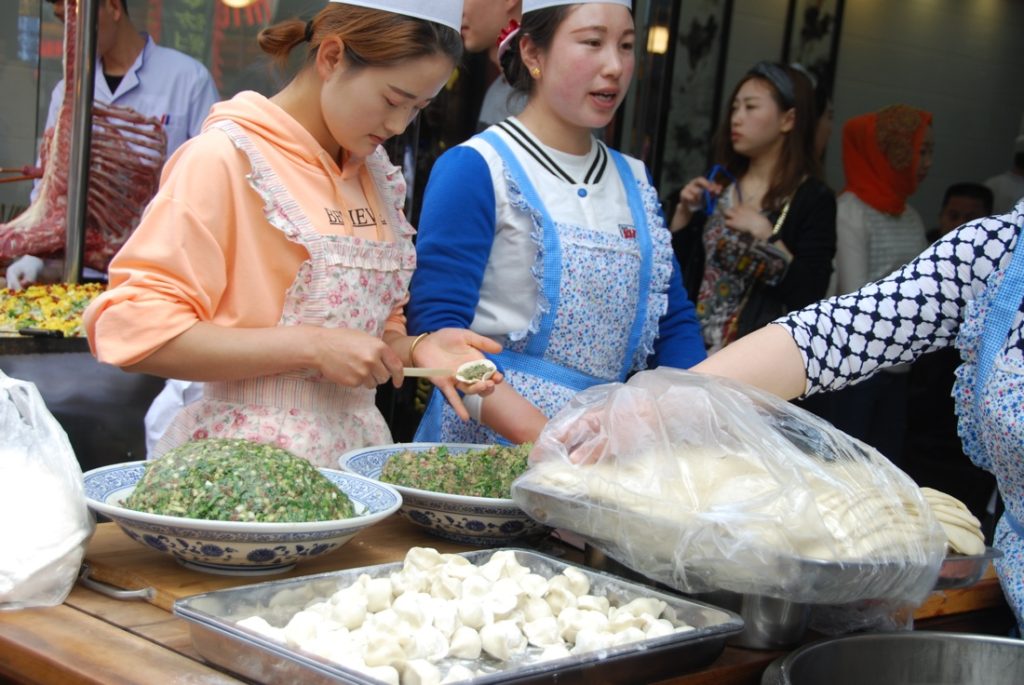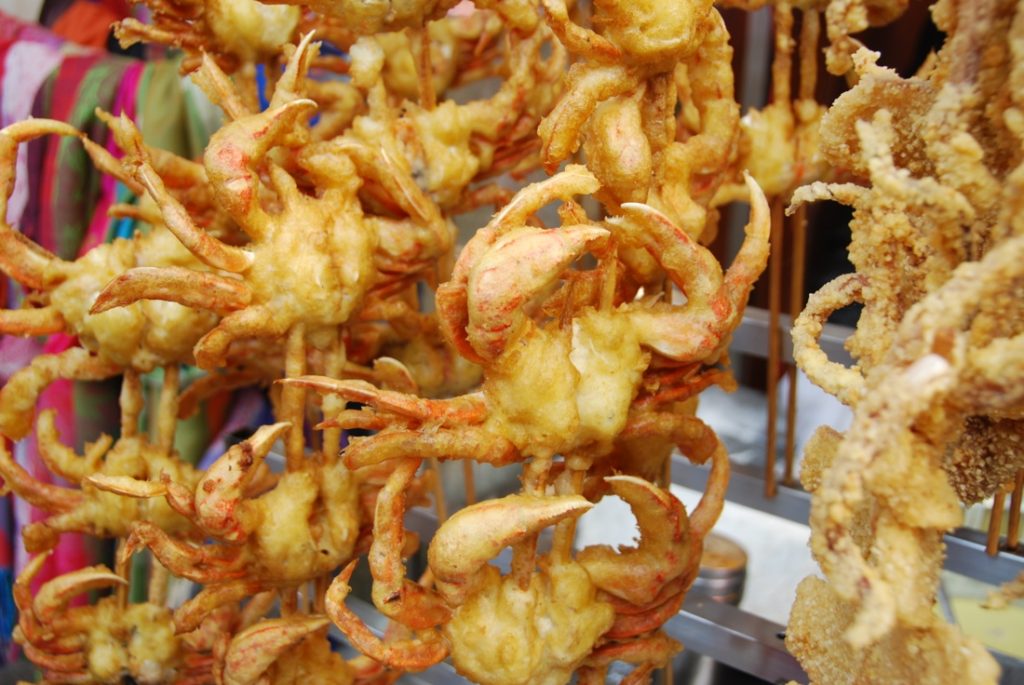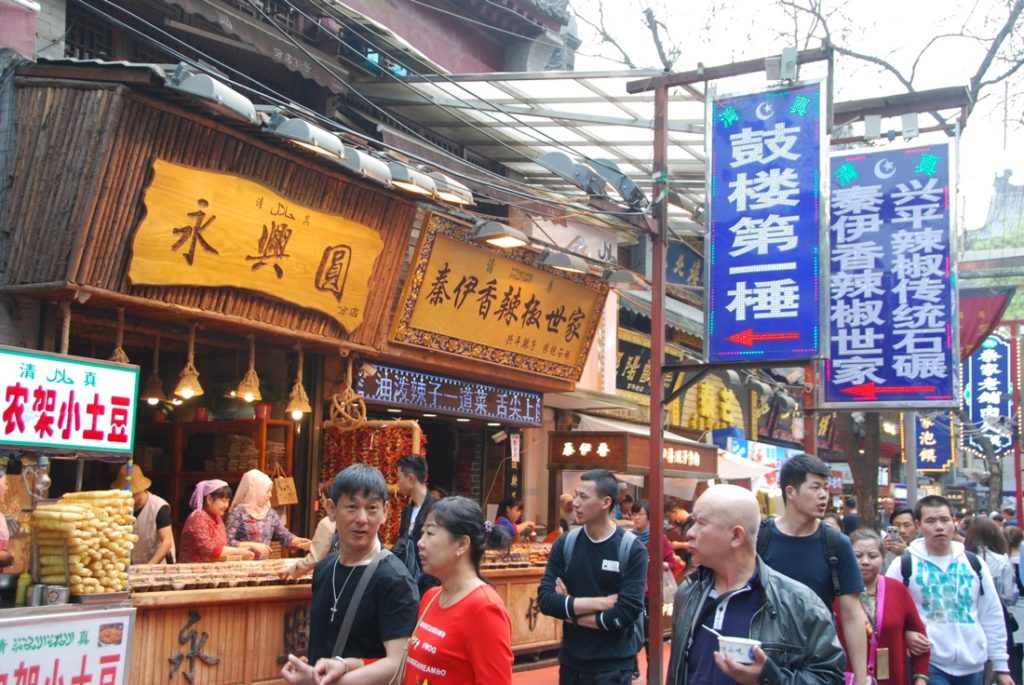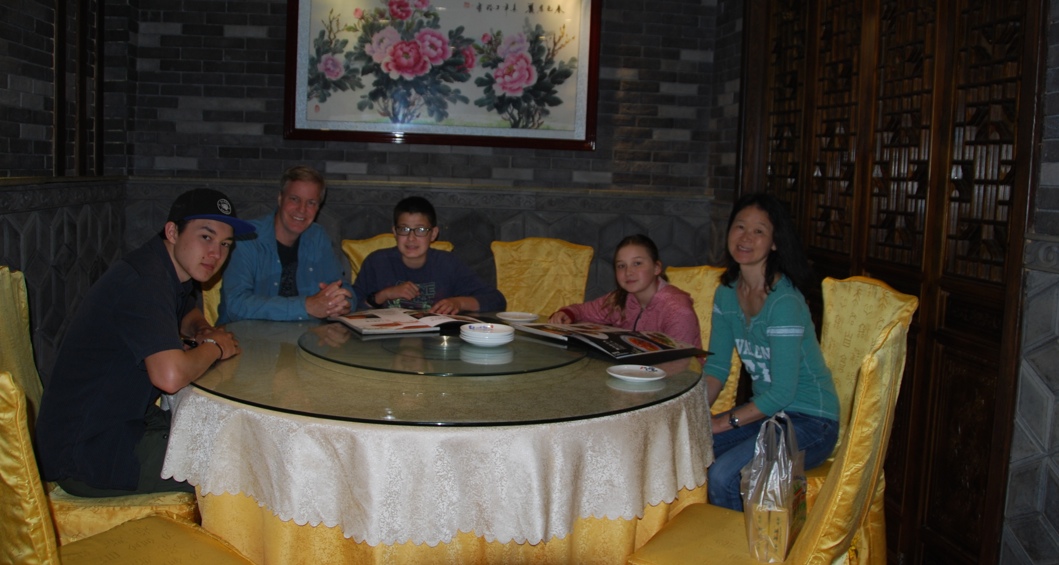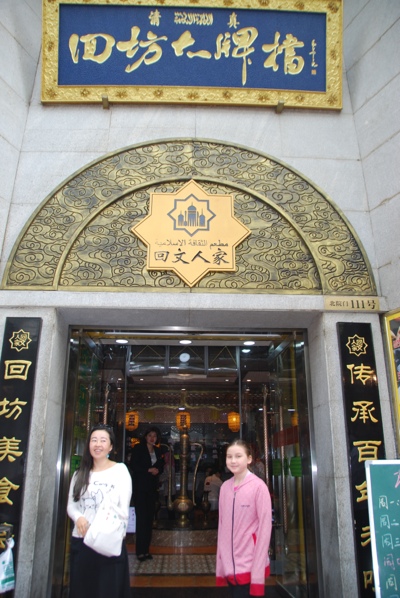 Here we are, about to eat again.  When in China… do as the Chinese do!  The 'ol lazy susan at every turn.  This was an amazing and popular Muslim Quarter locals' place.  Unfortunately I didn't get a photo of all the food that filled the tabletop here.  It was all beautiful and delicious.  Helen ordered for us and we sampled a lot.  Big, wide-as-a-belt, famous Xi'an noodles, both with and without meat, dumplings and a lot of lamb and beef for the kids, veggies for adults.  At the end she ordered a popular sweet persimmon cake.  But we were too stuffed to fully appreciate it.
Now we have an hour ride in the car to sleep it all off.  We're going to see the Terracotta Warriors next.