I'm back to Bali again.  It's past the new year but I'm going back in time.  On Tuesday, December 20, we ate breakfast at our neighborhood hangout, Cafe Moonlight, and headed out.  This time a young man named Yoga (pronounced Yo-gur) drove us to Bedugul.  It really isn't that far but the traffic is as bad as Los Angeles at rush hour (all those crazy scooters clogging up the streets!) and so we spent a lot of time in the car today.  I had three things on my wish list for today.  One was to go to Taman Ayun Temple.  Then I wanted to take the kids to an adventure park called Bali Treetop.  Lastly, I wanted to see the famous temple Tanah Lot at sunset.
Well, when I mentioned Taman Ayun, Yoga said we had already passed it!  Instead he took us to another famous temple called Pura Ulun Danu Beratan.  It was beautiful.  It was a huge complex actually, with a play area, restaurant, the main temple and smaller ones, many statues, a waterfront with paddle boats and a large grassy park area.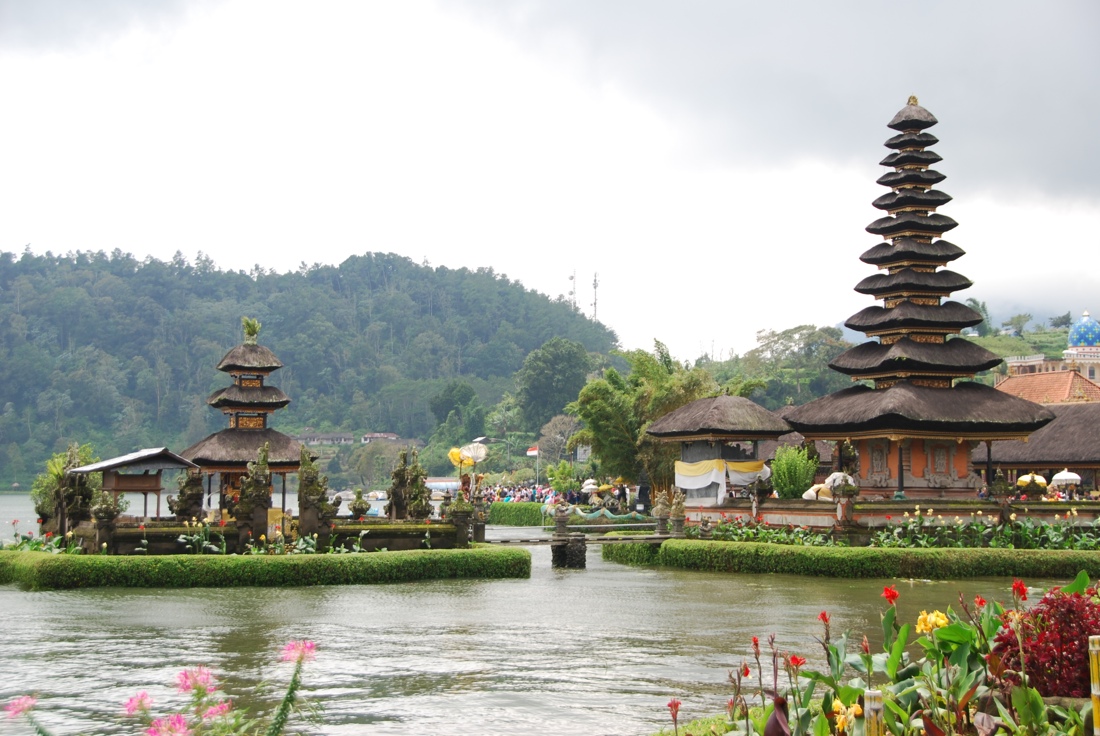 The ticket for our entrance to this temple says, "Historically this temple built by 'I GUSTI AGUNG PUTU' Saka year 1556 (The year 1634 ad).  This temple is a sacred place in use by Hindus in Bali and Indonesia for worship of God Almight, in his manifestation as 'TRI MURTI' (Brahma, Vishnu and Shiva).  To invoke fertility , prosperity, human well-being and sustainability of nature."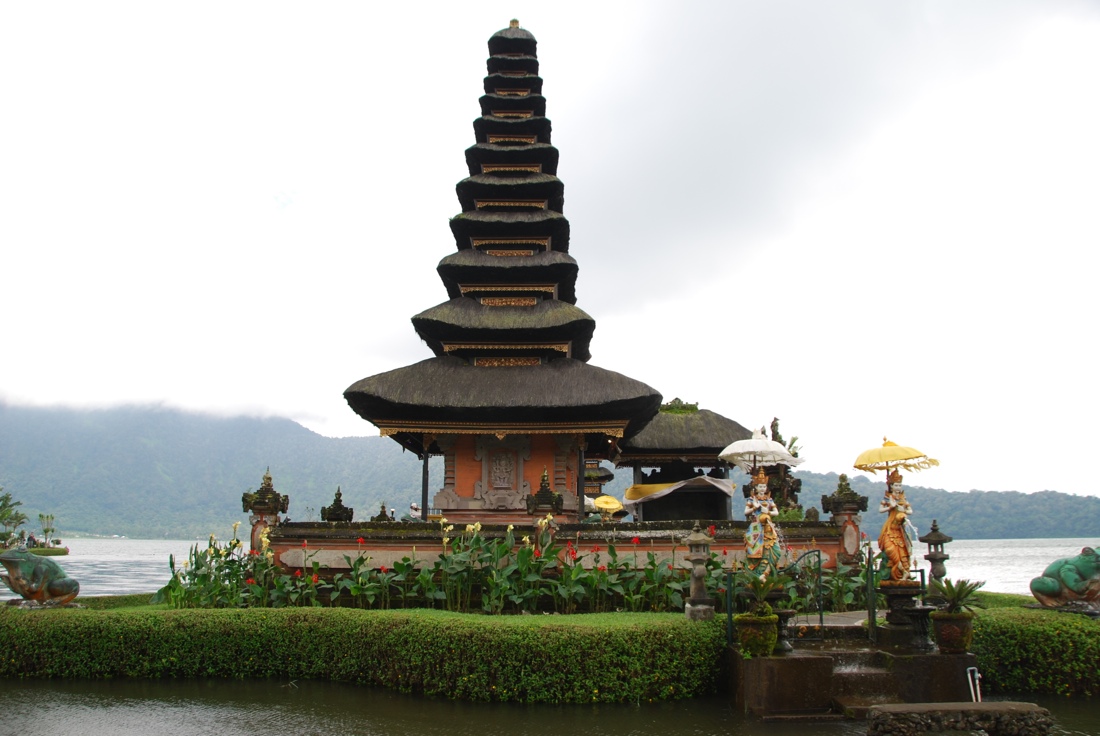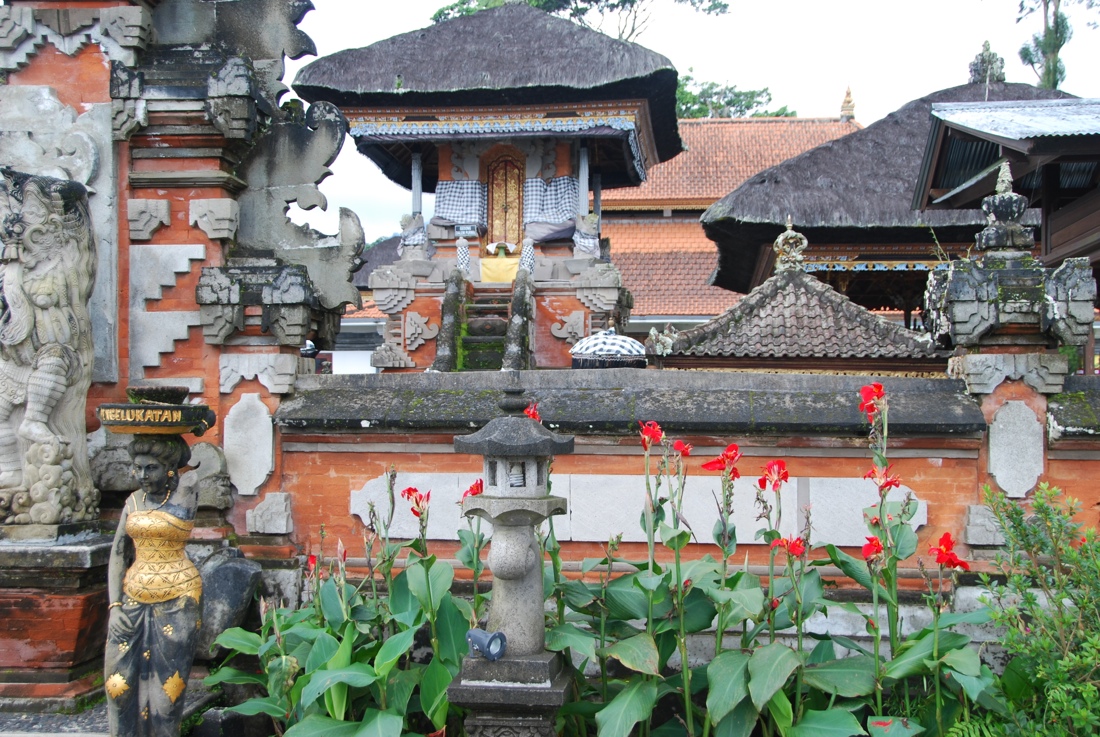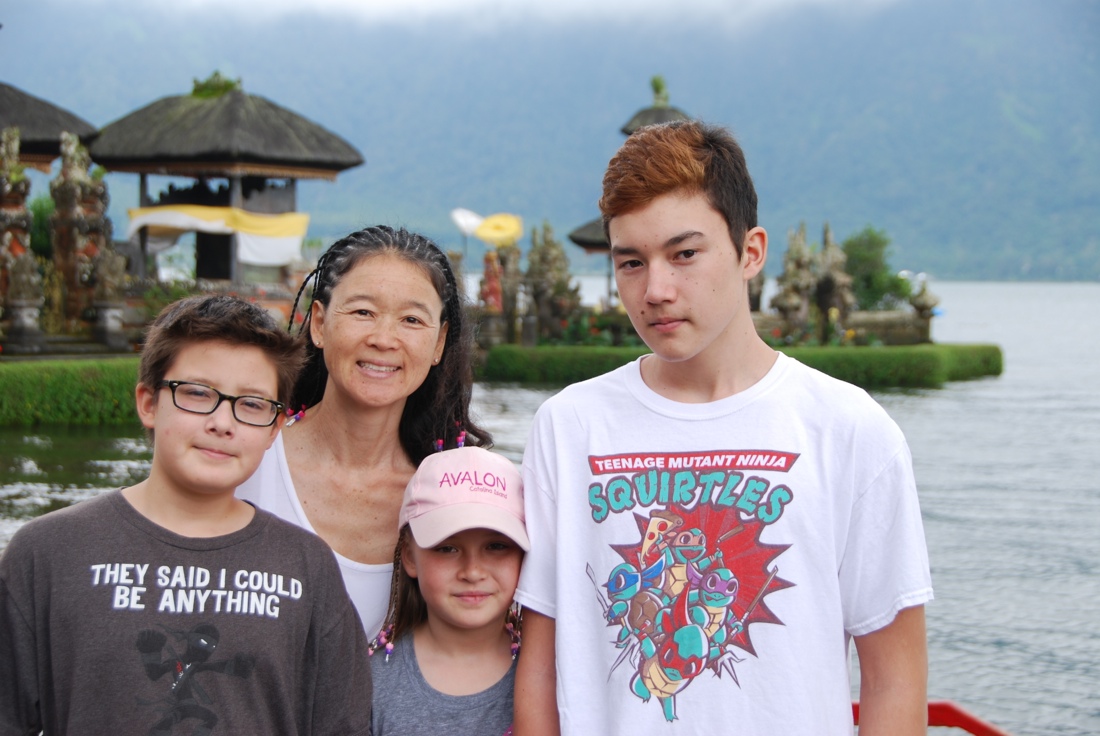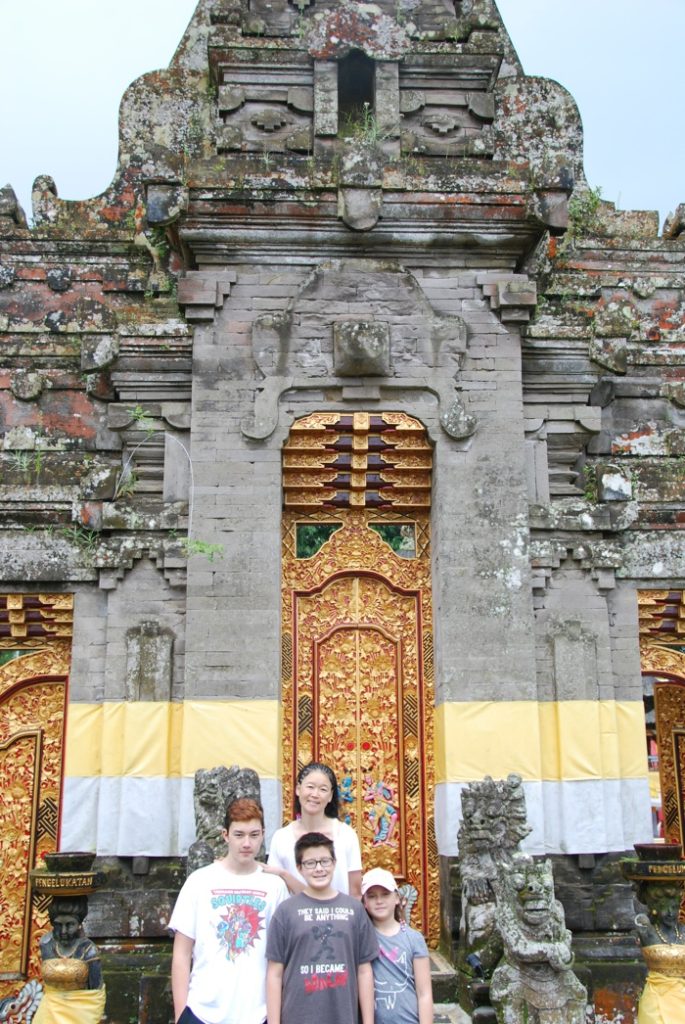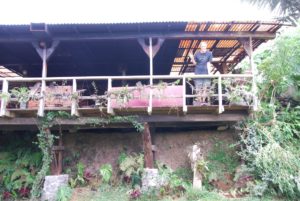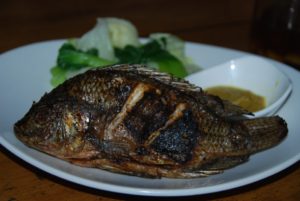 We ate lunch at a woodsy outdoor area that looked to be a rustic resort.  The restaurant was outside on a large deck with a thatched roof.  There was a play area with a huge slide, swings, see-saw, and climbing structure.  There was also some lodging here that looked a bit like comfortable camping.  John and I ordered the lake fish and it arrived whole, looking like it was plucked right from the lake.  Kaiyo got mashed potatoes and they were divine!  So much so that we ordered 2 more plates.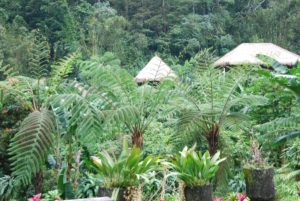 While we waited for our food we saw a rodent running around the rafters.  It ran over to the daily offering and was eating it!  Balinese people make and set out offerings at temples, shops, restaurants and houses to give thanks each day.  Sometimes the offering has only flowers but sometimes it has food like rice and fruit too.  I think the rodent was stealing from the Balinese gods!
After lunch we went to Bali Treetop.  It was a swinging in the canopy adventure park.  We all got harnesses and heavy duty carabiners and pulleys to wear.  We got a demonstration and everyone had to show they could do it by zip lining across a short, low, cable line.  Then we were set free!  Bali Treetop has many different courses with 5 levels from beginner for the little kids to advanced for the daredevils.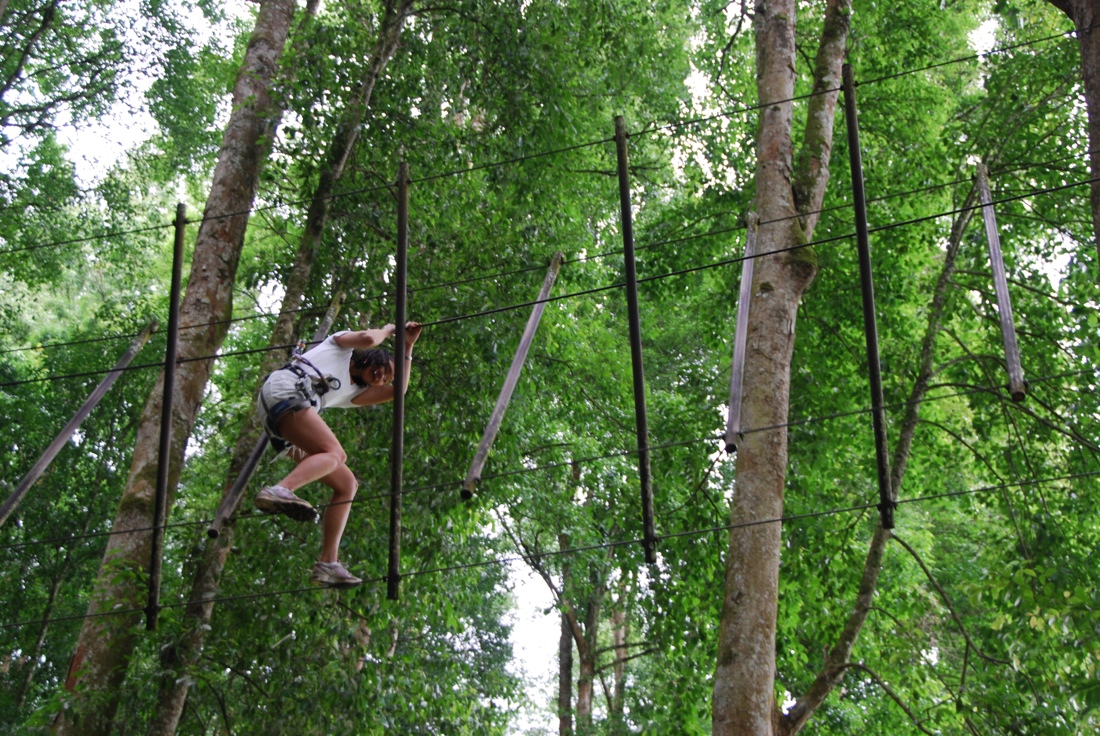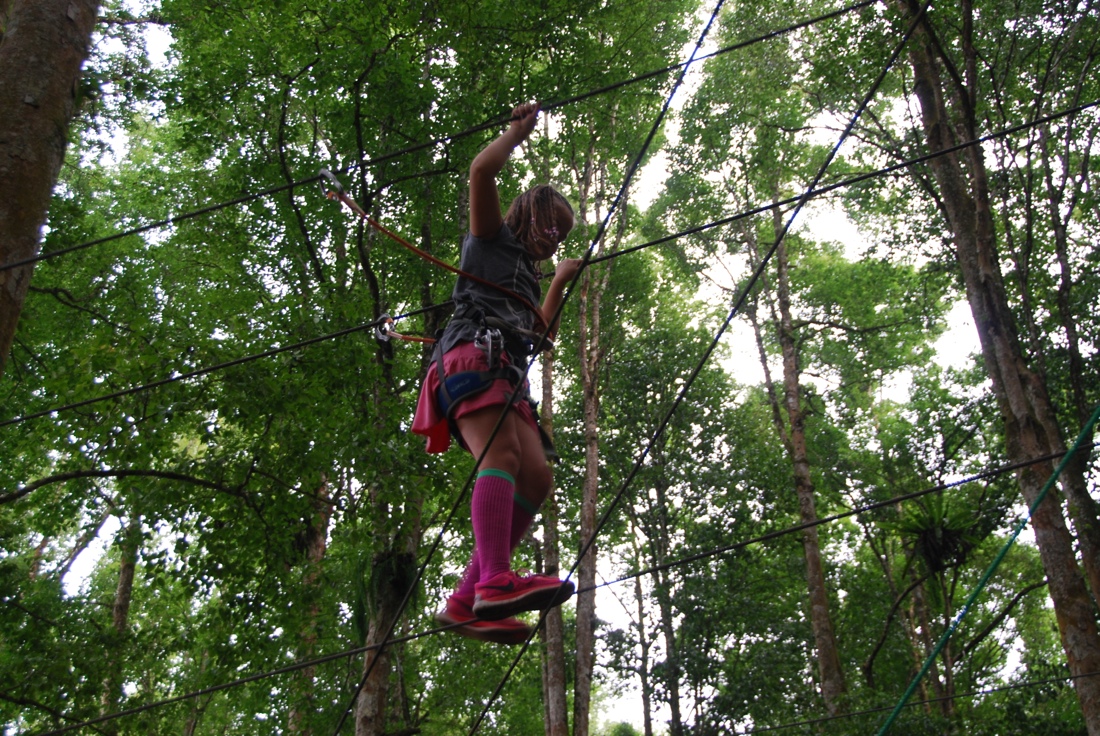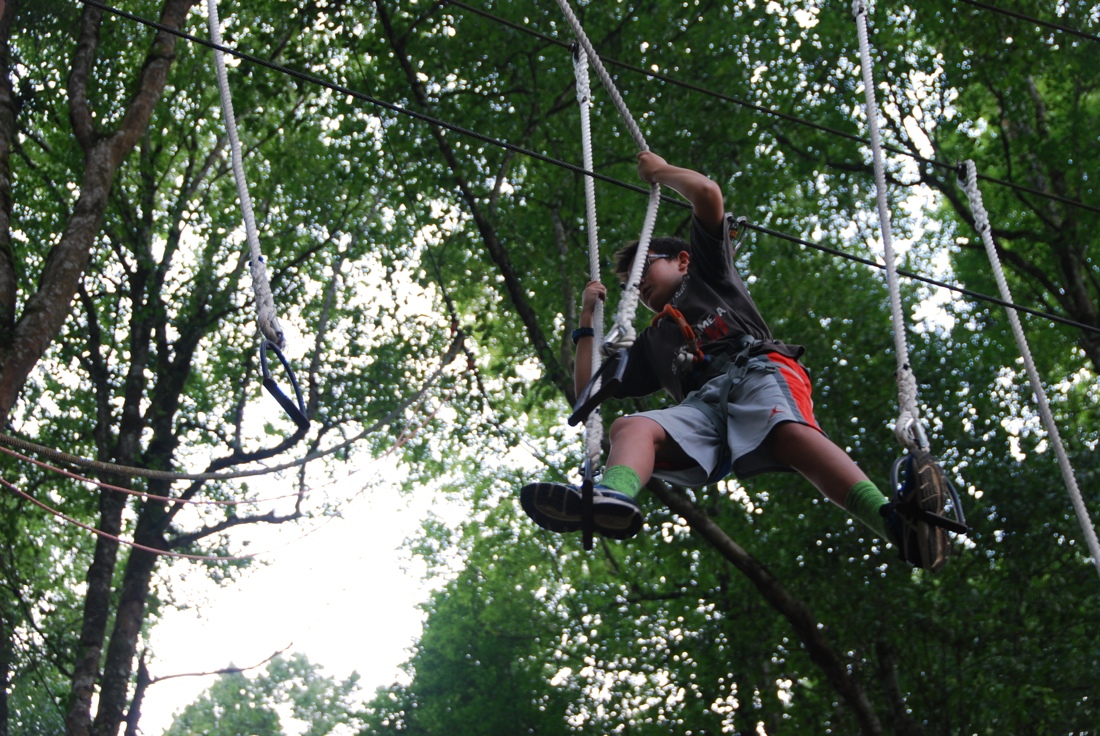 I went on low intermediate with Avalon and then high intermediate on my own.  Kaiyo and John got up to low advanced and Halyard tried the most advanced course.  I think it really had him sweating but he did it.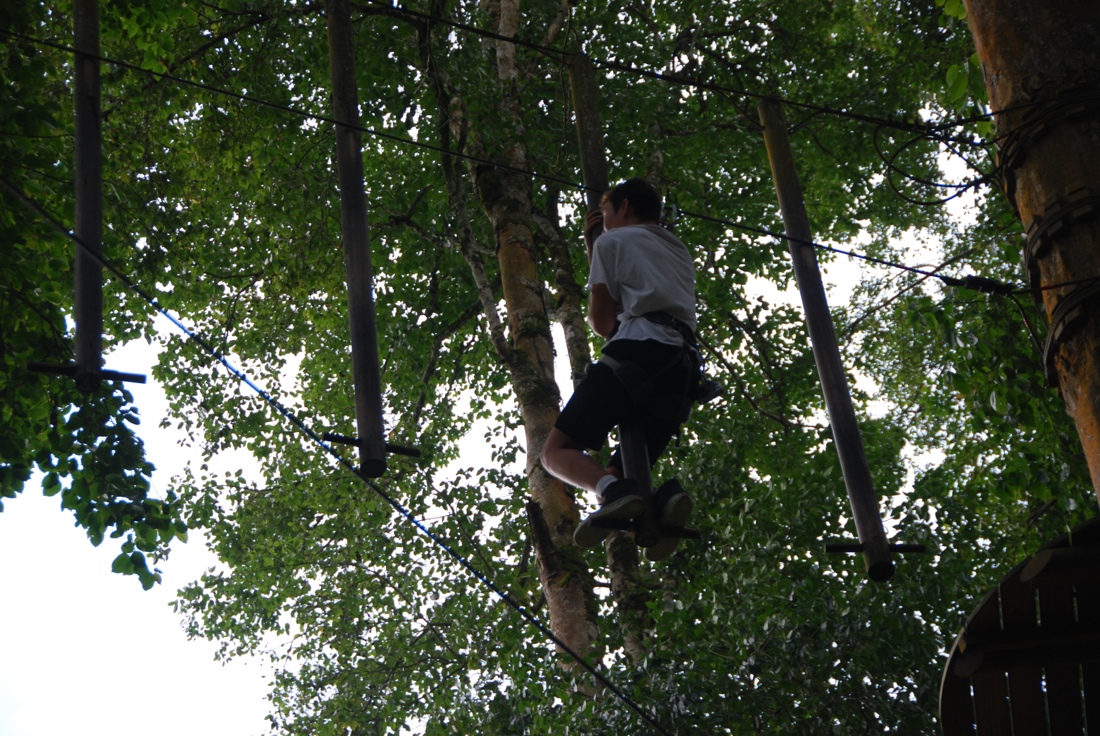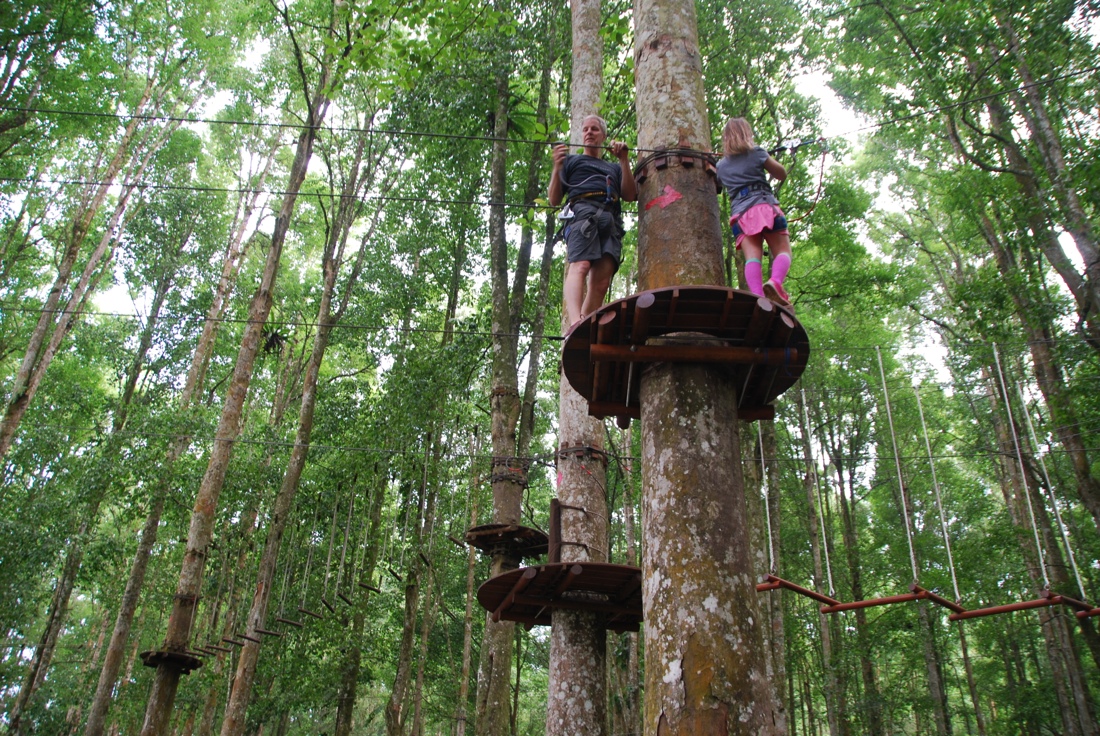 We stayed for quite a while before I realized that we might be running late to get to Tanah Lot.  Several people told me that it takes an hour and a half to get from Bali Treetop to Tanah Lot.  I rounded everyone up but it was too late.  There's no point to getting there after sunset so we missed our window.  I was really disappointed as Tanah Lot is supposed to be an incredible sight on the water.  Plus, given the traffic there was no way we were spending another day on the road to Bedugul.  This was our one chance.  I guess John and I will just have to go back to Bali someday.
At the end we asked Yoga to drop us off at a Caribbean restaurant called Char that was down the way from our villa.  They had a sign board that advertised Taco Tuesday!  It turned out that the taco Tuesday discount was about 10 cents off each one but Kaiyo was still excited to order tacos.  When no one else did he said, hey wait a minute, I thought we were all supposed to order tacos.  Avalon and I got the enchilada plate with rice and beans because we are really missing enchiladas.  They were not as good as home though.  After some homemade paletas for dessert we walked back to our villa.  We spent about 6 hours in the car today!  Bali's holiday traffic is insane.