Saturday, March 31.  After our wonderful host from the guesthouse saved us by loaning me several hundred USD worth of Chinese Renminbi, we were able to enter Zhangjiajie National Forest Park.  It's a massive park with some pretty cool natural wonders.  As far as natural landscape goes, China is an incredible place.  So if you go there be sure to get out of the cities.  Here is the underside of a beautiful natural bridge.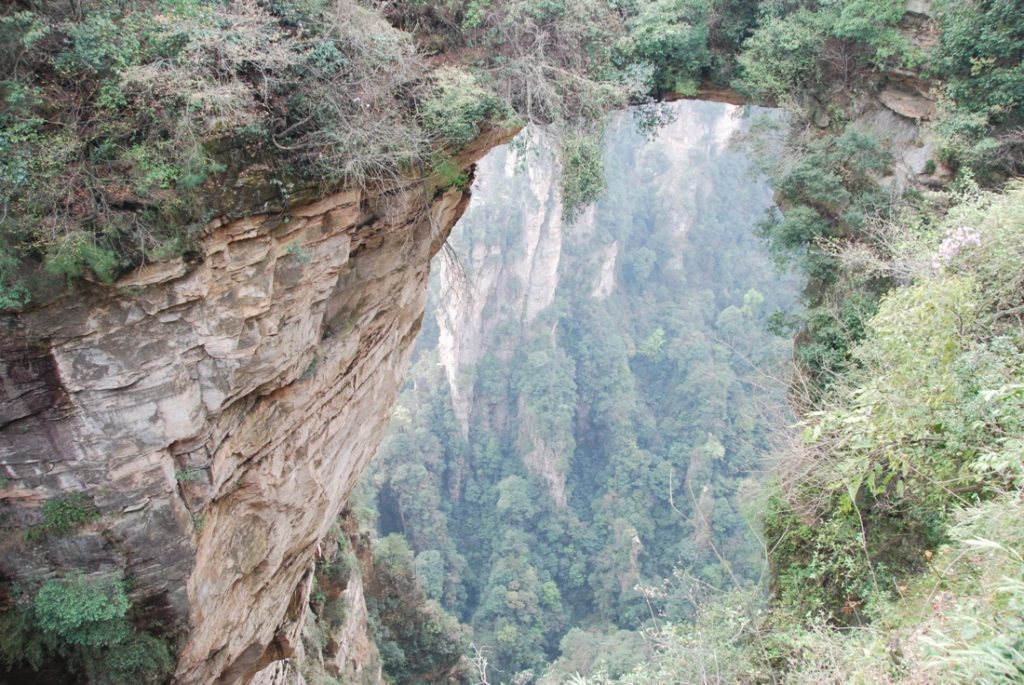 We had a colorful map with little cartoon pictures all over it and details regarding every cable car, bus route, bathroom location and walking path.  We hiked around, rode a cable car up to Yuanjiajie, walked to see Avatar Mountain, and generally just covered a lot of ground in the forest park with a few hundred Chinese friends.  On a bus to the cable car entrance we even met a Chinese American man from Los Angeles.  The line for the cable car was designed for a 2+ hour wait, but we walked right on with no one ahead of us.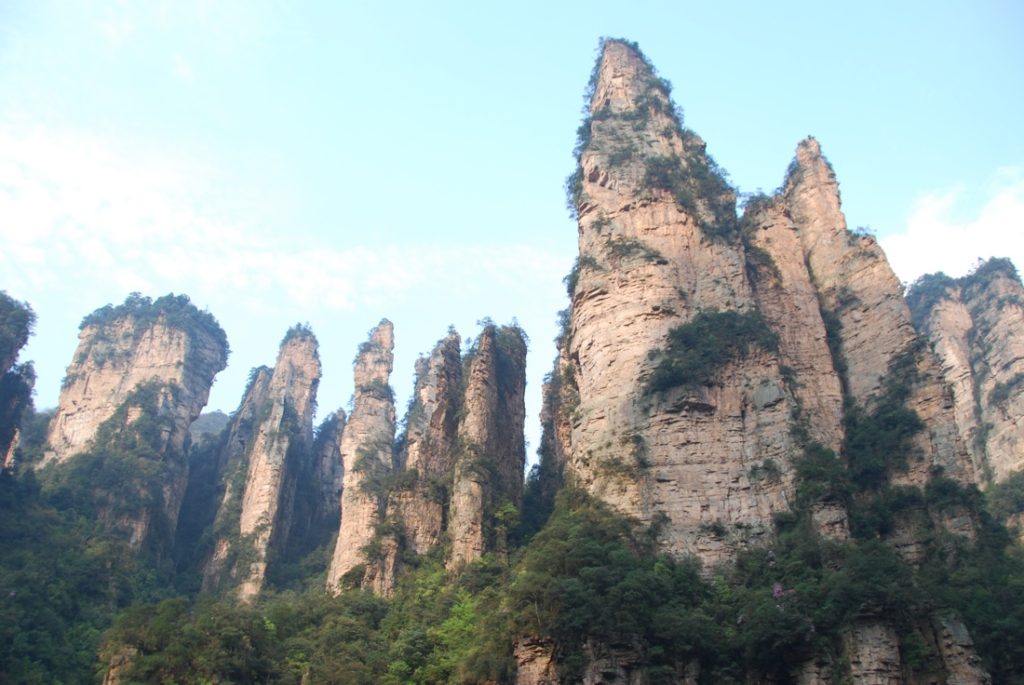 "Avatar Hallelujah Mountain" is one of Zhangjiajie's most famous sites.  It is shown here among the polluted air.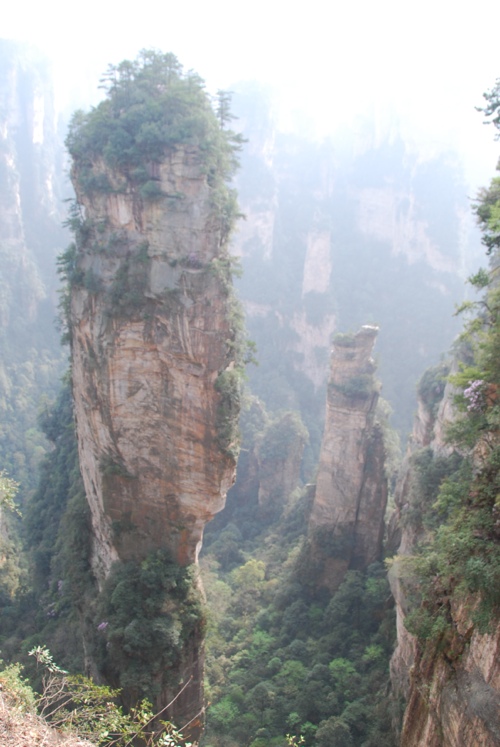 Avatar Hallelujah Mountain is one of the tall, craggy, rock columns, so named because the story goes that photographs from Zhangjiajie inspired James Cameron and his team to model his floating Hallelujah Mountains of Pandora on these unique towering pillars.  The commercial tie-in was celebrated by the Chinese government who seized the opportunity to rename one of the tall pillars after the movie.  As you walk along the path you are suddenly greeted by a large blue statue of what I assume is a Na'vi from the movie, but I can't really be sure since I haven't seen Avatar.  We had no Fitbit but I'm sure we walked many, many steps and miles.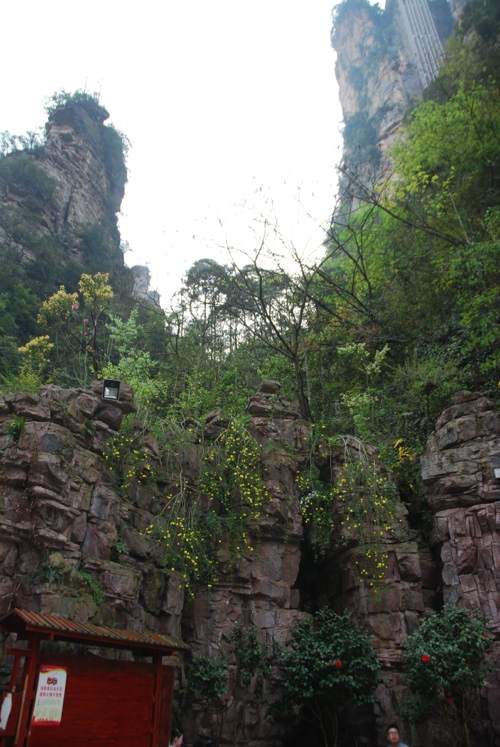 We also took the Bailong glass elevator down to the bottom of the mountains.  Bailong means "hundred dragons sky lift."  It is the world's tallest outdoor elevator.  At least it is until the next Chinese city makes a taller one.  It was built up against the outside of the mountain and it goes straight up, or straight down, 1,070 feet (326 meters).  It takes less than 2 minutes for a one way trip.  You can just see the top part of the elevator in my photo here.
I had read that the Bailong elevator is often a 2 hour wait so it is not recommended.  But we stood in line for all of 5 minutes while we waited for one elevator car ahead of us.  Amazing luck.  It is supposed to be a scenic ride, but going 1,000+ feet in less than 2 minutes in a jam-packed elevator car is tough to properly enjoy the landscape.
At the end of the day we also got lost because we either rode the wrong bus or didn't get off when we were supposed to.  We were trying to find the way to our proper park exit (there are two exits to the park), but we ended up in the northeastern corner of the national forest park, near the town of Wulingyuan.  No more park buses going our way we were "told."  By "told," I mean the driver shook his head, and gestured for us to get off the bus.  A nice group of young people helped us find a city bus to take back to the southern gate area.  Without their help we probably would have been forced to take two $40 USD taxis back to our guesthouse.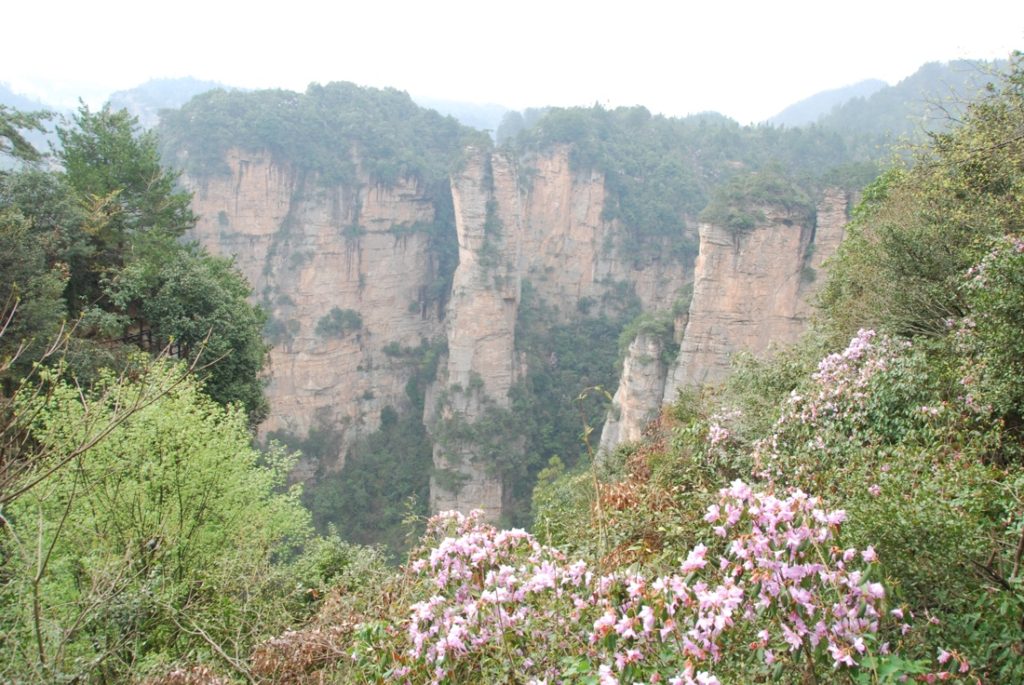 I recognized the area of our guesthouse and successfully asked our driver to drop us off right there in the road.  And by "asked," I mean I basically shoved my handwritten Golden Ticket in front of him and said look!  It was the Chinese note the wife wrote for me that said take us to the Glass Cube Guesthouse.  He immediately stopped the bus and let us out.  Then we climbed 500 steps en route to dinner at the guesthouse.  Here's the dinner that awaited us!  It looks very native "Chinese."  We sure had local Chinese food in Zhangjiajie.  No Kung Pao Chicken or Chow Mein here.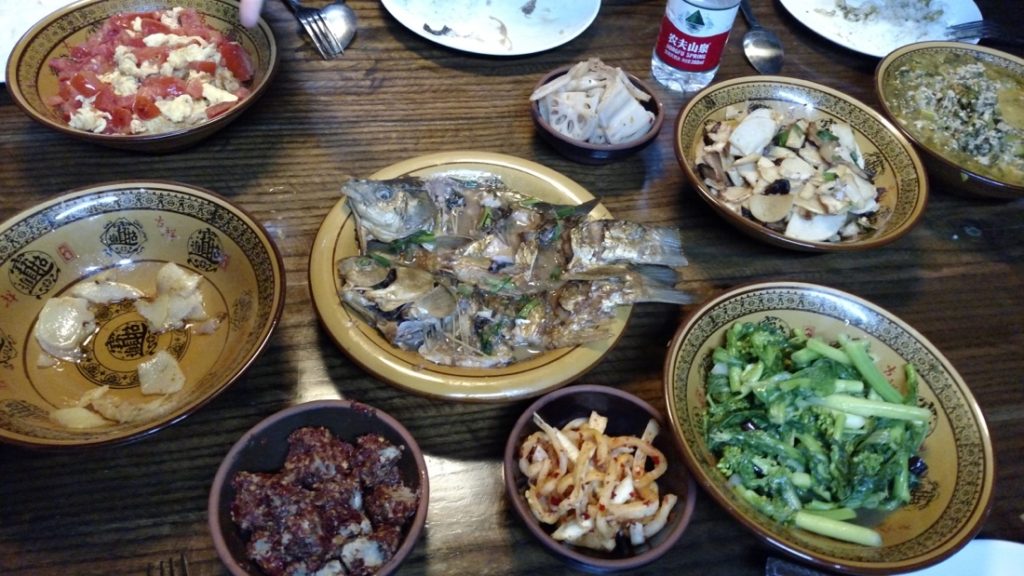 The next day is Easter Sunday, April 1.  When I planned this trip, I didn't realize we were spending  Easter in China.  No Easter baskets or egg hunts in China.  The kids had to settle for the Easter cards I brought for them and family bonding China-style instead.  Today we have planned to venture across the world's highest glass suspension bridge.  It used to be the world's longest glass suspension bridge until last year when another, longer, glass bridge in China opened.
Our advance reservations are set for 3:00 pm so we have the morning free.  I want to go back to the National Forest to explore around some more.  But there's a problem.  John was up all night going back and forth to the toilet.  And he still isn't feeling good.  He and Avalon spent the night in the glass cube guesthouse and Avalon said it was awesome.  But John couldn't really enjoy it.  It must have been something he ate!  He stayed near the bathroom all night and all morning.
Halyard agreed to go with me back to the park and we decided to walk the short 7.5 km path along the Golden Whip Stream.  John and the other 2 kids stayed behind.  Golden Whip Stream is an easy walk along the mountain floor.  You just follow the stream to its end.  We turned around at the end.  It was beautiful and peaceful and not too crowded.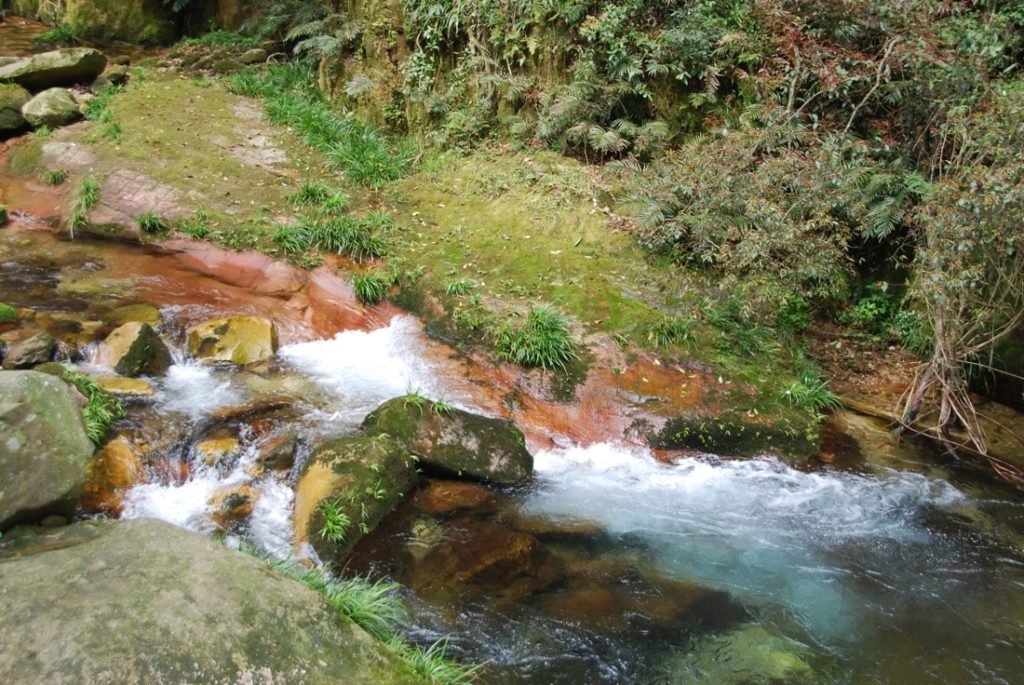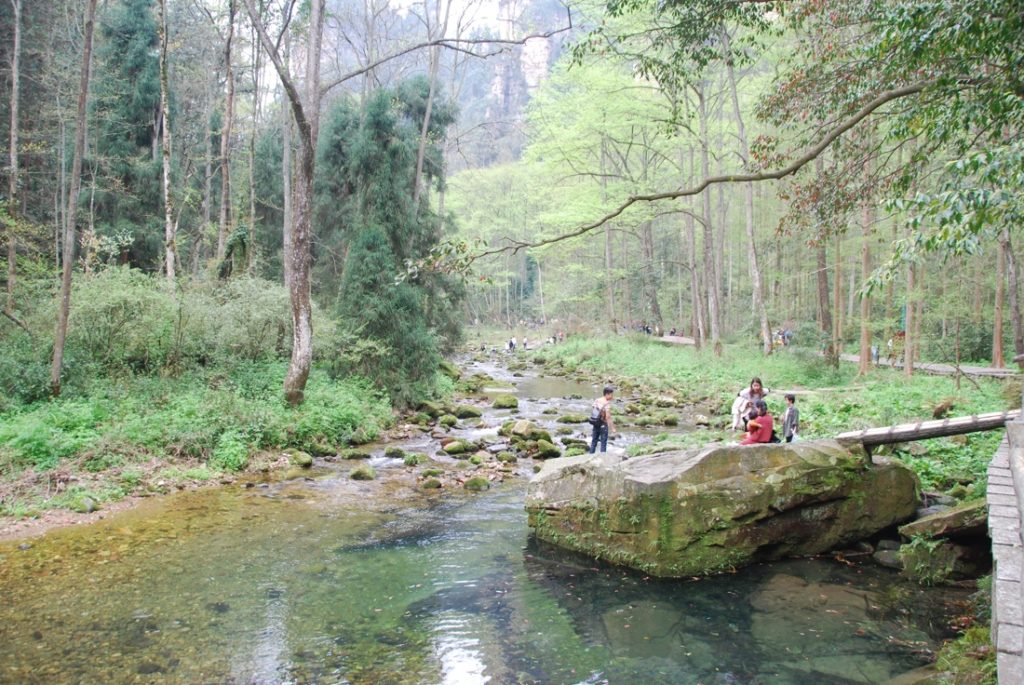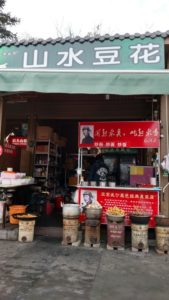 Here's a photo of our lunch stand.  Only Halyard and I ate noodles here and it was so delicious.  John and Kaiyo were not feeling well.  Avalon was scared off by the "super authentic" look of this place.
The plan was for our driver friend to bring John, Kaiyo and Avalon by car to pick up Halyard and I and then we would all go to the glass bridge together.  John managed to get himself up and out, but on the 2-hour journey to the glass bridge, Kaiyo started to feel yucky.  Well, to end the story on a happy note, we all managed to walk on the bridge together.  Our driver friend watched over Kaiyo when he had to step out of line to run to a toilet (far away!).  Halyard and I ate a delicious, VERY local looking and tasting, noodle bowl which John and Kaiyo didn't feel well enough to eat and Avalon only wanted to eat mango products like smoothies.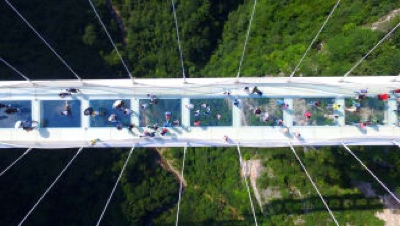 The CNN Travel site was kind enough to let me lift this aerial photo off its website.
The glass bridge is located in Zhangjiajie National Forest Park's Grand Canyon Scenic Area.  It is 1,410-feet long and it floats 984 feet above the canyon floor.  The glass is clean and clear so you have a nice view of just how high up you are.  Everyone has to wear special cloth booties over their shoes so you don't scratch the glass.  CNN Travel says it's a "triple-layered, steel-frame supported, sledgehammer-tested, crystal-clear span levitating 984 above an all too visible canyon floor."
John is afraid of heights these days so he wasn't super comfortable on this bridge.  The glass panels are in the middle of the pathway and there are steel panels on the outside of the glass.  John mostly stayed to the outer edges on the outside of the glass panels.
Here he is, not standing on the glass.  I love all of the crazy Chinese people laying all over the glass and taking selfies of themselves and with their friends.  They are making poses with their arms and legs in the air and making funny faces.  Maybe their photos look like they are suspended in air.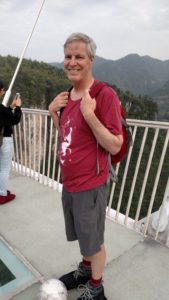 Avalon took photos of Halyard and I jumping in the air above the glass.  Except that Halyard was unsatisfied by the photos of him jumping so he wanted to keep doing it over and over.  And he kind of weighs a lot.  A Chinese female security person finally told Halyard to "Stop jumping on the glass — PLEASE!" (In English!)
BUSTED!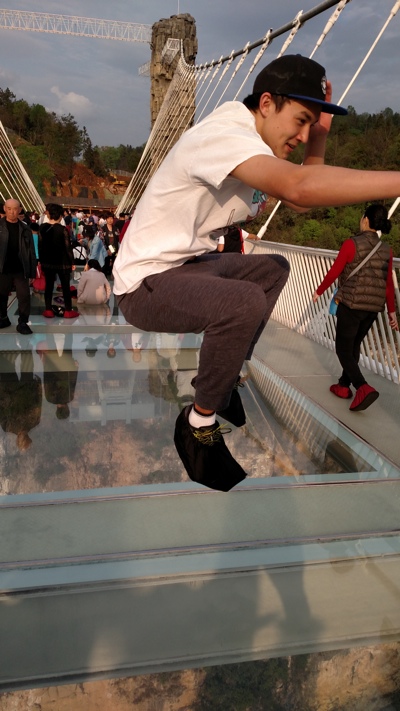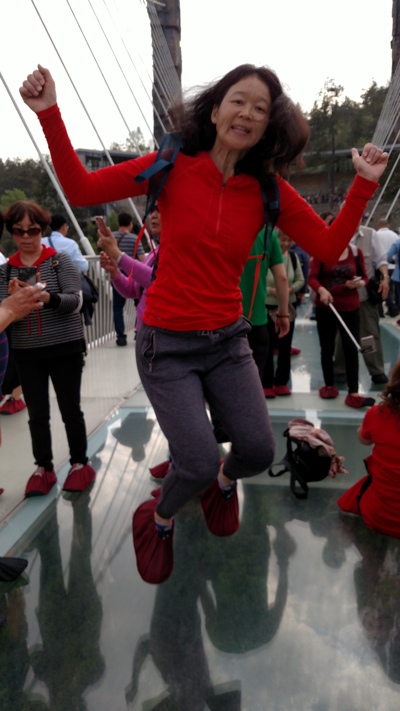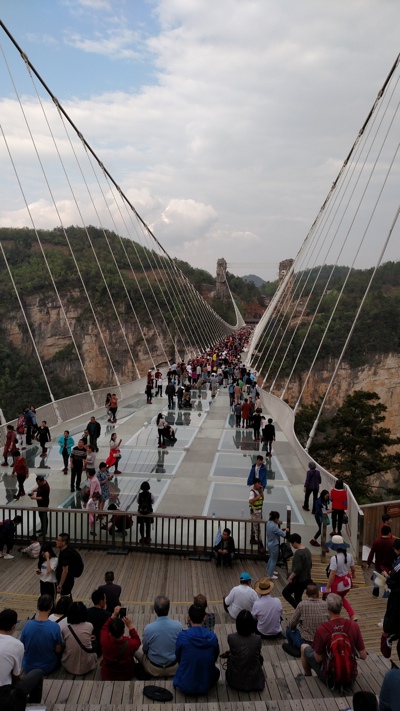 The drive here was very long and we were squished in the Chinese clown car again so it was super uncomfortable.  Luckily John and Kaiyo didn't need any emergency pit stops on the way back.  After a lot of thought, we decided that the two of them must have gotten sick from the chili peanuts that John bought in Xi'an's Muslim Quarter.  We've all been eating the exact same thing in China.  But last night John and Kaiyo got into the chili peanuts and they were the only ones snacking on them.  Darn Chinese chili peanuts!
When we arrived at the guesthouse it was late and after dark but our hosts still hurried to the kitchen and whipped up some more real home cooked Chinese food for us.  It was like staying at someone's home.  All in all it was another day of wonder in China.